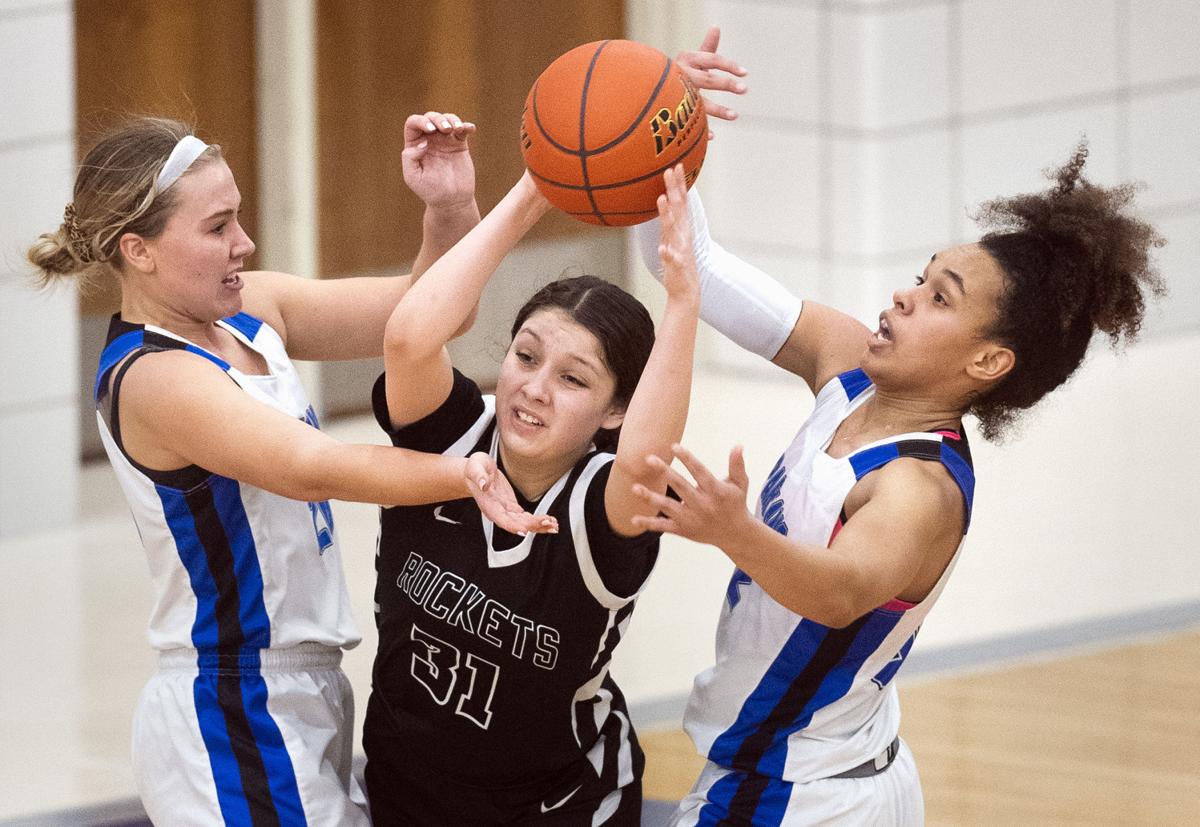 Dad was on to something about those free throws.
Olivia Kugler is convinced of that.
"On the weekends, me and my dad go shoot and he always tells me, 'Free throws win games, free throws win games. Step up to the line confident and shoot the ball,'" she said.
And that's what the Lincoln East senior guard did Tuesday night in a game in which Lincoln Northeast refused to go away.
The No. 10 Spartans hit 16 of 18 free throws in the fourth quarter — Kugler was 7-of-8 in that stretch — on their way to a 46-34 win against the Rockets in an A-7 girls district semifinal game at East High School.
"I think I really played those into mind and tried to knock those down to help our team," said Kugler, who finished with a game-high 20 points.
Junior Mattie Campbell also was 7-of-8 from the line in the fourth quarter and senior Haley Peterson hit a couple, too.
The result looked much different from the first time the Spartans and Rockets met. East won 58-34 in early January.
Both teams had a hard time finding a rhythm on offense Tuesday, especially in the second quarter, when East and Northeast combined for seven points.
But defense is a constant with the Spartans (12-9) and they used it to their advantage, forcing 28 Rocket turnovers. They ratcheted it up more when Northeast point guard A'Iyana Jones was on the bench with four fouls.
"When nothing was working, that was the only thing that looked liked who we were," East coach Dennis Prichard said. "I was really happy with the effort, especially Olivia, Haley and Mattie made on that end.
"Obviously Jones getting into foul trouble helped our press, also."
Northeast (8-12) trailed by five — a deficit that probably felt like 10 in a game where points were hard to come by — early in the fourth quarter, but sophomore Monica Gutierrez hit a corner three to tie the game 28-28 with 6 minutes, 5 seconds remaining. She hit another three to pull Northeast within 32-31 and keep the pressure on the Spartans.
That's when East won the game at the line.
"They miss their free throws and we're right there," Northeast coach Charity Iromuanya said. "I'm just proud of our girls with how hard they competed tonight. That's a team that we lost to earlier in the season by over 20 points, and tonight we kept it (close)."
Jones led the Rockets with 12 points and freshman post Doneelah Washington added nine points and 10 rebounds.
Papillion-La Vista South upset No. 8 Lincoln High, the top seed, in the other A-7 semifinal, meaning Lincoln East, the No. 2 seed, will host the district final at 6 p.m. Thursday.
For Peterson and Kugler, two key cogs for East for multiple seasons, it will be another opportunity to wear the home whites.
"Just to know that we're coming out here on our home court, having a chance to cut down our nets and make it back, is unreal," Kugler said. "We've worked so hard in practice and just to get to this spot is amazing. I'm just so proud of my teammates."