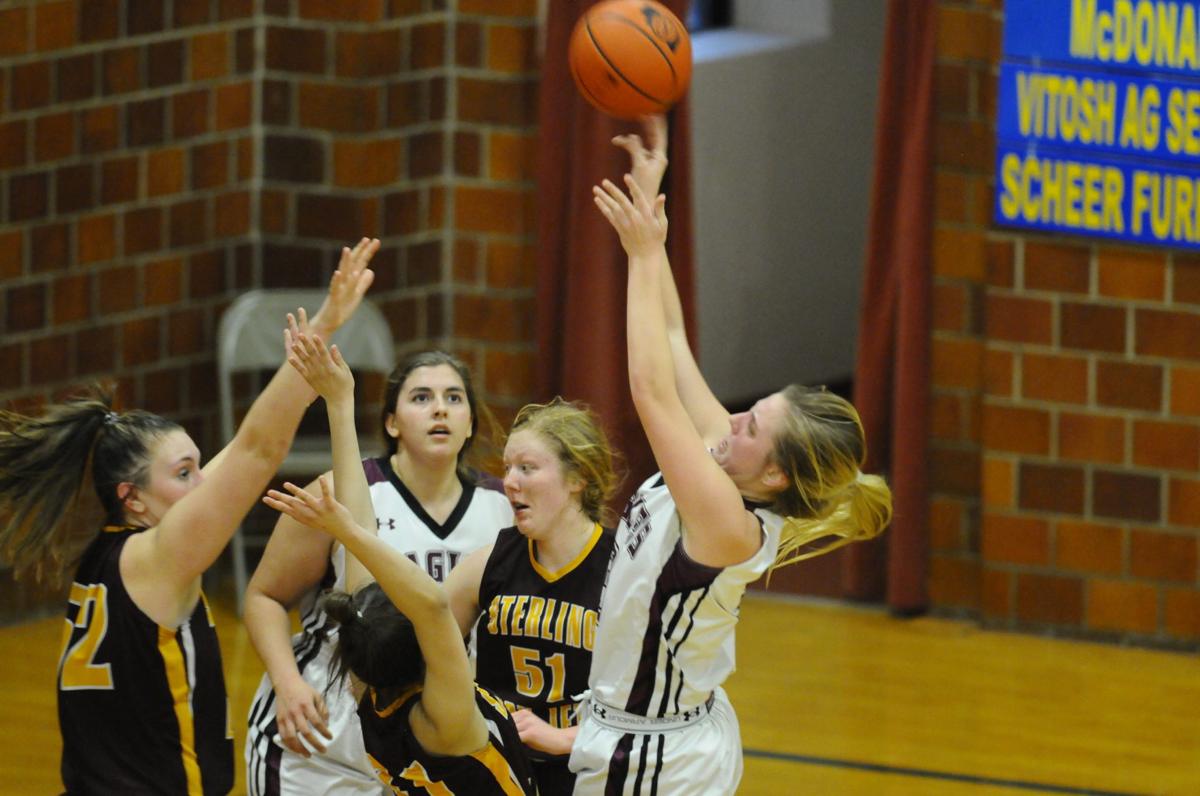 BEATRICE — If the BDS girls needed extra motivation for this year's MUDECAS Tournament, they had it: They went 0-2 at the same event last year.
But Lexi Kadel wanted to raise the ante. The Eagles' assistant basketball coach told the team that she would dye her hair a color of their choosing if they won this year's tournament.
"We always seem to come into a slump (at MUDECAS) and this year we kind of have some extra motivation," BDS junior guard Macy Kamler said.
Call Thursday's victory a hair-raising win for the Class D-2 No. 8 Eagles, who rallied from 14 points down to upend D-2 No. 5 Sterling 52-46 in the semifinals at Beatrice City Auditorium.
BDS will play D-2 No. 3 Falls City Sacred Heart in Friday's 8:15 p.m. final.
BDS (9-3) trailed Sterling by 12 at halftime, and the deficit was 29-15 early in the third quarter. But the Eagles, taking their coach's halftime advice to play loose, used an 11-0 run to get back into the game and had the game tied at 31-31 entering the fourth.
Threes from Kamler, who finished with a game-high 23 points, and Taylor Sliva helped spark the turnaround.
"It just looked like they weren't playing very loose and we just told them to just go play," BDS coach Shana Gerberding said. "It was really the turning point. You could either step up, our step out. I can't be more proud of them, how they came out and did that."
You have free articles remaining.
The Eagles are hoping their second-half scoring outburst is a turning point in their MUDECAS fortunes. Gerberding said the team has struggled in this event since winning it six years ago — their last appearance in the tournament final. That included two bad performances last year.
And, yes, the Eagles don't shy away from using those past trips to Beatrice as fuel.
"We kind of bring it up every year," Kamler said. "The upperclassmen, we're like, 'This is our time.' We've been struggling all these other years, it's time to show them who BDS really is."
Gerberding called getting to the MUDECAS final a special moment for the Eagles. But they're hungry for more. BDS, which has won back-to-back state titles in volleyball, aim for a MUDECAS title. It's one of their ultimate goals. They also want to get back to the state tournament.
"They have a resiliency," Gerberding said. "They showed it in volleyball and I think they showed it here today. Hopefully we're turning a corner."
Freshman Macy Richardson led Sterling (10-3) with 20 points.
Sacred Heart used a balanced and physical effort to breeze past D-1 No. 8 Diller-Odell (9-3) 54-25 in the second girls semifinal.
Like BDS, Sacred Heart (13-1) was fueled by last year's tournament. The Irish fell short in the semifinals against Sterling, preventing them from a sixth straight MUDECAS title.
"It's a huge deal for us," FCSH coach Luke Santo said. "MUDECAS is always one of those weeks that we put on the calendar. All week we talked about motivation is easy because of what happened last year. Our girls were definitely motivated and I thought we were really focused."
The Irish opened Thursday's game on a 20-1 run and never looked back. Sophomore Erison Vonderschmidt led FCSH with 14 points. Nine players scored for FCSH.