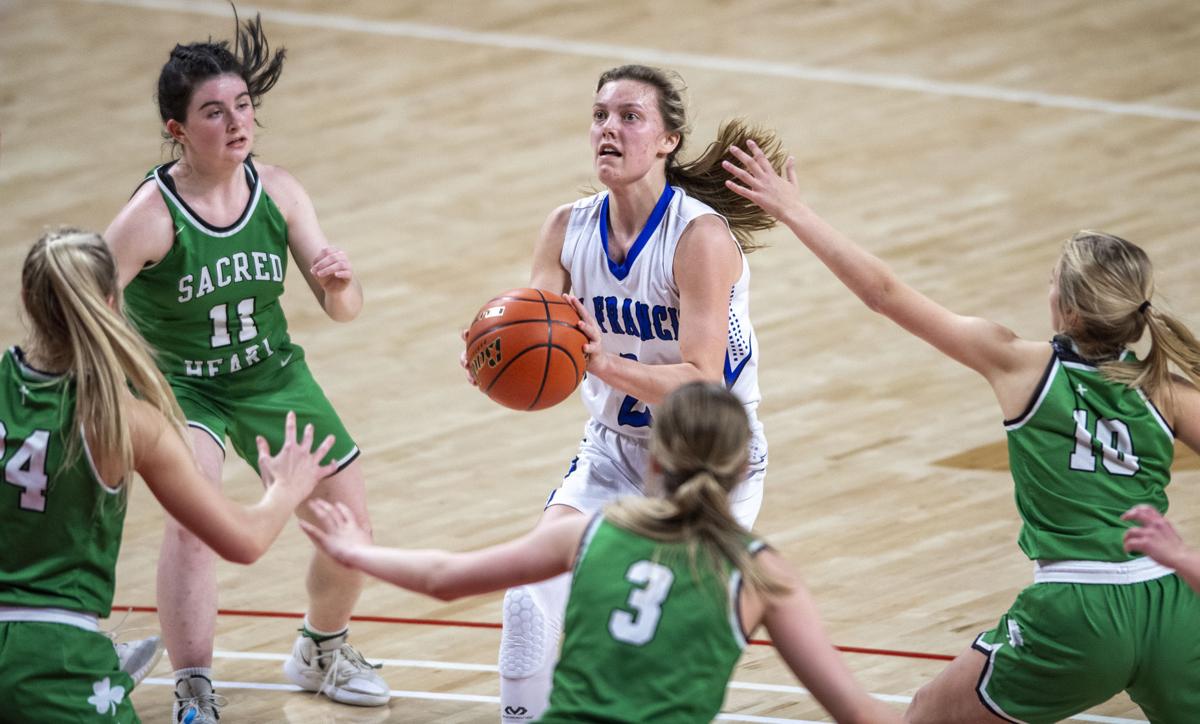 Redemption comes in many forms. For Class D-2 No. 1 Humphrey St. Francis, it came via a state championship.
The Flyers forced 19 turnovers and Nebraska signee Allison Weidner scored 21 points to upend No. 2 Falls City Sacred Heart 57-48 on Saturday at Pinnacle Bank Arena. The win gives St. Francis its first state crown since 2007 and caps an undefeated season (25-0).
Also, it settles the score with the Irish, who beat the Flyers in the 2018 state title game. 
"I think I can breathe, and I might even get some sleep tonight," said Flyers coach Bryan Reichmuth. "Sure, it's great for me, but I really wanted this gold for these girls. They deserved it and I think we're a pretty darn good basketball team."
In fact, when Weidner and the Flyers were watching the Thursday semifinals between Sacred Heart and Wynot, Weidner was hoping to get a rematch with the Irish.
"I really wanted to play Falls City (Sacred Heart) watching Wynot and Falls City play yesterday," Weidner said. "I wanted to avenge that loss."
At times during their run to a state runner-up trophy last season, Weidner didn't have enough support. This year was different, and senior Alissa Kosch and junior Kaylee Stricklin helped provide scoring. 
That was no different Saturday as Kosch had 13 points and Stricklin added 11. It was even more special for Kosch, who goes out a champion with Weidner, a longtime friend and teammate before their high school years.
"We have played together so long," Kosch said. "It's been an amazing ride and to finish it like this. It's been great and she is such an amazing friend, teammate and all-around person."
It certainly wasn't easy for the Flyers, who had to hold on through multiple lead changes and momentum swings throughout the afternoon. Leading by as much as nine in the third quarter, Sacred Heart found their offensive groove on a 17-6 run to take a 45-43 lead at the beginning of the fourth quarter.
It was looking like some déjà vu for the Flyers as a similar occurrence happened last season against Wynot in the final, but Weidner and her teammates only had to look back in their semifinal win against Mullen for some inspiration.
"I just thought of the Mullen game, they took a lead on us in the fourth quarter," said Weidner. "I thought we held our composure and we just kept playing our game and went with the flow."
And just like the Mullen game, St. Francis finished off with a big run, this time 13-3 to finish off their state title.
"Just tears of joy were starting to fill in my eyes and it's just a relief," said Weidner on her emotion in the final seconds. "People kept texting me good luck and saying, 'You don't want a repeat of last year.' I just wanted to make sure we got it done and leave St. Francis on a high note."