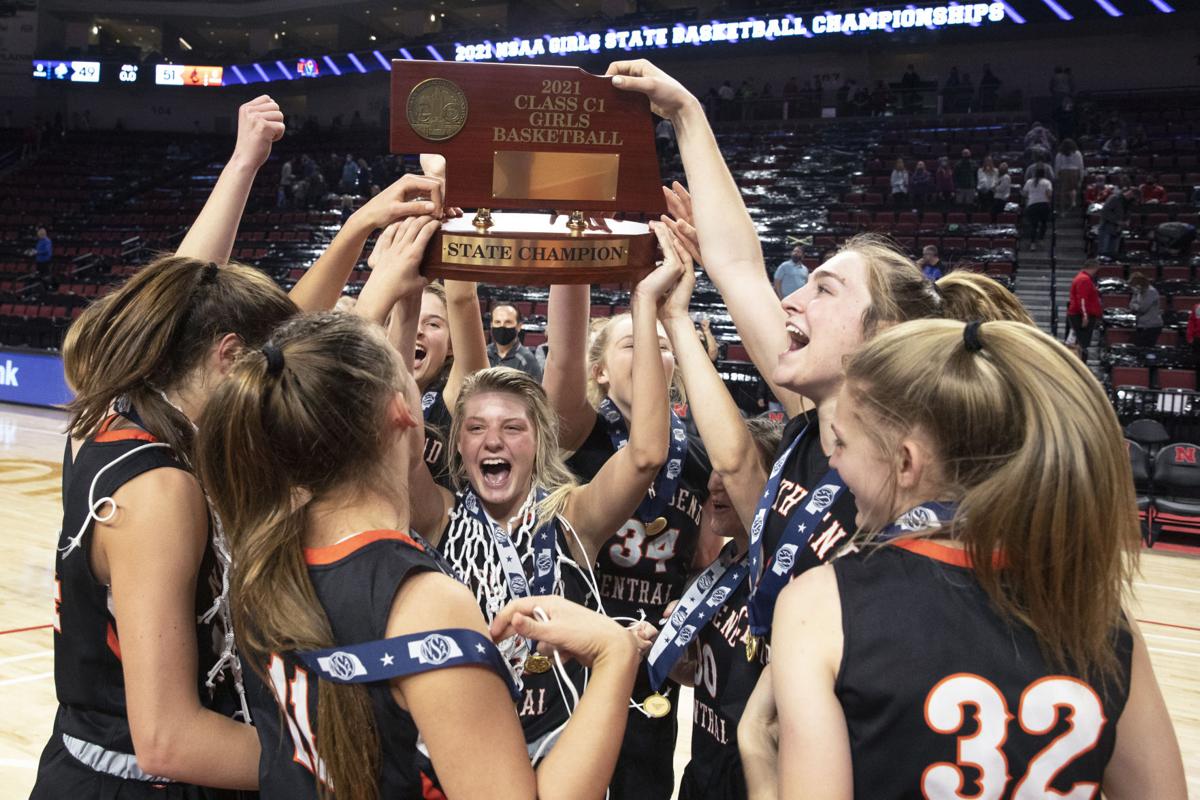 Sydney and Kaitlyn Emanuel traded off carrying the load in different games for No. 6 North Bend Central in the first two rounds of the Class C-1 girls state basketball tournament.
Both of the sisters showed up in full force to finish off the Tigers' title run, combining for 17 of their team's 19 fourth-quarter points Saturday, and both made a crucial play in the final seconds of a 51-49 win against top-ranked Hastings St. Cecilia to earn their second straight state title.
Kaitlyn Emanuel hit a three-pointer with 35 seconds remaining to tie the game, then Sydney Emanuel hit two go-ahead free throws with 6 seconds left to clinch the win.
Right before Kaitlyn Emanuel knocked down the three-pointer as part of a comeback from an 11-point fourth-quarter deficit, she exchanged a glance with her sister.
"Sydney passed it to me, I saw this look in her eyes, and I shot it up there. I guess it went in," the sophomore said.
Hastings St. Cecilia's Bailey Kissinger, who scored a career-high 33 points, drove at the basket and missed a contested shot at the buzzer. The celebration was on for the Tigers.
Kissinger and the Hawkettes had everything working on offense for much of the game. The team shot 57% in the first half, with all of its field goals coming in the paint. Then Kissinger caught fire for 12 points in the third quarter, capping it with a deep three-pointer at the buzzer that pushed the lead to 43-32.
But the Tigers (24-3) clawed back, thanks in part to shooting 14-of-15 at the free-throw line as foul trouble stacked up for St. Cecilia. They also put on a full-court press to slow the Hawkettes' attack.
"Eleven points down at the start of the fourth quarter is not how you draw it up," North Bend Central coach Aaron Sterup said. "But we certainly knew we had it in us to make a run like that."
North Bend Central also clamped down defensively in the final 35 seconds, forcing three scoreless possessions to close the game.
"It was a deal where both teams kind of got what they wanted, and they finished and we didn't," St. Cecilia coach Greg Berndt said. "That's a testament to North Bend, but that's also just basketball. It's the way that stuff works."
Sydney Emanuel scored a team-high 20 points with eight rebounds and Kaitlyn Emanuel had 19 points and 10 rebounds. Sydney, a junior, and Kaitlyn, a sophomore, have now both experienced multiple state championships, and their careers are not yet over.
"I think this one is even more exciting, being down by 11 going into the fourth quarter," Sydney Emanuel said, comparing this year's win to last year's 48-32 win over Lincoln Christian in the championship game. "When we finished it off, I was so happy."
The Hawkettes end the season 24-3 but lose only one senior, Katharine Hamburger.