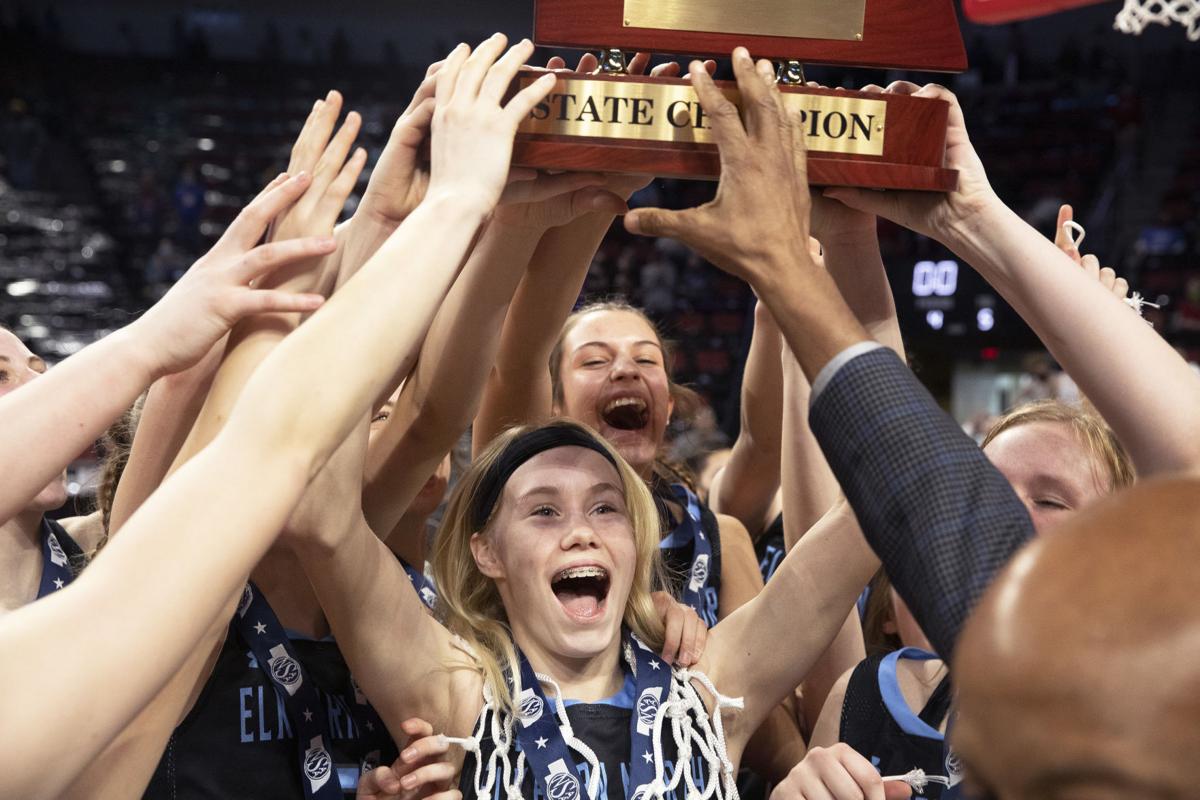 At one end of the court, Elkhorn North head coach Ann Prince pumped her fist as she cut a piece from the Pinnacle Bank Arena nets.
As she descended the ladder, she might have noticed her daughter doing the exact same thing at the opposite end of the court. The mother-daughter duo had dreamed of winning a state title together, but could it really happen so quickly?
It helped that Britt Prince quickly established herself as one of the state's best players by averaging 23.4 points per game. Despite being a freshman with little big-game experience, she showed no signs of her youth in the Class B title game Saturday at Pinnacle Bank Arena.
Britt Prince played all 32 minutes and recorded a 13-point, 14-rebound double-double as No. 1 Elkhorn North defeated No. 2 Norris 46-33 to win a state title in the school's first-ever season.
"For me, it's a dream come true," said the Wolves' head coach. "She's developed a love for the game and we both do, and it's so awesome to share it with her and the rest of the girls too; they're like my daughters."
"She's been coaching me my whole life and it's amazing to share this experience with her," added Britt Prince.
For the elder Prince, taking over a first-year program represented an exciting opportunity to build a team culture. The first lesson she instilled at Elkhorn North (21-2) was that hard work and strong defense make a winning formula.
Elkhorn North took that message to heart as it allowed more than 50 points in only four games this season. The type of low-scoring, grind-it-out win that Ann Prince might have envisioned showed up in the Wolves' 35-28 state opening-round win over Omaha Gross, and it happened again against Norris (22-3).
The Titans shot just 2-for-25 from three-point range and 12-for-54 (22%) overall as Elkhorn North packed the lane and kept Norris from getting into a rhythm offensively. Molly Ramsey led the Titans with 14 points.
"I preached to them from day one that you're going to win games if you play great defense every night, and we proved it today," Ann Prince said.
At the same time, Elkhorn North knew it needed to push the pace on offense to avoid facing Norris' tough half-court defense. The Wolves exploded out of the gate by scoring seven points in the game's opening minute, and while Norris managed to tie the game at 13-13, Elkhorn North still took a 19-13 lead into halftime. The Titans never cut the deficit below six points again.
"We were always playing catch-up and couldn't quite get there," Norris coach Mark Hagerman said.
Sophomores Grace Thompson and Hannah Nadgwick also had key performances for Elkhorn North as they scored 14 and 11 points, respectively. The Wolves already have a culture of teamwork, but they now have a new framework to build upon — a state title.
"I'm so incredibly proud of our girls. They are the greatest kids and have created such an amazing culture, and I think that's evident in the way they play together and hard," Ann Prince said.