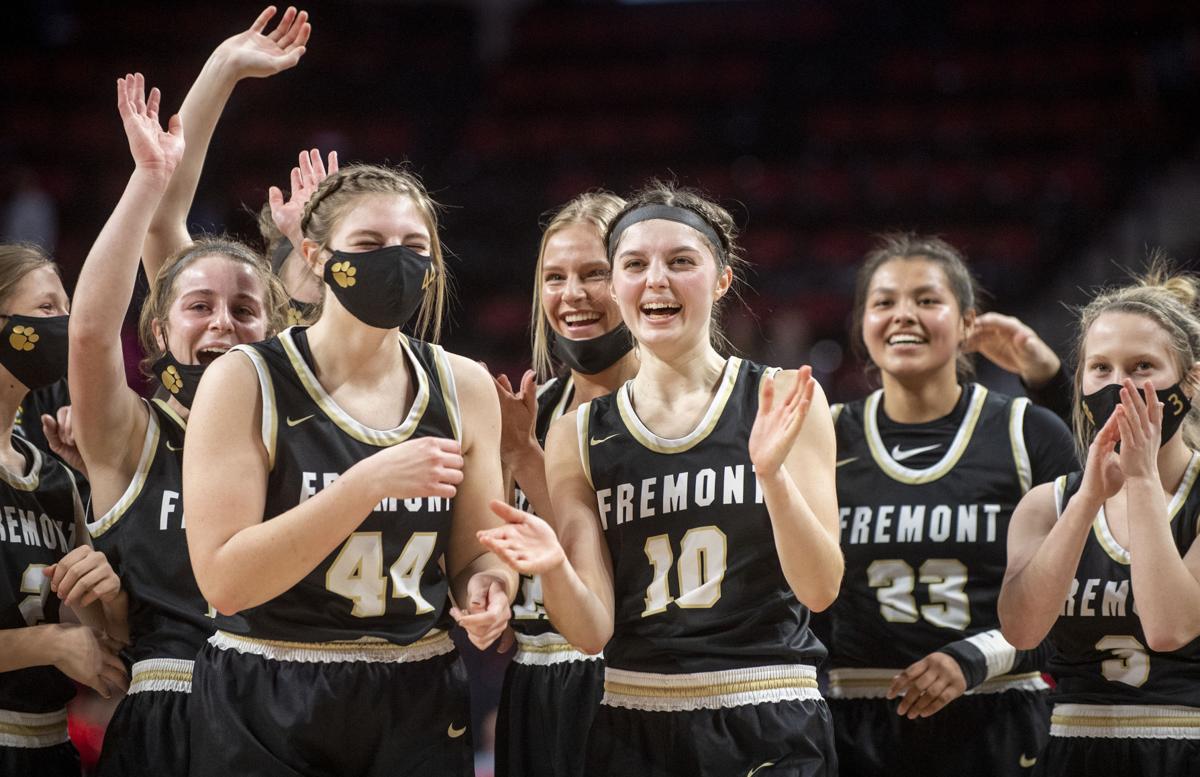 When Super-State guard Taylor McCabe is on the court, the Fremont girls basketball team is an offensive juggernaut.
And as it turns out, the Tigers are still pretty good even without their star junior. McCabe led Fremont in scoring with 18 points, as she usually does, but had to spend the final minute-plus of the Class A state semifinal on the bench after fouling out.
McCabe was one of four Tigers to finish in double figures as No. 3 Fremont defeated No. 2 Millard South 70-64 at Pinnacle Bank Arena on Friday.
"I get a lot of recognition, and I don't think my teammates get enough recognition," McCabe said. "I knew that they were going to finish it out, and they knew they were going to finish it out."
Both Fremont (23-3) and Millard South (24-2) are teams that like to push the pace, and those similar styles resulted in a track meet from start to finish. Millard South made tough shot after tough shot in the paint as Cora Olsen led the Patriots with 18 points and Mya Babbitt added 14 more.
Foul trouble sent Olsen to the bench for parts of the first half, and Fremont seized its opportunity with a 15-2 run that eventually resulted in a 40-37 halftime lead. The up-and-down action continued as expected in the second half, much to the excitement of Fremont's starters.
Charli Earth and Macy Bryant both came close to double-doubles as Earth finished with 14 points and eight rebounds, and Bryant added 13 points and eight boards. Sarah Shepard also added 13 points for the Tigers, who shot 27-for-62 (43.5%) from the field.
"One of the good things about our team is that all five players can play the guard spot and all five players can shoot, and that's what makes us really tough to play against," McCabe said.
That versatility served Fremont well late in the game as the Tigers withstood Millard South's pressure to advance into the Class A title game. Fremont is now just the second non-Omaha or Lincoln-area school to make the Class A final since 1990.
And if the Tigers can pull off a victory on Saturday, they'd also become the first non-Omaha or Lincoln school to win the Class A title since Kearney in 1982. The only thing standing in their way is defending champion and No. 1 Lincoln Pius X, a conference opponent that the Tigers know well.
Pius X won both meetings this season by 10 points or less, and head coach Kelly Flynn said the Tigers are excited to have another chance against the undefeated Thunderbolts.
"The chance of winning state has been a big goal for all these girls, and I think last year getting here to the semis really helped with confidence," Flynn said. "We've really wanted a chance at Pius, and they have a great team."