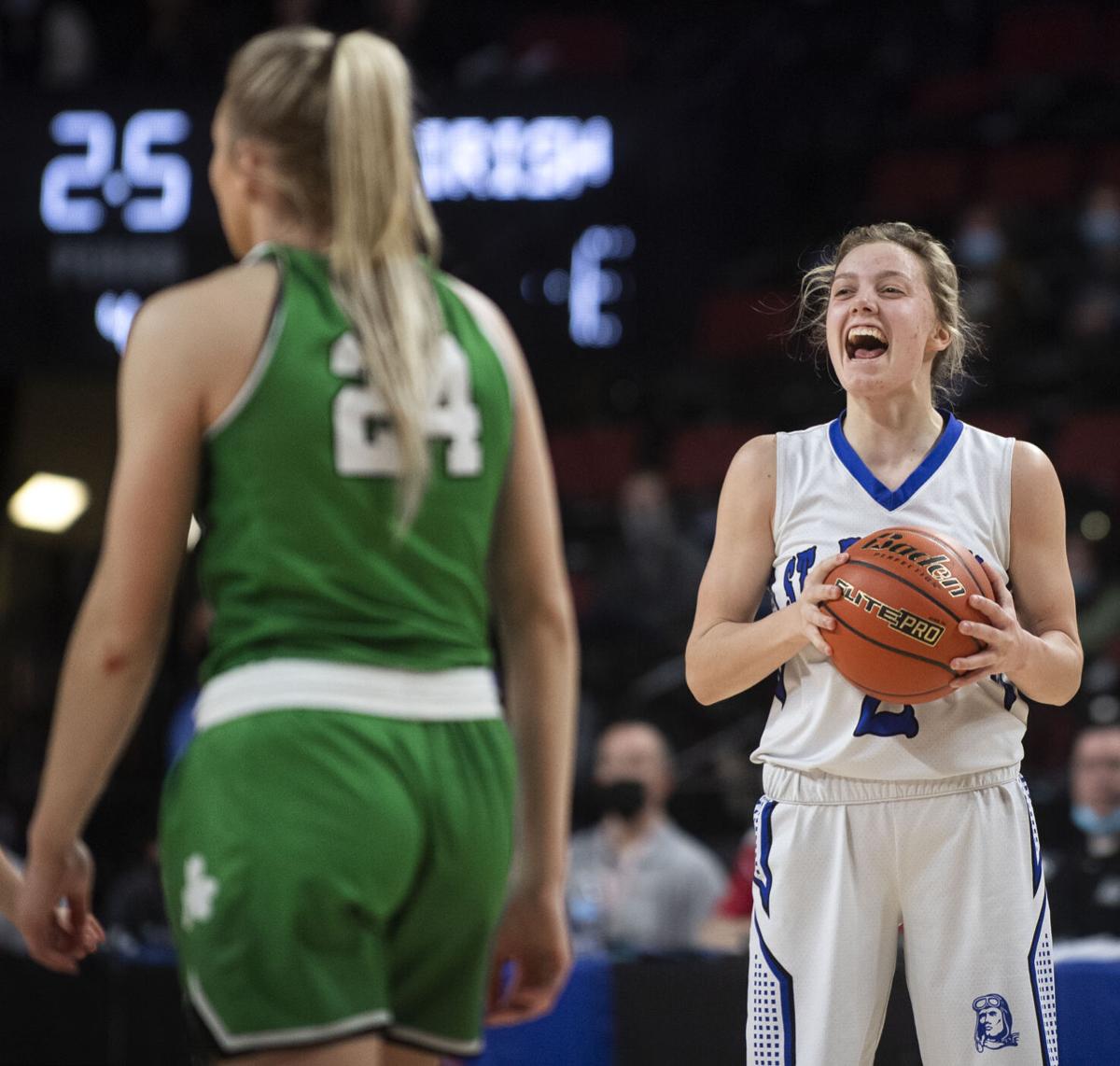 Fifty-two Saturdays ago, on the Pinnacle Bank Arena court, Allison Weidner put her arms around teammates Emma and Hannah Baumgart and made a promise.
"They were crying, I was crying," the Humphrey St. Francis star said. "I made the promise that this would be the year."
On Saturday, Weidner wrapped up one of the greatest seasons in state history in gold fashion, helping lead top-ranked Humphrey St. Francis to a 57-48 win against No. 2 Falls City Sacred Heart in the Class D-2 state championship game.
Like she did in 109 high school games, Weidner delivered on that promise.
She has 740 career dimes. This one won't count in the stats, but it was her best assist.
This time Weidner wasn't leaving the Pinnacle Bank Arena with a silver medal. Silver was replaced with the net and a gold medal.
"Just tears of joy in my eyes," said Weidner, who couldn't have worn a bigger smile at the finish. "Just knowing it's a relief. People kept texting me 'Good luck,' (and), 'You don't want to repeat last year.' I just wanted to make sure we got it done, to leave St. Francis on a high note."
It was a fitting way to close a chapter and open a new one. The next time we'll see Weidner in a basketball uniform she'll be taking the PBA court for Amy Williams' Huskers in November.
Weidner and Humphrey St. Francis have come close to a state championship before.
The Flyers lost to Sacred Heart in a tight state final in Weidner's freshman season, and in the semifinals in 2019. The Flyers were ranked No. 1 when they reached Championship Saturday last year, but Wynot halted those title hopes for another season.
That only heightened Weidner's determination, and that was evident in the fourth quarter Saturday when Sacred Heart took a 45-44 lead with less than 5 minutes remaining.
Weidner responded by penetrating inside the lane for two points and was fouled. She completed the three-point play.
On the Flyers' next possession, Weidner fired a long pass in a tight window to junior Kaylee Stricklin, who scored.
And then the future Husker put the game to bed when she scooped up a loose ball and scored with 1:01 remaining to give the Flyers a 54-45 lead.
"When things were a little haywire, you could always count on Allison for a big play," St. Francis coach Bryan Reichmuth said. "But even more than that, in the huddles … our guards are just sophomores, and Allison took them under her wing and then brought them along."
Weidner, also an all-state volleyball player and a track champion, showed her full arsenal at this year's state tournament. We know she can score. She had 31 points in a state semifinal win against Mullen. But she also gets her teammates going. She fed Stricklin in Stricklin's 21-point effort in the first round against Sterling. Senior Alissa Kosch scored 28 against Mullen.
Weidner finished with a game-high 21 points against Sacred Heart. Her final point in a Flyer uniform came at the free-throw line and pushed her career total to 2,282. She finishes third all-time in the state in career points behind Chambers' Darcy Stracke (2,752) and Grand Island Central Catholic's KC Cowgill (2,427).
Weidner also finished with 208 career points in the state tournament, which ranks eighth in the state.
"I want to make my name known and that small-town girls have what it takes," said Weidner, who also had eight rebounds, five steals and three assists against Sacred Heart.
More importantly to Weidner, she led her team to a 25-0 season and a fourth state championship and first since 2007.
"These girls deserve the gold and that was my mission, to do all I could to help them get that," Reichmuth said.