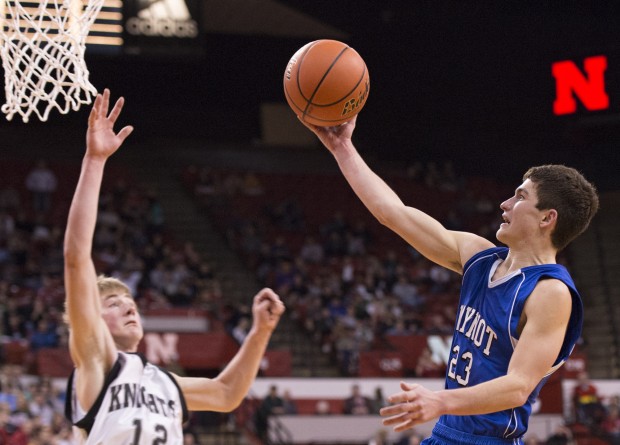 Many thought Wynot's Jackson Sudbeck was a freshman because he was listed that way in the state boys basketball program, but he actually is a junior.
That didn't take away from the big shots he hit throughout the tournament.
Sudbeck's three-pointer with 2:51 remaining against Falls City Sacred Heart in the Class D-2 championship game gave Wynot a 42-36 lead it would not relinquish.
In the first round against Giltner, Sudbeck nailed a three-pointer to end the Hornets' rally and propel the Blue Devils to the semifinals.
Then came his six three-pointers in the finals, including a stretch of 11 straight points in the fourth quarter and the key free throw in the second overtime that ended up being the difference in the 57-56 win.
"He's confident and he's a playmaker," Wynot coach Lee Heimes said. "He likes the big shots."
Hollins makes presence felt
Tra-Deon Hollins missed the game when Papillion-La Vista beat his Omaha Central team during the regular season, but Hollins more than made up for it in the Class A title game Saturday. 
In the first go-around, Nate Maloley scored 24 points, but with Hollins in his back pocket, Maloley had just seven points Saturday.
"We all like to play defense and we all like the dunk. If you like to dunk, you want to get a steal," Hollins said. "If you take away everything and you rip your man, that's when lobs and opportunities come to get a highlight reel. We disrupt everybody, Akoy (Agau) blocks a shot and then we have a chance to go."
Miller gets rare double-double
Southern Valley coach John Miller joined an exclusive club of coaches, including former Lincoln Pius X coach Don Kelley and Bob Schnitzler (Battle Creek girls and Lindsay Holy Family boys), who have had teams win both boys and girls state championships.
Miller guided Chambers to five girls titles before he took the Southern Valley boys job in the fall of 2011.
"I owe a lot to him. He's taught me everything I know about basketball," Southern Valley's 6-foot-9 senior center Spencer Kucera said of Miller. Kucera had 20 points and 12 rebounds in the Eagles' 38-34 victory over Sutton in the Class C-2 championship game.
"He turned things around for us," Kucera added. "Everyone made fun of us for hiring a girls coach, but he knows basketball, and the proof is we're now state champions."
Wahoo won lots of hardware Saturday.
The Warriors claimed the Class C-1 state championship and their fans won the sportsmanship trophy presented by the Nebraska Coaches Association. Other sportsmanship winners were Papillion-La Vista in Class A, Gretna in Class B, North Platte St. Patrick's in Class C-2, High Plains in Class D-1 and Spalding/Spalding Academy in Class D-2.
South Sioux City earned the nickname "Comeback Cards" during this year's Class B tournament with rallies from 18, 14 and 11 points down in its three games.
"Coach said he didn't want to be called that, but if we were, so be it," said 6-4 senior Jordan Comstock, who hit the game-winning basket in the title game. "It was great to prove everyone wrong."
The coach and player have the same last name but are not related, though there is a passing resemblance.
"I'd adopt him now," Coach Comstock joked after the game.
Day one: Devaney Center, 15,526; Pershing Center, 12,276; Lincoln High, 7,101; Lincoln North Star, 7,951; Day-One Total, 42,854.
Day two: Devaney Center, 20,591; Pershing Center, 10,349; Day Two total, 30,940; Two-day total, 73,794.