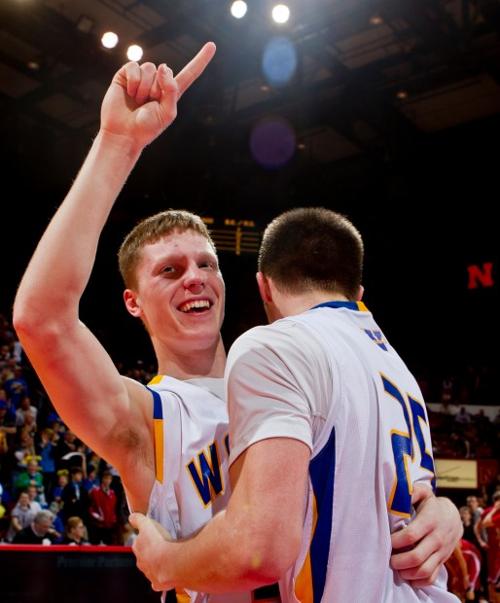 Somehow, the final shot that signaled Wahoo's 10th state basketball title — coming in a 45-42 triumph over Boone Central/Newman Grove — wasn't at all what most fans anticipated.
The top-ranked Warriors held a three-point lead with 5.6 seconds left Saturday night at the Devaney Sports Center. Boone Central/NG needed a clean inbounds pass and a quick drive to the front court for a shot at overtime. Not out of the question, considering the Cardinals had made 10 three-pointers in the game.
Wahoo's defense, however, had a different idea.
"We were prepared to foul," Wahoo coach Kevin Scheef said. "We wanted to pressure after the inbounds pass, then make them waste a couple of seconds bringing the ball up, and then foul. The way they were shooting, we didn't want them getting a good look at a three."
What happened next is now part of Wahoo's storied basketball history. The Cardinals got the pass in, but Wahoo's Quinn McGill rushed the play, disrupting any chance Boone Central/NG had of getting past midcourt. The ball bounced off a player's foot and rolled back toward the Cardinals' basket. A desperation heave at the buzzer from well short of midcourt fell harmlessly to the floor, 30 feet short of the basket, and Wahoo's undefeated season and Class C-1 state title were secure.
The win over Boone Central/NG helped ease the pain of last season's three-point loss to Boys Town in the C-1 title game. The Warriors (29-0) patiently waited one year for another chance.
"Last year, we came close and it was disappointing when you come that close," Scheef said. "It was very disappointing. This team's goal from day one was to win the state title. They knew what they wanted to accomplish. There have been so many great players and great teams at Wahoo. I'm just so proud of our kids that they get to put a state banner up."
Wahoo, for the second straight game, survived some anxious moments as Boone Central/NG's three-point shooting kept the Cardinals in position for the upset.
A frantic final minute of the third period featured four threes by the Cardinals, including one from Tyler Hedlund that gave them a 34-32 lead with four seconds left in the quarter.
Wahoo's Ben Scheef, oldest son of the coach, took the inbounds pass, dribbled just past midcourt and launched a shot that swished the net at the buzzer. It brought the loudest roar of the game from the Wahoo fans and set the stage for a dramatic fourth quarter.
"That shot certainly gave us momentum," Coach Scheef said. "Sometimes a little bit of luck can take you a long ways. We'll take all the points we can get in a game like this. Neither team could get any separation. Last year, we were on the other side of that, and it feels good to be on the winning side."
Boone Central/NG led for all but 49 seconds of the first half and took a 23-20 lead on Derek Gentrup's three-pointer to open the second half. Wahoo grabbed momentum with a 10-0 run, but the Cardinals used threes from Pierce Koch, Carter Johnson and Tyler Hedlund to erase the deficit.
Another three-pointer by Hedlund gave the Cardinals their final lead, 41-40, with 2:39 left in the game. Wahoo's Brook Stuart, who was 5-for-9 from beyond the arc and scored a game-high 17 points, answered with another long-range shot and the Warriors took a two-point lead.
"Against a zone, Brook's eyes light up," Kevin Scheef said. "He's our best three-point shooter. We wanted him ready to put it up every time he could, and he hit some huge threes for us."
Beau Bremer made one of two free throws with 24 seconds remaining to cut Wahoo's lead to one, but Stuart was fouled and the senior made both free throws with 18 seconds left. Wahoo missed the front end of a one-and-one with seven seconds left in the game, setting up the play that closed the game.
"We have a great tradition at Wahoo with the 114-game win streak and now 10 titles," Stuart said. "We've had some great teams in the past and it's a great thing to be in that conversation with them. My teammates got the ball to me and I had open looks. I'm just glad I could knock 'em down."
For Jonathan Abbott, who scored 17 points in the Warriors' first-round win  Thursday and 30 against Wayne on Friday, the title brings a sense of belonging.
"We look up and see all the banners at practice every day and we knew that we could be there someday," Abbott said. "We wanted to put our mark in school history."