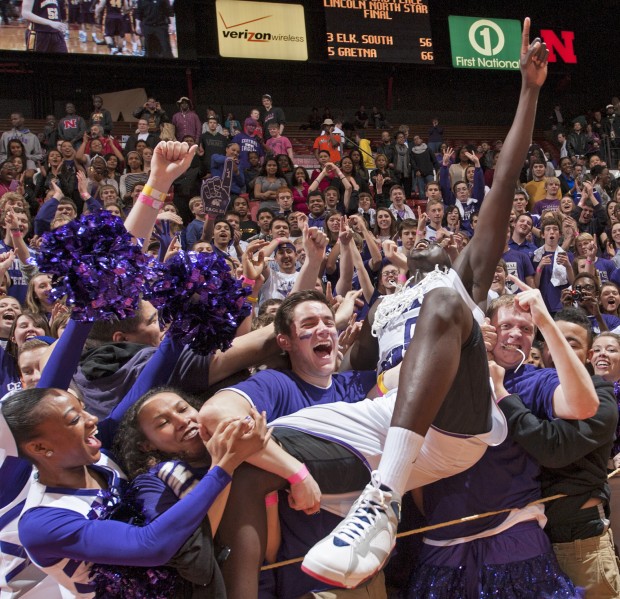 Akoy Agau wore a smile, one of the nets and a gold medal as he left the Devaney Sports Center court Saturday, sweeping a courtly bow to the crowd on the way out.
It was the fourth time the Omaha Central standout post player has collected a gold medal at the state basketball tournament, capping a perfect 12-0 career at Devaney.
The top-ranked Eagles wasted little time taking control before posting a 69-44 victory over third-ranked Papillion-La Vista on Saturday in the Class A championship game. It was Central's seventh title in the past eight years.
Agau scored eight points and had five rebounds, but it was his eight blocks that played the biggest role in Central's victory. Six of his blocks came in the first quarter, when Central stretched its lead to 19-7.
"He was very motivated to play (Brett) Dougherty. Dougherty had a really good game at Papillion," Central coach Eric Behrens said, referring to Papillion-LaVista's 67-58 victory over the Eagles during the season. "For him to limit Dougherty to 6-for-22 from the field, as good as he is, was important. Akoy controlled the game from the defensive side of the floor, and that let the guards get out and run.
"Deandre, Tra-Deon and KJ put up the numbers, but Akoy's presence defensively really allowed that to happen."
Deandre Hollins-Johnson had 17 points, Tra-Deon Hollins had 16 and KJ Scott had 13 for the Eagles (26-4).
"The blocks were huge, but changing shots was, too. All the missed shots that weren't blocked," Behrens said. "His presence kept Dougherty from getting good looks."
Central went on a 10-2 run in the first quarter, and after Spencer Lewis hit a three to end the period for Papio, the Eagles went on a 14-2 run to break the game wide open. Hollins tipped in back-to-back baskets, then Tre'Shawn Thurman tipped in another for a 25-10 lead. Agau scored inside, Scott got a runner to drop, Hollins-Johnson made a pair of free throws, and Thurman's dunk putback put Central up 33-12.
"One thing we focus on in the first three minutes is to set the tempo of the game. Defensively, I think we did that," said Agau, a Louisville recruit. "Not letting them get anything in the paint was big. Once a team knows they can't score in the paint, they kind of start settling for jumpers and it makes it easier on the defense.
"I think my guards did a great job. Tra-Deon came back and did a great job on (Nate) Maloley, who had 24 on us before. Tra-Deon was everywhere he was at. Defensively, we were solid."
Maloley finished with seven points and Dougherty had 17 to lead the Monarchs.
Papillion-La Vista coach Jason Ryan said preparing for Central is difficult.
"You can't simulate their pressure. When they're dialed in, and they were absolutely dialed in, on a big stage, they've been really, really good," Ryan said. "It all started with Akoy. He blocked shots, he posted hard, he ran the floor hard.
"You get by the initial wave and there's that second and third wave coming."