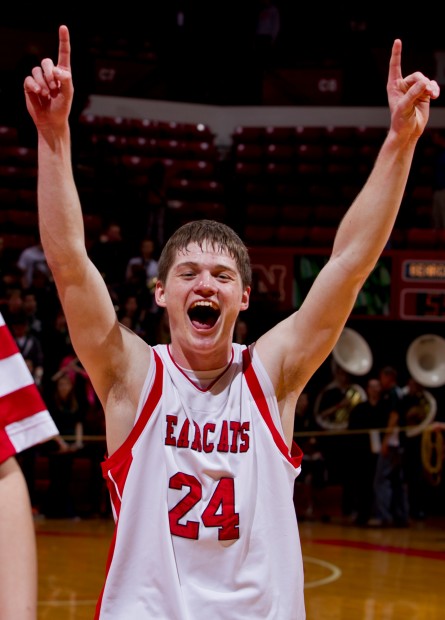 Michael Hadden scored 18 points and Scottsbluff hung on at the foul line, holding off Gretna 55-51 on Friday at the Devaney Sports Center in the Class B semifinals. The two teams left standing at the end of the 2013 Class B boys state tournament are the same two that finished off 2012 -- Scottsbluff and South Sioux City.
"It should be a great game," Hadden said. "Both teams like to play a fast pace. Both teams lost great seniors and are completely different teams."
Scottsbluff (23-5) trailed Gretna 24-23 at halftime but got out quickly in the third quarter on back-to-back three-point plays from Hadden and Eric Moreno.
"We wanted to be aggressive on offense, more than we were in the first half," Scottsbluff coach Tony Siske said. "Every guy we put on the floor has to make shots, that's what we told them. And they stuck them."
Scottsbluff led by as many as six in the third quarter, but Gretna kept hanging around, finally tying the game at 44 on consecutive three-pointers by Nate Skrdla with 5:04 to play. But Moreno broke loose for his only three of the night for a 47-44 Scottsbluff lead and the Bearcats made 8 of 12 free throws in the final four minutes to hold off the Dragons.
"I thought we played solid defense all night," Hadden said. "We figured they'd be keying on us (Hadden and Moreno), so guys like Jack (Jackson Heinze) and Tyler (Mickey) had to hit some shots and Matt (Klein) kept getting in the passing lanes for steals."
Hinze added 12 points on three three-pointers and Moreno had nine points. Mitch Drey led Gretna (18-8) with 18 points and Jordan Batenhorst chipped in with 15.
Saturday's rematch -- Scottsbluff knocked off South Sioux City 64-61 last year for the title -- will be without the Bearcats' all-time leading scorer, Zach Clemens, and the Cardinals' Mike Gesell, who is at the University of Iowa. Both graduated in 2012.
"They (South Sioux City) look fantastic," Siske said. "Nate Rogers is playing extremely well and Sky Aldrich is a heady player. Hopefully, it will be a great championship game."
Both teams like to run, which bodes for an up-tempo, high-scoring affair.
"This is a special group of seniors," Siske said. "They've been through a lot and done a lot for us. Now they've got an opportunity to hang another banner."