The state's top boys basketball prospect for the 2022 class will make his college decision this weekend. 
Grand Island's Isaac Traudt, ranked No. 54th nationally, will announce his pick at 10 a.m. Saturday — and the Huskers will be tuned in.
Nebraska is one of countless Power Five suitors for Traudt's services as a 6-foot-10 forward with supreme scoring talents at all levels. 
Michigan State, Nebraska, North Carolina and Virginia are considered Traudt's most likely destinations, according to 247Sports.
Traudt was a first-team Super-Stater last season after averaging 25.3 points per game for the Islanders.
These first-team Super-Staters have game: Meet the five boys who took their games to another level in 2020-21
They got... 𝗚𝗔𝗠𝗘!
This season's group of first-team Super-Staters are gamers. They take their game to the next level. Do you see what we're getting at?
We spent a day at The Amazing Pizza Machine in Omaha. Sure, there were serious questions, but we enjoyed learning a little bit more about how games, arcade or otherwise, play in each player's lives.
We got some good answers, too.
Let us introduce the 2020-21 Journal Star first-team boys Super-Staters.
A day at the arcade 🕹️
Frankie Fidler and Saint Thomas getting some shots up on the pop-a-shot.  Stuffed animals. Flashing lights. Enjoy this behind-the-scenes look at the Journal Star's first-team Super-State photoshoot. 
𝙃𝙐𝙉𝙏𝙀𝙍 𝙎𝘼𝙇𝙇𝙄𝙎 (co-captain)
𝙼𝚒𝚕𝚕𝚊𝚛𝚍 𝙽𝚘𝚛𝚝𝚑 | 𝟼-𝟻 | 𝚂𝚛. | 𝟸𝟸.𝟸 𝙿𝙿𝙶 | 𝟻.𝟼 𝚁𝙿𝙶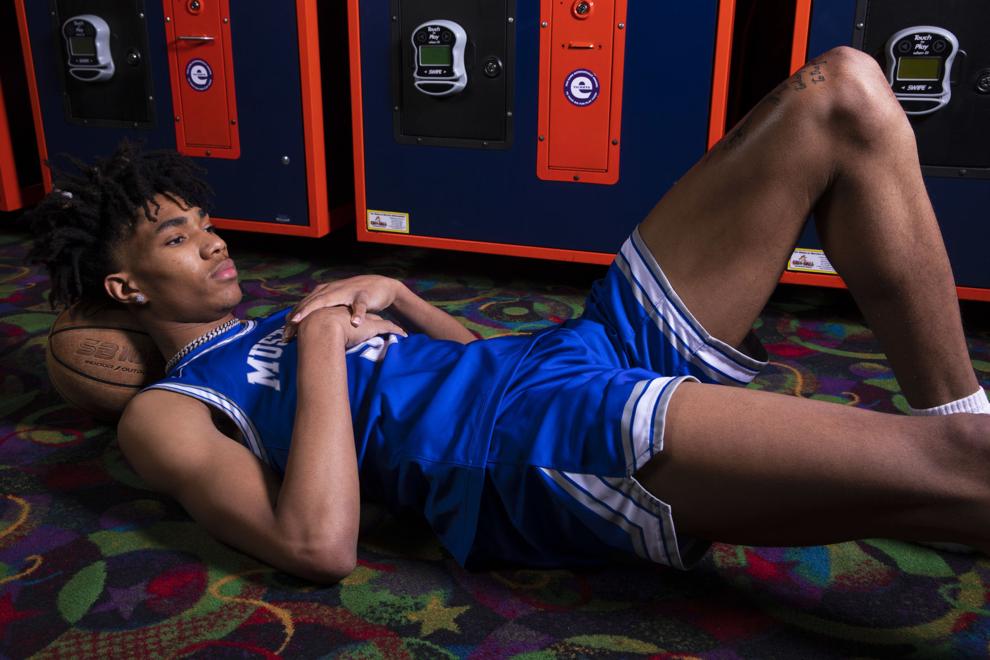 College: Committed to Gonzaga on Friday from his list of eight finalists – Gonzaga, Iowa State, Kansas, Kentucky, North Carolina, Oregon and UCLA.
He's got game: There were a lot of firsts when it comes to Sallis, last year's honorary captain of the Super-State team – first Nebraska boy to be named a McDonald's All-American, first five-star basketball prospect to ever come out of Nebraska and he was the headliner on a talent-rich Mustang team that won the school's first boys Class A state basketball title and the first state championship in Coach Tim Cannon's career. Sallis, the No. 7 recruit in the class of 2021 nationally according to Rivals and No. 1 point guard prospect, shot 58% from the field and 81% from the free throw line this season. Sallis, who finished his career with a school-record 1,819 points, was comfortable scoring at all three levels, knocking down three-pointers with the same ease as nailing mid-range jumpers or driving it all the way to the basket and throwing down a dunk over a taller defender. He also averaged 2.4 steals per game, a testament to his added focus on the defensive end this winter.
Coach mode: "It's no accident Hunter had a great season year. He was getting out of school at 12:30 because of a shortened schedule for seniors, and he was getting individual workouts in, then coming back here for our practice at 3:30. With all the work he was putting in, he just kept getting better." Millard North coach Tim Cannon.
Fun game he can maybe beat other Super-Staters in: "The motorcycle games. All of those. I feel like I am winning for sure."
Go-to games growing up: "I like Pac-Man. That was really my favorite game."
How many makes out of 20 on pop-a-shot: "For sure, 20."
𝘾𝙃𝙐𝘾𝙆𝙔 𝙃𝙀𝙋𝘽𝙐𝙍𝙉 (co-captain)
𝙱𝚎𝚕𝚕𝚎𝚟𝚞𝚎 𝚆𝚎𝚜𝚝 | 𝟼-𝟷 | 𝚂𝚛. | 𝟷𝟻.𝟿 𝙿𝙿𝙶 | 𝟻.𝟷 𝚁𝙿𝙶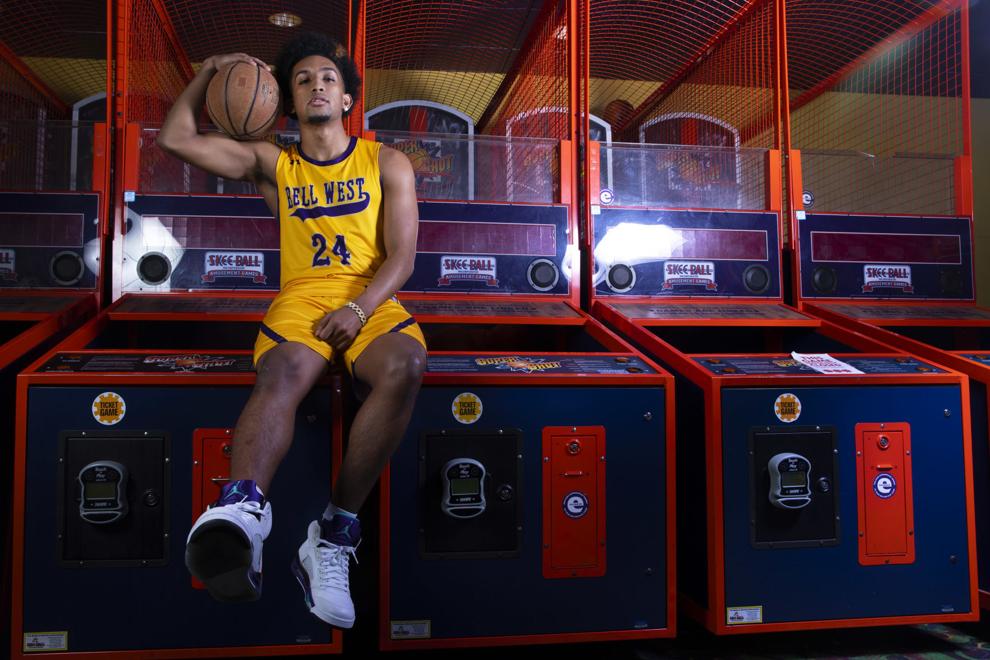 He's got game: Hepburn's got a total game, and it's that unique ability to contribute in every facet that sets him apart from any other high school player in the history of the state. Hepburn's strength, quickness, explosiveness and elite ballhandling skills always make him a threat to drive and score, but he also raised his three-point shooting to 37% this season, making him even more difficult to guard. Hepburn, one of the best facilitators in state history, averaged an astounding 8.3 assists and 3.8 steals per game. He had 10 or more assists nine times during the season, including a stretch at mid-season when he had double-figure assists in eight of nine games. Hepburn, who led Bellevue West to the 2020 state title, was at his best in the big games, going off for 32 points in an overtime win at Creighton Prep during the regular season and scoring 24 points and dishing out 13 assists in a win over then undefeated Lincoln Pius X. Hepburn, a four-year starter for the Thunderbirds, finished with 1,706 points, 638 assists and 324 steals in his career.
Coach mode: "The unique thing about Chucky, and it's been this way for four years, I've never had a player who doesn't have to score to have a monumental impact on the game. When he does score combined with all the other stuff, his influence goes to another level, and that was evident in the last two games at the state tournament." Bellevue West coach Doug Woodard.
Fun game he can maybe beat other Super-Staters in: "The Connect Four game. Ain't nobody can beat me in that game."
Go-to games growing up: "I played Monopoly so much."
How many makes out of 20 on pop-a-shot: "20 out of 20."
𝙄𝙎𝘼𝘼𝘾 𝙏𝙍𝘼𝙐𝘿𝙏
𝙶𝚛𝚊𝚗𝚍 𝙸𝚜𝚕𝚊𝚗𝚍 | 𝟼-𝟿 | 𝙹𝚛. | 𝟸𝟻.𝟹 𝙿𝙿𝙶 | 𝟿.𝟺 𝚁𝙿𝙶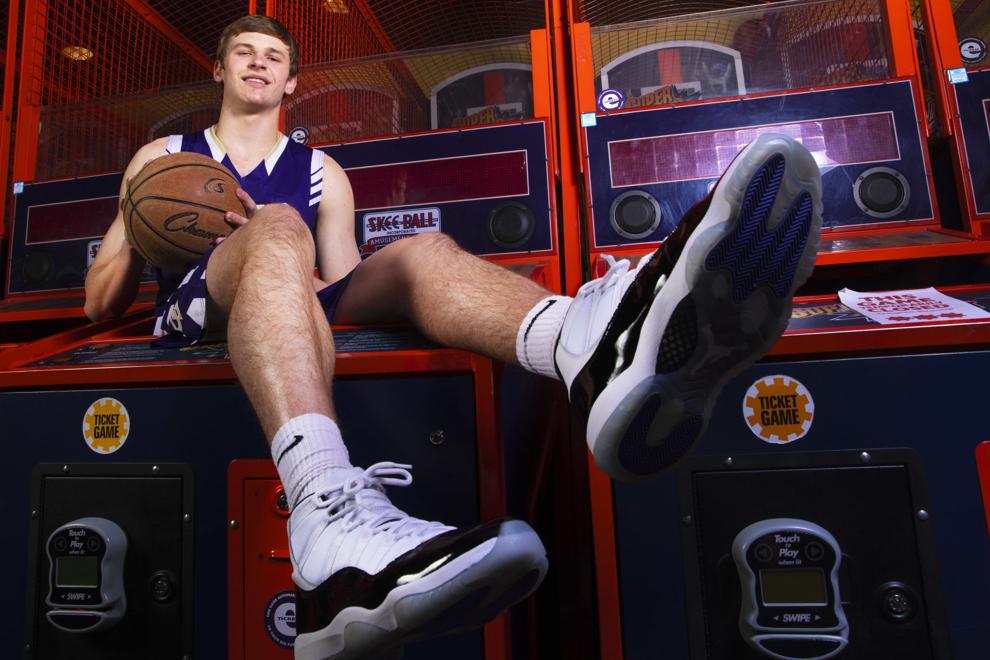 College: Undecided, has 28 Division I offers, the biggest from Virginia, Oregon, Kansas, Louisville, Ohio State, Oklahoma, Oklahoma State, Stanford and Wisconsin as well as Nebraska and Creighton.
He's got game: Traudt, a four-star recruit nationally by Rivals, intrigued college coaches with a strong summer performance playing AAU for Lincoln Supreme, then followed it up with a high school season in which he excelled in all five positions he played. Traudt is the Islanders' point guard against full court pressure defenses, he's their zone breaker with unlimited range beyond the three-point line and he's their rim protector and inside presence both scoring and rebounding. Despite seeing double and sometimes triple teams, Traudt still shot 51% from the field overall, 37% from three-point territory and 79% at the free throw line. Traudt tied the single-game Class A scoring record with 57 points against Norfolk and also had games of 39 points against Omaha Bryan, 34 against both Bellevue East and Gretna and 33 against Lincoln Southwest. GI's starting five returns intact next season, making the Islanders a team to watch in Class A next season.
Coach mode: "Isaac's spent a lot of time and effort working on his body and working on his skill set to get to where he is today. As far as being able to play inside-outside, that's something he's always had. Between his sophomore and junior season, he really started to recognize his potential and started to understand that he had to put some time into his body, develop a workout plan and build some strength around his skill set." Grand Island coach Jeremiah Slough.
Fun game he can maybe beat other Super-Staters in: "I beat them (the other Super-Staters) in the Connect four Hoops a couple times. One of the shooting games, too."
Go-to games growing up: "I played a lot of Mario Cart, and I was pretty good at Fortnite when I played."
How many makes out of 20 on pop-a-shot: "17 or 18."
𝙎𝘼𝙄𝙉𝙏 𝙏𝙃𝙊𝙈𝘼𝙎
𝙼𝚒𝚕𝚕𝚊𝚛𝚍 𝙽𝚘𝚛𝚝𝚑 | 𝟼-𝟽 | 𝚂𝚛. | 𝟸𝟷.𝟸 𝙿𝙿𝙶 | 𝟽.𝟿 𝚁𝙿𝙶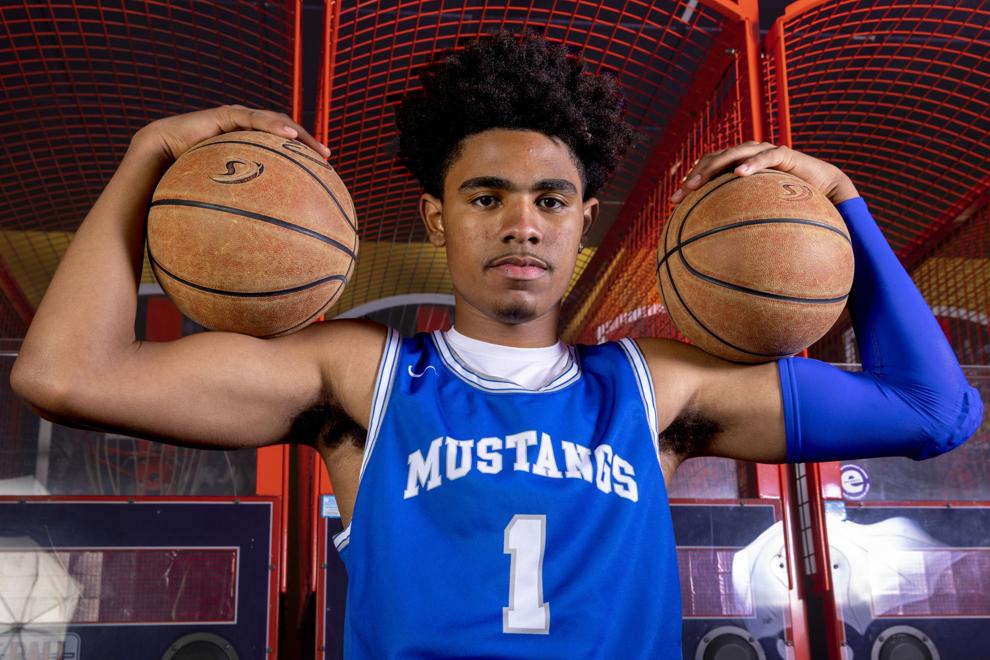 College: Undecided, will announce commitment on April 10. Has 11 offers, the most significant being Mississippi State, Pepperdine, Richmond, TCU and Virginia Tech.
He's got game: Thomas, the Nebraska MaxPreps Player of the Year, has grown more than seven inches since entering high school and his game has blossomed at the same time. Thomas shot 57% from the field overall as a senior, and was probably the best three-point shooter in the state, connecting on 82 of 182 shots from beyond the arc for 45%. He had 25 or more points in 11 games this season, including a 48-point explosion in the two overtime win over Bellevue West in the Metro Conference tournament finals, a game Thomas was 19 of 26 from the field and 5 of 9 from three-point. While his shooting and scoring gets the headlines, Thomas' ballhandling and passing skills make him an even more coveted player at the college level. Thomas averaged 5.2 assists per game, and his feeds inside to Jasen Green for back-to-back baskets in overtime helped the Mustangs get over the top against Bellevue West in the Class A state finals.
Coach mode: "Scoring, rebounding and assists, nobody was doing what Saint did in those three categories this year. Everyone knows he's a great shooter and scorer, but he's also very good both distributing the ball and handling it. He can take it the length of the court or penetrate the lane and make a beautiful pass." Millard North coach Tim Cannon.
Fun game he can maybe beat other Super-Staters in: "I feel like the car games, like NASCAR and stuff. I'm a good driver…I don't think they (the other Super-Staters) can drive like I can (laughs)."
Go-to games growing up: "I just played a lot of NASCAR and stuff. A good driver, like I said."
How many makes out of 20 on pop-a-shot: "All 20, 100%."
𝙁𝙍𝘼𝙉𝙆𝙄𝙀 𝙁𝙄𝘿𝙇𝙀𝙍
𝙱𝚎𝚕𝚕𝚎𝚟𝚞𝚎 𝚆𝚎𝚜𝚝 | 𝟼-𝟽 | 𝚂𝚛. | 𝟸𝟷.𝟸 𝙿𝙿𝙶 | 𝟼.𝟹 𝚁𝙿𝙶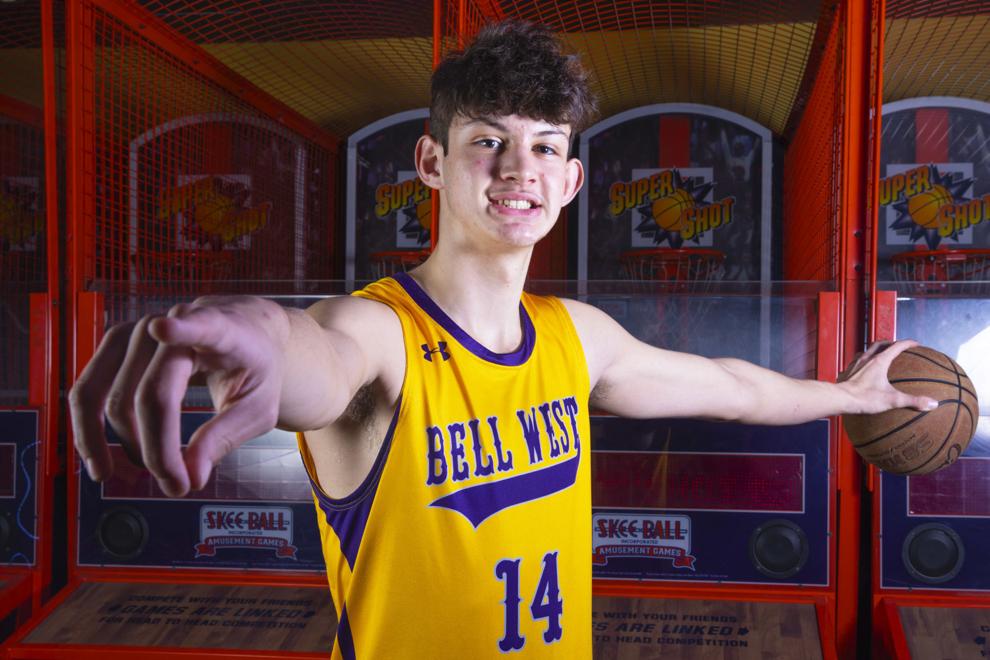 He's got game: Much like Thomas, when the big growth spurt hit for Fidler, he already had the guard skills in place to continue his high-level perimeter game but added a dimension inside with his added size. Fidler hit 53% of his shots from the field overall, 40% from beyond the three-point arc and 79% from the free throw line as he became Chucky Hepburn's favorite target for picking up assists. His season-high was 31 points against Omaha Benson, while also going off for 30 against Creighton Prep in the Metro Conference holiday tournament, 26 against Iowa state champion Waukee, 26 against Omaha Central, 24 in the regular season win over Millard North and 20 against Sunrise Academy, one of the top prep school teams in the country. His length defensively helped him make 44 steals and block 14 shots this season.
Coach mode: "I've never had a kid who improved as much as Frankie has from the time he got here to the end of this year. He was 6-1 as a freshman and he played guard growing up, now he's 6-7 and he has those guard skills. I think the future is even brighter for him as he continues to grow into that body. I think Omaha got themselves a good one, and he has a chance to be a load in the Summit League." Bellevue West coach Doug Woodard.
Fun game he can maybe beat other Super-Staters in: "I think 'Nothing But Net' (Pop-a-shot). I think I'm good at that."
Go-to games growing up: "I like Pac-Man actually. I remember going to the bowling alley or coming here and playing Pac-Man. It always gave me a good vibe."
How many makes out of 20 on pop-a-shot: "15. I'm not making 20 because I think the rim is real crooked."