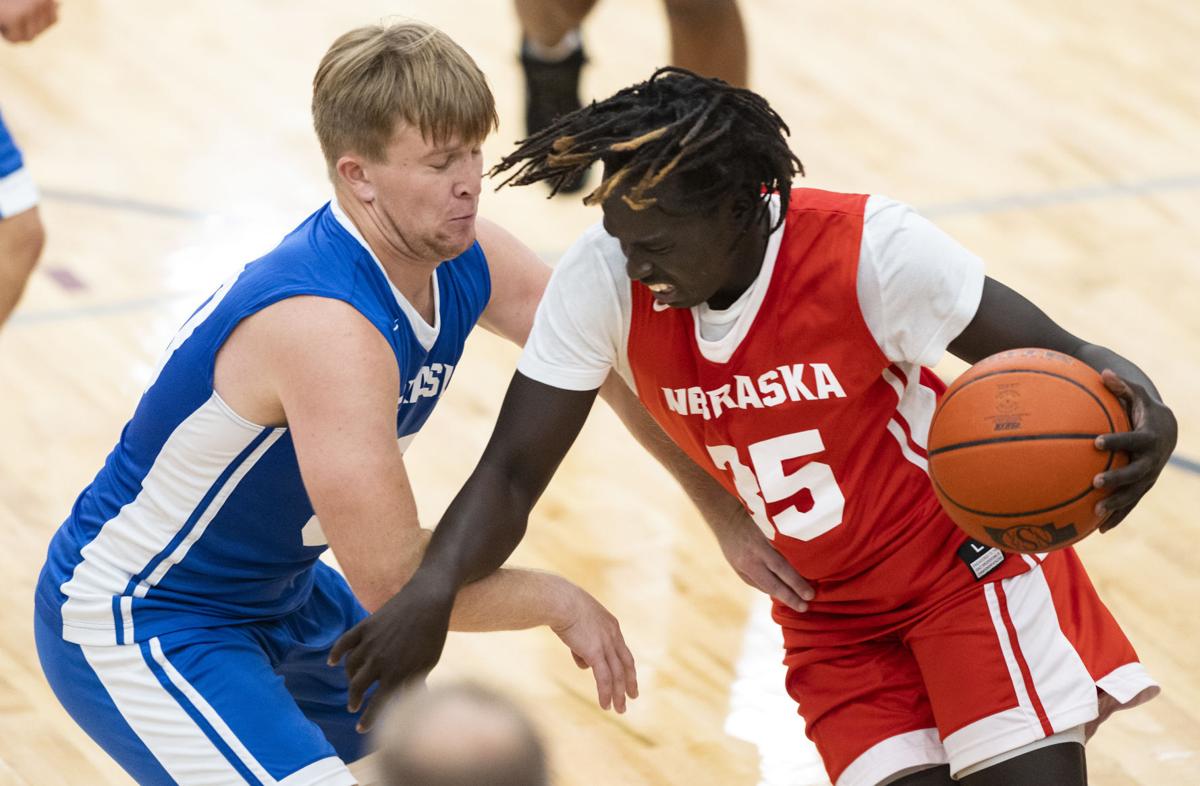 Kwat Abdelkarim has hit some clutch shots in Lincoln North Star's gym before.
He added a couple more Monday night.
The former Navigator scored 13 points in leading the Red team to a 103-78 victory against the Blues in the Nebraska Coaches Association boys all-star basketball game.
"It was really fun to play here because it's my last time playing at North Star," said Abdelkarim, who averaged 19.5 points per game as a senior. "I thought my district game here against North Platte was my last game, but got to play one more time, so that's pretty fun."
The Red squad led by double-digits for most of the game, including a 20-point lead early in the third quarter. The Blue team went on a 10-0 run and later got to within eight on a floater by Yutan's Brady Timm with seven-plus minutes remaining.
But the 6-foot-3 Abdelkarim had a quick answer, hitting a three from the left wing to steal away some of the momentum.
His team followed with a 16-4 run to take control.
"I thought my shot was kind of falling throughout warmups and I was feeling it, so when Brady (Timm) put his hand down, I just let it go," Abdelkarim said.
Abdelkarim, who played with Lincoln Supreme this summer, now looks forward. He's hoping to land at a junior college or a prep school and reclassify for the next recruiting cycle.
"Really excited because everyone's main goal is to play at the next level," said Abdelkarim, who eventually wants to climb to DI. "At the highest level they can play."
The brightest all-stars
* Both teams started hitting a bunch of threes in the third quarter, and Papillion-La Vista South's Graham Cassoutt was a part of the frenzy. He hit back-to-back threes to help the Red team keep the Blues at bay. Cassoutt finished with 16 points.
* Elkhorn's Colton Uhing led the Reds with 17 points, including an 8-for-8 performance from the line.
* Yutan's Brady Timm, a Class C-2 all-stater, scored 15 points for the Blue team.
The biggest shots
* Mount Michael's Bradley Bennett hit a three-pointer from about the 27th Street and I-80 overpass. OK, it was about nine feet from behind the arc during the third, quarter, but it was still a deep shot.
* Millard North's Tyler Sandoval, playing for the Blues, added a little showtime to the game with a transition dunk early in the fourth quarter.
Around the scene
* Don't tell the Red team's Drew Beukelman the game was out of reach. The 6-foot-7 post player from Lincoln Christian hit a three-pointer for the Red team, then blocked a shot by Timm from behind in the closing moments.
* Bruce Chubick Sr. wasn't going to let a recent hip surgery keep him from coaching the red all-stars. The Omaha South coach was on crutches Monday night.