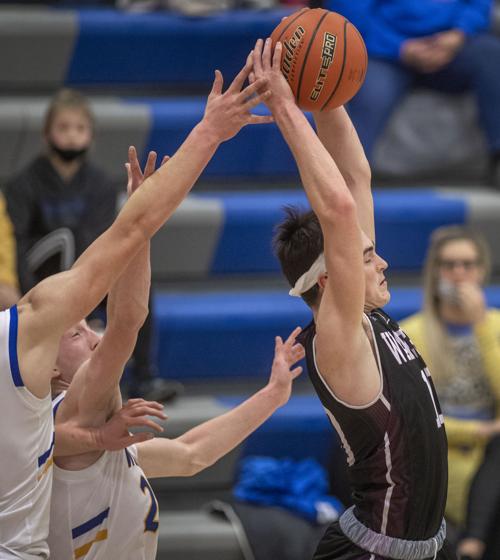 WAHOO — It was late in the third quarter when Waverly head coach Ryan Reeder looked up at the scoreboard and saw his team down 46-31.
Then, he looked into the eyes of his players in the timeout huddle and what he saw reassured him.
"I just looked them right in the eyes and could tell they weren't fazed," Reeder said. "Everyone was just calm, and that's the type of team we have."
Following the timeout, Waverly outscored Wahoo 29-12 over the game's final 10-plus minutes as the Class B No. 3 Vikings defeated Class C-1 No. 5 Wahoo 60-58 Thursday night.
Despite battling with Wahoo (11-3) in the first quarter, the Warriors played a dominant second quarter which gave them a 30-24 halftime lead. In the first half, Wahoo senior Trevor Kasischke scored 14 of his game-high 26 points as the Warriors dominated on the glass.
"That's a compliment to Wahoo, they kind of came out early and took it to us. The difference early on was them rebounding the ball," Reeder said.
Despite a halftime speech spurring the Vikings into action, stagnant offense hurt Waverly (9-1) early in the third quarter. Junior Cole Murray made four three-pointers and led the Vikings with 25 points, but they needed other players to pick up the slack late.
Sophomore Preston Harms provided a spark off the bench with a pair of three-pointers and senior Andrew Heffelfinger scored seven of his nine points in the fourth quarter as well. The Vikings' rebounding efforts improved too, as they attempted 15 field goals in the final quarter, compared with just eight from Wahoo.
"They gave us opportunities early on to shoot but we couldn't hit anything, and our confidence just grew and grew over the game," Reeder said.
In addition to another big night from Kasischke, sophomore Owen Hancock added 10 points as Wahoo shot over 50% (8-for-15) from three-point range. However, the late efforts from Heffelfinger and Harms were just enough for Waverly to secure the dramatic 15-point comeback.
"That was just a great basketball game," Reeder said.
Waverly girls 48, Wahoo 46
Paige Radenslaben scored a game-high 18 points as Class B No. 10 Waverly overcame an 11-point third-quarter deficit to defeat Class C-1 No. 10 Wahoo 48-46. Junior Abbie Carter finished with 11 points and made two late free throws to seal the win for Waverly (6-8), while Taylor Luben paced Wahoo (8-6) with 12 points.