First-team Super-Staters Charlie Easley of Lincoln Pius X and Nebraska signee Akol Arop headline the players who will participate in the 15th annual Med Express Urgent Care All-Star boys basketball game at 8 p.m. Friday at Omaha Benson High School.
Four other Lincoln players — Southeast's Michael Anderson, Lincoln High's Keyshawn Jenkins and Jaden Horton and North Star's Josiah Allick — will join Easley on the Coral Orange roster. South Dakota State recruit and second-team Super-Stater Baylor Scheierman of Aurora is also on Coral Orange.
Arop tops the Scuba Blue roster, which also includes Lincoln Southwest's Mayuom Buom, York all-stater Brady Danielson and Seward all-stater Nate Lliteras.
The girls game at 6 p.m. features three first-team Super-Staters — Millard North's Lauren West for Coral Orange and McKenna Sims of South Sioux City and Oakland-Craig's Dacey Nelson on Scuba Blue. Lincoln players on the Coral Orange roster are Lincoln Southwest all-stater Jaden Ferguson and her Silver Hawk teammate Hannah Kelle and Lincoln Northeast's Kambree Rhodes and Azaiya Trainor.
A pair of Lincoln Pius X seniors, Jayden Greisen and Kloee Sander, are on the Scuba Blue team as well as Seward's Kayla Luebbe and Nebraska City's Snezana Serafimoska.
Proceeds from the game benefit the North Omaha Boys and Girls Club.
Boys
You have free articles remaining.
Coral Orange: Jerome Wallace, Omaha Bryan; Michael Anderson, Lincoln Southeast; Keyshawn Jenkins, Lincoln High; Cooper Prososki, Bennington; Javen Udofia, Omaha Bryan; Charlie Easley, Lincoln Pius X; Jaden Horton, Lincoln High; Thomas Faber, Creighton Prep; Baylor Scheierman, Aurora; Brett Porter, Millard North; Chase Thompson, Omaha Westside; Josiah Allick, Lincoln North Star; Den Jal, Bellevue West.
Scuba Blue: Fred Knotts, Bellevue East; Jake Kudron, Omaha Skutt; Ta'Vion Anderson, Omaha South; Jake Rueschhoff, Millard North; Kyle Hutcherson, Omaha South; Karson Gansebom, Bennington; Nico Felici, Bellevue West; Jace Piatkowski, Elkhorn South; Brady Danielson, York; Brandon Nissen, Omaha North; Akol Arop, Creighton Prep; Nate Lliteras, Seward; Mayuom Buom, Lincoln Southwest.
Girls
Coral Orange: Akili Felici, Bellevue West; Taylor Farrell, Millard West; Chaise Pfanstiel, Millard West; Delani Harris, Omaha Benson; Lexi Kraft, Millard North; Hannah Kelle, Lincoln Southwest; Kambree Rhodes, Lincoln Northeast; Jayna Green, Millard North; Quinesha Lockett, Omaha Benson; Kianna Estima, Omaha Benson; Lauren West, Millard North; Azaiya Trainor, Lincoln Northeast; Jaden Ferguson, Lincoln Southwest.
Scuba Blue: Payton Jakopovic, Elkhorn; Ali Dieckmann, Archbishop Bergan; Dacey Nelson, Oakland-Craig; Konnor Sudmann, Treynor, Iowa; Karen Jennings, Omaha Concordia; Haley Kempf, Archbishop Bergan; Jayden Greisen, Lincoln Pius X; Sierra Kile, West Point-Beemer; Snezana Serafimoska, Nebraska City; McKenna Sims, South Sioux City; Kayla Luebbe, Seward; Sydney McDermott, Omaha Skutt; Kloee Sander, Lincoln Pius X.
AKOL AROP
Creighton Prep | 6-6 | Sr.
College: Nebraska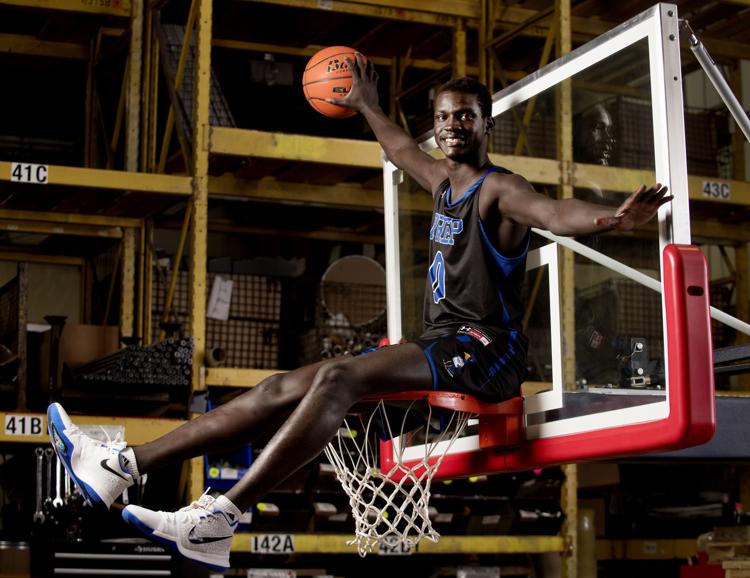 What he did: The returning first-team Super-Stater was the focal point of the 2018 Class A state championship team, but Arop was the only returning starter from that squad after Jaylin Hunter moved to Connecticut after his father took an assistant coaching position on the Huskies' staff. The Nebraska Gatorade Player of the Year was not only the Junior Jays' physical leader this season, but also the vocal leader, responsibilities coach Josh Luedtke thought his star handled very well. Arop, who committed to the Huskers last summer, averaged 19.4 points and 10.9 rebounds per game to go with 2.6 blocked shots as he utilized his quickness, length and explosive jumping ability in all three areas. While Arop exhibited some perimeter skills last summer with his Omaha Sports Academy 17-and-under AAU team, his role for Prep this season was to score down low and drive to the basket from the perimeter to open up the Junior Jays' array of three-point shooters, and as a result, shot 62 percent from the field. He lit up Omaha Benson for 35 points in late December and had 30 in the overtime win at Lincoln North Star in late January, a decision that the Navigators reversed in the first round of the Class A state tournament.
Coach-speak: "Akol works very hard in practice, and when your best player gives that much effort, it sets a great example for everyone else on the team. He was always very positive toward his teammates, but also demanding. Akol is the most efficient player I've ever coached. He could've averaged 25 or 30 points a game and he had opportunities to force things, but he never did. He's a very unselfish player who wanted to see us win as a team." — Creighton Prep coach Josh Luedtke
DONOVAN WILLIAMS
Lincoln North Star | 6-5 | Jr.
College: Nebraska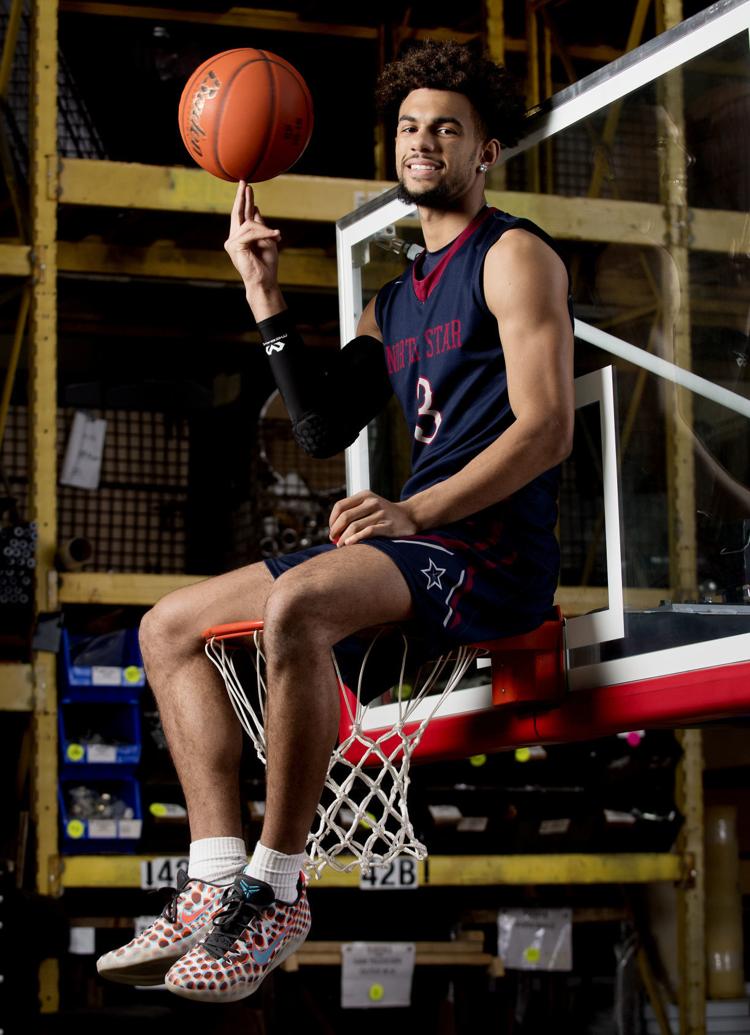 What he did: North Star's late season surge that propelled the Navigators into the Class A state tournament semifinals was largely fueled by Williams' well-rounded game getting his teammates more involved offensively, which in turn made the Husker commit more efficient and just as productive with fewer shot attempts. Williams, who committed to Nebraska last summer, has the ballhandling and passing skills of a point guard with the scoring ability from both outside and on the drive of a shooting guard or small forward. Williams averaged 21 points, 5.2 rebounds and 2.7 assists per game and was a 74 percent free-throw shooter after drawing 216 foul shot attempts for the season. Williams had 30 or more points three times — 32 against Norfolk in early January, 36 in the overtime loss to Creighton Prep in late January and 30 in the district final victory over Kearney, a game in which he hit the game-winning three-pointer from the left wing with just over two seconds left. Williams is one of three starters back next season for North Star, which should be among the Class A state contenders.
Coach-speak: "Donovan felt a lot of pressure early in the season thinking he had to do it all himself. He's a very smart player, and he wanted our team to win, so he started playing to get everyone involved. Knowing he didn't have to do everything himself made him enjoy playing basketball even more. With his work ethic in the offseason to improve and his commitment to the weight room, it will be interesting to see where his game is a year from now." - North Star coach Tony Quattrocchi
CHUCKY HEPBURN
Bellevue West | 6-1 | So.
College: Uncommitted, being recruited by a number of Big Ten and Big 12 schools. Has a scholarship offer from Nebraska.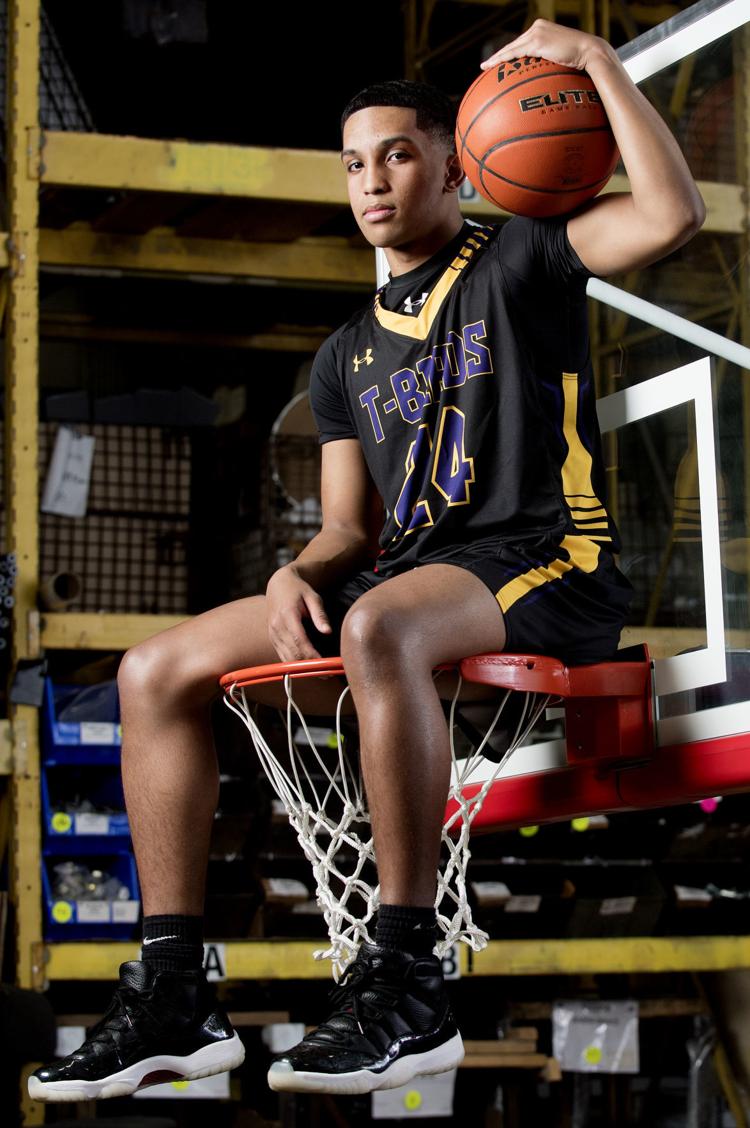 What he did: Hepburn was the point guard that ignited Bellevue West's high-octane offense that made the Thunderbirds the No. 1-ranked team in Class A almost the entire season before ending up with a semifinal finish at the state tournament. Hepburn was Bellevue West's leading scorer, averaging 18.3 points per game, but he also hauled in an average of 5.1 rebounds, dished out five assists and registered 3.4 steals per game. Hepburn can drive the lane as well as anyone in the state, and his vision of the court meant he would either find a wide-open teammate for a shot or finish himself, sometimes with an emphatic dunk. Hepburn shot 54 percent from inside the three-point arc and 77 percent from the free-throw line. His three-point shot is steadily improving, and he had a flair for the dramatic from beyond the arc as he provided the winning points in victories over a pair of state tournament teams — Kearney and Creighton Prep — with late-game threes. Five of the Thunderbirds' top seven players will return, so with Hepburn leading the way, Bellevue West could be the team to beat next season.
Coach-speak: "I can't think of a player in the state who could impact a game in a myriad of ways like Chucky could. He's more about the team than he is about Chucky. There's not many guys like that ... and that's what makes him unique. He's hungry and he's willing to put in the hard work to get better. As he gets bigger and stronger and he continues to refine his skill set, I don't think there's a level (of basketball) that's too high for him." — Bellevue West coach Doug Woodard
CHARLIE EASLEY
Lincoln Pius X | 6-2 | Sr.
College: Uncommitted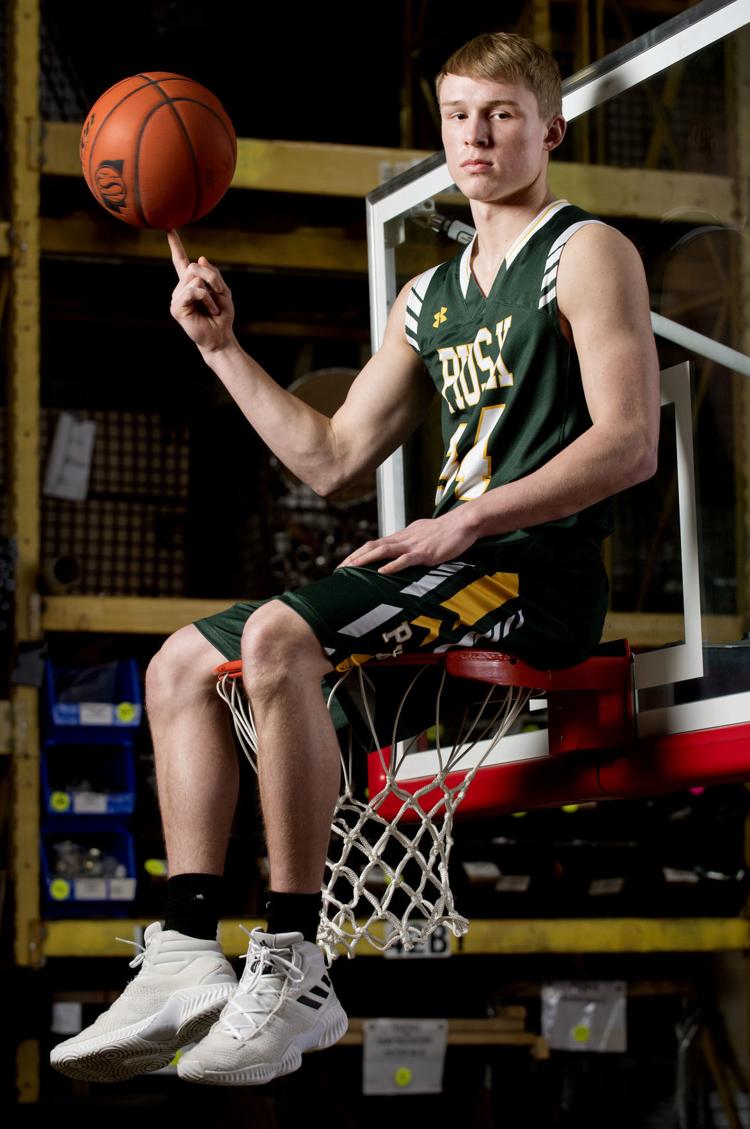 What he did: Easley filled the stat sheet and led the Thunderbolts to the Class B state championship in the process by averaging 23.3 points, 6.1 rebounds, 4.1 assists and 3.1 steals per game, all team highs. He was not only productive, Easley was also a model of efficiency in his multi-leveled offensive game that was equally lethal driving to the basket for layups, knocking down midrange jump shots and bombing in three-pointers. He shot 51 percent from the field overall, 45 percent from beyond the three-point arc and 86 percent from the free-throw line. The all-time leading scorer in Pius X boys basketball history (1,412 career points) was at his best in the big games. He dropped 28 points on Lincoln East in an overtime win for the Bolts, cut loose for 33 in the win over Kearney in the Heartland Athletic Conference finals, scored 29 in a loss to 2018 Class A state champion Creighton Prep, had a pair of 35-point performances in two wins over Elkhorn and registered 25 in his final high school game, the double-overtime win over Omaha Roncalli in the state finals.
Coach-speak: "Charlie had a good feel for when it was time to get his teammates involved and when it was time for him to take the game over himself. He had trust in his teammates that they could deliver and his teammates trusted him that when adversity hit, Charlie would be there to make a play. Charlie is tough as nails, and that attitude just permeated through the rest of the team in practices and games." — Pius X coach Brian Spicka
JOHN TONJE
Omaha Central | 6-5 | Sr.
College: Colorado State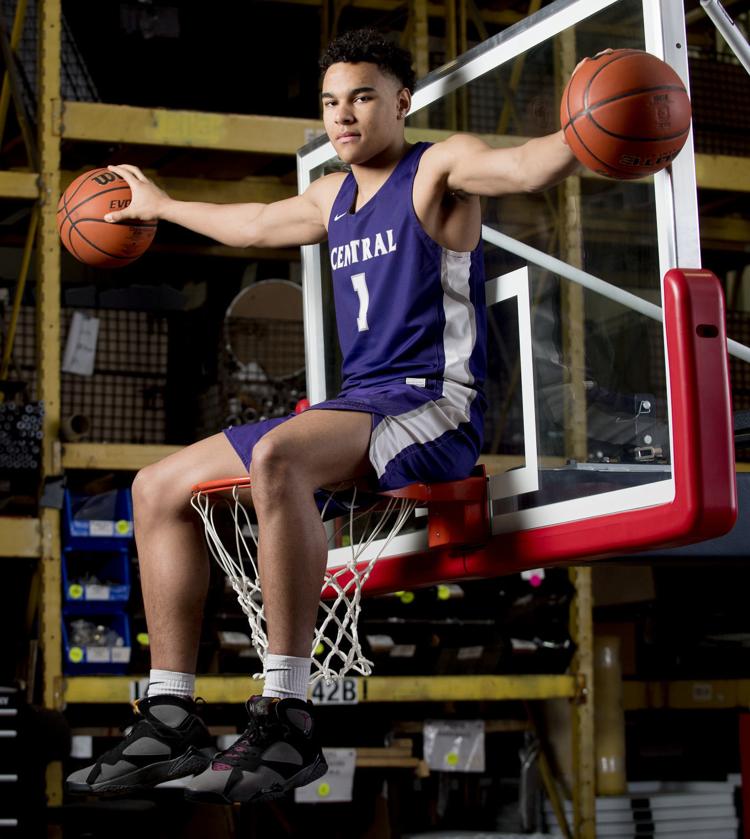 What he did: Central coach Eric Behrens said Tonje had as good a season as anyone he's coached, high praise considering the talent Behrens has had at Central through the years and the seven state titles the Eagles have won under his guidance. Tonje led Class A in scoring (23.8 points per game) and grabbed 6.1 rebounds per game in leading the Eagles to the state final two weeks ago. He had 15 games in which he scored 25 or more points, including a pair of 35-point explosions in two wins over Lincoln High and a pair of 29-point games against Millard North. After seeing limited varsity minutes as a sophomore, Tonje averaged 13.6 points per game as a junior primarily as a spot-up three-point shooter. He added the dribble drive to his game as a senior and a couple of extra inches of height as well to help finish in traffic. Tonje slammed more than 30 dunks this season as he shot 50 percent from the field overall, 38 percent from three-point and 82 percent from the free-throw line.
Coach-speak: "John was one of the leaders in the state this season in both free-throw attempts and three-pointers. That's a pretty good combination to have. When you look at John statistically, he put us on his back and carried us when Latrell (Wrightsell Jr.) was injured. John kept playing at that high level when we got him (Wrightsell) back, and that's when we made our run in January and February." — Omaha Central coach Eric Behrens
MCKENNA SIMS
South Sioux City   |   5-9   |   Senior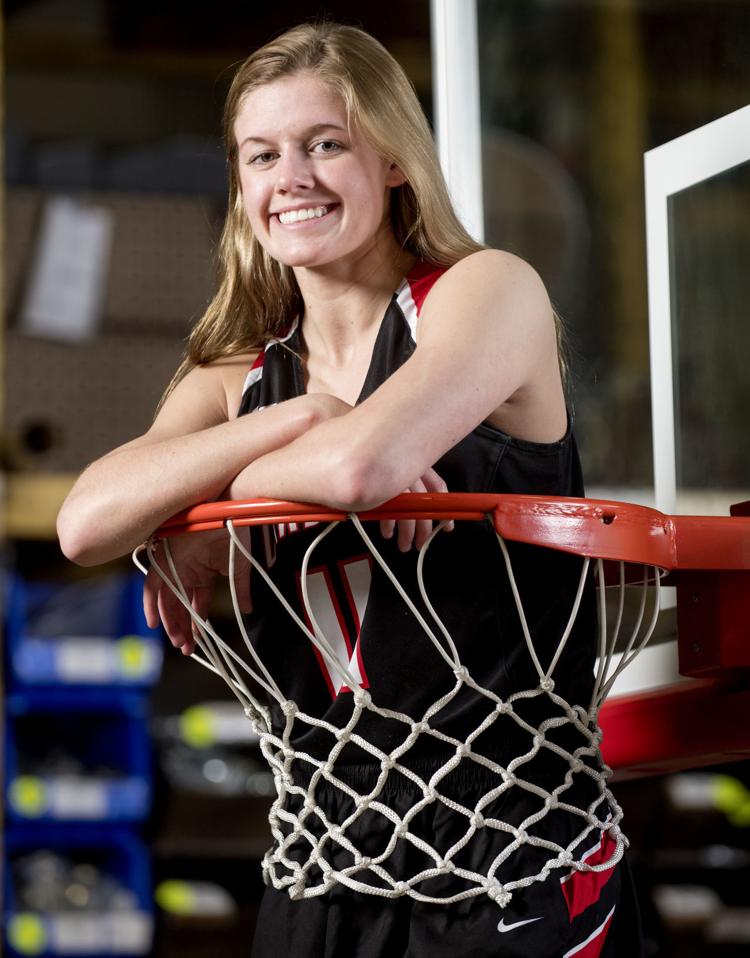 College: Illinois State
Factory made: From a physical standpoint, Sims can do just about anything with a basketball. She hit 46 threes this past season, can power her way to the lane and has a strong midrange game. But it goes beyond points (18.2 per game). Sims ranked second in the state in assists at 6.3 per game and she averaged 6.0 rebounds and 4.1 steals per contest. She nearly had a triple-double and a quadruple-double late in the season. Not only did Sims set herself apart in terms of production, but she also excelled as a leader and floor general. South Sioux City was without several starters for a good part of the season and Sims was among the Cardinals keeping the season together. Sims finished third in school history in points, assists and steals -- an impressive accomplishment considering the rich history of South Sioux City basketball.
Sims taking on a bigger leadership role: "I think she knew she had to do that this year in order for us to succeed, and a big area of growth this year was just being vocal. She wants to lead by example all the time, which she does, but she stepped out of her comfort zone and started speaking up more. When things were going bad, getting her team together and rallying the troops. It was nice to see her step up that part of her game, too." -- South Sioux City coach Molly Hornbeck.
JAYME HORAN
Millard South   |   6-0   |   Junior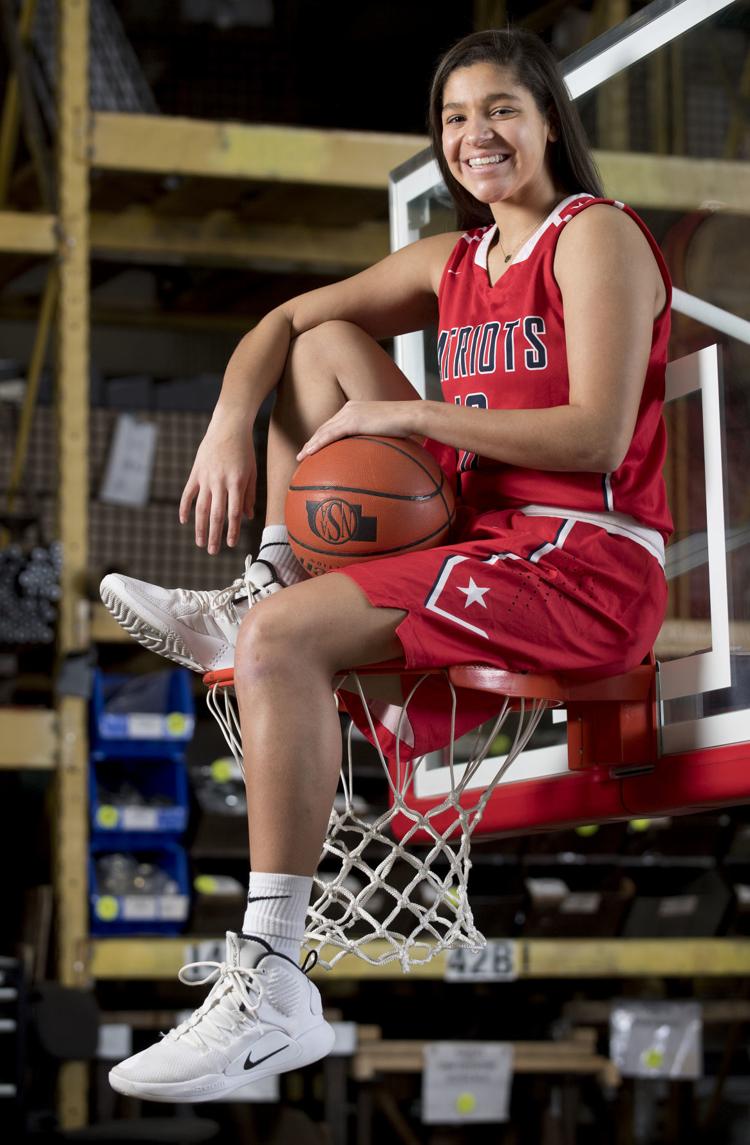 College: Creighton commit
Factory made: It's been a steady, and at times fast, ascension for Horan, who followed a breakout sophomore season with a huge summer on the club scene. That carried over into her junior season. Horan averaged 20 points and eight rebounds per game, piled up double-doubles and helped lead Millard South to the state tournament. Simply put, Horan is a matchup headache for opposing teams. Throw a guard on her and Horan will post up and get easy buckets. Throw a taller defender at her who may sag and Horan will drain threes. She's good at finding holes in zone defenses, but can use her athleticism (she's a Super-State softball player) to beat defenders in man-to-man. When point guard Bailey Urban tore her ACL before the regular season, Horan was among the Patriots asked to pick up more. She took on a bigger leadership role and proved to be a solid ball-handler in press-break help.
Horan continues to get better and better, so what's her ceiling? "If she can continue to prove that she can guard on the perimeter, continue to get a little quicker and stronger and just continue to improve in every aspect a little bit, she's going to be a nightmare at the next level I would think, and for next year. We know she's going to have a nice senior season whether she improves or not, but we want her to be able to contribute big time at the next level, so we want to put her in positions to lead, and make her fight through a bunch of little things." -- Millard South coach Bryce Meyers.
MORGAN MALY
Crete | 6-0 | Junior
College: Creighton commit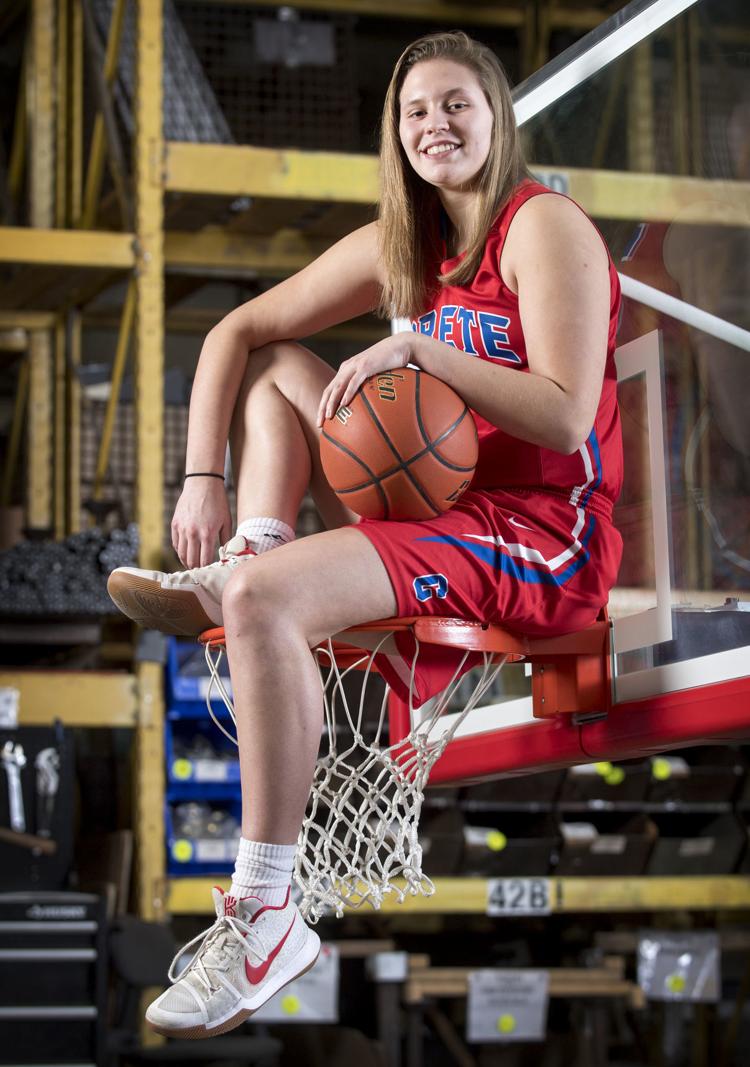 Factory made: Maly's monster season ignited Crete's run to the Class B state championship game. Similar to Millard South's Jayme Horan, Maly is a 6-0 forward (and a standout softball player, too) who can stretch the court and play like a guard. She can score from every level and is especially dangerous in transition offense. Despite being the focal point of every defense -- sometimes there were four defenders collapsing on Maly when she touched the ball -- the multi-sport standout managed to average 20.1 points and 8.7 rebound per game. She had 65 assists, 64 steals and shot nearly 90 percent from the free-throw line. Maly could also run point if needed, and she's among the top passers in the state. She played some of her best games under the bright lights, scoring 22, 19 and 24 points in three state tournament games. Maly has already reached 1,200 career points.
Why was Maly able to score so much despite being the focal point of every foe? "She's a very smart player on the court. She can read how people are playing her, so if they're fronting her, she'll wait for a pick and cut to the right spot, use a curl cut. She'll screen and then pop out. She was able to do all of those things which really helped get her open." -- Crete coach John Larsen.
LAUREN WEST
Millard North | 5-11 | Senior
College: UMKC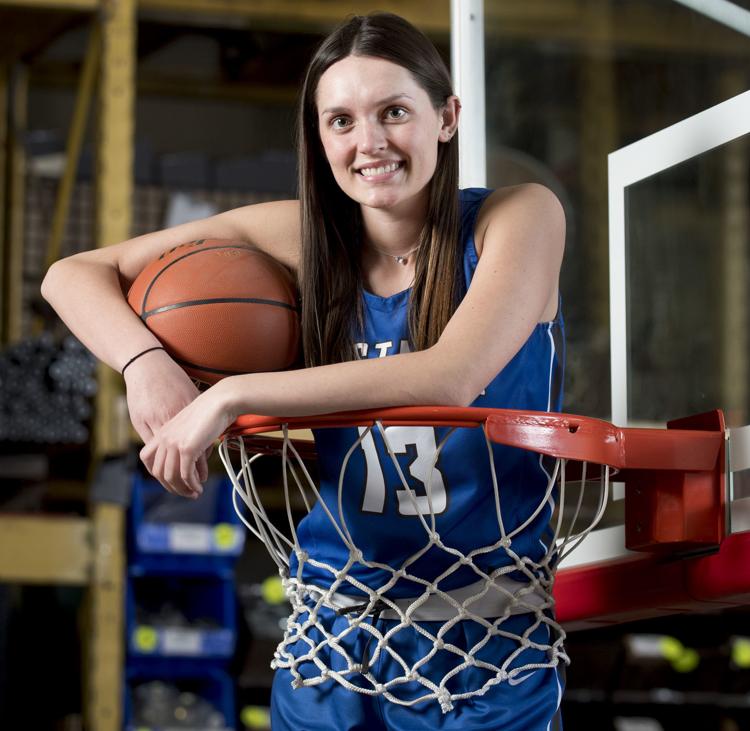 Factory made: West said the Class A state semifinal against Lincoln Pius X -- a triple-overtime thriller -- was the worst game of her high school career. She finished with two points. West wasn't going to let that happen again. Less than 24 hours later, she dropped 31 points and grabbed 14 rebounds (she had a double-double by halftime) in the state final against Lincoln Southwest, helping lead the Mustangs to their first state championship. West, who averaged 14.1 points and 5.7 rebounds per game as a senior, has always been one of the top shooters in Class A. This year, West developed the confidence and killer mentality to drive to the basket on a consistent basis, and it showed in the state final when she finished 18-of-19 from the free-throw line. West also was the Mustangs' top post-up threat, which was key for a team that wasn't particularly known for its size.
Finishing a career the right way: "When you get a kid that's really talented and really driven, that's when special things happen. Are they a bulldog? Are they a warrior? Do they maximize every opportunity? And Lauren totally does. Bottom line is she never wants to waste any opportunity or any chance in practice, in a game or in her career. I wasn't surprised when she made the finals that she had her best game ever, because that was her last opportunity, and she's a kid that never wants to live with regret. I knew that last game she was going to leave it all out on the floor." -- Millard North coach David Diehl.
DACEY NELSON
Oakland-Craig   |   5-7   |   Senior
College: Hillsdale (Michigan).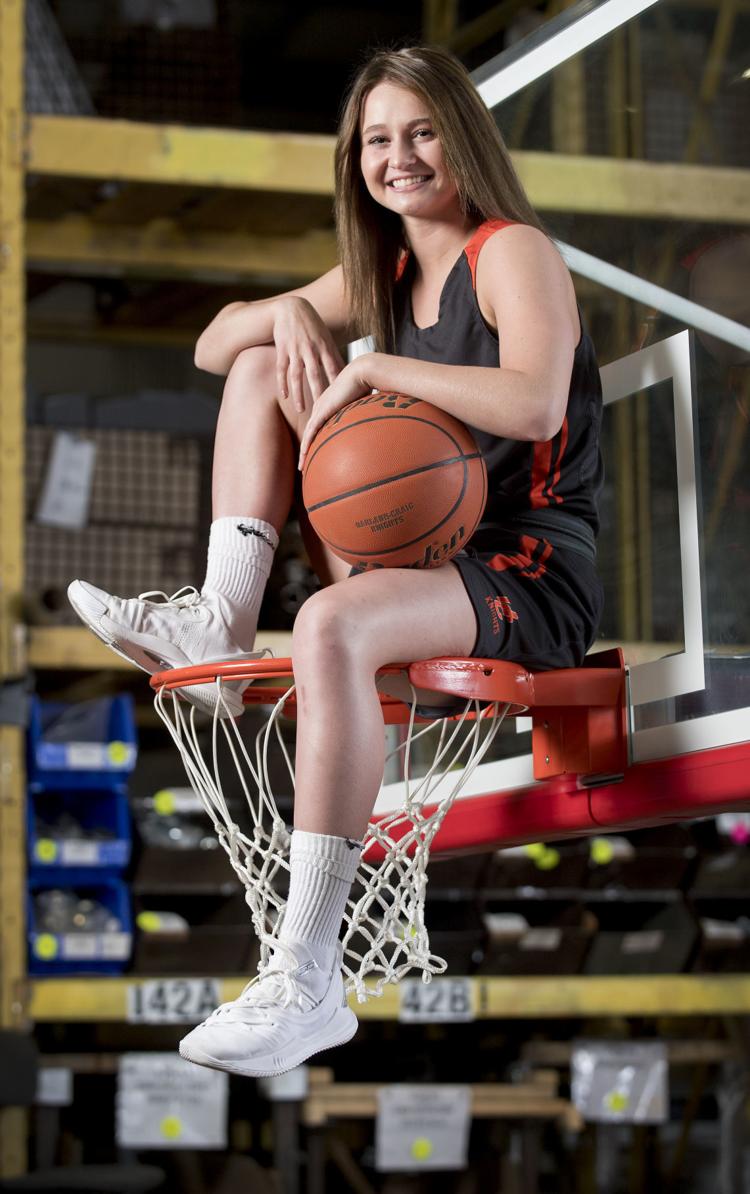 Factory made: You'll be hard-pressed to find a comeback story this year like Nelson's. She tore her ACL two summers ago, had two surgeries and several setbacks, and missed her entire junior season. She more than made up for it as a senior, leading the state in scoring at 26.7 points per game. A "true gym rat," according to her coach, Nelson added to her arsenal, becoming a dangerous three-point shooter while developing a strong jumper. Nelson scored 30 or more points nine times this season, and she averaged nearly 30 points at the state tournament while leading Oakland-Craig to a third-place finish. That included 33 points -- there was the late three-pointer to tie the game at the end of regulation -- against a Hastings St. Cecilia team that won Class C-2. Despite missing an entire season, Nelson finished with more than 1,600 career points. Nelson's bounce-back from injury is a great story, but she's a first-team Super-Stater because she can flat-out score and coaches praise how hard she plays. No one in the state matched Nelson's consistency.
No slowing down Nelson from Day 1 of the season: "I knew she would be (back strong) because if you saw how hard she worked and how much time she spent on her game, it's ridiculous. There's times I have to tell her, 'You know what, I think your body needs a break. I think you should stay out of the gym for a day or two.' She's just your true gym rat. She stays after practice, she's there every weekend, and then a thousand shots. Just because of her work ethic, you probably knew she was going to have a great year." -- Oakland-Craig coach Joe Anderson.