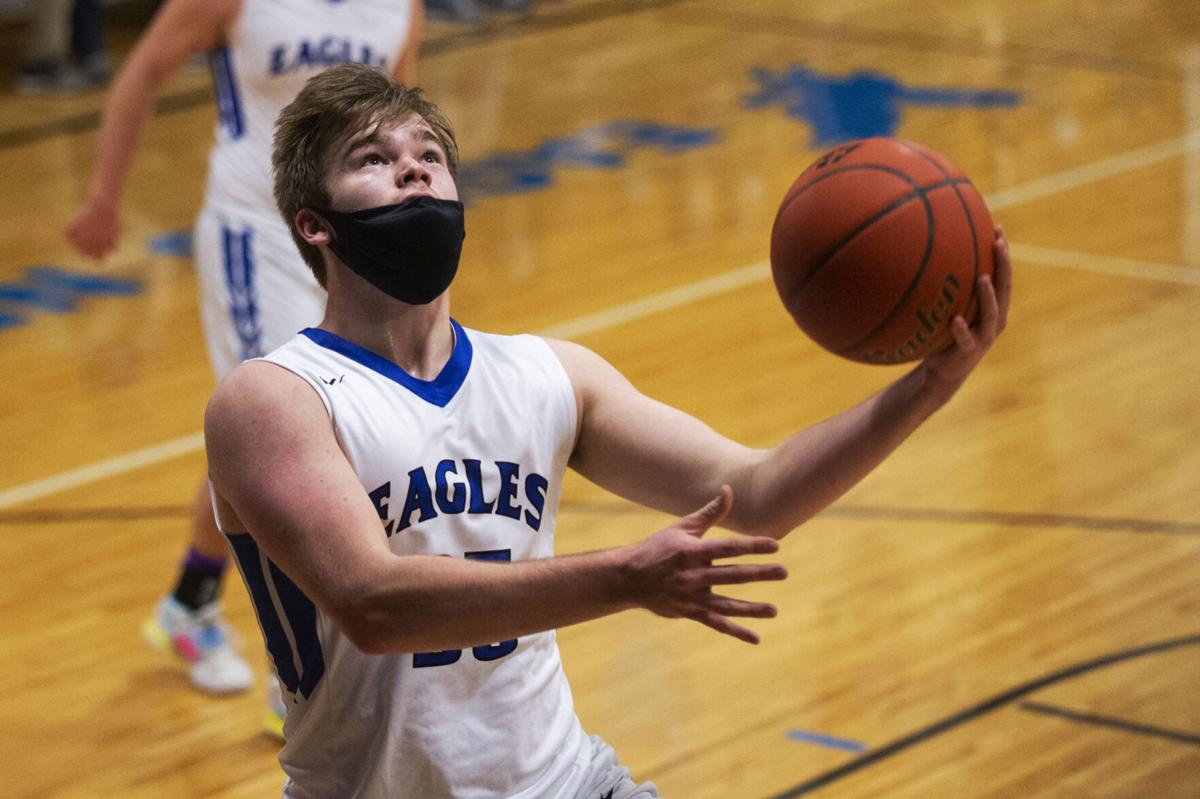 As a freshman on College View Academy's boys basketball team, Garrett Fortney enjoyed relative anonymity as the sixth man on a senior-dominated team.
"It was easier to blend in," Fortney said looking back at the 2018-19 season.
The fact he was the team's second-leading scorer coming off the bench two years was a sign of what was to come.
The 6-foot-2 junior guard is now the focus of attention of every opponents' defense. He enjoyed a breakout season a year ago as a sophomore when he became College View's first all-state player, earning first-team Class D-2 honors when he averaged 23.3 points and eight rebounds per game for the 9-10 Eagles.
Fortney cemented his statewide spotlight by dropping a school-record 40 points against a Parkview Christian team that eventually finished third in the D-2 state tournament.
Fortney is averaging 19.4 points and 12 rebounds per game in College View's first five games this winter (2-3), and he's already become the school's career scoring leader after moving into first in a 58-13 win over Whiting, Iowa, on Monday.
But the easy scoring opportunities and open looks have been much more difficult to find this season, and both Fortney and Eagles coach Ben Origas have learned to adapt and improvise.
Fortney is surrounded by four other juniors in the starting lineup who he's played basketball with since fourth grade: Carter Trumble, Adin Ockenga, Ethan Halfhill and Dariel Lopez. The 6-1 Trumble led College View with 24 points in the win over Whiting with Fortney as more of a facilitator than scorer in that game.
"I'm trusting my teammates more and trying to balance out the scoring with everybody," Fortney said. "We lost 10 players from my freshman year, so I felt like I had to step up. There were some games (last season) when it clicked pretty well for me and the team."
Fortney's game has transformed from being predominantly a three-point shooter to now also aggressively taking the ball to the basket and finishing. He's learning how to find open teammates and draw fouls to get to the free-throw line.
"We've seen every defense designed to stop him," College View coach Ben Origas said. "A couple teams gone with a box-and-one and a couple teams have run zone where they shift the zone substantially towards his side.
"We try to keep him moving to different positions, playing him everywhere from power forward to point guard," the coach added. "That makes it a little harder to focus on him."
Because of the COVID-19 pandemic, Fortney didn't participate in the limited AAU summer season, electing instead to do individual work at the indoor court his family has at home in a converted warehouse.
During the offseason, Fortney also began working with Lincoln basketball coach Daniel English, stepfather of former two-time Lincoln North Star Super-Stater Donovan Williams, now a freshman at Oklahoma State.
Those sessions sometimes included players from the local Class A schools, something Fortney tried to take full advantage of.
"His practices are always competitive and tough, and I think that's really helped me in terms of my physicality this season," Fortney said.
In years past, College View has skipped playing in subdistricts, instead opting to play in the annual Union College Spring Tournament in late February. Last year, the event brought in Seventh-day Adventist high school teams from 11 different states ranging from Florida to Idaho, as well as a team from Denmark.
But with this year's tournament canceled because of the pandemic, College View is playing in subdistricts with the hopes of possibly becoming the first team in school history to qualify for the state tournament.
"It's a good mix," Fortney said in referring to the Union College tournament. "But I'm glad we're getting a chance to try to play for state one year."