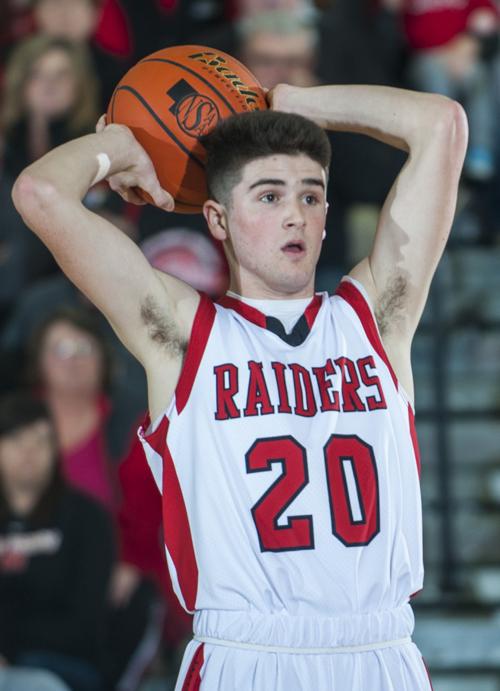 Class D-2
9 a.m. — No. 1 Falls City Sacred Heart (22-3, 53.2 points per game average; 35.8 points allowed) vs. Cody-Kilgore (12-8, 50.0; 47.5)
10:45 — No. 4 Giltner (19-6, 55; 41.1) vs. Wilcox-Hildreth (19-7, 54.2; 43.6)
7 p.m. — No. 2 Riverside (23-2, 64.8; 43.9) vs. Wynot (14-9)
8:45 — No. 5 Mead (11-12, 40.2; 41.6) vs. No. 8 Mullen (19-5, 56.7; 39.3)
First-round games to watch
Falls City Sacred Heart vs. Cody-Kilgore — Sacred Heart comes in motivated after losing a heartbreaker at the buzzer to Mead in the district final. Cody-Kilgore does not have a win over a team with a record over .500.
Giltner vs. Wilcox-Hildreth — A rematch of the district final won by Wilcox-Hildreth 58-45.
Mead vs. Mullen — This might be a rematch of last year's state finals won by Mullen, but the game is secondary. Everyone will have Mullen coach Rusty Moore in their thoughts and prayers as he continues his battle against brain cancer.
Players to watch
Tredyn Prososki, Riverside, 5-10, so. (18.8 ppg) — Defenses need to pick up the three-point marksman as soon as he crosses half-court with range as far as 30 feet. He already has more than 1,000 points in his career.
Tyler Witt, 6-1, so. (13.0 ppg, 6.9 rpg), & Drew Bippes, 6-0, jr. (11.4 ppg), Falls City Sacred Heart — Witt's emergence as an inside-outside threat has reduced the Irish's reliance on Bippes to be a scoring guard. The Irish are looking for their ninth state title under coach Doug Goltz.
Josh Hinrichs, Giltner, 6-4, sr. (11.9 ppg, 5.1 rpg) — The Hornets have taken a more balanced approach this season with plenty of other scorers surrounding the returning all-stater.
Lantz Grauerholz, Wilcox-Hildreth, 6-4, sr. (12.7 ppg, 9.4 rpg) — Combines with 6-0 senior Caleb Springer (12.1 ppg, 6.1 rpg) for a solid 1-2 punch.
Josh Quinn, Mead, 5-9, sr. (18.1 ppg, 4.7 rpg) — The returning all-stater took his game to another level this season and guided a young squad through a difficult schedule.
Tell Spies, 6-4, sr. (13.3 ppg, 9.2 rpg), & Luke Christen, 6-3, sr. (12.2 ppg, 5.8 rpg), Mullen — Their elevated play this season has the Broncos in a position to repeat.
How it may play out
Mead, the state runner-up the past two years, made it through a tough district, beating No. 6 Parkview Christian, No. 3 Exeter-Milligan and No. 1 Falls City Sacred Heart to get to state. If the Raiders can continue that high level of play, they could become the first D-2 state champion to have 12 losses (the most on record right now is 2015 champion Exeter-Milligan, which finished 21-7).