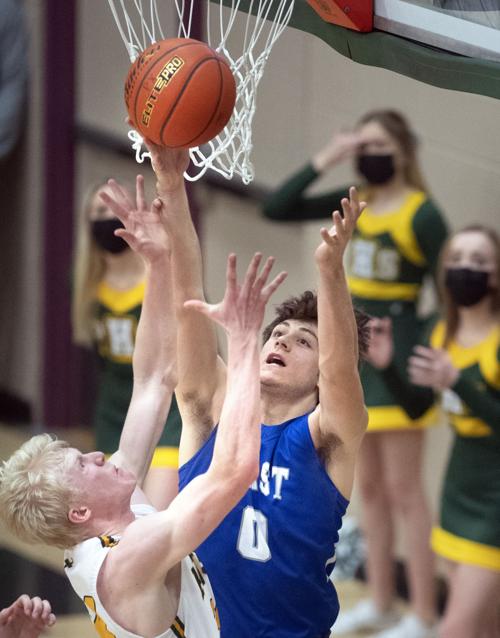 While guards Carter Glenn, Brayden McPhail and Joseph Marfisi spread the floor for Lincoln East's boys basketball team and force opponents to come out and guard, the interior offense and defense from seniors Quinton Adams and Trevor Henrickson can sometimes get overshadowed.
The 6-foot-3 Adams and the 6-5 Henrickson are a little undersized for many matchups inside in Class A. But their contributions were key in East's overtime win against a taller Lincoln Pius X team in the district final, which landed the 10-12 Spartans in the state tournament for the first time since 2018.
Adams, an Augustana football recruit and second-team Super-State linebacker, brings that physicality to the basketball court both defensively and while rebounding (five rebounds per game average). Going against the likes of Jordan Janssen and his younger brother, Jett Janssen, in practice every day his first three years of high school helped prepare Adams for what he saw in games.
"We've been undersized pretty much at every level of basketball I've played in high school, so it's nothing new," Adams said.
"It's crazy that when you're a freshman, you have to go against one of the greatest athletes who have ever walked the hallways in East High," added Adams, referring to Jordan Janssen, now a standout player at Wayne State.
Jett Janssen, a second-team Super-State defensive end as a Spartan, now plays football at Wayne State, "and just going against the size and strength he has will make you tougher."
Henrickson makes the most of the opportunities the guards set him up with, shooting 64% from the field this season while averaging 7.4 points and 5.5 rebounds per game.
Henrickson was 4-of-4 from the field and scored eight points in the district final.
"I got easy shots I guess," Henrickson said. "When they spread the floor and get driving lanes, if you're alert, you'll get easy shots down low."
East's mismatches aren't just inside. Glenn, a senior who averages a team-high 19.9 points to go with 4.5 rebounds and 3.9 assists, is 5-11. McPhail (9.1 PPG) and Marfisi (7 PPG) are both 5-10 juniors.
"We were concerned last summer about being able to defend people who are taller," East coach Jeff Campbell said. "As the season's gone on, we've gotten a lot better on the defensive end."
Until they came to East together four years ago, Adams' only experiences with Glenn was as opponents.
In middle school, Adams' point guard playing club boys basketball for Nebraska Hoops Elite was Chucky Hepburn, the opponent Tuesday when the Spartans take on defending state champion and top-ranked Bellevue West in a Class A first-round state tournament game at 6:30 p.m. at Pinnacle Bank Arena.
"That's all we ever heard (from Adams in middle school) was, 'I'm on Chucky's team; he's so great,'" Glenn said laughing, referring to the senior Wisconsin recruit and Super-Stater who has become one of the most heralded point guards in Nebraska high school history.
"Quinton and I had some battles when we were younger, but it's been nice being on the same team with him the past four years."
Glenn, a Super-State wide receiver in football, is playing on a bad shoulder he injured last fall. He's scheduled to have surgery on it next week.
"I learned when I was really little and it's still true today — Carter is probably one of the greatest competitors I've ever played with or against," Adams said of Glenn. "I never had to convince him to come back (to the football team) after he got injured. He was all in from the start."