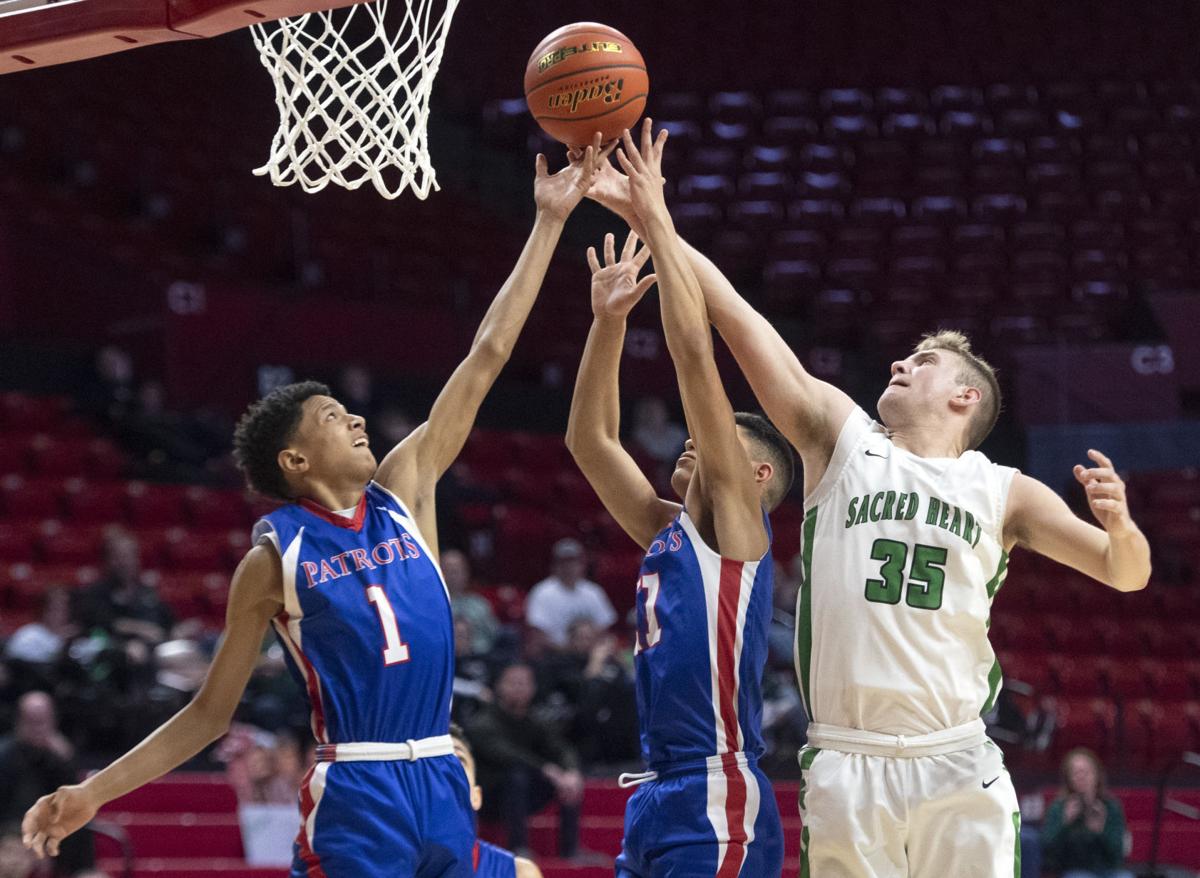 When last year's Class D-2 state tournament ended, Jaheim Curry had no idea what would be in store for the Parkview Christian boys basketball team.
Curry was the sixth man, and all five starters in front of him were graduating off the Patriots' third-place squad.
As it turned out, Curry had no reason to fear the unknown.
The addition of three transfers who saw no way forward in their Lincoln Public Schools' junior varsity programs a year ago are in the starting lineup. An exchange student from the Netherlands with international basketball experience also has helped fill some of the missing pieces.
Combine that with Curry taking his game to another level, and it's no wonder that the top-ranked Patriots bring a 25-1 record into a first-round game against No. 4 Loomis (22-4) on Wednesday (1:30 p.m.) at Lincoln East.
"It's meshed together pretty good; we've all gotten so used to playing with each other," said Curry, a 6-foot-2 junior who averages 14.5 points, 6.8 rebounds, five assists and 3.6 steals per game. "We all have different aspects of our game that combine together super well."
Mark Lual, a 6-5 senior transfer from Lincoln High, brings an inside-outside game that's proven to be effective against D-2 competition. Lual leads the team in scoring at 15.1 points per game while also averaging 5.3 rebounds per game.
He hit the game-winning three-pointer in a semifinal win over C-2 state qualifier Freeman at the MUDECAS Tournament. Parkview Christian went on to beat another C-2 state qualifier, Tri County, for the title.
"It was a lot of fun, I'd never experienced anything like that before," said Lual, who is getting college recruiting interest. "That tournament helped us a lot with wild-card points and showed us what kind of potential we have as a team."
A pair of Northeast transfers, 6-2 junior Michael Ault and 5-9 senior Keshawn Moore, average 9.4 and 9.2 points per game, respectively. They both made the successful transition to the small-school setting.
"It's a way different environment here and the teachers really connect to you on a one-on-one basis," Ault said. "Getting closer to God is a big thing for me, and Parkview Christian really helps me a lot with that."
For Tom Kraan, a 6-5 senior from the Netherlands, the biggest adjustments for him have been transitioning from a guard spot on the perimeter he played back home to a post position inside and playing basketball for the first time without a shot clock.
Kraan has overcome an early-season knee injury to average 7.3 points and 5.2 rebounds per game.
"With his height in D-2, we needed Tom inside to take advantage of some mismatches inside," said Parkview Christian coach Nate Godwin, who has five transfers and two exchange students on the roster. Parkview's lone loss is to D-1 Mead on the road.
"The thing about Tom is he's an extremely smart basketball player," Godwin added. "If you ask him to fix something or make an adjustment, he does it almost immediately. And he works extremely hard, and I think that's been a positive influence on our other players."
Curry says this year's run to the title will definitely be different than in 2020 when crowd restrictions of 50 spectators per team were put in place a day before the tournament started as the COVID-19 pandemic shutdowns were just beginning.
"It's going to be more fun than last year actually having crowds again," Curry said. "Going to state basketball as a kid, the atmosphere was crazy with people everywhere. Last year, it was a good experience overall, but it wasn't a true state tournament experience like we'll have this year."