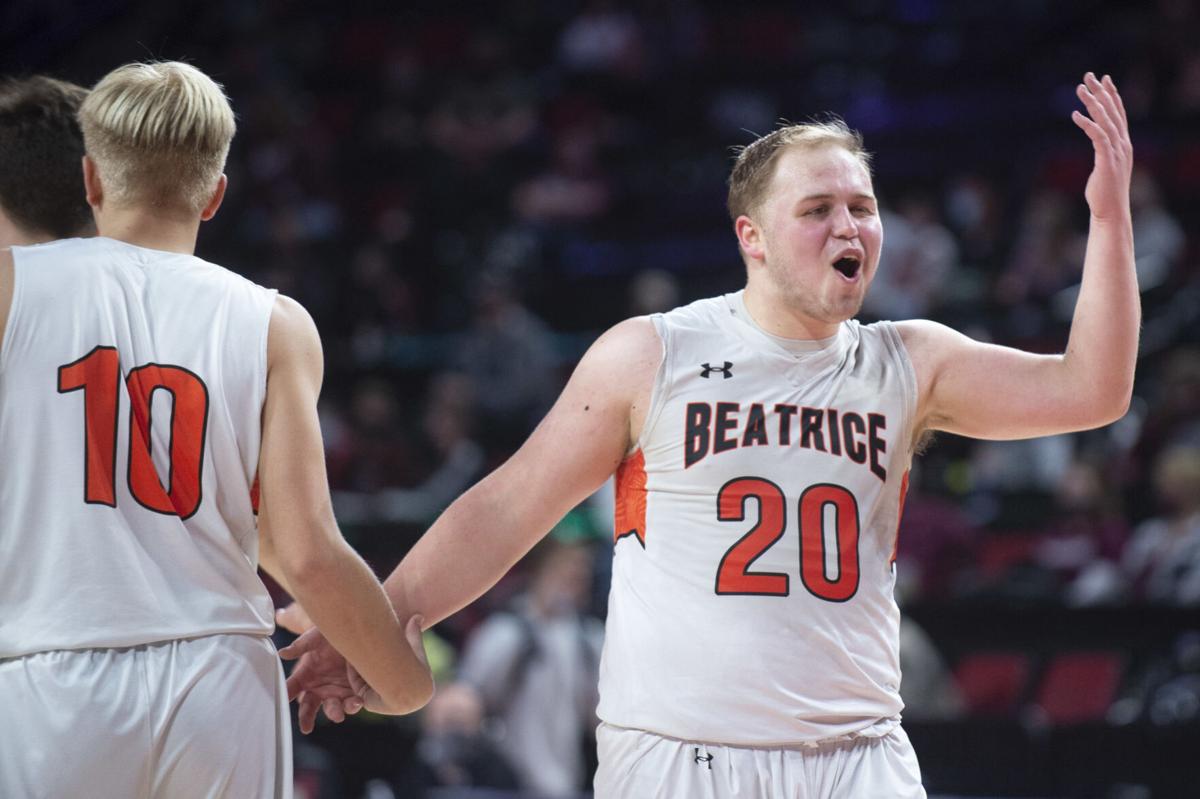 Player, school, Ht., Yr., PPG, RPG
Hunter Sallis, Millard North, Sr., 6-5 22.2, 5.6
Chucky Hepburn, Bellevue West, Sr., 6-1, 15.9, 5.1
Isaac Traudt, Grand Island, Jr., 6-9, 25.3, 9.4
Saint Thomas, Millard North, Sr., 6-7, 21.2, 7.9
Frankie Fidler, Bellevue West, Sr., 6-7, 21.2, 6.3
Honorary co-captains: Sallis, Millard North; Hepburn, Bellevue West.
Jasen Green, Millard North, Jr., 6-7 12.3, 6.7
Justin Sitti, Creighton Prep, Sr., 6-3, 9.5, 3.7
Daniel Brocaille, Papillion-LV South, Jr., 6-5 17.6, 5.0
Carter Glenn, Lincoln East, Sr., 5-11, 19.4, 4.6
Denim Johnson, Omaha Central, Sr., 6-3, 15.2, 6.7
Luke Jungers, Creighton Prep, Jr., 6-8, 12.0, 5.2
Ajantae Hogan, Lincoln Southeast, Sr., 6-5, 20.5, 6.7
Pierce Bazil, Lincoln Northeast, Sr., 6-4 20.6, 4.2
Kwat Abdelkarim, Lincoln North Star, Sr., 6-3 19.5, 5.5
Jadin Johnson, Millard North, Sr., 6-4, 7.5, 3.2
Player, school, Ht., Yr., PPG, RPG
Hunter Sallis, Millard North, Sr., 6-5, 22.2, 5.6
Chucky Hepburn, Bellevue West, Sr., 6-1, 15.9, 5.1
Isaac Traudt, Grand Island, Jr., 6-9, 25.3, 9.4
Saint Thomas, Millard North, Sr., 6-7, 21.2, 7.9
Frankie Fidler, Bellevue West, Sr., 6-7, 21.2, 6.3
Honorary co-captains: Sallis, Millard North; Hepburn, Bellevue West.
Jasen Green, Millard North, Jr., 6-7, 12.3, 6.7
Justin Sitti, Creighton Prep, Sr., 6-7, 9.5, 3.7
Daniel Brocaille, Papillion-LV South, Jr., 6-5 17.6, 5.0
Carter Glenn, Lincoln East, Sr., 5-11, 19.4, 4.6
Denim Johnson, Omaha Central, Sr., 6-3, 15.2, 6.7
Bellevue East—T.K. Barnett, Ater Louis; Bellevue West—Josiah Dotzler, Greg Brown, William Kyle; Columbus—Sam Kwapnioski; Creighton Prep—Brendan Buckley, Mai'Jhe Wiley, AJ Rollins; Elkhorn South—Derek Merwick, Nathan Hoesing, Reid Nelson; Fremont—Carter Sintek, Micah Moore; Grand Island—Dylan Sextro, Kytan Fyfe; Gretna— Quinn Frost, Landon Pokorski; Kearney— Jack Johnson, Will Vanderbeek, Preston Pearson, Easton Bruce; Lincoln East—Brayden McPhail, Trevor Henrickson; Lincoln High—Livon Ramsey, Gatran Gatnoor; Lincoln Northeast—Conner Renard, Zach Moerer, Zander Beard; Lincoln North Star—Josh Brown, Brennon Clemmons Jr.; Lincoln Pius X—Sam Hoiberg, Charlie Hoiberg, Sam Hastreiter, Brady Christiansen, Sam Easley; Lincoln Southeast—McGinness Schneider, Jake Appleget; Lincoln Southwest—Ben Hunzeker, Rylan Smith, Jared Bohrer; Millard North—Tyler Sandoval; Millard South—Jack Cooper, Michael Harding, Gage Stenger, Lance Rucker; Millard West—Evan Meyersick, Ryan Larsen, James Conway, Dom Humm, Dustin Hatch; Norfolk—Kallan Herman, Kamari Moore, Colby James; North Platte—River Johnston, Ryan Kaminski; Omaha Burke—Sam Sorensen, Donovan Moody, Lukas Kocher; Omaha Central—Faisaun Germany, Jayden Dawson, PJ Davis, Jaren Marshall; Omaha North—Curtis Ogba, Keshaun Williams, Mason Strong; Omaha Northwest—Jayden Curtis Sayers; Omaha South—Rickey Loftin II, Jacob Martin, Dontryl Nunn-Love; Omaha Westside—Reggie Thomas, Chandler Meeks, Payson Gillespie, Tate Odvody; Papillion-La Vista—Kyle Ingwerson, Luke Lindenmeyer, Joey Hylok, Aidan Graham, Chase Lett; Papillion-La Vista South—Graham Cassoutt, Josiah Beckenhauer, Tyler Culp, Jackson Trout.
Player, school, Ht., Yr., PPG, RPG
Trey Deveaux, Norris, Sr., 6-6, 17.0, 8.5
Connor Millikan, Platteview, So., 6-0 26.6, 6.8
Charlie Fletcher, Omaha Skutt, Sr., 6-1, 13.0, 5.0
Drew Christo, Elkhorn, Sr., 6-5, 10.2, 5.2
Andrew Heffelfinger, Waverly, Sr., 6-2, 13.0, 4.0
Honorary captain: Deveaux, Norris.
Alliance—Caeson Clarke, Jaron Matulka, Chase King; Aurora—Tate Nachtigal; Beatrice—Bennett Crandall, Devin Smith, Jace Pethoud, Tucker Timmerman; Bennington—Austin Holtz, Tyler LeClair, Silas Hughes; Blair—Luke Ladwig, Kip Tupa, Cade Ulven; Crete—Jabin Gardiner; Elkhorn—Colton Uhing, Dane Petersen, Gannon Gragert; Elkhorn North—Brandon Orgilbold, Jack Lusk, Ryan Harrahill, Nathan Cunningham; Gering—Brett Pszanka; Hastings—Gabe Garcia, Brennan Witte, Jarrett Synek; McCook—Mark Arp; Mount Michael—Bradley Bennett, Joe Chouinard; Nebraska City—Braden Thompson; Norris—C.J. Hood, Cade Rice, Dane Small, Izaiah Pankoke-Johnson; Northwest—Jed Walford, Parker Janky, Sam Hartman, Alex Brandt, Riley Anderson; Omaha Gross—Thomas Anderson, Charlie Paladino; Omaha Roncalli—Jake Orr, Austin Schwarz, Quincy Evans; Omaha Skutt—Grant Dvorak, James Grinefou; Platteview—Tyler Riley, Alex Draper, Michael Wiebelhaus; Plattsmouth—Hayden Stromsodt, Owen Prince, Jack Alexander; Ralston—Joey McEvoy; Schuyler—Easton Hall, Aaron Langemeier; Scottsbluff—Tyler Harre, Kellon Harris, Tate Talkington; Seward—Drew Covalt, Traetyn Schaefer, Sam Schroeder; Sidney—Sawyer Dickman, Zack Burke; Waverly—Cole Murray, Preston Harms, Drew Miller; York—Jake Erwin, Matt Haggadone, Barrett Olson, Austin Phinney.
Kaleb Brink, Mount Michael, Sr., 6-5, 14.5, 5.8
Elliot Jurgens, Beatrice, Jr., 6-0, 13.0, 4.1
Kaden Glynn, Beatrice, Sr., 6-1, 7.5, 3.5
Brayson Mueller, Norris, Sr., 6-5, 12.3, 6.9
Caeson Clarke, Alliance, Sr., 6-6 19.8, 11.8
Player, school, Ht., Yr., PPG, RPG
Cameron Binder, Auburn, Sr., 6-0 15.1, 2.2
Brett Mahony, Kearney Catholic, Jr., 6-4, 18.0, 7.3
Trevor Kasischke, Wahoo, Sr., 6-2, 18.9, 4.5
Daniel Frary, Auburn, Sr., 6-6, 13.3, 7.7
Zac Kulus, Omaha Concordia, Jr., 6-0, 15.7, 4.8
Honorary captain: Binder, Auburn.
Drew Beukelman, Lincoln Christian, Sr., 6-7, 17.5, 5.0
Jaxon Weyand, Milford, Jr., 6-0, 18.2, 3.0
Tommy Wroblewski, St. Paul, Sr., 6-4, 17.0, 4.1
Tyler Slechta, Adams Central, Sr., 6-2, 10.9, 4.8
Ben Brahmer, Pierce, So., 6-5, 14.0, 7.0
Adams Central—Cam Foster, Lucas Bohlen, Dante Boelhower; Aquinas—Payton Davis, Kyle Napier; Arlington—Aiden Foreman, Dustin Kirk, Colby Grefe; Ashland-Greenwood—Cougar Konzem, Jarrod Nafzinger, Aiden Lindley, Evan Shepard; Auburn—Ryan Binder, Maverick Binder, Cade Patzel; Battle Creek—Peyton Frederick; Boone Central—Ryan Kramer, Alex Christo, Garrett Rasmussen; Boys Town—Malachi Washington, TJ Covington; Central City—Jackson McGinnis, Ayden Zikmund, Aydon Nelson; Centura—Trent Rasmussen, Eli Wooden; Columbus Lakeview—Eli Osten; Conestoga—Lane Fox, Benjamin Welch, Ty Fox; Cozad—Jacob Weatherly, Jacob Engel; David City—Caden Denker; Douglas County West—Carson Roubicek, Kyle Marick, Brody Travis, Zach Spanke; Fairbury—Dylan Starr, Ethan Smith, Zane Grizzle; Falls City—Brock Hogue, Will Vitosh, Carson Bredemeier; Fillmore Central—Isaiah Lauby; Fort Calhoun—Zane Schwarz, Carsen Schwarz, Brant Hilzendeger; Gibbon—Matthew Weismann, Konner Hyde, Marcus Smith, Mitchell Sell; Gordon-Rushville—Jace Nelson; Gothenburg—Wes Geiken; Holdrege—Dashton Edgren, Jackson Hinrichs; Kearney Catholic—Logan O'Brien, Kegan Bosshamer, Blake Thiele; Lincoln Christian—Easton Marshbanks, Gavin McGerr; Lincoln Lutheran—Josh Puelz; Logan View/Scribner-Snyder—Garrett Kriete, Riley Hoetfelker, Connor Larson; Louisville—Caleb Hrabik, Sam Ahl, Eric Heard; Malcolm—Drew Johnson, Malcolm Saltzman, Hayden Frank; Madison—Jakwon Webb; Milford—Seth Stutzman, Micah Hartwig, Isaac Yeackley; Minden—Caden Bradley, Carter Harsin; Mitchell—Austin Thyne, Francisco Barrios; Norfolk Catholic—Christian Mickelson; North Bend Central—Jaxon Wietfeld, Kyler Hellbusch, Brodey Johnson, Breckin Peters; Ogallala—Dayo Kennedy, Jeron Gager, Quenten Gillen; Omaha Concordia—Karsten Mathsen, Justin Otten, Gage Kanzmeier, Ian Groninga; O'Neill—Landon Classen; Ord—Quinton Ries, Johnny DeRiso; Pierce—Dawson Watts, Logan Moeller, Chaden Roth; Raymond Central—Andrew Otto, Isaak Fredrickson, Eli White; St. Paul—Andy Poss, Logan Vogel, Jaxson Klinginsmith, Eli Larson; Syracuse—Cooper Carlson, Dalton Leefers; Wahoo—Owen Hancock, Marcus Glock, Garrett Grandgenett, Miles Simon, Triston Keeney; Wayne—Tanner Walling, Brandon Bartos, Daniel Judd; West Point-Beemer—Miguel Perez, Keegan Doggett, Jesus Barragan; Wilber-Clatonia—Mitchell Thompson, Mason Combs, Devin Homolka; Winnebago—Anthony Earth, Kellen Crossbear; Wood River—Cayleb Stewart, Caleb Paulk.
Player, school, Ht., Yr., PPG, RPG
Brady Timm, Yutan, Sr., 5-10, 21.7, 5.2
Lucas Vogt, BRLD, Sr., 6-0, 14.4, 3.5
Dei Jengmer, Grand Island CC, Sr., 6-9, 10.4, 6.0
Dylan Beutler, BRLD, Sr., 6-5, 18.9, 9.0
Russell Martinez, Grand Island CC, Sr., 6-0, 8.5, 1.9
Honorary captain: Timm, Yutan.
Marcus Lowry, Grand Island CC, Jr., 6-3, 9.0, 4.3
Cooper Gierhan, Centennial, Sr., 6-0, 16.0, 5.8
Cole Siems, Tri County, Sr., 6-0, 16.0, 3.7
Gil Jengmer, Grand Island CC, Jr., 6-8, 7.4, 4.1
Holden Ruse, Freeman, Sr., 6-2, 12.6, 5.8
Ainsworth—Carter Nelson, Traegan McNally, Caleb Allen; Alma—Tanner Heckenlively; Amherst—Tanner Thomsen, Kalon Rohde, Scout Simmons, Tayje Hadwiger, Coleton Vavra; Arapahoe—Reilley Einspahr; Arcadia-Loup City—Jadyn Scott, Drew Lewandowski; Archbishop Bergan—Gavin Logemann, Max Nosal; Bayard—Trent Marquez, Daemon Avilez, Garret Hopkins; Bridgeport—Luis Garza, Brady Newkirk, Cole Faessler, Bayler Sterkel, Jake Wallesen; BRLD—Toriano Bohannon Jr.; Brownell Talbot—Tommy Pugsley; Centennial—Jake Bargen, Maj Nisly, Lane Zimmer; Chase County—Mason Nordhausen, Cedric Maxwell; Clarkson-Leigh—Carter Hanel, Eli Hays, Kule Kasik; Cross County—Cory Hollinger, Isaac Noyd, Christian Rystrom; Doniphan-Trumbull—Andrew Stock, Myles Sadd, Ethan Smith; Dundy County-Stratton—Lincoln Waters, Mark Nelms, Quade Myers, Nolan Burrell; Elkhorn Valley—Derek Hahne; Freeman—Carter Ruse, Josiah Wallman; Grand Island CC—Koby Bales, Isaac Herbek; Hartington Cedar Catholic—Myles Thoene, Tate Thoene, Jaxson Bernecker, Carson Arens; Hastings SC—Brayden Schropp, Carson Kudlacek, Garrett Parr; Heartland—Trajan Arbuck, Trev Peters, Kale Wetjen, Jacob Regier; HTRS—Nicolas Knudson; Johnson County Central—Calvin Antholz, Trey Holthus; Lutheran Northeast—Grant Colligan; Nebraska Christian—Elijah Boersen; Neligh-Oakdale—Julien Hearn, Talon Krebs, Bryson Gadekan; Oakland-Craig—Gunnar Ray, Coulter Thiele, Carson Thomsen; Palmyra—Andrew Waltke, Zach Fitzpatrick; Plainview—Riley Kaup, Teagan Ziem; Ponca—Bryar Bennett, Taylor Korth; Sandy Creek—Josh Shaw, Hayden Shuck, Micah Biltoft; Southern—Carson Borzekofski; Superior—Dane Miller; Sutherland—Luke Martinez, Andrew Dowse; Sutton—Cade Wiseman, Quenton Jones, Tyler Baldwin, Colton Haight; Tekamah-Herman—Jed Hoover, Brock Rogers; Tri County—Colton Jantzen, Carter Siems, Logan Larson; Twin River—Weston Graham, Ross Hebda, Owen Kozio; Wakefield—Blake Brown, Justin Erb, Cade Johnson; Yutan—Sam Petersen, Jake Richmond, Isaiah Daniell, Gavin Kube.
Player, school, Ht., Yr., PPG, RPG
John Mitchell III, Creighton, So., 6-1, 33.4, 3.8
Blake Sindelar, Howells-Dodge, Jr., 6-0, 19.0, 8.0
Jason Sjuts, Humphrey/LHF, Jr., 6-5, 15.9, 4.4
Jacob Sjuts, Humphrey/LHF, Jr., 6-5, 13.7, 7.3
Trey Miner, Elm Creek, Sr., 6-1, 19.3, 5.8
Honorary captain: Mitchell III, Creighton.
Kaden Sheridan, Walthill, Sr., 5-8, 19.9, 3.3
Graysen Schultze, Osmond, Sr., 5-9, 20.3, 7.6
Clayton Berry, Southern Valley, Sr., 6-1, 18.6, 5.1
Jack Heiss, North Platte St. Pat's, Jr., 6-1 15.3, 5.1
Barak Birch, Burwell, Sr., 5-10, 15.6, 5.7
Ansley-Litchfield—Caden Holm, Jeff Cunningham, Calvin Finley, Tycen Bailey; Anselmo-Merna—Dalton Duryea; Axtell—Calvin Johnson, Brennan Runge; BDS—Eli Noel, Kyle Ardissono, Tyler Grote; Bertrand—Jonah Nelson; Bloomfield—Gabe Lauck, Layne Warrior; Blue Hill—MJ Coffey, Jake Bonifas, Krae Ockinga; Burwell—Carter Mann, Levi Bode, Dillon Critel; Creighton—Braxton Brockhaus, Dylan Kuhlman, Cade Hammer; Cedar Bluffs—Mo Von Keitz; Central Valley—Ty Nekoliczak, Trevor Cargill, Kyle Nekoliczak, Carson Corman; Deshler—Trenton Buescher, Cayden Loomis, Coltin Hansen; East Butler—Collin Bouc, Alex Pierce, Dillon DeWitt; Elm Creek—Troy Brumels, Carter Erickson, Trent Watkins; Elmwood-Murdock—Nate Rust, Reid Fletcher; Fullerton—Cole Horacek; Garden County—Johnny Vargas; Harvard—Ben Okraska; Howells-Dodge—RJ Bayer, Jacob Tomcak; Humphrey/Lindsay Holy Family—Ethan Keller, Cooper Beller, Sage Frauendorfer, Jett Spier; Johnson-Brock—Caleb Fossenbarger; Nic Parriott; Kenesaw—Tyson Denkert, Eli Jensen, Lane Kelley; Laurel-Concord-Coleridge—Cael Hartung, Evan Haisch; Lourdes Central Catholic—Blake Miller, Max Baumert, Drew Walton; Maxwell—Jack Meyer, Connor McKeeman, Troy Breinig; Maywood-Hayes Center—Weston Morrow, Haydn Farr, Kyler Cox, Jhett Sellers; McCool Junction—Owen McDonald, Tyler Neville, Kaden Kirkpatrick; Mead—Hunter Pickworth, Bayley LaCroix, Tyler Pickworth; Morrill— Caden Lewis, Kolton McKackin; North Platte St. Pat's—Corby Condon, Joseph Heirigs, Logan O'Malley; Omaha Christian—Rendell Gines; Osmond—Ryan Schmit; Palmer—Karsen Reimers, Kade Caspersen; Perkins County—Hunter Garner, Triston Hite; Randolph—Justin Haselhorst; Sandhills-Thedford—Dane Pokorny; Sandhills Valley—Cole Kramer, Ethan Nicholson; Shelby-Rising City—Colin Wingard, Gavin Dutton-Mofford, Hunter Long; Shelton—Angel Lehn, Riley Bombeck; Southern Valley—Carter Bose, Brody Yant; South Loup—Drew Vickers, Trey Connell; Stanton—Parker Krusemark; Thayer Central—Andrew Heinrichs, Logan Wiedel; Walthill—Jalen Merrick, Tyrese Lovejoy.
Player, school, Ht., Yr., PPG, RPG
Jaheim Curry, Parkview Christian, Jr., 6-2, 14.8, 6.8
Aidan Hedstrom, St. Mary's, Jr., 6-3, 24.3, 4.2
Quinn Johnson, Loomis, Jr., 6-2, 24.9, 8.3
Mark Lual, Parkview Christian, Sr., 6-5, 15.2, 5.5
Jack Fiegener, Falls City SH, Sr., 6-3, 14.0, 7.5
Honorary captain: Curry, Parkview Christian.
Tanner Pfeifer, Humphrey SF, Jr., 6-2 19.7, 8.3
Garrett Fortney, College View, Jr., 6-3, 19.5, 10.2
Jackson Beethe, Exeter-Milligan, Sr., 6-4, 24.2, 10.2
Isaiah Zelasney, Osceola, So., 6-0, 19.0, 6.6
Clayton Moore, Mullen, So., 6-4, 12.6, 4.5
Arthur County—Alex Worthing; Cody-Kilgore—Taylor Cady; Diller-Odell—Austin Jurgens, Jacob Meyer, Paxton Mohr, Cooper Ebeling; Dorchester—Blake Hansen; Elgin Public/Pope John—Colton Wright, Paiton Hoefer; Falls City Sacred Heart—Jakob Jordan, Brogan Nachtigal, Jake Froeschl; Friend—Chase Svehla, Breckan Schluter, JB Drake; Humphrey St. Francis—Justin Leifeld, Haustyn Forney; Hyannis—Liam Kostman, Max Kostman; Loomis—Shay Swanson, Aden Lovitt; Medicine Valley—Hayden Kramer; Mullen—Brendon Walker, Trevor Kuncl; Nebraska Lutheran—Trey Richert, Nate Helwig; Osceola—Kale Gustafson, Wyatt Urban, Carson Watts; Overton—Wyatt Ryan; Parkview Christian—Michael Ault, Tom Kraan, Keshawn Moore; Paxton—Dane Storer, Caden Holm; Pleasanton—Carter Klein; Potter-Dix—Luke Kasten, Thomas Muldoon, Javon Coyle; Santee—Romeo White; Silver Lake—Oakley Rosno; South Platte—Ethan Reichman, Ryan Cheleen; Sterling—Sam Boldt, Andrew Richardson; St. Mary's—Adam Everitt, Tate Thompson, Blake Benson, Conner Semin; Stuart—Jett Kunz, Wade Paxton, Ryan Steinhauser, Anthony Heiser; Spalding Academy—Dawson Murphy, Jacob Diessner; Sumner-Eddyville-Miller—Creyton Line, Carson Rohde; Twin Loup— Quincey Ryker; Wallace—Colton Hager, Camden McConnell; Wauneta-Palisade—Braxton McKinney; Wausa—Jaxon Clauseen; Wilcox-Hildreth—Gavin Scheen; Wynot—Anthony Haberman, Charlie Schroeder.
These first-team Super-Staters have game: Meet the five boys who took their games to another level in 2020-21
They got... 𝗚𝗔𝗠𝗘!
This season's group of first-team Super-Staters are gamers. They take their game to the next level. Do you see what we're getting at?
We spent a day at The Amazing Pizza Machine in Omaha. Sure, there were serious questions, but we enjoyed learning a little bit more about how games, arcade or otherwise, play in each player's lives.
We got some good answers, too.
Let us introduce the 2020-21 Journal Star first-team boys Super-Staters.
A day at the arcade 🕹️
Frankie Fidler and Saint Thomas getting some shots up on the pop-a-shot.  Stuffed animals. Flashing lights. Enjoy this behind-the-scenes look at the Journal Star's first-team Super-State photoshoot. 
𝙃𝙐𝙉𝙏𝙀𝙍 𝙎𝘼𝙇𝙇𝙄𝙎 (co-captain)
𝙼𝚒𝚕𝚕𝚊𝚛𝚍 𝙽𝚘𝚛𝚝𝚑 | 𝟼-𝟻 | 𝚂𝚛. | 𝟸𝟸.𝟸 𝙿𝙿𝙶 | 𝟻.𝟼 𝚁𝙿𝙶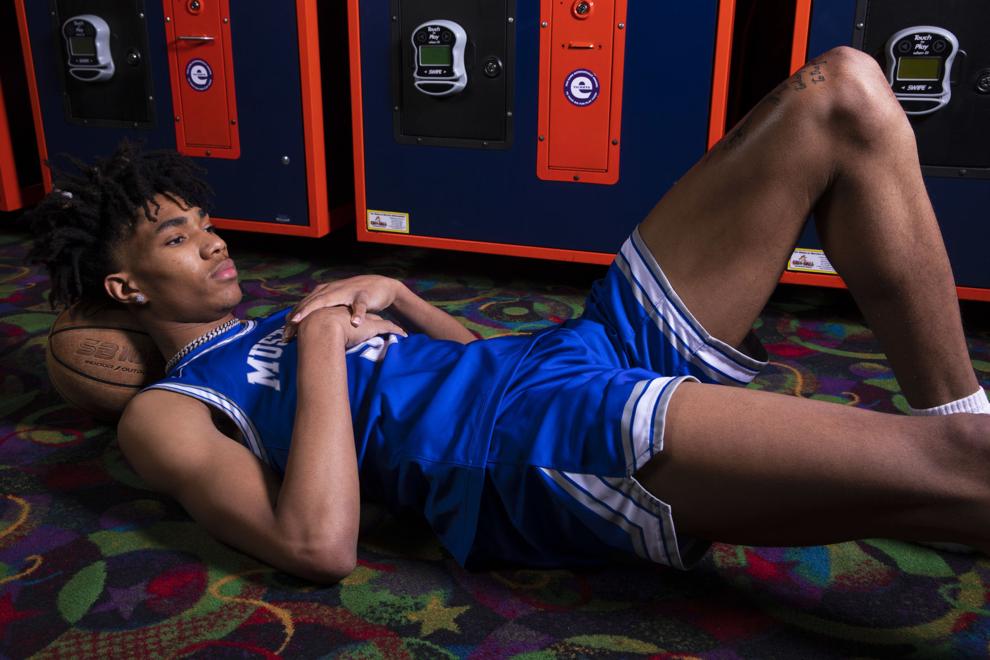 College: Committed to Gonzaga on Friday from his list of eight finalists – Gonzaga, Iowa State, Kansas, Kentucky, North Carolina, Oregon and UCLA.
He's got game: There were a lot of firsts when it comes to Sallis, last year's honorary captain of the Super-State team – first Nebraska boy to be named a McDonald's All-American, first five-star basketball prospect to ever come out of Nebraska and he was the headliner on a talent-rich Mustang team that won the school's first boys Class A state basketball title and the first state championship in Coach Tim Cannon's career. Sallis, the No. 7 recruit in the class of 2021 nationally according to Rivals and No. 1 point guard prospect, shot 58% from the field and 81% from the free throw line this season. Sallis, who finished his career with a school-record 1,819 points, was comfortable scoring at all three levels, knocking down three-pointers with the same ease as nailing mid-range jumpers or driving it all the way to the basket and throwing down a dunk over a taller defender. He also averaged 2.4 steals per game, a testament to his added focus on the defensive end this winter.
Coach mode: "It's no accident Hunter had a great season year. He was getting out of school at 12:30 because of a shortened schedule for seniors, and he was getting individual workouts in, then coming back here for our practice at 3:30. With all the work he was putting in, he just kept getting better." Millard North coach Tim Cannon.
Fun game he can maybe beat other Super-Staters in: "The motorcycle games. All of those. I feel like I am winning for sure."
Go-to games growing up: "I like Pac-Man. That was really my favorite game."
How many makes out of 20 on pop-a-shot: "For sure, 20."
𝘾𝙃𝙐𝘾𝙆𝙔 𝙃𝙀𝙋𝘽𝙐𝙍𝙉 (co-captain)
𝙱𝚎𝚕𝚕𝚎𝚟𝚞𝚎 𝚆𝚎𝚜𝚝 | 𝟼-𝟷 | 𝚂𝚛. | 𝟷𝟻.𝟿 𝙿𝙿𝙶 | 𝟻.𝟷 𝚁𝙿𝙶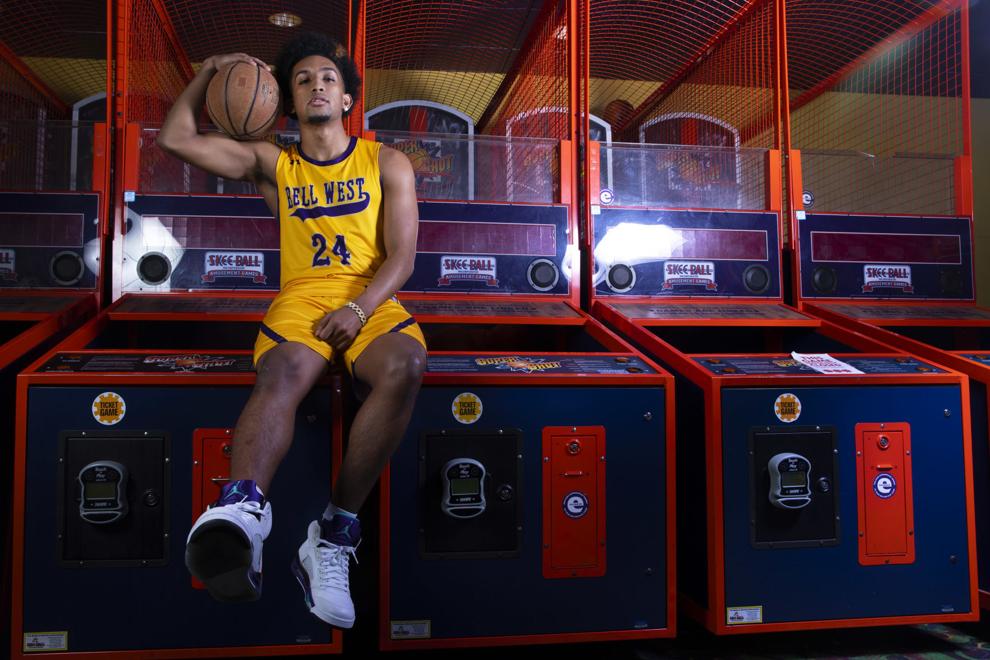 He's got game: Hepburn's got a total game, and it's that unique ability to contribute in every facet that sets him apart from any other high school player in the history of the state. Hepburn's strength, quickness, explosiveness and elite ballhandling skills always make him a threat to drive and score, but he also raised his three-point shooting to 37% this season, making him even more difficult to guard. Hepburn, one of the best facilitators in state history, averaged an astounding 8.3 assists and 3.8 steals per game. He had 10 or more assists nine times during the season, including a stretch at mid-season when he had double-figure assists in eight of nine games. Hepburn, who led Bellevue West to the 2020 state title, was at his best in the big games, going off for 32 points in an overtime win at Creighton Prep during the regular season and scoring 24 points and dishing out 13 assists in a win over then undefeated Lincoln Pius X. Hepburn, a four-year starter for the Thunderbirds, finished with 1,706 points, 638 assists and 324 steals in his career.
Coach mode: "The unique thing about Chucky, and it's been this way for four years, I've never had a player who doesn't have to score to have a monumental impact on the game. When he does score combined with all the other stuff, his influence goes to another level, and that was evident in the last two games at the state tournament." Bellevue West coach Doug Woodard.
Fun game he can maybe beat other Super-Staters in: "The Connect Four game. Ain't nobody can beat me in that game."
Go-to games growing up: "I played Monopoly so much."
How many makes out of 20 on pop-a-shot: "20 out of 20."
𝙄𝙎𝘼𝘼𝘾 𝙏𝙍𝘼𝙐𝘿𝙏
𝙶𝚛𝚊𝚗𝚍 𝙸𝚜𝚕𝚊𝚗𝚍 | 𝟼-𝟿 | 𝙹𝚛. | 𝟸𝟻.𝟹 𝙿𝙿𝙶 | 𝟿.𝟺 𝚁𝙿𝙶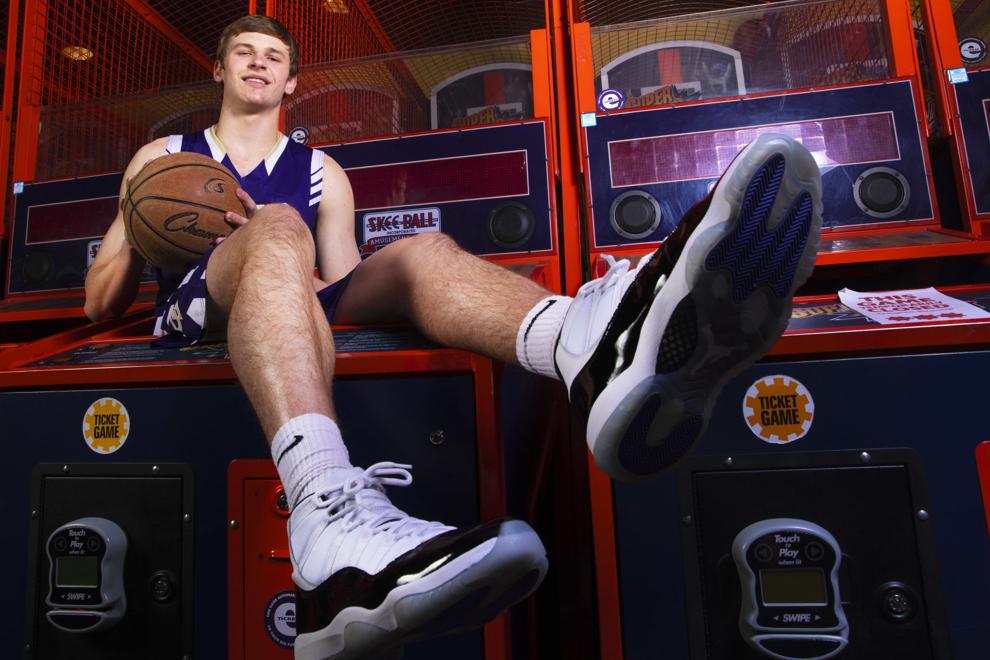 College: Undecided, has 28 Division I offers, the biggest from Virginia, Oregon, Kansas, Louisville, Ohio State, Oklahoma, Oklahoma State, Stanford and Wisconsin as well as Nebraska and Creighton.
He's got game: Traudt, a four-star recruit nationally by Rivals, intrigued college coaches with a strong summer performance playing AAU for Lincoln Supreme, then followed it up with a high school season in which he excelled in all five positions he played. Traudt is the Islanders' point guard against full court pressure defenses, he's their zone breaker with unlimited range beyond the three-point line and he's their rim protector and inside presence both scoring and rebounding. Despite seeing double and sometimes triple teams, Traudt still shot 51% from the field overall, 37% from three-point territory and 79% at the free throw line. Traudt tied the single-game Class A scoring record with 57 points against Norfolk and also had games of 39 points against Omaha Bryan, 34 against both Bellevue East and Gretna and 33 against Lincoln Southwest. GI's starting five returns intact next season, making the Islanders a team to watch in Class A next season.
Coach mode: "Isaac's spent a lot of time and effort working on his body and working on his skill set to get to where he is today. As far as being able to play inside-outside, that's something he's always had. Between his sophomore and junior season, he really started to recognize his potential and started to understand that he had to put some time into his body, develop a workout plan and build some strength around his skill set." Grand Island coach Jeremiah Slough.
Fun game he can maybe beat other Super-Staters in: "I beat them (the other Super-Staters) in the Connect four Hoops a couple times. One of the shooting games, too."
Go-to games growing up: "I played a lot of Mario Cart, and I was pretty good at Fortnite when I played."
How many makes out of 20 on pop-a-shot: "17 or 18."
𝙎𝘼𝙄𝙉𝙏 𝙏𝙃𝙊𝙈𝘼𝙎
𝙼𝚒𝚕𝚕𝚊𝚛𝚍 𝙽𝚘𝚛𝚝𝚑 | 𝟼-𝟽 | 𝚂𝚛. | 𝟸𝟷.𝟸 𝙿𝙿𝙶 | 𝟽.𝟿 𝚁𝙿𝙶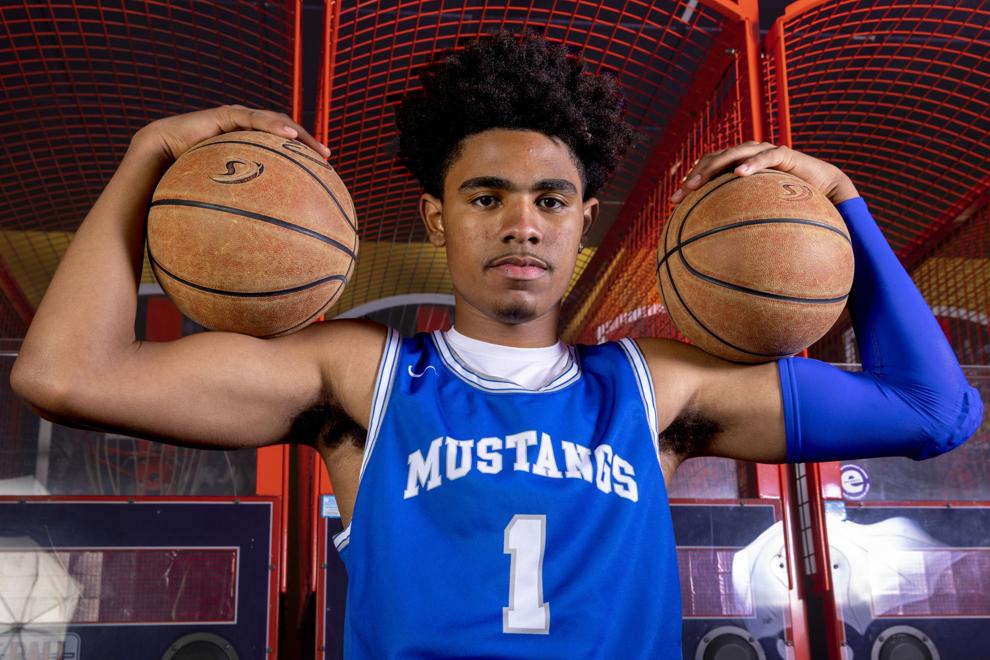 College: Undecided, will announce commitment on April 10. Has 11 offers, the most significant being Mississippi State, Pepperdine, Richmond, TCU and Virginia Tech.
He's got game: Thomas, the Nebraska MaxPreps Player of the Year, has grown more than seven inches since entering high school and his game has blossomed at the same time. Thomas shot 57% from the field overall as a senior, and was probably the best three-point shooter in the state, connecting on 82 of 182 shots from beyond the arc for 45%. He had 25 or more points in 11 games this season, including a 48-point explosion in the two overtime win over Bellevue West in the Metro Conference tournament finals, a game Thomas was 19 of 26 from the field and 5 of 9 from three-point. While his shooting and scoring gets the headlines, Thomas' ballhandling and passing skills make him an even more coveted player at the college level. Thomas averaged 5.2 assists per game, and his feeds inside to Jasen Green for back-to-back baskets in overtime helped the Mustangs get over the top against Bellevue West in the Class A state finals.
Coach mode: "Scoring, rebounding and assists, nobody was doing what Saint did in those three categories this year. Everyone knows he's a great shooter and scorer, but he's also very good both distributing the ball and handling it. He can take it the length of the court or penetrate the lane and make a beautiful pass." Millard North coach Tim Cannon.
Fun game he can maybe beat other Super-Staters in: "I feel like the car games, like NASCAR and stuff. I'm a good driver…I don't think they (the other Super-Staters) can drive like I can (laughs)."
Go-to games growing up: "I just played a lot of NASCAR and stuff. A good driver, like I said."
How many makes out of 20 on pop-a-shot: "All 20, 100%."
𝙁𝙍𝘼𝙉𝙆𝙄𝙀 𝙁𝙄𝘿𝙇𝙀𝙍
𝙱𝚎𝚕𝚕𝚎𝚟𝚞𝚎 𝚆𝚎𝚜𝚝 | 𝟼-𝟽 | 𝚂𝚛. | 𝟸𝟷.𝟸 𝙿𝙿𝙶 | 𝟼.𝟹 𝚁𝙿𝙶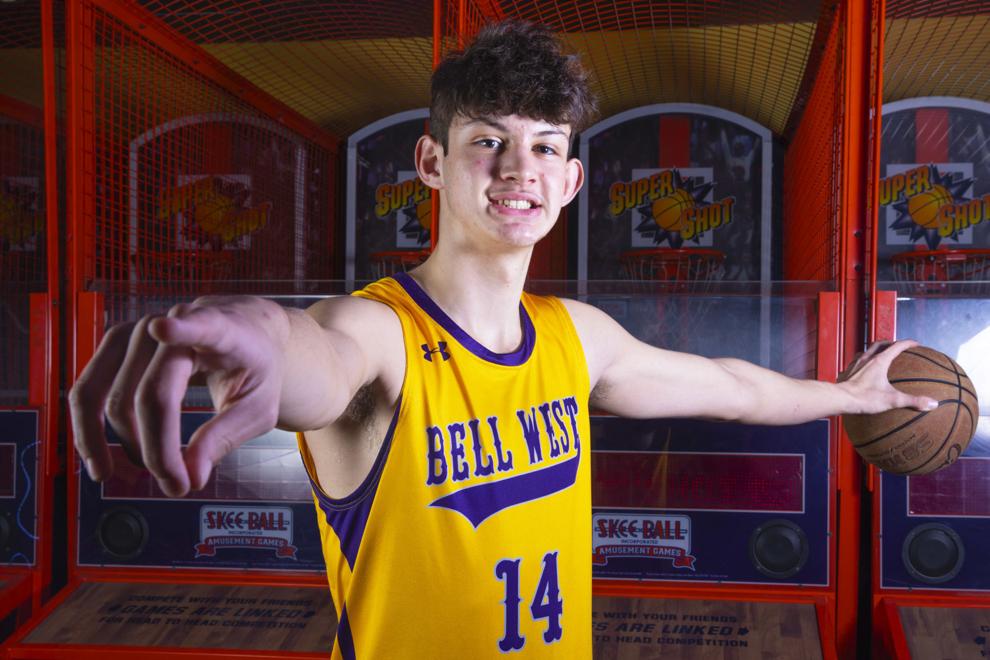 He's got game: Much like Thomas, when the big growth spurt hit for Fidler, he already had the guard skills in place to continue his high-level perimeter game but added a dimension inside with his added size. Fidler hit 53% of his shots from the field overall, 40% from beyond the three-point arc and 79% from the free throw line as he became Chucky Hepburn's favorite target for picking up assists. His season-high was 31 points against Omaha Benson, while also going off for 30 against Creighton Prep in the Metro Conference holiday tournament, 26 against Iowa state champion Waukee, 26 against Omaha Central, 24 in the regular season win over Millard North and 20 against Sunrise Academy, one of the top prep school teams in the country. His length defensively helped him make 44 steals and block 14 shots this season.
Coach mode: "I've never had a kid who improved as much as Frankie has from the time he got here to the end of this year. He was 6-1 as a freshman and he played guard growing up, now he's 6-7 and he has those guard skills. I think the future is even brighter for him as he continues to grow into that body. I think Omaha got themselves a good one, and he has a chance to be a load in the Summit League." Bellevue West coach Doug Woodard.
Fun game he can maybe beat other Super-Staters in: "I think 'Nothing But Net' (Pop-a-shot). I think I'm good at that."
Go-to games growing up: "I like Pac-Man actually. I remember going to the bowling alley or coming here and playing Pac-Man. It always gave me a good vibe."
How many makes out of 20 on pop-a-shot: "15. I'm not making 20 because I think the rim is real crooked."