Bellevue East--Joey Skoff, Fred Knotts; Bellevue West--Nico Felici, David Nour, Louis Fidler; Creighton Prep--Thomas Faber, Robert Peters, Spencer Schomers, CJ Wolfe; Elkhorn South--Jace Piatkowski, Zach LaFave, Preston Murphy; Fremont--Austin Callahan; Grand Island--Much Biel, Them Koang; Gretna--Tre' Mikkelson, Ely Doble; Kearney--Seth Stroh, Carson Schwarz; Lincoln East--Connor Riekenberg, Jett Janssen, Carter Glenn; Lincoln High--Keyshawn Jenkins, Jaden Horton, Boomer Jock, Graham Newton; Lincoln Northeast--Carson Busch; Lincoln North Star--Josiah Allick, Jared Lopez, Kwat Abdelkarim; Lincoln Southeast--Ajantae Hogan, Michael Anderson; Lincoln Southwest--Mayuom Buom, TaeVyn Grixby, Cam Frederick; Millard North--Jake Rueschhoff, Bret Porter, Max Murrell; Millard West--Evan Meyersick, Tristan Gomes, Zach Olson; Norfolk--Cameron Eisenhauer, Luke Kluver, Connor Clayton; Omaha Benson--Denim Johnson; Omaha Bryan--Javen Udofia, Jerome Wallace, Sam Gregory; Omaha Burke--Xavier Watts; Omaha Central--Latrell Wrightsell Jr., Max Polk; Omaha North--Wal Chuol, Malachi O'Neal, Brandon Nissen; Omaha Northwest--Kristion Johnson; Omaha South--Ta'Vion Anderson, Tyrece Griggs, Skyler Wilson; Omaha Westside--PJ Ngambi, Carl Brown; Papillion-La Vista--Preston Kellogg; Papillion-La Vista South--Jared Mattley, Chase Norblade, Ryan Winkler.
Alliance--Joe Baker, Corbin Stark; Aurora--Cade Reichardt, Nick Hutsell, Jordan Stevenson; Beatrice--AJ Mahoney, Elliot Jurgens; Bennington--Grady Corrigan, Nick Bohn; Blair--Quincy Nichols, Joe Manchester, Ryan Brunkhorst; Columbus--Blake Edzards; Crete--Jaxon Weyand, Josiah Gardiner; Elkhorn--Mitch Kahre, Caden Schutte; Hastings--Connor Creech, Jacob Schroeder; Holdrege--Jackson Hilyard; Lexington--Nick Saiz; Lincoln Pius X--Austin Jablonski, Mitchell Sebek, Holton Harman; McCook--Seth Dugger, Gabe Sehnert; Mount Michael--Bradley Bennett, Joe Chouinard, Kaleb Brink; Norris--Harrison Boe, Jay Knudsen, Skyler Schwaninger; North Platte--Steven Garcia; Northwest--Justin Hiser, Tyler Hageman; Omaha Gross--Trey Powers; Omaha Roncalli--Alex Rodgers, Taiden Red, Shane Orr, Jake Orr; Omaha Skutt--Jake Kudron, TJ Skradski, Andrew Merfeld; Platteview--Evan Kingston, Trey Brotski; Plattsmouth--Hayden Stromsodt, Tucker Anderson; Ralston--Isaac Dannehl; Scottsbluff--Connor McCracken, Jasiya DeOllos, Dawson Mohr; Seward--Joseph Krause, Brett Meyer; South Sioux City--Brad Hartnett; Waverly--Ben Carter; York--Garrett Snodgrass, Jeb Lucas, Reid Hoffmann.
Adams Central--Nolan Sughroue, Thomas Hunt; Aquinas--Braden Smith, Zach Zavodny, Dan Stara; Arlington--Brant Hilzendeger; Ashland-Greenwood--Cale Jacobsen, Nick Schulz, Jarrod Nafzinger; Auburn--Josh Lambert, Daniel Frary, C.J. Hughes, Brody Darnell; Bishop Neumann--Kobey Simons, Eli Vedral; Boone Central/Newman Grove--Carter Henry, Will Frey; Boys Town--Chrishaun Henry, Uzziah Vincent-Freeman, Javin Wynn; Broken Bow--Josh Harvey, Griffin Wright, Cade Chapin; Chase County--Braden Space; Columbus Lakeview--Cadge Janssen, Cameron Drozd, Thunder Pilakowski; Columbus Scotus--Grant Shanle, Caden Pelan; Conestoga--Lane Fox, Jax Madsen; David City--Will Danielson, Luis Salazar; Douglas County West--Payson Gillespie, Ty Eggen; Fairbury--Chance Amundson; Falls City--Collin Cook; Fillmore Central--Carson Scott; Fort Calhoun--Zane Schwarz, Trenton Bouwman; Gordon-Rushville--Dylan Schwarting; Gothenburg--Maguire Bartlett, Connor Baker; Grand Island Central Catholic--Jacob Herbek, Russ Martinez, Koby Bales; Hershey--Jacob Gosnell, Andrew Weitzel, Nolan Benjamin; Johnson County Central--Eli Waring; Kearney Catholic--Kegan Bosshamer, Logan O'Brien; Lincoln Christian--Caleb Canfield, Creighton Kuszak; Lincoln Lutheran--Joshua Puelz, Isaac McCoy, Ryan Hlavaty; Logan View/SS--Connor Larson; Louisville--Brady Geise; Madison--Keaton Hendren; Malcolm--Dylan Johnson, Nate Kuhn; Milford--Nate Mensik, Bragan Meyer; Mitchell--Austin Thyne, Keaton Reichert, Blake Thyne; Minden--Elijah Lovin; Norfolk Catholic--Ethan Piper; North Bend Central--John Emanuel, Jaxon Wietfeld, Austin Endorf, Chase Ruzicka; Ogallala--Evan Allen-Mader, Cameron Raffaeli; Omaha Concordia--Colton Kanzmeier, Max Meier; O'Neill--Francisco Perez; Ord--Hayden Grint, Solomon Campise; Pierce--Gavin Larson, Dawson Watts; Raymond Central--Dylan Thornburg; St. Paul--Tommy Wroblewski, Logan Vogel; Syracuse--Ben Nannen, Wil McCoy; Twin River--Brandon Miller, Joseph Zwiener; Valentine--Jaydon Owen; Wahoo--Trey Scheef, Thomas Waido, Karson Hesser; Wayne--Tyrus Eischeid, Shea Sweetland, Marcus Fertig; West Point-Beemer--Blake Anderson, Ben Vander Griend; Winnebago--Ed Payer; Wood River--Tanner Hermann.
Ainsworth--Grant Stec, Sam Wilkins; Alma--Jackson McKenzie, Burke Boehler; Arcadia/Loup City--Caden Kusek, Tucker Quinn; Bayard--Peyton Oliverius; BRLD--Dylan Beutler, Jaxon Johnson, Darwin Snyder, Will Gatzemeyer; Bridgeport--Drake DeMasters, Kaleb Lussetto, Logan Nichols; Cambridge--Paxton Ross, Preston Carbaugh; Centennial--Cooper Gierhan, Caleb Horne, Wyatt Ehlers; Centura--Ben Oman, Ty Ruhl, Joe Carey, Noah Wooden; Creighton--Conner Hammer, Brayden Zimmerer; Crofton--Connor Dahl, Brad Tomasek; Cross County--Cael Lundstrom, Grant Hollinger; Doniphan-Trumbull--Keithan Stafford, Braeden Milnar, Cade Sterner, Griffin Hendricks; Elmwood-Murdock--Carter Bornemeier, Noah Willey; Freeman--Brady Ideus, Tyler Adams, Trey Yates, Logan Anderson; Hartington CC--Myles Thoene, Tate Thoene; Hastings SC--Ashton Valentine; Hemingford--Casey Lashley; Howells-Dodge--Josh Brester, Lane Hegemann, Blake Sindelar; Humboldt-Table Rock-Steinauer--Hunter Hain, Conner Bredemeier; Laurel-Concord-Coleridge--Izac Reifenrath, Ty Erwin; Lutheran High Northeast--Jaxson Kent, Ben Gebhardt, Brady Jackson; Morrill--Tanner Whetham; Nebraska Christian--Elijah Boersen; Neligh-Oakdale--Cole Belitz; Oakland-Craig--Colton Thomsen, Wyatt Seagren, Robby Mayberry; Omaha Nation--Jayzon Hundley, Chauncey Tyndall, Mike Aldrich; Palmyra--Kaleb Kempkes, Andrew Waltke; Perkins County--Spencer Ross; Ponca--Gage McGill, Brandon Kneifl, Evan Anderson; Sandy Creek--Wyatt Mach, Josh Shaw; Shelby-Rising City--Austin Coffin, Jeff Pinneo, Max Hoatson; Southern--Drake Adams; South Loup--Jace Connell, Grant Jones; Stanton--Marcus Spotanski, TJ Larson, Nathan Arens; Sutherland--Ryan Richardson; Sutton--Cade Wiseman, Jordan Davis, Seth George; Tri County--Cole Siems, Creighton Niemeyer, Evan Larson, Lucas Weise; Wakefield--Justin Erb, Blake Brown; Wilber-Clatonia--Regie Homolka, Coltin Rezabek, Hunter Cerveny; Yutan--Trey Knudsen, Colby Tichota, Jason Simon.
Anselmo-Merna--Jace Leibhart, Destry Miller; Ansley-Litchfield--Chris Paitz, Jeff Cunningham, Ethan Samuelson, Justin Bailey; Arapahoe--Jordi Gutierrez, Gentry Anderson, Carson Schroeder; Archbishop Bergan--Dre Vance, Riley Lindberg, Dylan Gartner; Bertrand--Tyler Callahan, Austin Long; Bloomfield--Braden Eisenhauer, Trenton Holz; Burwell--Barak Birch, Sage Konicek; Clarkson-Leigh--Jarred Novotny, Tommy McEvoy; Clearwater-Orchard--Blake Hoke, Ryan Wilhelm, Jacob Long; College View--Derek Bock; Dundy County-Stratton--Michael Frederick, Jacob Krutsinger, Keegan Krutsinger; East Butler--Austin Pierce; Elm Creek--Gage Claubaugh, Karsten McCarter; Emerson-Hubbard--Nolan Belt; Fullerton--Jordan Maxfield, Brandon Rasmussen, Brent Wetovick, TJ Dubas; Garden County--Austin Dormann; Hartington-Newcastle--Shaye Morten, Sam Harris, Lincoln McPhillips; Heartland--Jared Nunnenkamp, Trajan Arbuck; Hitchcock County--Dionte Perkins; Humphrey/LHF--Turner Beller, Bret Hanis, Jacob Sjuts, Ethan Hanzel, Tyler Sjuts; Kenesaw--Parker Bittfield, Ryan Denkert, John Schuster; Lourdes Central Catholic--Colter Fulton; Maxwell--Tate Gurciullo, Drew Hazen; Meridian--Garrett Klipp, Mario Garcia; Minatare--Kaleb Gonzales; North Central--Colton Munger, Jake Heerten; North Platte SP--Nick Niesen, Charles Aufdenkamp, Dolan Branch, James Roberts; Omaha Christian--Christian Maas; Palmer--Karson Reimers; Pawnee City--TJ Mawhiney; Paxton--Kaden Schow, Jordan Callihan; Pender--Sam Mailloux, Eric Schopke; Sandhills-Thedford--Cauy Pokorny, Gage Haake, Chase Haake; Southwest--Bryan Leslie, Blake Williams; Wauneta-Palisade--Duncan Rector, Dennis Cavanaugh, Joel Maris; West Holt--Kooper Jelinek, Jordan Tasler; Wilcox-Hildreth--AJ Jenkins.
Blue Hill--J.C. Himmelberg, MJ Coffey, Jared Schmidt, Colby Karr; Brady--Titus Earll; Central Valley--Ty Nekoliczak, Morgan Behnk; Cody-Kilgore--Jared Tolliver; Creek Valley--Garrett Sawyer; CWC--Sam Jesse; Diller-Odell--Bryston Warren; Elgin/Pope John--Kyle Schumacher; Ewing--Joseph Wright; Exeter-Milligan--Spencer Pribyl, Max Zeleny, Jackson Beethe; Falls City SH--Jarrot Simon, Jake Hoy; Giltner--Rody Lyon; Hay Springs--Brodey Planansky, Trent Reed; Heartland Lutheran--TJ Williams; High Plains--Keaton Van Housen; Humphrey SF--Jarrett Weidner; Johnson-Brock--Cole Fossenbarger, Dylan Rowe; Lewiston--Treyton Hippen, Levi Meybrunn; Loomis--Shay Swanson, Quinn Johnson; Mead--JT Haag, Hunter Pickworth; Osmond--Keaton Timmerman, Greysen Schultze, Justus Maertins; Parkview Christian--Rashad Woods, Davion Helmstadter, Josh Platter; Randolph--Carter Schnoor, Keaton Backhaus; Riverside--Michael Bernt; Santee--Romeo White; Silver Lake--Alex Ehrman; Sioux County--Tristan Hunter, Tommy Watson; South Platte--Joey Spencer; Spalding Academy--Mathew Bloom; St. Edward--Trevor Rasmussen; Sterling--Logan Jasa, Caleb Dolbow, Trace Dirks; St. Mary's--Grady Semin; Stuart--Ethan Sattler, Isaac Steinhauser, Coltin Schroeder; Sumner-Eddyville-Miller--Carson Rohde; Wallace--Micah Swedberg; Wausa--Tyson Kaiser.
AKOL AROP
Creighton Prep | 6-6 | Sr.
College: Nebraska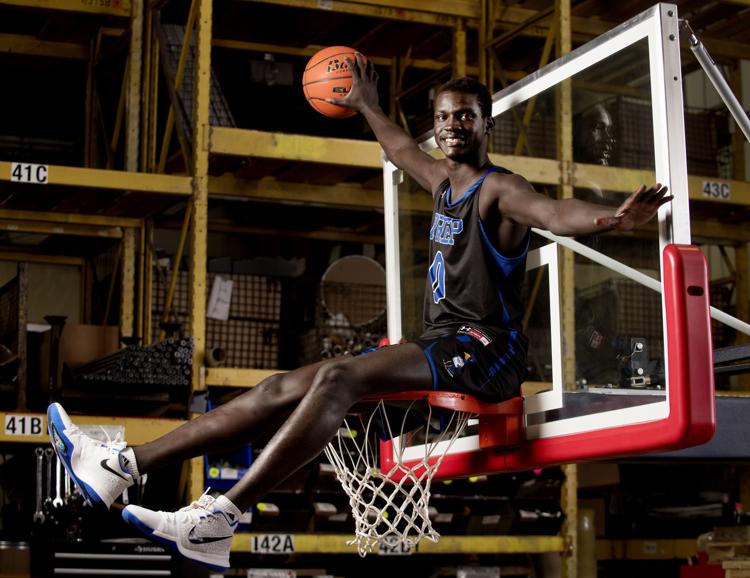 What he did: The returning first-team Super-Stater was the focal point of the 2018 Class A state championship team, but Arop was the only returning starter from that squad after Jaylin Hunter moved to Connecticut after his father took an assistant coaching position on the Huskies' staff. The Nebraska Gatorade Player of the Year was not only the Junior Jays' physical leader this season, but also the vocal leader, responsibilities coach Josh Luedtke thought his star handled very well. Arop, who committed to the Huskers last summer, averaged 19.4 points and 10.9 rebounds per game to go with 2.6 blocked shots as he utilized his quickness, length and explosive jumping ability in all three areas. While Arop exhibited some perimeter skills last summer with his Omaha Sports Academy 17-and-under AAU team, his role for Prep this season was to score down low and drive to the basket from the perimeter to open up the Junior Jays' array of three-point shooters, and as a result, shot 62 percent from the field. He lit up Omaha Benson for 35 points in late December and had 30 in the overtime win at Lincoln North Star in late January, a decision that the Navigators reversed in the first round of the Class A state tournament.
Coach-speak: "Akol works very hard in practice, and when your best player gives that much effort, it sets a great example for everyone else on the team. He was always very positive toward his teammates, but also demanding. Akol is the most efficient player I've ever coached. He could've averaged 25 or 30 points a game and he had opportunities to force things, but he never did. He's a very unselfish player who wanted to see us win as a team." — Creighton Prep coach Josh Luedtke
DONOVAN WILLIAMS
Lincoln North Star | 6-5 | Jr.
College: Nebraska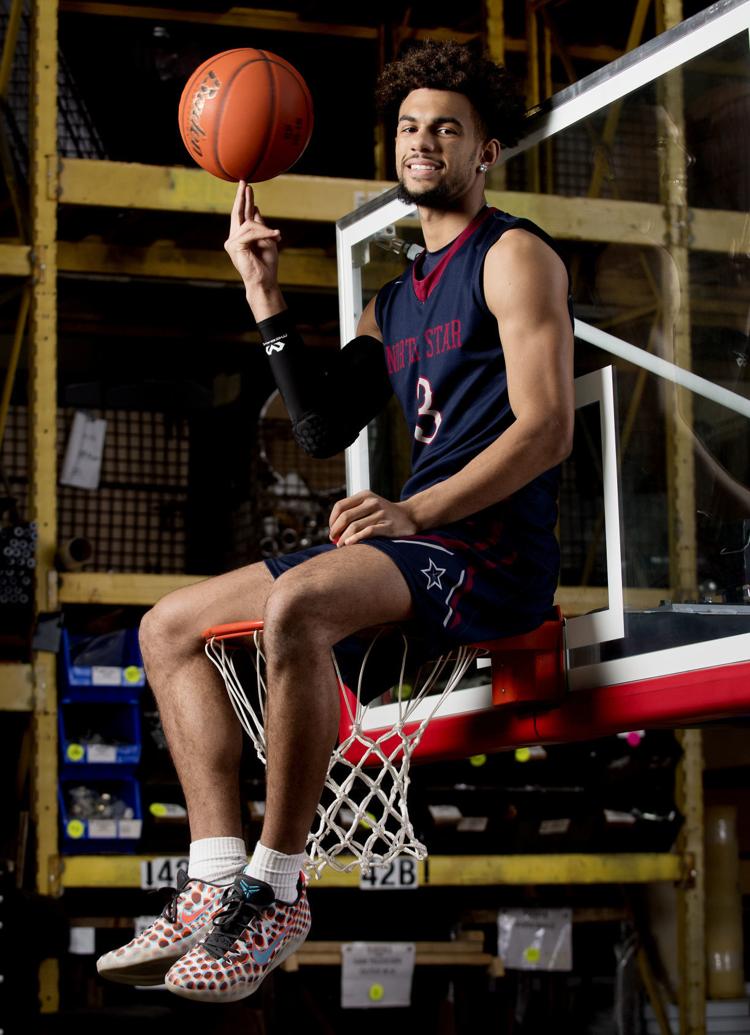 What he did: North Star's late season surge that propelled the Navigators into the Class A state tournament semifinals was largely fueled by Williams' well-rounded game getting his teammates more involved offensively, which in turn made the Husker commit more efficient and just as productive with fewer shot attempts. Williams, who committed to Nebraska last summer, has the ballhandling and passing skills of a point guard with the scoring ability from both outside and on the drive of a shooting guard or small forward. Williams averaged 21 points, 5.2 rebounds and 2.7 assists per game and was a 74 percent free-throw shooter after drawing 216 foul shot attempts for the season. Williams had 30 or more points three times — 32 against Norfolk in early January, 36 in the overtime loss to Creighton Prep in late January and 30 in the district final victory over Kearney, a game in which he hit the game-winning three-pointer from the left wing with just over two seconds left. Williams is one of three starters back next season for North Star, which should be among the Class A state contenders.
Coach-speak: "Donovan felt a lot of pressure early in the season thinking he had to do it all himself. He's a very smart player, and he wanted our team to win, so he started playing to get everyone involved. Knowing he didn't have to do everything himself made him enjoy playing basketball even more. With his work ethic in the offseason to improve and his commitment to the weight room, it will be interesting to see where his game is a year from now." - North Star coach Tony Quattrocchi
CHUCKY HEPBURN
Bellevue West | 6-1 | So.
College: Uncommitted, being recruited by a number of Big Ten and Big 12 schools. Has a scholarship offer from Nebraska.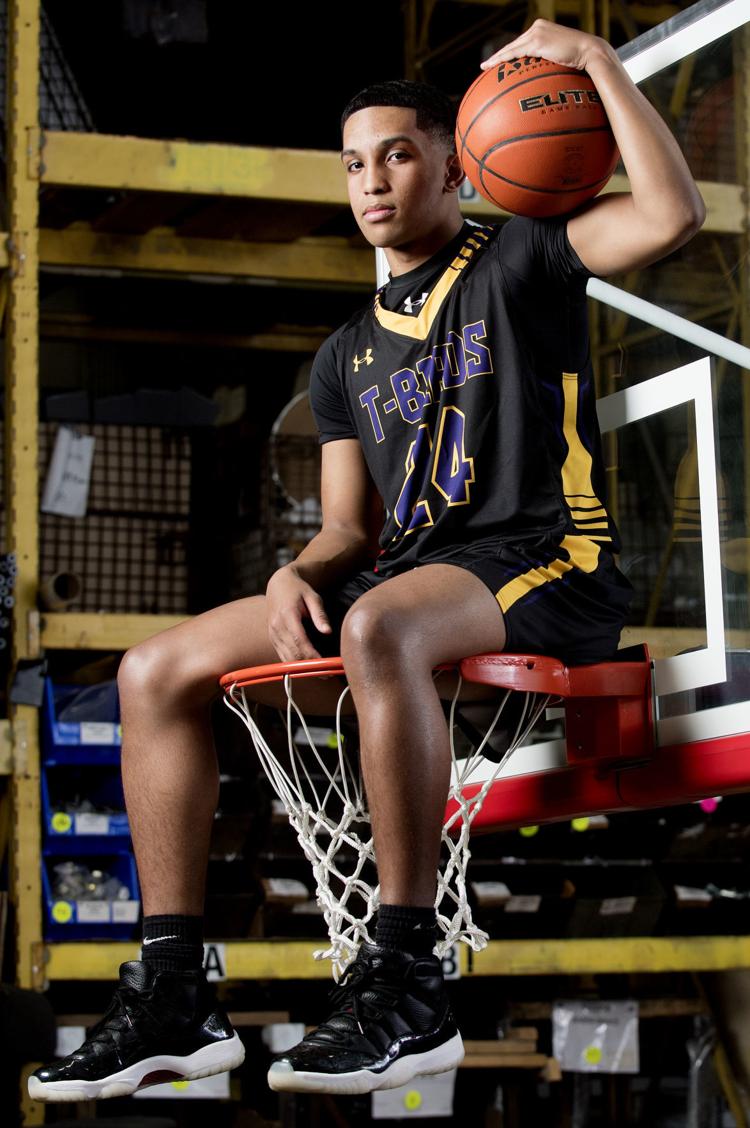 What he did: Hepburn was the point guard that ignited Bellevue West's high-octane offense that made the Thunderbirds the No. 1-ranked team in Class A almost the entire season before ending up with a semifinal finish at the state tournament. Hepburn was Bellevue West's leading scorer, averaging 18.3 points per game, but he also hauled in an average of 5.1 rebounds, dished out five assists and registered 3.4 steals per game. Hepburn can drive the lane as well as anyone in the state, and his vision of the court meant he would either find a wide-open teammate for a shot or finish himself, sometimes with an emphatic dunk. Hepburn shot 54 percent from inside the three-point arc and 77 percent from the free-throw line. His three-point shot is steadily improving, and he had a flair for the dramatic from beyond the arc as he provided the winning points in victories over a pair of state tournament teams — Kearney and Creighton Prep — with late-game threes. Five of the Thunderbirds' top seven players will return, so with Hepburn leading the way, Bellevue West could be the team to beat next season.
Coach-speak: "I can't think of a player in the state who could impact a game in a myriad of ways like Chucky could. He's more about the team than he is about Chucky. There's not many guys like that ... and that's what makes him unique. He's hungry and he's willing to put in the hard work to get better. As he gets bigger and stronger and he continues to refine his skill set, I don't think there's a level (of basketball) that's too high for him." — Bellevue West coach Doug Woodard
CHARLIE EASLEY
Lincoln Pius X | 6-2 | Sr.
College: Uncommitted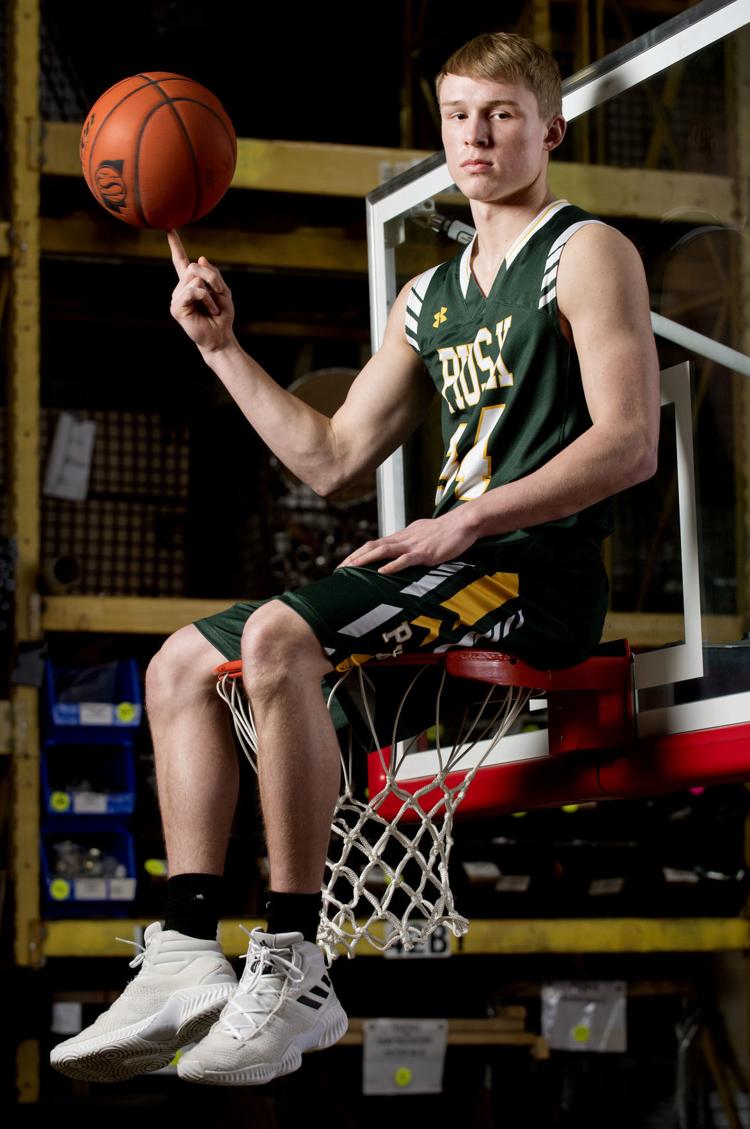 What he did: Easley filled the stat sheet and led the Thunderbolts to the Class B state championship in the process by averaging 23.3 points, 6.1 rebounds, 4.1 assists and 3.1 steals per game, all team highs. He was not only productive, Easley was also a model of efficiency in his multi-leveled offensive game that was equally lethal driving to the basket for layups, knocking down midrange jump shots and bombing in three-pointers. He shot 51 percent from the field overall, 45 percent from beyond the three-point arc and 86 percent from the free-throw line. The all-time leading scorer in Pius X boys basketball history (1,412 career points) was at his best in the big games. He dropped 28 points on Lincoln East in an overtime win for the Bolts, cut loose for 33 in the win over Kearney in the Heartland Athletic Conference finals, scored 29 in a loss to 2018 Class A state champion Creighton Prep, had a pair of 35-point performances in two wins over Elkhorn and registered 25 in his final high school game, the double-overtime win over Omaha Roncalli in the state finals.
Coach-speak: "Charlie had a good feel for when it was time to get his teammates involved and when it was time for him to take the game over himself. He had trust in his teammates that they could deliver and his teammates trusted him that when adversity hit, Charlie would be there to make a play. Charlie is tough as nails, and that attitude just permeated through the rest of the team in practices and games." — Pius X coach Brian Spicka
JOHN TONJE
Omaha Central | 6-5 | Sr.
College: Colorado State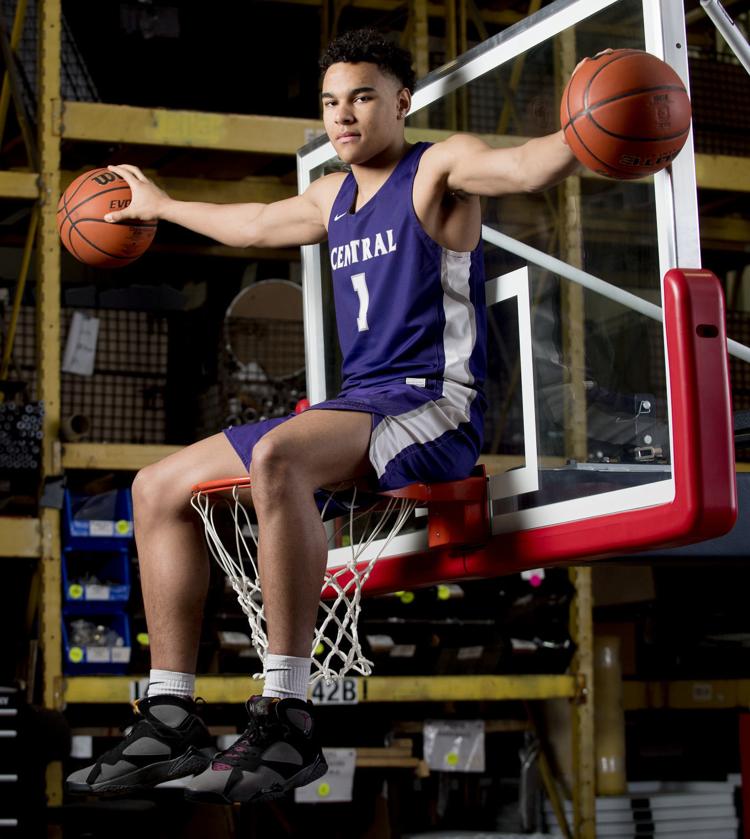 What he did: Central coach Eric Behrens said Tonje had as good a season as anyone he's coached, high praise considering the talent Behrens has had at Central through the years and the seven state titles the Eagles have won under his guidance. Tonje led Class A in scoring (23.8 points per game) and grabbed 6.1 rebounds per game in leading the Eagles to the state final two weeks ago. He had 15 games in which he scored 25 or more points, including a pair of 35-point explosions in two wins over Lincoln High and a pair of 29-point games against Millard North. After seeing limited varsity minutes as a sophomore, Tonje averaged 13.6 points per game as a junior primarily as a spot-up three-point shooter. He added the dribble drive to his game as a senior and a couple of extra inches of height as well to help finish in traffic. Tonje slammed more than 30 dunks this season as he shot 50 percent from the field overall, 38 percent from three-point and 82 percent from the free-throw line.
Coach-speak: "John was one of the leaders in the state this season in both free-throw attempts and three-pointers. That's a pretty good combination to have. When you look at John statistically, he put us on his back and carried us when Latrell (Wrightsell Jr.) was injured. John kept playing at that high level when we got him (Wrightsell) back, and that's when we made our run in January and February." — Omaha Central coach Eric Behrens