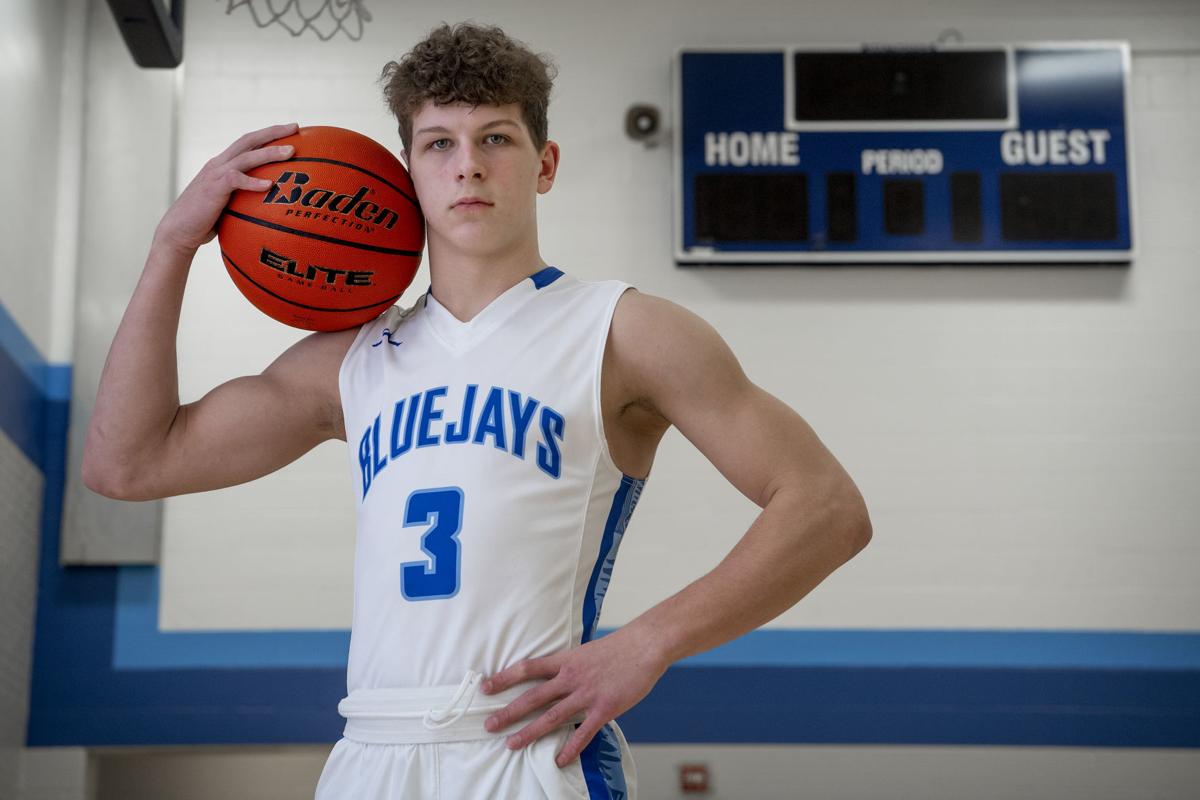 Ten years ago when Brad Jacobsen told his family that he was giving up the Ashland-Greenwood boys basketball coaching position he had held for 13 seasons to focus on his duties as principal at the school, his young son found the news devastating.
"I remember when he told me at the breakfast table, I think I cried that morning because I thought I wouldn't be able to go to practice or hang around the gym anymore," Cale Jacobsen said. "Our next coach (Andrew Belsky) still let me come."
That early love of the gym set the foundation for Cale Jacobsen to become one of the top players in Class C-1 and one of the best sophomores in the state this season regardless of class.
All the hours of shooting and skill development on his own in the gym are showing results. The 6-foot-3 guard averages 22.9 points per game while also leading the eighth-ranked Bluejays (13-4) in rebounds (8.7 average per game) and steals (3.2 per game). Cale Jacobsen is second on the team in assists at 2.6 per game, trailing junior point guard Jarrod Nafzinger's 3.5 a contest.
"In my opinion, regardless of class, I think he's (Jacobsen) one of the best players around," Ashland-Greenwood coach Jacob Mohs said. "His skill set, his athleticism, his basketball IQ and his mental toughness set him apart."
So does Jacobsen's offensive versatility.
He has the ballhandling and passing skills to be a point guard, but his length, a 37-inch one-step vertical jump, driving ability and outside shooting prowess make him a prototypical wing player. And when the matchups are favorable, the Bluejays have posted up Jacobsen inside and let him go to work on shorter defenders.
All of that's added up to 68 percent shooting from two-point territory, 35 percent from beyond the three-point arc and just under 80 percent at the free-throw line.
Jacobsen has that rare combination of being able to ignite a crowd by either throwing down a monster dunk in transition or knocking down three-pointers like he did in Saturday's Capitol Conference championship game against Class B No. 6 Wahoo, when he hit five on his way to 25 points.
Wahoo downed the Bluejays 72-52, but Ashland-Greenwood gets a rematch with the Warriors at home Feb. 15.
His top performance this season was a career-high 40 he scored in the Ashland-Greenwood Holiday tournament finals — a 62-55 overtime win against Omaha Roncalli, last year's Class B state runner-up that's currently ranked No. 2.
Jacobsen is starting to get some Division I college attention as a result with Nebraska-Omaha making contact with him this winter. That list should grow playing AAU ball with Lincoln Supreme this spring and summer on a team his father coaches.
Jacobsen made an instant impact for the Bluejays a year ago as a freshman when he averaged 15.6 points per game and led them to an 18-7 record and a berth in the C-1 district finals. That was a huge turnaround from the 3-19 season in 2018 when he was an eighth-grader.
Throw out the big individual point totals when it comes to some of the more satisfying wins of the season. Jacobsen scored 11 points in a 57-52 win at Boys Town on Tuesday, but three teammates also were in double-figures — Kyle vonRentzell with 13, Gavin Bergsten with 12 and Aiden Lindley with 11.
The Bluejays also feature senior all-state running back Bryce Kitrell, an Ohio football recruit and 6-foot senior who Mohs says "makes winning plays" for the basketball team in terms of rebounding, setting picks and playing physical hard-nose defense.
"Our guys stepped up and hit shots when we needed it, and we know we can do that every night," Jacobsen said. "When we're all hitting shots, it makes things easier for everyone because teams can't just focus their defense on one or two of us."
Later this month, Ashland-Greenwood will be looking for its first state tournament berth since 2007, "and we'll need that kind of scoring balance if we want to achieve our goals," Jacobsen said.
Get in the game with our Prep Sports Newsletter
Sent weekly directly to your inbox!