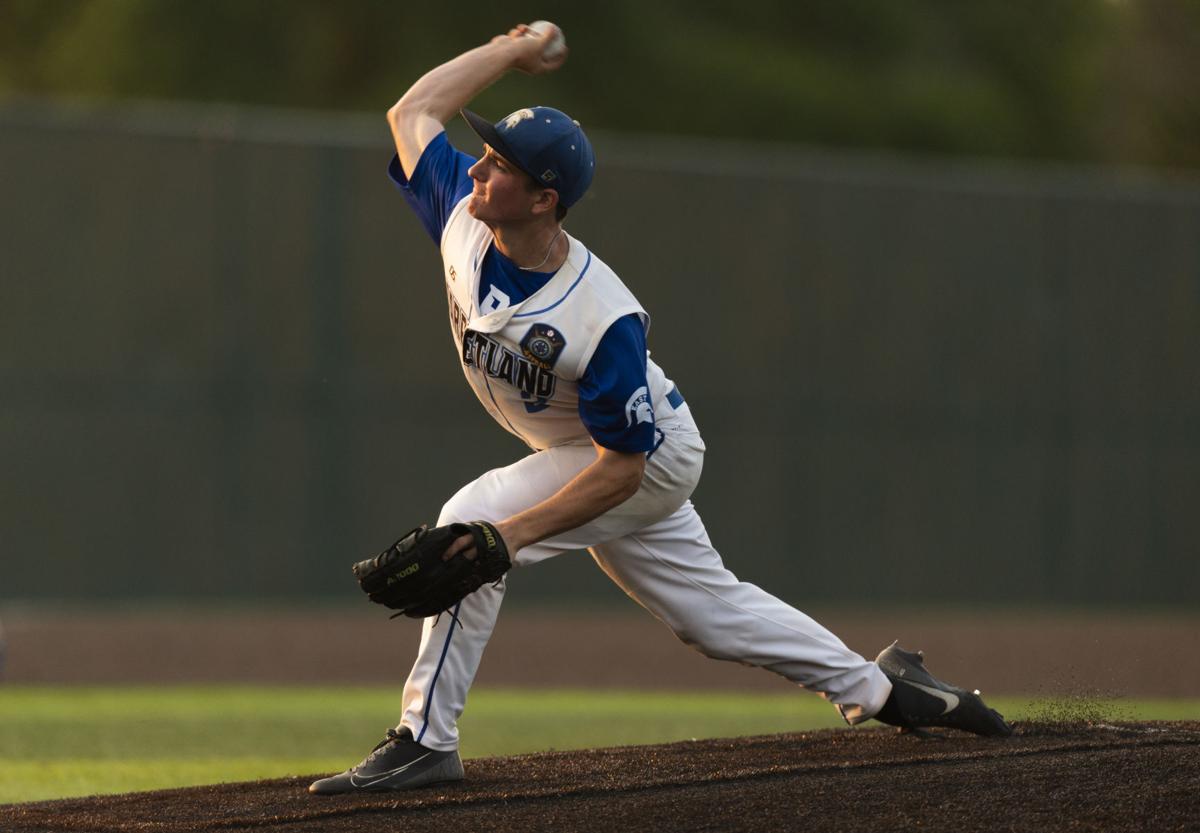 Carpet Land rode stellar pitching from Sam Wragge and Tyson Romero in their first two games of the District A-5 Legion baseball tournament.
On Sunday night, Ryan Clementi continued that trend with a four-pitch arsenal, throwing six scoreless innings in a 5-2 win over JC Brager at Den Hartog Field to clinch a berth in the state tournament.
"My changeup was definitely my number one pitch tonight," Clementi said. "I get people out front, pop them or get them to miss… It felt great tonight. Everything."
Clementi also delivered a three-run double in the bottom of the sixth inning. He blasted one off the left-field wall with two outs.
"We kind of have a saying at East, we say winners win and Ryan is a winner," head coach Mychal Lanik said. "He works so hard year-round for moments like these. He has come this far as a player because of who he is as a person."
JC Brager responded to the five-run inning by Carpet Land to make things interesting in the seventh.
Clementi got the first two outs before walking Ethan Steer and allowing a single to Connor Pfundt. An error and a base hit to center field scored Steer and Pfundt and loaded the bases with two outs. Keinan Lentell relieved Clementi and struck out Jared Topil to clinch the win.
"Keinan is the ace in the hole back there at the end," Lanik said. "We really didn't think it was going to get to that spot but having him to put in as a coach is a really nice luxury to have."
Despite not putting up any runs early, Carpet Land still put pressure on JC Brager. They had two on with no outs and bases loaded and two down in the first inning, but no runs to show for it.
They loaded the bases with one out in the fourth inning before a line drive to JC Brager's Loren Pasco turned the double play.
JC Brager did not record its first hit until a Steer double in the fifth inning.
Carpet Land moves on to play Anderson Ford, the number one seeded team in the district, at 7 p.m. Monday with their tickets already punched for state. The two teams met on June 30 with Carpet Land winning 8-5.
"We still want to want to win our district and there are four really good teams left," Lanik said. "The kids need to take care of their bodies and be ready to play tomorrow."
JC Brager will play Judds Brothers in an elimination game at 4 p.m. Monday at Den Hartog Field. Carpet Land and Anderson Ford follow at 7 p.m.
In other tournament action Sunday, Anderson Ford defeated Pinnacle Bank 6-0 behind Caden Steiger's three-hit day, and Judds Brothers outlasted Union Bank 10-7.