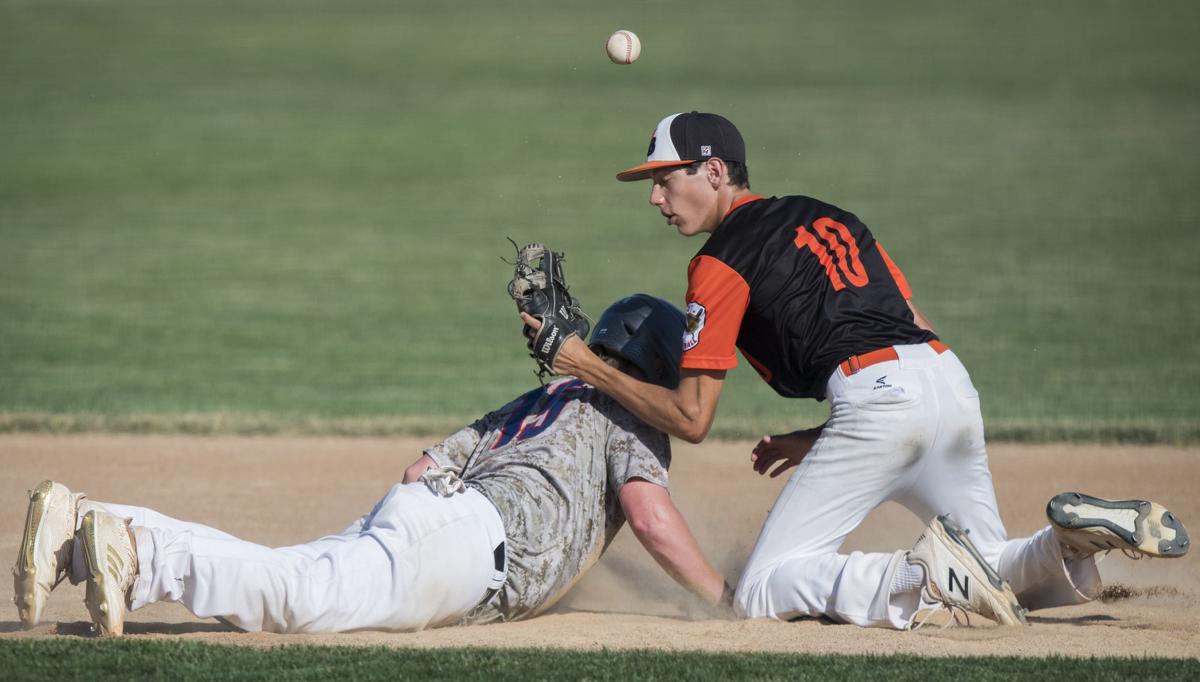 When the trees begin to wilt and the heat index reaches to overwhelming levels, it means it's time for American Legion district baseball. And when it's time for district baseball, it means survive and advance in any way possible.
JC Brager (Lincoln Southeast) saw an early 3-0 lead dissipate into a 4-3 deficit by the bottom of the seventh inning against Judds Brothers (Lincoln Northeast) in the opening round of the Seniors Area A-5 Tournament on Friday at Sherman Field. But the one-run hole only seemed to incite the Brager offense.
Grant Snelling and Devin Trumbley led off the inning with back-to-back walks before the pair advanced to second and third on a wild pitch with no outs. Andrew Duncan then ripped a single into left field to tie the game, and Eric Heldebrand delivered the knockout punch a batter later with an RBI single up the middle to give Brager the 5-4 victory.
"At the end of the day, you just have to find a way to win," Brager coach Montana Jones said. "I wish it wouldn't have been so close so I could've enjoyed it, but at this point of the season, it's win and advance, so we'll take it."
Heldenbrand finished the day 3-for-3 with two RBIs and a walk, while Jaxon Kirchgatter picked up the win after 1 1/3 innings of relief. Kirchgatter allowed one hit and struck out one.
Judds starter Tyler Robertson fired six innings while allowing three runs, two earned, before leaving the game after hitting the pitch limit. The Brager offense tallied both the tying and winning run without the Judds bullpen getting an out.
You have free articles remaining.
In the top half of the bracket, Pinnacle Bank (Lincoln Southwest) starter Dylan Cox shut down Carpetland (Lincoln East) for most of the afternoon to push his team to victory at Sherman Field. Cox fired a complete seven-inning game and didn't allow a run until the bottom of the seventh to lead Pinnacle Bank to a 3-1 win.
"(Cox) was lights-out and set the tone early," Pinnacle Bank coach Mitch Vernon said. "Our defense fed off of him and played really well behind him. He was able to command both sides of the plate, and when you are able to do that with three pitches, you're going to be pretty good."
Anderson Ford (Lincoln North Star) opened the A-5 tournament with a 9-0 win against Sampson Construction (Lincoln High).
Michael Bailey homered and doubled and Justin Lottman struck out eight in 4⅓ innings for Anderson Ford.
Pinnacle Bank will now face Union Bank (Lincoln Pius X) in Saturday's winner's bracket. Union Bank advanced via a bye after earning the No. 1 seed in the tournament.
The two teams will meet at 4 p.m. Saturday at Sherman Field. Brager advances to face Anderson Ford at 7 p.m. Saturday.