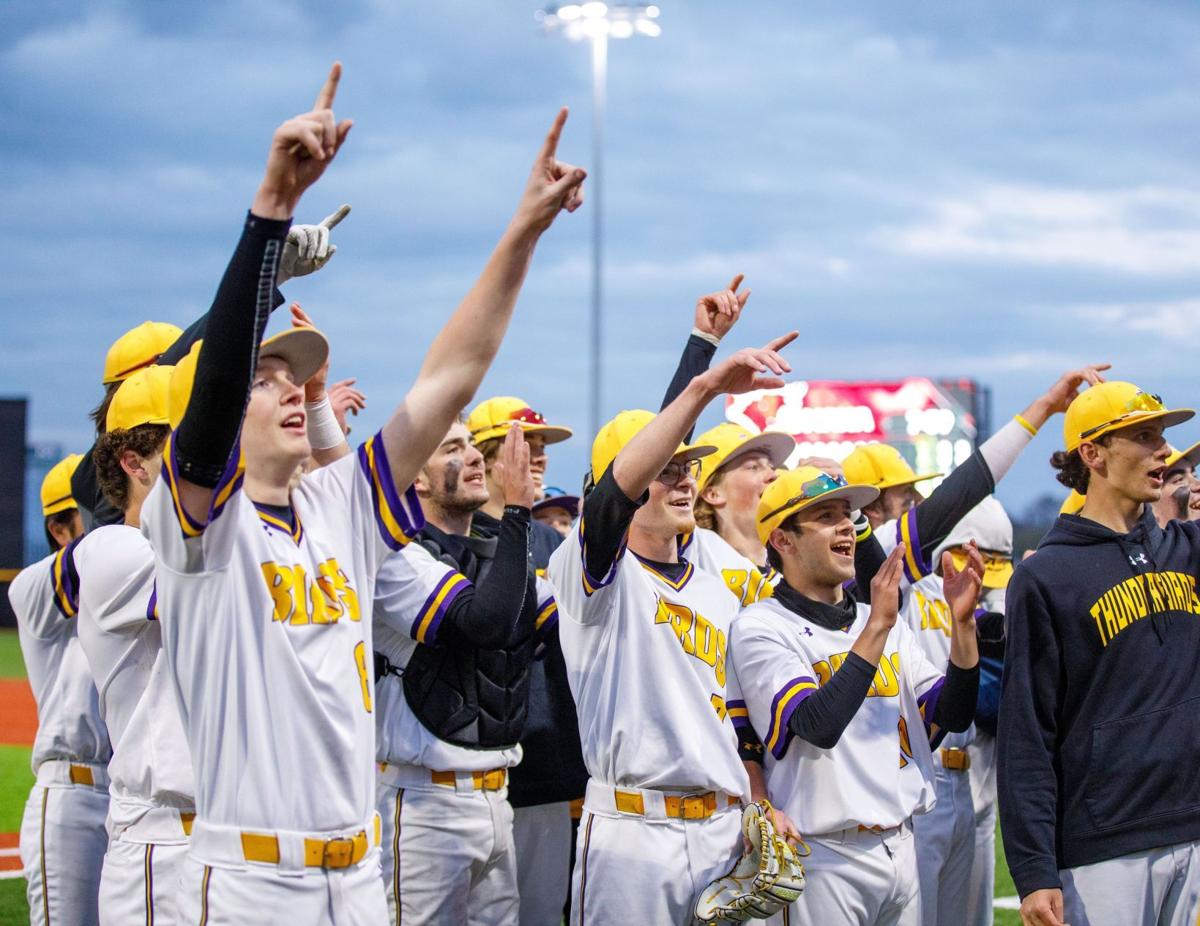 Sparked by Jaxon Jelkin's no-hitter, Bellevue West pushed past Papillion-La Vista in the Metro Tournament semifinals Saturday. That was only the start.
It was about 1:45 p.m. and the championship game against Millard West wasn't to be played for another four-plus hours, so coach Jason Shockey quickly tried to come up with a plan to best attack the downtime.
Grab food and come back to the school to hit? Let the guys head home to rest?
"I don't want to kill the mood, but to the same degree, I don't want us to burn ourselves out, either," Shockey thought.
Ultimately, the players decided to head to their homes, get off their feet and recharge. What followed was another dominant pitching performance, this time from senior Jack Bland, and the Thunderbirds rolled to an 8-1 win against the Wildcats to capture their first Metro Tournament title since 2016.
Twenty games in and the Thunderbirds continue to make the right moves.
They're 18-2, have won 15 of 16 games and are ranked No. 1 in Class A. And now they have a Metro Tournament crown to build upon.
"The Metro is obviously a tough pool of teams year in and year out," Shockey said. "To be able to come out on top of this with so many great teams is a really good achievement, and our kids, I know, are really excited about it."
But the Thunderbirds, who haven't been to a state tournament since 2014 and haven't won a state tournament game since 1983, also know bigger goals are ahead of them.
And though Bellevue West enjoyed a nice run on the Legion ballfields last summer — it went 27-8 — this kind of success at the high school level is relatively new to the Thunderbirds, who were 12-14 two years ago and 13-13 three years ago. There was no 2020 season.
And yet, the Thunderbirds have handled it, and the extra attention that comes with it, very well. A roster deep in experience helps.
Of the Thunderbirds' regular 10 starters, nine are seniors and the other, junior Daniel Lester, has been playing since his freshman year.
"There's a lot of times when you kind of look onto the field and you see two-year starters, three-year starters," Shockey said. "It's kind of like having a few coaches out there on the field for us as well, and they kind of know what we expect and they very much police themselves.
"It's a pretty level group as far as not getting too high and not getting too low, and just understanding the process."
The process, in fact, started three years ago when many the seniors — including Jelkin, shortstop Connor Schneider, pitcher Dane Toman and center fielder Cam Madsen — were freshmen. The Bellevue West coaches saw the potential.
Potential has been replaced by results. Bellevue West is hitting .382 as a team, and the Thunderbirds have multiple arms that can take over games. Tomas (Metro quarterfinals), Jelkin (semifinals) and Bland (final) delivered last week. Nine Thunderbirds have signed to play college ball.
For now, though, accolades, Metro titles and future college plans are on hold.
"We talk very little this year about rankings, we talk little about our nine guys going off to play college ball, we've talked very, very little about batting averages," Shockey said. "I think they're very grounded. We've made it very clear to our guys that we've got another two weeks to go prior to districts and it's very important to take the next step and the next step and the next step.
"The next step tomorrow is (No. 2) Millard South. It's all about not looking too far ahead."