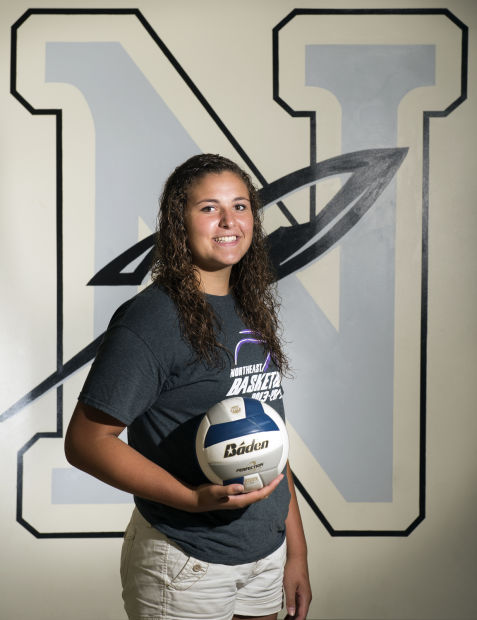 Away from athletics, Lincoln Northeast's Toni Tupper is easy-going and unassuming.
But put the 6-foot-3 Lincoln Journal Star girls prep Athlete of the Year in a competitive, high-stakes situation on a big stage and under the bright lights, and Tupper belies her quiet personality away from sports.
"Toni's a gamer," Rockets girls basketball coach Steve Bartek said. "She loves that challenge when the lights are on and you're playing in front of a big crowd. She rose to the occasion many times in all three of her sports."
The Creighton volleyball recruit did it a number of times on the court as a senior. In October, when Northeast was tied 11-11 in the fifth set with defending state champion Papillion-La Vista South, Tupper scored her team's last four points with kills to finish off a 15-13 Northeast victory in the decisive set.
The first-team Super-State outside hitter ended that night with 26 kills, seven ace serves and 16 digs.
A few weeks later in her final volleyball match at Northeast's Ed Johnson Gym, Tupper came through with a match-high 13 kills and 11 digs in a two-set sweep of fourth-ranked Lincoln North Star.
"In big games, she wanted the ball. She wanted to be that person making the key kill or key dig," volleyball coach Craig Songster said. "Toni has a knack of raising her level of play when the game's on the line. She has that switch most players don't have."
It happened again in basketball. Tupper was part of a defensive effort that held Fremont Super-Stater and U-18 national team member Jessica Shepard to 19 points (12 under her season average at that time). She chipped in 14 points and seven rebounds in Northeast's 60-43 upset of the Tigers.
Tupper later scored 21 points in Northeast's first-round Class A state tournament win over South Sioux City, despite playing on a sprained ankle.
After a slow start to track season, Tupper ended it with her third straight Class A shot put title. She came through with a throw of 46 feet, 1 inch at districts, the best in the state to that point of the season. Tupper then buried the rest of the field early at state with a 46-½ on her second throw of the competition.
Coming through in the big moment, however, wasn't restricted to just Tupper's senior year. As a sophomore, she had 21 kills, 17 digs and two ace serves in the Rockets' upset of Grand Island in the first round of the 2011 state volleyball tournament.
As a junior, Tupper made two free throws with less than 3 seconds left to erase a one-point deficit and lift Northeast past host Lincoln Southwest in the district basketball final.
"I kind of like the big moments like that," Tupper said. "It makes you do better because you don't want to let anyone down. It's pretty nerve-racking at first, but once you're into the flow of the game, you don't even think about it."
Another signature aspect of her high school career was the steady progress she made in all three sports. In volleyball, she gradually evolved into a six-rotation player to complement the power and dominance she had at the net from Day One.
Tupper was the Class A leader in kills last season with a school-record 551. She reached or eclipsed 20 kills in 10 matches and tied the school record for kills in a match with 36. But Tupper also led Northeast in both ace serves (45) and digs (315), two areas she was not a factor in as a freshman or sophomore.
Tupper averaged 12.8 points and 8.3 rebounds per game for the 22-6 Rockets basketball team last season, both career highs for the first-team all-city selection. She shot a team-high 59 percent from the field and was a 69 percent free-throw shooter, a huge improvement from the 35 percent she shot from the line as a freshman.
In track, Tupper's top two shot put throws of her career came in the final two meets — districts and state.
Tupper's focus now turns strictly to volleyball as she prepares for her freshman season at Creighton. She'll be concentrating on becoming a right-side player, the position she plays for the Nebraska Juniors 18s club team.
Her goal is to crack the starting lineup as a freshman, a lofty objective she knows will require a lot of work in the next few months.
"I've got to get in a lot better shape and I have to improve my quickness, my jumping ability and my overall skill level," said Tupper, who is considering the pre-med program at Creighton. "I like the hitting angles from the left side better, but I'm adjusting to the right. You get more opportunities to block on the right side, and I like that."
Bartek sees a bright future for Tupper as a Bluejay.
"Toni's not even close to reaching her ceiling yet," Bartek said. "When that light bulb goes off and she sees how much more she can improve through hard work, she has a chance to have a nice career at Creighton."