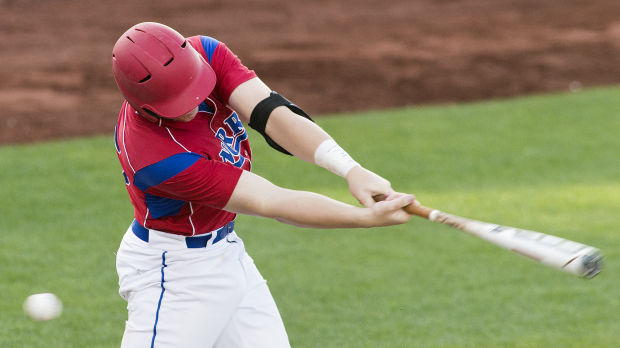 Jakson Reetz measures his sports participation in satisfaction.
"Sports are my life. I like to go compete and play with my teammates," he said. "A lot of us played all three sports (football, basketball and baseball) together from middle school on. I enjoy the camaraderie with my teammates.
"I wouldn't have dreamed of not playing football and basketball. That was two more seasons I got to have fun and compete my tail off."
That said, there was a difference in his approach to baseball. And with good reason. Reetz has come to terms with the Washington Nationals and will sign a professional contract with the baseball club.
"I've always been busy and played all three. During basketball and football, it's a little more laid-back," he said. "During baseball, it's just go, go, go, go, go. And now it's really time to get going."
A three-time Journal Star Super-Stater in baseball and two-time honorary captain, Reetz has been a cornerstone of the Norris program. He hit .561 as a freshman. After that, Reetz saw fewer hittable pitches and still posted dizzying numbers.
* Sophomore season: .425 with 23 RBIs, 31 hits.
* Junior year: .444 with 49 RBIs, 32 hits, 13 stolen bases.
* Senior season: .486 with 37 RBIs, 36 hits, 35 walks, 13 stolen bases.
On the mound, he had 13 saves the past three years and posted a 0.00 earned-run average his junior year.
"Jakson honed his skills. We eased him into catching as a freshman, he played outfield his sophomore year when he played with a broken wrist and he played some infield this year," said Norris coach Jason Cullison. "His junior year, he really started taking off. His catching skills were great, his hitting great, his baseball IQ was better and his leadership was huge.
"His most improvement was in his catching and his leadership."
Reetz said he feels at home behind the plate.
"Catching is kind of like being the quarterback of the field. I like being in charge and being the guy everybody looks to," he said. "But I know I can depend on my teammates."
In football, Reetz rushed for 371 yards and six touchdowns, passed for 1,075 yards and nine TDs and was a ferocious linebacker, with 12 solo tackles, 89 assists, five tackles for losses and one sack.
In basketball, he averaged 13.5 points and 7.5 rebounds a game.