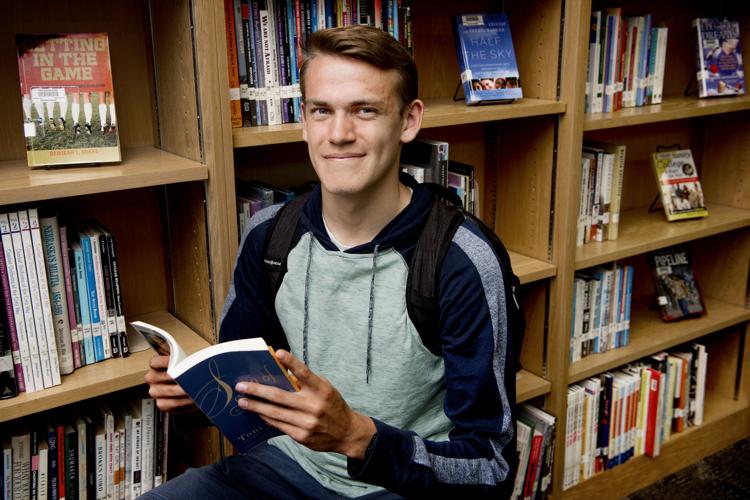 When a class schedule includes five advanced placement courses and a physics course, missing multiple days of school turns a rigorous slate even more challenging.
But as the No. 2 singles player on Lincoln North Star's boys varsity tennis player last fall, that was the balancing act senior Noah Hudson faced. He missed 12 full days of school between mid-August and mid-October for invitational meets and the state tournament.
Hudson had no problem hitting both the books and the tennis ball. He finished fourth at the Class A state meet in his division and was still able to maintain his 4.4 grade-point average and his class rank of No. 3 out of 591 seniors.
"A lot of it is planning ahead," said Hudson, a three-sport athlete who is headed to Nebraska in the fall on a Regents scholarship. In addition to his lofty GPA, he also scored a 32 on the ACT.
"I always make sure to talk to my teachers, even a week before so they know I'll be gone and they can get me work," Hudson added. "I try to be proactive, stay on top of it and not get behind."
In addition to tennis, Hudson was a role player on North Star's varsity basketball team this past winter that reached the semifinals of the Class A state tournament and a middle distance/distance runner on the track team.
Hudson was a state medalist in the 3,200 relay (seventh) last year at state.
Besides missing so many days of school in the fall, the other difficult period is during the winter when he tries to squeeze in training runs for track in addition to his basketball duties.
You have free articles remaining.
"Basketball practice can sometimes be longer than two hours and then I still have to go home and do schoolwork," Hudson said. "It was hard to get the runs in during the winter that I needed to have for track."
Hudson is not easing his way out of high school. His class schedule in his final semester at North Star includes five AP courses — biology, literature and composition, calculus, computer science principles and macroeconomics. Throw in a physics class as well as a session of government and politics, and Hudson has more than a full day.
"It gets tough sometimes," said Hudson, who will a significant number of college credits under his belt when he arrives at NU in the fall. "I just need to stay focused during the school day, get some of my schoolwork done at school instead of at home so I can concentrate on my sports after school and be able to hang out with friends."
Hudson is leaning toward pursuing a career in physical therapy, "so I can continue my passion with running and sports," he said.
He considered possibly going to Nebraska Wesleyan and continue in either tennis or track, "but Nebraska has always been my thing," Hudson said.
"Growing up here I feel like every kid dreams of going to UNL," he added. "You watch Nebraska football and basketball growing up and you want to be part of that tradition and get a great education."
Academic All-State honorees