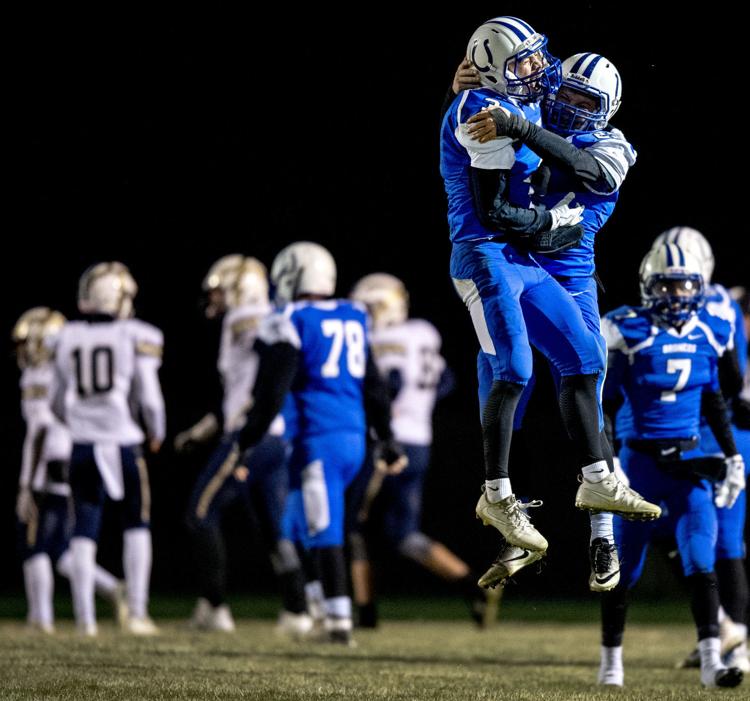 The Centennial senior all-state quarterback-wide receiver duo of Wyatt Ehlers and Jackson Hirschfeld will forever be linked in Nebraska high school football lore.
Ehlers and Hirschfeld first hooked up for a 2-yard touchdown pass on fourth down to keep Centennial alive in overtime of its Class C-2 state championship game against Norfolk Catholic. When Bronco coach Evan Klanecky decided to roll the dice and go for the two-point conversion, Ehlers found Hirschfeld in the back of the end zone for the game-winner to make the gamble pay off.
Ehlers and Hirschfeld are academic standouts as well, but early in December, that historic moment in Memorial Stadium was still running through their minds when they were in the classroom.
"The first couple weeks, it was a little tough to focus," said Ehlers, who finished his career with 6,381 yards passing and 75 TDs. "It's hard to put something like that away."
Hirschfeld, a three-time all-stater in basketball who will play the sport at Concordia, has a 4.0 grade-point average and a class rank of No. 1 out of 46 students. Ehlers, a quarterback prospect at Concordia this coming fall, has a 3.9 GPA.
Standards are just as high in the classroom as they are athletically.
"We do a good job holding each other accountable both in sports and in the classroom," said Hirschfeld, who joins Ehlers on the Centennial track team in the spring. "We want to do more than just be eligible; the expectation at our school is that we excel. Our coaches monitor to make sure we're doing what we can do and not holding back any effort in the classroom.''
Both are pushing themselves to the limit in their final high school semester. Hirschfeld, who will carry 21 college credits with him to Concordia, takes college credit courses in chemistry and English to go with Spanish 4, anatomy and calculus. Ehlers, who has 15 college credits, has Spanish 4, English and calculus in addition to video editing and advanced accounting.
You have free articles remaining.
"It takes some effort, but it's what we do," Hirschfeld said. "This is what we've done since we started school, and we've gotten used to the busyness. It's all worth it. It's kind of the way it is in a small school. It doesn't matter what it is, we give it our all."
With a 31 ACT score and straight A's in the classroom, Hirschfeld considered taking a Regents scholarship to Nebraska and just being a student. The lure to be a college athlete, however, won out.
"I decided to go a different route," said Hirschfeld, who averaged 20 points per game in basketball as a senior and caught 97 passes for 1,304 yards and 16 TDs in the fall. "I knew I wanted to play. The hardest decision for me was whether to play football or basketball.
Ehlers' family farms, and he intends to major in agriculture business at Concordia with the intent to return home to work.
"All my ag classes will be at Nebraska and all my business classes will be on campus at Concordia, so I'm getting the best of both worlds," said Ehlers, who also considered Hastings and Morningside in the recruiting process. "The great thing about going to Concordia is that I'll be close enough to home to work on the farm anytime they need me."
Ehlers and Hirschfeld will be combining on the same team one more time this summer. They will join classmate Max Tomes on a Centennial threesome that made it through two rounds of qualifying to advance to the national competition of the Future Business Leaders of America's (FBLA) Virtual Business Challenge. The event will take place during the FBLA's National Leadership Conference June 29 through July 2 in San Antonio.
"Jack is our workhorse, he's kind of the dude on our team," Ehlers said.
Academic All-State honorees