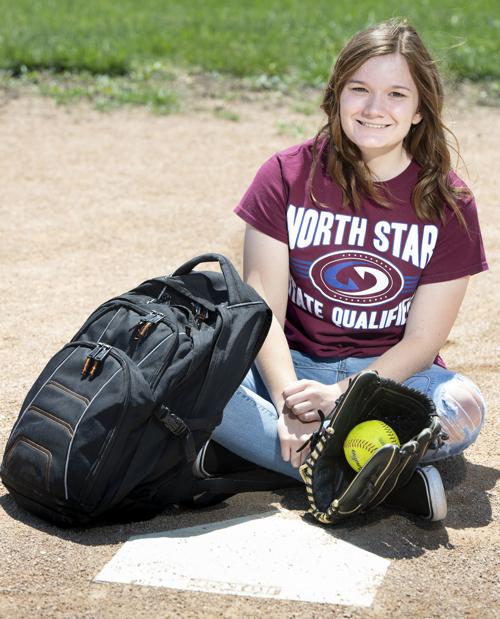 Carly Dembowski plays softball, so she can tell you all about those pesky hitting slumps.
They can occur in schoolwork, too.
For Dembowski, it happened in a writing class.
"I'm a perfectionist, so I really have to think about what I'm going to write," the Lincoln North Star senior said. "Sometimes I get writer's block really fast, and that's where my slump usually comes from."
Student-athletes from nearly 250 schools across the state are being honored by the Lincoln Journal Star for Academic All-State.
But like she does in the batting cages, Dembowski puts in the extra time on the writing assignments to break through.
"I kind of prioritize my work time toward writing that paper, or I go in and talk to my teacher about different ideas that help inspire my writing," she said. "That really helps."
Truth be told, Dembowski's softball and academic slumps are few and far between. She carries a 4.1 grade-point average in the classroom, and ranks 39th out of 507 North Star seniors. She's a two-time Super-State infielder on the softball diamond, too. She batted .488 and scored 58 runs as a senior.
Dembowski, who will play softball at Nebraska-Kearney, was asked to set the tone for the Navigators' potent lineup, batting leadoff. She has the same mentality in school. Even now, as students are doing coursework from home during a virus pandemic, Dembowski makes it a point to get her assignments finished in the morning. Then she can turn her attention to working out to stay in shape for softball.
"I'm like that student that has to get things done," she said. "My parents have said in the past that student comes before the athlete, so that's always been in my mind."
Dembowski's dual success in softball and academics are tied to organization. She calls herself a "routine person," which was especially important during Dembowski's junior year when she loaded up on AP classes and was in school from 7 a.m. to 3 p.m. Then softball practice followed.
School will be a big part of Dembowski's life for years to come. She plans to study elementary education, and had some hands-on time working with a third-grade class earlier this year.
"Ever since I was little I always pretended to play school with friends," Dembowski said. "Elementary education would just be the perfect fit for me because I love children and I love getting to have that relationship with them, and hopefully later on in their life they'll come back and say, 'I remember this, this and this.'
"Seeing that connection ... just would be so cool to see."