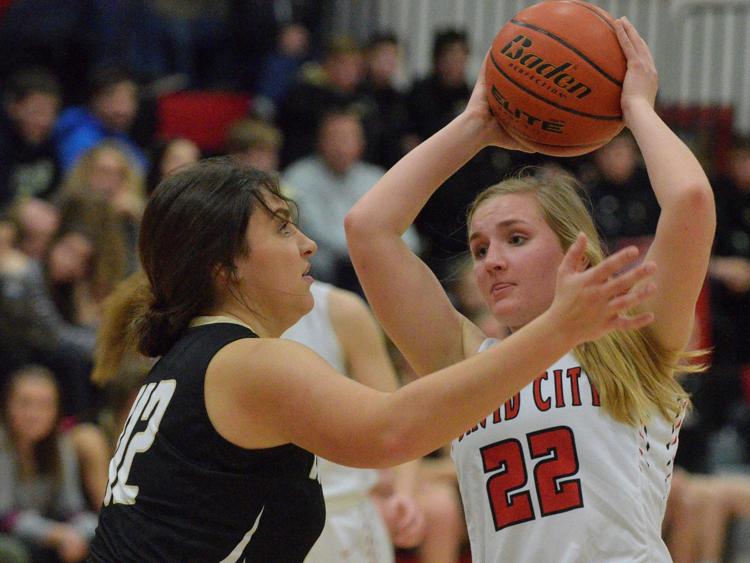 Allie Daro doesn't shy away from lofty goals and aspirations.
Whether it's participating in one of three sports at David City High School, taking part in numerous clubs and organizations, or acing a calculus or physics test, the Scouts' senior has always set the bar high.
"I want to be a doctor someday," Daro said. "It takes high standards to achieve that, and if you don't hold yourself to a high standard, you can't expect it from others."
As the oldest of three siblings, Daro said responsibility has been a trait she's carried with her for years.
"I'm naturally organized and a goal-oriented person," she said. "I enjoy being busy; I like having things to do. My mom worries that when I get to college, I won't have enough to do."
Daro, a three-sport letterwinner in volleyball, basketball and track, will continue her education at the University of Nebraska-Kearney. There, she'll study pre-med in the KHOP (Kearney Health Opportunities Program). She's interested in both pediatrics and trauma surgery, but says she has plenty of time to decide which route to take.
"I definitely want to get into medical school," she said. "But in the short term, I'm excited to make new friends."
With a 34 on the ACT and graduating first out of her class of 41, Daro's achievements are especially impressive in a smaller school setting where she takes part in about anything under the sun.
In addition to her three sports, Allie is involved in National Honor Society, cheerleading, FCA, One-Act, Student Council, Quiz Bowl and STAY-U. And those are just some of the additional activities that keep her busy.
So, when does she find time to sleep? Sleep is overrated, according to Daro.
"I'll sleep when I'm dead," she joked. "I didn't want to look back 30 years from now and regret what I didn't do."
Nathan Wall, who coached Daro in girls basketball, called the senior "the most cerebral player" he's coached in his 16 years of coaching. Wall said he's never seen a student-athlete more focused or driven.
"Many kids struggle to plan five minutes ahead, but as an eighth grader and freshman, she was always building towards her future. I have so much respect for that."
On Tuesday, David City held its annual Academic Awards Night. The hardware piled up for Daro, including outstanding student awards in physics, upper-level math, Spanish IV and journalism. She also was awarded the 12-sport participation award for playing a sport each season of her four years of high school.
"I've played sports as long as I can remember," Daro said. "I've always been super-busy, but the coaches, teachers and everyone here have been so great to work with."