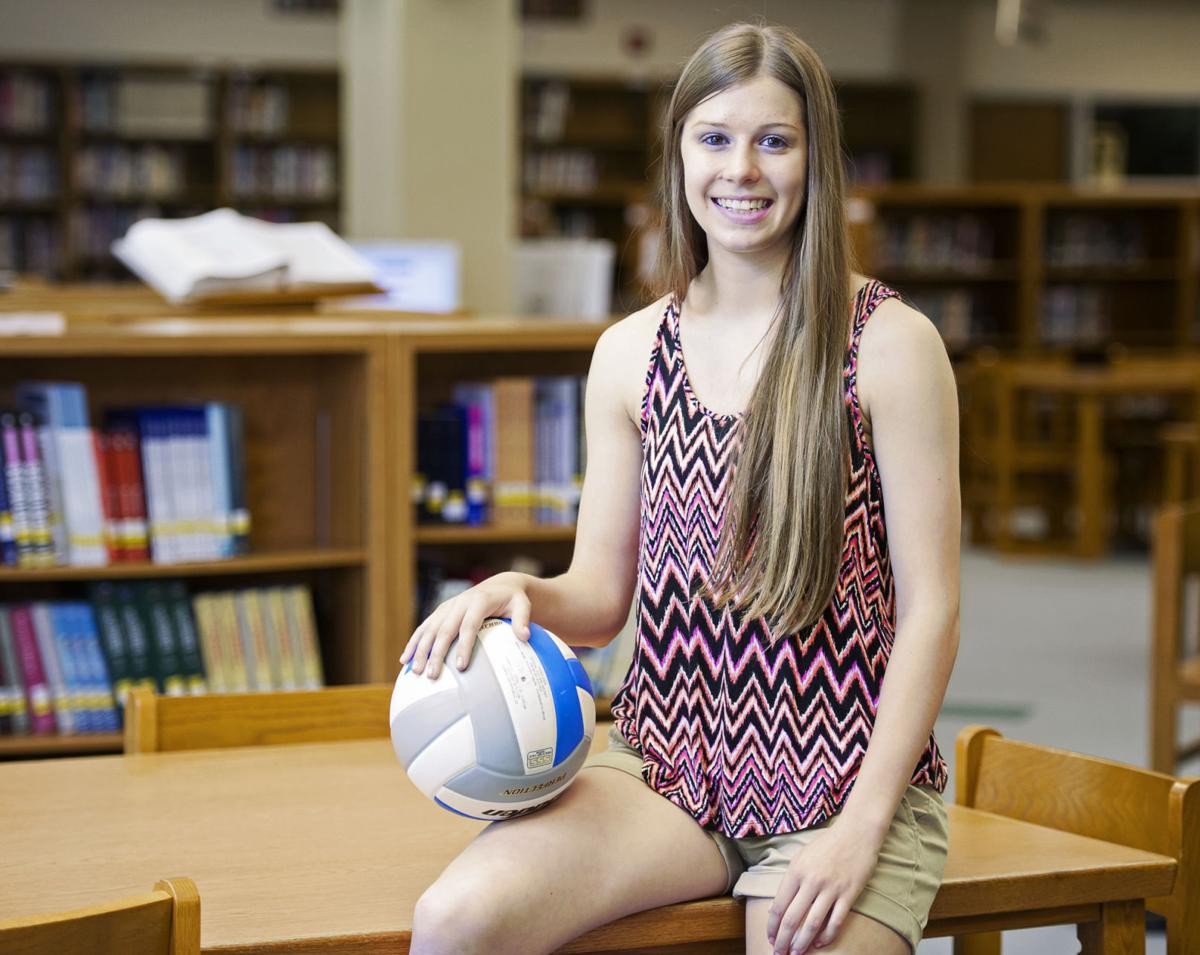 Injuries are the downside to athletics, but Kelli Holloway managed to find something positive from her time at the doctor's office and numerous visits with her physical therapists the past four years.
When the Lincoln Northeast senior begins her college volleyball career this fall at the University of Sioux Falls, she intends to major in biology, which she hopes eventually leads to becoming a physical therapist.
Between a torn ligament in her foot that sidelined her for seven months as a freshman and sophomore, and shoulder problems during her junior year, "I did a lot of job shadowing," Holloway said. "It's (physical therapy) something I became very interested in the more I was around it, and it's a way to stay in athletics after I'm finished playing."
The 5-foot-8 Holloway is one of the most versatile volleyball players to ever compete for the Rockets, playing every position except middle blocker in her four-year career. The all-city selection played outside hitter last fall and finished with 310 kills and 316 digs.
And although physical therapy appears to be her choice right now, her career interests also span the spectrum.
"I find myself getting pulled a lot of different directions," Holloway said. "I like history, but I'm not sure I want to be a teacher. I also like math and business, but I don't want to do something where I'm sitting in an office all day."
Holloway's variety and excellence also stands out in the classroom. She carries a 4.5 grade-point average and is ranked second in a class of 397 students. Holloway scored a 33 on the ACT test, which opened up college opportunities from across the country.
In the end, however, Holloway kept her college search fairly close to home with schools that recruited her as a volleyball player. She committed to Sioux Falls in March 2014 after also considering Missouri University of Science and Technology, Regis and Northwest Missouri State.
"I couldn't imagine not playing volleyball again," Holloway said. "I was able to get into Sioux Falls' honors program, and they also offer grants to study overseas. Those were two big things for me. I also like being at a smaller school with smaller classes where they get to know you and you're more than just a number. Sioux Falls is a lot like Lincoln, and I just felt at home there when I visited."
Some seniors like to take a lighter class load and coast through their final years of high school. Holloway, however, chose a more challenging route with advanced placement classes in literature, calculus, statistics, anatomy and government & politics. She also took a medical terms class last semester.
"I want to be prepared because I know college will be a lot harder," said Holloway, who will have 15 to 20 hours of college credits when she starts at Sioux Falls.
Northeast volleyball coach Craig Songster calls Holloway "the model student-athlete.
"Kelli has that balance between academics and athletics you love to see," Songster said. "She expects a lot from herself both on the court and in the classroom, and she works hard to achieve her goals. She makes her teammates better because she holds them to a high standard as well."
Holloway's high school experience goes beyond volleyball and her own academic schedule. She's a student assistant in both AP language and algebra during her off periods. She's involved in National Honor Society and is part of the Pershing Pals program in which Northeast students go to lunch at an elementary school every other week and serve as a mentor for a fourth-grader.
Holloway is also in Rocket Crew, a group that helps the freshman transition into high school.
Academic All-State: The complete list
Use the table to sort through the 2014-15 Journal Star's Academic All-State recipients.
School
Name
Yr.
GPA
Rk.
CI.
Adams Central
BXC
Trey Alexander
Sr.
4
6
/
67
Adams Central
GXC
GTF
Courtney Anderson
Jr.
4
11
/
85
Adams Central
FB
Colton Bengston
Sr.
4
20
/
67
Adams Central
VB
GBB
Carly Bostock
Sr.
4
9
/
67
Adams Central
GXC
GTF
Morgan Bredenkamp
Jr.
4
4
/
85
Adams Central
GXC
Sara Brown
Jr.
3.8
28
/
85
Adams Central
SB
GBB
Josie Bumgardner
Sr.
3.9
25
/
67
Adams Central
BTF
BXC
Sam Cass
Jr.
4
20
/
85
Adams Central
BTN
Brady Conant
Jr.
3.9
24
/
85
Adams Central
SB
Alyssa Ehlers
Sr.
4
13
/
67
Adams Central
BTF
JT Engberg
Jr.
4
2
/
85
Adams Central
GBB
Jacki Fowler
Jr.
4
21
/
85
Adams Central
GGo
Mckenzi Gangwish
Jr.
4
17
/
85
Adams Central
BTF
BBB
Luke Goldenstein
Jr.
4
12
/
85
Adams Central
GTF
Ashley Herman
Jr.
4
14
/
85
Adams Central
BTF
Ben Kiolbasa
Sr.
4
5
/
67
Adams Central
BTF
Sam Klammer
Jr.
4
13
/
85
Adams Central
BXC
Jay Kort
Sr.
4
23
/
67
Adams Central
VB
GBB
Gte
Sarah Krueger
Sr.
4
11
/
67
Adams Central
BTF
BBB
Evan Lindblad
Sr.
4
12
/
67
Adams Central
BXC
WR
BTF
Nick Lindblad
Jr.
4
6
/
85
Adams Central
SB
GTN
Erin McCready
Sr.
4
4
/
67
Adams Central
BTF
FB
WR
Kendall Oberheide
Jr.
4
5
/
85
Adams Central
GTN
Megan Petr
Jr.
4
15
/
85
Adams Central
BTF
BBB
FB
Cale Pleak
Jr.
4
8
/
85
Adams Central
GGo
Mari Sayer
Sr.
3.7
30
/
67
Adams Central
GGo
Alyssa Spartz
Sr.
4
3
/
67
Adams Central
VB
GBB
Brittani Wiseman
Sr.
4
14
/
67
Ainsworth
VB
Cera Arens
Sr.
3.7
13
/
32
Ainsworth
BTF
FB
Benjamin Allen
Jr.
3.6
10
/
37
Ainsworth
GBB
VB
Lydia Allen
Sr.
4
1
/
32
Ainsworth
GBB
Cera Arens
Sr.
3.7
13
/
32
Ainsworth
GBB
VB
Ellie Carr
Sr.
4
1
/
32
Ainsworth
BTF
BXC
Hayes Chohon
Jr.
4
1
/
37
Ainsworth
GTF
GXC
Logan Clark
Jr.
3.6
12
/
37
Ainsworth
VB
GTF
Arianna Fletcher
Sr.
3.7
11
/
32
Ainsworth
GGo
Kirsten Gilliland
Sr.
3.9
6
/
32
Ainsworth
FB
Nathaniel Goodloe
Sr.
3.9
5
/
32
Ainsworth
BBB
BTF
BXC
Austin Harthoorn
Jr.
4
1
/
37
Ainsworth
BGo
FB
WR
Dominic Henry
Jr.
3.9
6
/
37
Ainsworth
GXC
Heather Martin
Jr.
3.9
7
/
37
Ainsworth
BTF
BBB
BXC
Hunter Martin
Sr.
3.6
14
/
32
Ainsworth
BTF
BXC
Alec Masters
Sr.
3.9
7
/
32
Ainsworth
GTF
GBB
VB
Hailey McBride
Sr.
3.7
12
/
32
Ainsworth
GTF
GBB
VB
Laura Peters
Sr.
4
3
/
32
Ainsworth
BTF
FB
Jayden Philben
Jr.
4
5
/
37
Ainsworth
VB
GBB
Maikayla Weiss
Sr.
3.9
4
/
32
Ainsworth
BTF
BXC
Zach Welch
Sr.
3.7
10
/
32
Alliance
GGo
Shay Behm
Jr.
4
1
/
94
Alliance
GTF
Lauren Block
Sr.
4
7
/
122
Alliance
GTF
GBB
McKenzie Brennan
Sr.
4
1
/
122
Alliance
VB
GBB
Kennedy Cyza
Sr.
4
6
/
122
Alliance
GTe
Ashley Fattig
Sr.
3.6
13
/
122
Alliance
SB
Alexis Garrett
Sr.
3.8
22
/
122
Alliance
BTe
Michael Gomez
Jr.
3.6
3
/
94
Alliance
SB
Elixabeth Goodell
Sr.
4
1
/
122
Alliance
BTe
Brian Gould
Sr.
4
2
/
122
Alliance
BTe
Anthony Hare
Jr.
4
1
/
94
Alliance
BTF
Tristan Heldenbrand
Sr.
3.7
14
/
122
Alliance
BBB
Cody Henderson
Jr.
4
11
/
122
Alliance
VB
Madison Hiemstra
Jr.
3.8
21
/
94
Alliance
SB
Christa Horn
Sr.
4
3
/
122
Alliance
WR
Walker Johnson
Sr.
4
1
/
122
Alliance
BTF
WR
James Long
Sr.
3.5
17
/
122
Alliance
BBB
Jordan Mills
Sr.
3.5
27
/
122
Alliance
BBB
BTF
FB
Klayton Nordeen
Jr.
3.8
9
/
94
Alliance
GTe
Bailey O'Connor
Jr.
3.7
27
/
94
Alliance
GBB
VB
Maggie Otto
Jr.
4
1
/
94
Alliance
GBB
GGo
Alyssa Palmer
Jr.
4
1
/
94
Alliance
GTF
Taylor Pavich
Sr.
4
29
/
122
Alliance
SB
Nicole Placek
Jr.
3.8
32
/
94
Alliance
FB
BBB
Cole Randall
Jr.
4
11
/
94
Alliance
GTF
GBB
VB
Madison Reiber
Jr.
4
1
/
94
Alliance
BTF
FB
Cody Robinson
Sr.
3.5
32
/
122
Alliance
FB
Colton Rolls
Sr.
3.7
12
/
122
Alliance
GTe
Shari Schober
Sr.
3.6
25
/
122
Alliance
GBB
GXC
GTF
Hanna Swanson
Sr.
3.7
11
/
122
Alliance
GTF
VB
Precious Williams
Sr.
3.6
58
/
122
Alma
GXC
Monica Bell
Sr.
96.7
2
/
20
Alma
GBB
VB
Regan Brugh
Sr.
93.2
7
/
20
Alma
GTF
GBB
VB
Haley Hays
Jr.
98.8
1
/
16
Alma
SB
GBB
Caroline Howsden
Sr.
94.9
3
/
20
Alma
GBB
Tessa Kindler
Jr.
92.7
9
/
16
Alma
GTF
VB
Peyton Millard
Jr.
96.5
2
/
16
Alma
GBB
Jennie Shaffer
Jr.
93.7
8
/
16
Alma
GTF
Anna Stenka
Jr.
94.8
5
/
16
Alma
GBB
VB
Alexandra Stuhmer
Sr.
93.7
4
/
20
Alma
GTF
GXC
Miakayla Webster
Sr.
93.3
6
/
20
Alma
BGo
Haley Whitney
Jr.
94.3
7
/
16
Amherst
GBB
Heather Bentley
Jr.
4
/
Amherst
FB
WR
Colten Bergt
Jr.
4
/
Amherst
WR
Tim Christensen
Jr.
4
/
Amherst
WR
FB
Devin Dibbern
Sr.
3.9
/
Amherst
WR
Logan Dibbern
Sr.
4
/
Amherst
BTF
BBB
FB
Breyden Eckhout
Jr.
4
/
Amherst
WR
Brandt Florell
Sr.
4
/
Amherst
BBB
BTF
Ty Hadwiger
Jr.
3.9
/
Amherst
VB
GBB
Kacie Jurgens
Jr.
3.8
/
Amherst
BGo
WR
Jacob Klingelhoefer
Sr.
3.8
/
Amherst
GBB
Madisyn Miller
Jr.
4
/
Amherst
GBB
Cierra Roubicek
Jr.
4
/
Amherst
WR
BTF
Payton Schake
Sr.
3.7
/
Amherst
GBB
VB
Sydney Taubenheim
Sr.
3.8
/
Amherst
FB
Trey Taubenheim
Jr.
4
/
Anselmo-Merna
GXC
GTF
Elizabeth Cramer
Sr.
3.7
1
/
14
Anselmo-Merna
VB
Sydney Wells
Jr.
3.8
1
/
16
Aquinas
GTF
VB
Jazzy Beringer
Jr.
4
1
/
36
Aquinas
BXC
Luke Burwell
Jr.
3.8
7
/
36
Aquinas
GTF
SB
Emily Byers
Jr.
3.7
10
/
36
Aquinas
GTF
GBB
VB
Julia Daro
Sr.
4
1
/
36
Aquinas
GBB
SB
Mackenzie Eller
Jr.
3.7
8
/
36
Aquinas
GTF
SB
Olivia Fiala
Sr.
4
4
/
36
Aquinas
FB
Colin Hain
Jr.
3.9
4
/
36
Aquinas
BXC
Jake Kadlec
Jr.
3.6
9
/
36
Aquinas
BTF
FB
Heath Ketteler
Sr.
3.7
11
/
36
Aquinas
SB
Annikka Klement
Sr.
3.9
7
/
36
Aquinas
BTF
FB
Nate Kovar
Sr.
3.7
14
/
36
Aquinas
GTF
GBB
VB
Kinsey Kozisek
Sr.
3.7
16
/
36
Aquinas
GBB
VB
Kinzy Krafka
Sr.
4
3
/
36
Aquinas
BTF
FB
Conner Kranda
Jr.
3.8
6
/
36
Aquinas
BTF
FB
Spencer Maguire
Jr.
4
3
/
36
Aquinas
VB
GBB
GTF
Allison Pokorny
Jr.
4
2
/
36
Aquinas
WR
Alex Reimers
Sr.
3.8
9
/
36
Aquinas
FB
Trent smith
Sr.
4
5
/
36
Aquinas
GTF
GBB
VB
Jessi Vavrina
Sr.
3.8
8
/
36
Aquinas
GXC
Vanessa Whitmore
Sr.
4
2
/
36
Aquinas
SB
Julia Witter
Sr.
4
6
/
36
Arapahoe
GBB
GTF
Clare Anderson
Jr.
3.8
6
/
30
Arapahoe
GXC
Audrey Breinig
Sr.
3.7
6
/
18
Arapahoe
VB
GBB
Danielle Eichenberger
Jr.
3.7
10
/
30
Arapahoe
FB
WR
Jacob Gardner
Jr.
3.9
2
/
30
Arapahoe
GTF
Ashley Groves
Sr.
3.8
4
/
18
Arapahoe
BXC
BBB
BTF
Pedro Gutierrez
Jr.
3.7
8
/
30
Arapahoe
FB
BBB
Junior Hilker
Sr.
3.8
5
/
18
Arapahoe
BBB
BTF
FB
Austin Koller
Jr.
3.7
9
/
30
Arapahoe
GTF
GXC
Miranda Schaben
Jr.
3.8
7
/
30
Arapahoe
GBB
GXC
Jaclyn Stagemeyer
Sr.
3.9
2
/
18
Arapahoe
VB
GBB
GTF
Olivia tenBensel
Jr.
3.8
5
/
30
Arapahoe
WR
BGo
Ashton Wasenius
Jr.
3.8
4
/
30
Arapahoe
GBB
GTF
VB
Kaylea Watson
Sr.
3.9
3
/
18
Arapahoe
BGo
BBB
BXC
Levi Watson
Jr.
3.9
1
/
30
Archbishop Bergan
VB
Hannah Conklin
Sr.
3.7
7
/
31
Archbishop Bergan
Base
BBB
Blake Dieckmann
Jr.
4
1
/
23
Archbishop Bergan
GBB
SB
Emma Getzfrid
Sr.
4
1
/
31
Archbishop Bergan
GBB
SB
McKenna Hotovy
Sr.
4
2
/
31
Archbishop Bergan
BTF
BBB
FB
Wes LaBelle
Sr.
3.8
6
/
31
Archbishop Bergan
BTF
WR
Dalton Madsen
Jr.
3.6
4
/
23
Archbishop Bergan
BTe
Trey Mendlik
Sr.
4
3
/
31
Archbishop Bergan
WR
Felipe Pinales
Sr.
3.5
12
/
31
Archbishop Bergan
GBB
SB
Riley Toelle
Sr.
3.7
8
/
31
Archbishop Bergan
VB
Leah Vobejda
Jr.
3.9
2
/
23
Archbishop Bergan
BGo
BBB
FB
Brian Wilmes
Sr.
4
4
/
31
Arlington
GGo
Katie Caskey
Sr.
3.7
12
/
43
Arlington
GGo
Makenzie Dockerty
Sr.
3.5
15
/
43
Arlington
BTF
Nicholas Gaffney
Jr.
3.9
6
/
40
Arlington
BTF
Ethan Gubbels
Jr.
4
1
/
40
Arlington
BGo
Austin Harms
Jr.
3.7
9
/
40
Arlington
VB
GBB
Samantha Hoppe
Sr.
4
2
/
43
Arlington
Base
Matthew Jensen
Sr.
3.8
8
/
43
Arlington
GTF
VB
Mariah Kaup
Jr.
3.9
4
/
40
Arlington
BTF
BXC
Brandon Keffer
Jr.
3.9
2
/
40
Arlington
FB
Base
BBB
Trevor Koger
Sr.
4
1
/
43
Arlington
SB
GTF
Sabrina Luttig
Jr.
3.8
7
/
40
Arlington
GTF
Hannah Marquardt
Jr.
3.9
4
/
40
Arlington
GTF
GBB
SB
Natalie Schmidt
Sr.
3.7
11
/
43
Arlington
WR
FB
Jonathan Smailys
Sr.
3.8
5
/
43
Arlington
BBB
BTF
FB
Christopher Smith
Sr.
3.6
13
/
43
Arlington
GTF
GBB
SB
Catherine Theiler
Sr.
3.8
9
/
43
Arlington
SB
Kamryn Timm
Sr.
3.9
4
/
43
Arlington
BXC
BTF
Dillon Whitmarsh
Jr.
3.7
8
/
40
Ashland-Greenwood
BXC
Trey Bickford
Jr.
3.5
14
/
60
Ashland-Greenwood
WR
Wyatt Brauckmuller
Sr.
4
6
/
66
Ashland-Greenwood
BBB
FB
BTF
Bryce Chudomelka
Sr.
4
3
/
66
Ashland-Greenwood
BBB
FB
BTF
Tyler Craven
Sr.
4
1
/
66
Ashland-Greenwood
Base
Sam Crisler
Sr.
4
5
/
66
Ashland-Greenwood
BTF
WR
FB
Alex DeGarmo
Sr.
3.7
13
/
66
Ashland-Greenwood
WR
Walker Fisher
Sr.
3.6
18
/
66
Ashland-Greenwood
GBB
SB
Kennedy Garner
Sr.
4
5
/
66
Ashland-Greenwood
GTF
GBB
VB
Jessica Klaudt
Jr.
4
1
/
60
Ashland-Greenwood
GTF
VB
Hailey Pollard
Sr.
3.8
12
/
66
Ashland-Greenwood
BGo
Jacob Prososki
Sr.
3.9
9
/
66
Ashland-Greenwood
FB
Ryan Schuster
Sr.
3.5
20
/
66
Ashland-Greenwood
FB
Skyler Sherman
Sr.
3.9
8
/
66
Ashland-Greenwood
WR
FB
Ben Stille
Jr.
4
1
/
60
Ashland-Greenwood
GTF
SB
Cassandra Sunblade
Jr.
3.8
8
/
60
Ashland-Greenwood
Base
BBB
Jeb Vavak
Sr.
4
1
/
66
Ashland-Greenwood
BXC
Orion Vogt
Jr.
3.6
10
/
60
Ashland-Greenwood
VB
Danae Welling
Jr.
4
1
/
60
Auburn
BXC
Tyler Barker
Sr.
4
1
/
56
Auburn
BGo
BXC
BBB
Jared Frenzel
Sr.
4
1
/
56
Auburn
GSo
Marissa Halfhill
Jr.
3.7
16
/
65
Auburn
FB
BTF
BBB
Jonathan Hannaford
Jr.
3.9
10
/
65
Auburn
GSo
Rachel Hinrichs
Sr.
3.9
5
/
56
Auburn
SB
Erin Kinnaman
Jr.
3.9
4
/
65
Auburn
BXC
Nicholas Kite
Sr.
4
1
/
56
Auburn
GGo
Maggie Kreifels
Sr.
3.7
9
/
56
Auburn
BGo
FB
Jack Kudrna
Jr.
3.9
4
/
65
Auburn
VB
GTF
GBB
Taylor Petersen
Jr.
3.7
14
/
65
Auburn
FB
Yaid Puente
Sr.
3.6
10
/
56
Auburn
GSo
Brenna Schulte
Jr.
4
1
/
65
Auburn
FB
Tyler Wredt
Jr.
3.5
16
/
65
Auburn
GSo
GBB
Cierra Wynn
Jr.
3.9
6
/
65
Aurora
GTF
GGo
Kristin Bell
Sr.
4.1
6
/
89
Aurora
BTF
BXC
Ethan Bergmann
Jr.
3.9
20
/
92
Aurora
VB
Cassidy Brechbill
Jr.
4.1
5
/
92
Aurora
SB
Morgan Dana
Sr.
4.1
9
/
89
Aurora
GBB
GTF
Maggie Grosshans
Sr.
4
13
/
89
Aurora
GXC
Anna Helzer
Jr.
4.1
4
/
92
Aurora
VB
Kiley Hixson
Jr.
4.1
6
/
92
Aurora
GGo
Jackie Johnson
Sr.
4
14
/
89
Aurora
FB
BBB
BTF
Jake Kittle
Sr.
4
20
/
89
Aurora
BGo
Logan Krejdl
Sr.
4
17
/
89
Aurora
GGo
Paige McCoy
Sr.
4.1
1
/
89
Aurora
GGo
Amy Morris
Jr.
4
9
/
92
Aurora
VB
GBB
Logan Ohlson
Sr.
4.1
8
/
89
Aurora
FB
Matt Oswald
Sr.
3.8
27
/
89
Aurora
GBB
VB
Allison Penner
Sr.
4.1
7
/
89
Aurora
VB
Alex Schneider
Sr.
4.1
4
/
89
Aurora
WR
Jared Sullivan
Sr.
3.8
29
/
89
Aurora
BBB
Aaron Vinkenburg
Jr.
4
13
/
92
Aurora
WR
Nick Weber
Jr.
4
14
/
92
Aurora
GTF
Bethany Wilson
Sr.
3.7
30
/
89
Bancroft-Rosalie
VB
Hannah Flock
Jr.
3.9
1
/
16
Bancroft-Rosalie
BGo
BBB
FB
Ian Nottlemann
Sr.
4
1
/
14
Bancroft-Rosalie
GBB
GTF
SB
Suzanne Ras
Sr.
4
3
/
14
Bancroft-Rosalie
GTF
GBB
VB
Jerrica Tietz
Sr.
3.9
4
/
14
Battle Creek
BTF
BBB
FB
Zach Bellar
Sr.
3.9
6
/
44
Battle Creek
VB
GBB
Katie Brauer
Jr.
3.7
7
/
32
Battle Creek
GBB
VB
Emily Christensen
Sr.
3.6
10
/
44
Battle Creek
GBB
VB
Kylee Daum
Sr.
4
3
/
44
Battle Creek
VB
GBB
Cassie Gillespie
Jr.
4
1
/
32
Battle Creek
GGo
Bridget Henn
Sr.
4
2
/
44
Battle Creek
WR
Chase Osborne
Sr.
4
1
/
44
Battle Creek
VB
Lauren Praeuner
Jr.
4
2
/
32
Battle Creek
WR
Tristan Simons
Jr.
3.7
6
/
32
Battle Creek
GBB
GXC
Paige Thompson
Sr.
3.8
8
/
44
Battle Creek
BTF
FB
Alex Tucker
Sr.
3.8
11
/
44
Battle Creek
GBB
GGo
Abby Westerman
Jr.
3.9
3
/
32
Bayard
FB
BBB
BGo
Manuel Acosta
Jr.
3.8
5
/
25
Bayard
GGo
Maggie Brunmeier
Sr.
4
2
/
31
Bayard
FB
BBB
Chandler Cox
Jr.
3.7
7
/
25
Bayard
GGo
Tessa Douglas
Sr.
3.7
8
/
30
Bayard
BXC
BTF
BBB
Loren Haase
Sr.
3.9
6
/
31
Bayard
WR
FB
Tristan Hunter
Sr.
3.5
11
/
35
Bayard
VB
Brooklyn Kniss
Sr.
3.6
9
/
31
Bayard
BGo
Ethan Marker
Jr.
3.6
8
/
25
Bayard
VB
Kristina McGann
Sr.
4
1
/
31
Bayard
VB
Cassandra Mohrman
Jr.
4
1
/
25
Bayard
GTF
GBB
VB
Chellani Parriott
Sr.
3.6
10
/
31
Bayard
FB
Henry Schmall
Sr.
4
5
/
31
Bayard
BBB
FB
Phillip Schuller
Sr.
3.8
7
/
31
Bayard
GTF
BXC
Jessi Smith
Jr.
3.6
9
/
25
Bayard
GBB
GTF
VB
Miah Vera
Jr.
4
2
/
26
Bayard
WR
FB
Alex Wamboldt
Jr.
3.7
6
/
25
Beatrice
BBB
Ty Bardsley
Sr.
4
1
/
156
Beatrice
GSw
Ciarra Benes
Sr.
3.7
58
/
157
Beatrice
GGo
Giselle Bergmeier
Jr.
3.6
38
/
167
Beatrice
GSo
GBB
Kate Bishop
Sr.
3.5
28
/
156
Beatrice
GSo
Rachel Bishop
Sr.
3.7
13
/
156
Beatrice
GSo
Madison Blum
Sr.
3.7
16
/
156
Beatrice
GSo
SB
Aryssa Borrenpohl
Sr.
3.6
21
/
156
Beatrice
BTF
Jacob Brod
Jr.
3.7
33
/
167
Beatrice
BXC
BGo
Dylan Burenheide
Jr.
3.8
21
/
167
Beatrice
GTe
GSw
Allison Carothers
Sr.
3.9
6
/
156
Beatrice
SB
GTe
Sam Carver
Sr.
3.5
26
/
156
Beatrice
FB
BTF
BBB
Alec Cromer
Jr.
3.9
8
/
167
Beatrice
GSo
SB
GSw
Rebecca Garland
Sr.
3.9
8
/
156
Beatrice
GBB
Lacey Haughton
Sr.
3.5
30
/
156
Beatrice
FB
BBB
Heath Hovendick
Sr.
3.6
23
/
167
Beatrice
SB
Skylar Huls
Jr.
3.6
41
/
167
Beatrice
GSw
Keanna Kroeker
Sr.
3.6
13
/
56
Beatrice
GSw
Lindsay Lee
Jr.
3.9
5
/
55
Beatrice
FB
Connor Lusk
Jr.
3.8
15
/
167
Beatrice
FB
Tanner Lusk
Sr.
4
5
/
156
Beatrice
GSw
Kaitlin Marley
Sr.
3.9
4
/
156
Beatrice
VB
Natalie Meyer
Jr.
3.8
14
/
167
Beatrice
GSw
Elizabeth Milke
Jr.
3.8
8
/
32
Beatrice
GBB
GSo
SB
Alexis Oden
Jr.
3.6
36
/
167
Beatrice
BTF
FB
Tyler Parthemer
Sr.
3.7
17
/
156
Beatrice
GTe
Megan Plessel
Jr.
3.7
27
/
167
Beatrice
Base
Austin Ragland
Jr.
4
1
/
167
Beatrice
GTF
VB
Sarah Riekenberg
Jr.
3.6
38
/
167
Beatrice
BSo
Dillon Rinne
Sr.
3.5
29
/
156
Beatrice
VB
Marissa Sandman
Jr.
4
1
/
167
Beatrice
GSw
Joslyn Schiebur
Jr.
3.7
9
/
32
Beatrice
GSo
SB
Chesney Schmidt
Jr.
3.9
10
/
167
Beatrice
GSw
Emily Schroeder
Sr.
3.6
67
/
157
Beatrice
Base
Jarrett Schultze
Sr.
3.8
11
/
156
Beatrice
VB
Hannah Sexton
Jr.
3.7
27
/
167
Beatrice
GXC
GTF
Nealeigh Smith
Jr.
3.8
20
/
167
Beatrice
SB
Kyleigh Swoboda
Jr.
3.7
26
/
167
Beatrice
Base
Bryce Trisler
Sr.
3.8
11
/
156
Beatrice
WR
Hunter Weiss
Jr.
3.5
43
/
167
Beatrice
WR
FB
Jessup Workman
Sr.
3.6
19
/
156
Beatrice
BSw
Jacob Wright
Jr.
3.6
40
/
163
Beatrice
GTF
GBB
SB
Bailey Zarybnicky
Jr.
4
1
/
167
Beatrice
BBB
Landon Zarybnicky
Jr.
4
1
/
167
Bellevue East
SB
Baylee Conley
Jr.
5.2
18
/
373
Bellevue East
FB
BTF
Cameron Dacanay
Jr.
4.8
54
/
373
Bellevue East
VB
Kaylie Dengel
Jr.
5
33
/
373
Bellevue East
FB
Jesse Farland
Jr.
4.7
73
/
373
Bellevue East
GBB
Sara Gengel
Sr.
5
38
/
384
Bellevue East
BSw
Justin Goodwin
Jr.
5.2
13
/
373
Bellevue East
BTe
Colin Hensel
Jr.
5.2
16
/
373
Bellevue East
FB
Dillon Hike
Jr.
5.2
6
/
373
Bellevue East
BSo
Logan Hoefer
Sr.
4.9
53
/
384
Bellevue East
BBB
Joey Jeanetta
Sr.
5.3
15
/
384
Bellevue East
BXC
BTF
Josh Jones
Sr.
5.4
1
/
384
Bellevue East
GSw
Sarah Kerby
Jr.
4.8
59
/
373
Bellevue East
FB
BSo
Andrew Liebenthal
Jr.
5
41
/
373
Bellevue East
GSo
Gabby Marco
Sr.
5.1
33
/
384
Bellevue East
SB
Makenzie Matt
Sr.
5.2
24
/
384
Bellevue East
Base
Lucas Minor
Sr.
4.9
50
/
384
Bellevue East
BXC
BTF
Zach Nielsen
Jr.
4.9
45
/
373
Bellevue East
BSo
Logan Pettit
Jr.
5.3
4
/
373
Bellevue East
GTF
Avey Pokorny
Jr.
4.6
82
/
373
Bellevue East
BTe
Jameson Poth
Sr.
5.2
19
/
384
Bellevue East
BTF
Bryan Prewitt
Jr.
5.1
26
/
373
Bellevue East
BSw
BSo
Colin Reedy
Sr.
5.4
1
/
384
Bellevue East
Base
Brett Renner
Sr.
4.9
51
/
384
Bellevue East
FB
BTF
Brandon Robbins
Jr.
4.9
49
/
373
Bellevue East
GTe
Brenna Schmader
Jr.
5.2
9
/
373
Bellevue East
GSo
Sipres Shurila
Sr.
5
35
/
384
Bellevue East
BSw
Andy Siders
Sr.
4.6
83
/
384
Bellevue East
VB
Sydney Slie
Jr.
5.1
23
/
373
Bellevue East
FB
Justin Snipes
Sr.
4.8
65
/
384
Bellevue East
FB
Joe Sullivan
Sr.
5.3
15
/
384
Bellevue East
BTF
William Targy
Jr.
5.2
18
/
373
Bellevue East
BSw
George Timmins
Sr.
5.2
26
/
384
Bellevue East
VB
Shae Tracy
Jr.
4.7
63
/
373
Bellevue East
GSo
Mirjana Walther
Jr.
5.1
26
/
373
Bellevue East
GXC
Seriana Williams
Jr.
5.2
13
/
373
Bellevue East
FB
Trevor Wood
Sr.
5.4
1
/
384
Bellevue East
GXC
GTF
GBB
Taylor Young
Sr.
5.1
28
/
384
Bellevue West
GTF
Chloe Akin-Otiko
Jr.
4.3
12
/
374
Bellevue West
GSw
RaeAnn Daniels
Sr.
4
45
/
392
Bellevue West
WR
Dillon DeRosier
Sr.
4
47
/
392
Bellevue West
BTe
Caleb Eby
Jr.
3.9
64
/
374
Bellevue West
BXC
Grant Harrison
Sr.
4.3
12
/
392
Bellevue West
GXC
GTF
Regan Hefner
Jr.
4.4
1
/
374
Bellevue West
GTe
VB
Katie Imig
Sr.
3.9
59
/
392
Bellevue West
BBB
Anthony J. Jackson
Jr.
3.8
98
/
374
Bellevue West
BBB
Clester Johnson, Jr.
Sr.
3.5
137
/
392
Bellevue West
FB
Brook Pecka
Sr.
3.7
108
/
392
Bellevue West
BGo
Mitch Seigel
Jr.
4.1
32
/
374
Bellevue West
GTe
Natalie Sjostedt
Jr.
4.3
20
/
374
Bellevue West
BTe
Segan Trunick
Sr.
3.9
66
/
392
Bennington
GXC
Autumn Berndt
Sr.
3.7
15
/
86
Bennington
SB
Payton Blume
Jr.
4
9
/
93
Bennington
GTF
Autumn Breazile
Jr.
4
10
/
93
Bennington
Base
FB
WR
Jacob Bressman
Sr.
3.9
9
/
86
Bennington
BGo
Grant V. Brown
Sr.
3.6
17
/
86
Bennington
GTF
GXC
Allison Connor
Jr.
4
6
/
93
Bennington
GSo
Dezirae DeLancey
Jr.
3.8
15
/
93
Bennington
FB
BGo
BBB
Eric Fritch
Sr.
3.6
18
/
86
Bennington
GTF
GBB
Kelsey Gansebom
Sr.
4
4
/
86
Bennington
BXC
Ben Giebelhausen
Jr.
4
5
/
93
Bennington
GXC
GTF
Kendra Heddens
Jr.
4
2
/
93
Bennington
FB
BBB
John Hiscock
Jr.
4
6
/
93
Bennington
Base
BBB
Joshua Hunke
Sr.
3.7
16
/
86
Bennington
BTF
FB
Timothy Joe
Sr.
3.9
10
/
86
Bennington
VB
Jessa Johnston
Sr.
4
3
/
86
Bennington
BSo
Trent Kortus
Jr.
3.6
33
/
93
Bennington
BTF
BXC
Drew Labreck
Sr.
4
7
/
86
Bennington
FB
Trevor Logemann
Jr.
3.7
20
/
93
Bennington
GTF
GBB
VB
Brynlee Loptin
Jr.
3.8
15
/
93
Bennington
VB
Savannah Meads
Jr.
3.8
18
/
93
Bennington
GSo
Jacqueline Opheim
Jr.
4
6
/
93
Bennington
BSo
Rochak Pokharel
Sr.
3.8
14
/
86
Bennington
BBB
Base
FB
Austin Rischling
Sr.
3.9
11
/
86
Bennington
BTF
FB
BBB
Riley Rischling
Sr.
4
8
/
86
Bennington
GSo
Cassidy Sandstedt
Jr.
3.6
29
/
93
Bennington
GTF
GBB
Madison Schlacter
Jr.
4
1
/
93
Bennington
GXC
Courtney Schumm
Jr.
3.9
12
/
93
Bennington
GGo
Lauren Shultz
Jr.
3.7
20
/
93
Bennington
VB
Chloe Smith
Jr.
3.7
27
/
93
Bennington
BTF
Parker Tedrow
Jr.
3.7
26
/
93
Bennington
GSo
GBB
SB
Emily Tetschner
Sr.
4
2
/
86
Bennington
WR
Joshua Velasquez
Jr.
3.9
11
/
93
Bennington
BTF
FB
Bo Wullenwaber
Jr.
4
2
/
93
Bennington
BSo
FB
Cody Wullenwaber
Jr.
4
2
/
93
Bertrand
GXC
GBB
GTF
Alexa Berry
Jr.
4
5
/
23
Bertrand
GTF
GBB
VB
Haley Dannehl
Jr.
4
6
/
23
Bertrand
GXC
Sarah Dannehl
Jr.
4
1
/
23
Bertrand
BGo
Garrett Dodson
Jr.
3.7
8
/
23
Bertrand
GTF
GBB
VB
Jadyn High
Sr.
4
1
/
11
Bertrand
BTF
FB
Connor Liljestrand
Sr.
4
2
/
11
Bertrand
VB
Riquella Lundy
Jr.
4
4
/
23
Bertrand
GTF
GXC
Kara Philips
Jr.
4
3
/
23
Bertrand
GTF
Cheyenne Wilken
Sr.
3.7
5
/
11
Bishop Neumann
GTF
Hannah Allfree
Jr.
3.9
8
/
40
Bishop Neumann
SB
Clare Benes
Sr.
4
1
/
44
Bishop Neumann
GXC
GBB
Allison Blum
Sr.
3.9
9
/
99
Bishop Neumann
SB
Jessie Briley
Jr.
3.9
5
/
40
Bishop Neumann
WR
FB
Dalton Cline
Jr.
4
2
/
40
Bishop Neumann
BGo
Joe Furasek
Sr.
3.9
8
/
44
Bishop Neumann
GXC
Elizabeth Haberman
Sr.
3.6
17
/
44
Bishop Neumann
SB
Elizabeth Homes
Sr.
4
2
/
44
Bishop Neumann
BXC
Riley Hoven
Sr.
3.6
15
/
44
Bishop Neumann
FB
Nate Kmiecik
Jr.
4
3
/
40
Bishop Neumann
SB
Collette Quick
Sr.
3.9
6
/
44
Bishop Neumann
BTF
BBB
FB
Ben Simons
Jr.
3.7
10
/
40
Bishop Neumann
GBB
BGo
VB
Haley Thiele
Sr.
4
3
/
44
Bishop Neumann
GTF
Becky Virgl
Jr.
4
1
/
40
Bishop Neumann
SB
Nicole Woita
Jr.
3.9
7
/
40
Blair
VB
Callie Alberico
Jr.
3.9
37
/
172
Blair
GGo
GTe
Whitney Aman
Jr.
4
12
/
172
Blair
WR
Zachary Barnhill
Sr.
3.8
26
/
147
Blair
FB
Zane Boswell
Jr.
3.6
58
/
172
Blair
BXC
BBB
BTF
Matthew Brunkhorst
Sr.
3.8
33
/
147
Blair
VB
GTF
Erika Clark
Sr.
3.9
9
/
147
Blair
Base
Zachary Dahlgren
Jr.
3.7
63
/
172
Blair
Base
Michael Demers
Jr.
4
1
/
172
Blair
GTe
Annie Dickinson
Sr.
3.9
23
/
147
Blair
GSo
Jessica Ellis
Sr.
3.7
43
/
147
Blair
GTF
Kelyn Ewoldt
Sr.
4
9
/
147
Blair
GSo
Bailee Fought
Jr.
3.9
16
/
172
Blair
BTF
Pitmon Foxall
Jr.
3.8
50
/
172
Blair
SB
GBB
Kiley Gosker
Jr.
3.9
33
/
172
Blair
SB
Emma Grote
Jr.
4
12
/
172
Blair
WR
FB
Casey Harper
Sr.
3.6
60
/
147
Blair
BXC
BSo
Collin Hoffman
Jr.
4
1
/
172
Blair
BTF
Logan Hovanec
Sr.
3.8
46
/
147
Blair
BSo
Ian Hundahl
Jr.
3.6
63
/
172
Blair
BTF
Jesse Hutchson
Sr.
4
26
/
147
Blair
BGo
FB
BBB
Vance Janssen
Sr.
3.9
12
/
147
Blair
GTF
Shannen Jennings
Sr.
3.9
16
/
147
Blair
BXC
Connor Kaeding
Sr.
3.9
9
/
147
Blair
GGo
Taylor Karls
Jr.
3.8
33
/
172
Blair
SB
Madison Kment
Jr.
3.8
50
/
172
Blair
BTF
BXC
Jacob Larson
Jr.
3.7
56
/
172
Blair
BGo
BBB
Travis Loudner
Sr.
3.9
23
/
147
Blair
BSo
Jacob Martens
Jr.
4
1
/
172
Blair
VB
GTe
Kaitlin McCaig
Sr.
3.8
26
/
147
Blair
BTF
Collin McClain
Jr.
4
21
/
172
Blair
BTF
BXC
Aaron McKinnis
Sr.
4
4
/
147
Blair
FB
BTF
Ian Mertlik
Sr.
3.5
63
/
147
Blair
GTF
Jaedyn Morris
Jr.
3.7
58
/
172
Blair
BSo
Gage Mruz
Sr.
3.9
12
/
147
Blair
GTF
Kaitlyn Oppliger
Jr.
4
1
/
172
Blair
BXC
Dean Penner
Sr.
4
2
/
147
Blair
Base
Jackson Petersen
Jr.
3.6
70
/
172
Blair
VB
Jenna Petersen
Jr.
3.9
44
/
172
Blair
BSo
FB
Sean Petersen
Sr.
3.8
33
/
147
Blair
GSo
Natalie Rech
Sr.
4
4
/
147
Blair
BSo
Samuel Rosenau
Jr.
4
9
/
172
Blair
BTF
Kyle Scheer
Jr.
4
12
/
172
Blair
GGo
Ahnna Schouten
Jr.
3.9
42
/
172
Blair
GGo
GTF
Sarah Sheehan
Jr.
3.9
16
/
172
Blair
SB
Kailey Siemonsma
Jr.
3.8
69
/
172
Blair
Base
Dillon Smith
Jr.
3.9
28
/
172
Blair
GXC
Emma Sorensen
Jr.
3.9
39
/
172
Blair
GBB
VB
GTF
Taylor Stewart
Sr.
3.7
43
/
147
Blair
BTF
Colton Stoner
Jr.
4
1
/
172
Blair
GSo
McKenzie Taylor
Jr.
3.9
23
/
172
Blair
BTF
FB
Lukas Vopnford
Sr.
4
6
/
147
Blair
GBB
Bailie Wakefield
Sr.
3.6
52
/
147
Blair
Base
FB
Brodie Wakefield
Sr.
3.6
63
/
147
Blair
VB
GSo
Anna Weckmuller
Sr.
3.9
16
/
147
Blair
BTF
Alexander Wing
Jr.
3.9
23
/
172
Blair
BTF
Nolan Wolff
Sr.
3.8
21
/
147
Bloomfield
FB
Eric Abbenhaus
Sr.
3.8
4
/
21
Bloomfield
BBB
BGo
Aaron Millikan
Sr.
3.9
1
/
21
Bloomfield
VB
Kristin Thompson
Jr.
4
1
/
19
Bloomfield
GTF
GXC
Clair Trenhaile
Jr.
4
1
/
19
Bloomfield
BTF
Conner Wilson
Sr.
3.6
7
/
21
Blue Hill
VB
Kortney Allen
Sr.
3.9
7
/
33
Blue Hill
BBB
BTF
FB
Keithen Drury
Sr.
4
1
/
33
Blue Hill
BGo
FB
Alec Eiseman
Jr.
3.9
6
/
24
Blue Hill
FB
Luke Faimon
Sr.
3.6
16
/
33
Blue Hill
BGo
FB
BBB
Jayden Hamel
Jr.
3.9
4
/
24
Blue Hill
VB
Alexius Hartman
Sr.
4
3
/
33
Blue Hill
SB
Emalee Hilligas
Sr.
3.8
11
/
33
Blue Hill
SB
Becca Iliff
Sr.
3.8
10
/
33
Blue Hill
BXC
Dan Kinley
Sr.
3.7
13
/
33
Blue Hill
VB
Amber Kohmetscher
Sr.
4
6
/
33
Blue Hill
GBB
GTF
SB
Lenae Kohmetscher
Sr.
4
4
/
33
Blue Hill
BTF
BXC
Jace Kranau
Sr.
4
1
/
33
Blue Hill
SB
Taylor Lemke
Sr.
3.7
14
/
33
Blue Hill
BXC
Kyl Rouse
Jr.
4
1
/
24
Blue Hill
FB
Matthew Schwab
Jr.
3.7
8
/
24
Blue Hill
BXC
BBB
Austin Strasburg
Jr.
3.8
7
/
24
Blue Hill
VB
Sydney Strasburg
Sr.
3.7
12
/
33
Blue Hill
BGo
FB
Brett Streff
Sr.
4
5
/
33
Blue Hill
BGo
BBB
Jacob Van Boening
Jr.
3.9
5
/
24
Blue Hill
GBB
GTF
VB
Mackenzie Willicott
Sr.
3.8
9
/
33
Boone Central
SB
Ashlynn Baker
Jr.
3.7
10
/
49
Boone Central
GXC
GTF
Sheldon Beierman
Jr.
3.8
5
/
49
Boone Central
BTF
Joseph Brugger
Sr.
3.6
13
/
64
Boone Central
SB
Brianna Brugman
Sr.
3.8
5
/
64
Boone Central
GXC
Kendra Gonzalez
Sr.
3.7
8
/
64
Boone Central
VB
Emma Grape
Sr.
3.6
15
/
64
Boone Central
FB
Keaton Henry
Jr.
3.5
16
/
49
Boone Central
FB
BTF
BBB
Travis Kennedy
Sr.
3.8
3
/
64
Boone Central
FB
WR
Jacob Krings
Jr.
3.7
11
/
49
Boone Central
GGo
Melissa Kyncl
Sr.
3.6
20
/
64
Boone Central
FB
Wyatt Mazour
Sr.
3.6
18
/
64
Boone Central
SB
Niki Mewhirter
Sr.
3.7
12
/
64
Boone Central
BGo
WR
Joel Meyer
Jr.
3.8
3
/
49
Boone Central
VB
Dana Pelster
Sr.
3.6
22
/
64
Boone Central
WR
BXC
Andrew Rasmussen
Sr.
3.7
9
/
64
Boone Central
GXC
Taylor Starman
Jr.
3.6
15
/
49
Boone Central
GBB
VB
Kaity Stuhr
Sr.
3.8
2
/
64
Boone Central
FB
WR
Isaac Sullivan
Jr.
3.9
2
/
49
Boone Central
GBB
GXC
GTF
Catherine Weeder
Sr.
3.9
1
/
64
Boone Central
VB
Whitney Wurdeman
Sr.
3.7
6
/
64
Brady
VB
GTF
GBB
Autumn Hild
Sr.
3.9
1
/
23
Brady
VB
Allison Hood
Sr.
3.7
3
/
23
Brady
FB
Cody Most
Sr.
3.8
3
/
23
Brady
GTF
GBB
VB
Josie Palmer
Sr.
3.5
7
/
23
Brady
GBB
Emilee Shaw
Jr.
3.7
1
/
22
Brady
BTF
BBB
FB
Nate Sitorius
Jr.
3.5
2
/
22
Bridgeport
FB
BTF
BBB
Jason Amateis
Sr.
3.9
2
/
35
Bridgeport
BTF
BBB
Quentin Baxter
Jr.
3.9
5
/
35
Bridgeport
BTF
FB
Trevor Benavides
Sr.
3.9
4
/
35
Bridgeport
VB
Lydia Cantu
Jr.
3.7
11
/
35
Bridgeport
GTF
VB
Jayden DeCora
Jr.
3.9
4
/
35
Bridgeport
GBB
VB
Meagan Dudden
Sr.
3.8
5
/
35
Bridgeport
GTF
VB
AdreAnna Ernest
Jr.
4
1
/
35
Bridgeport
VB
Karina Garza
Sr.
3.7
7
/
35
Bridgeport
FB
Kaden Hall
Sr.
4
1
/
35
Bridgeport
GBB
VB
Brooke Harding
Sr.
3.7
6
/
35
Bridgeport
FB
BGo
Taylor Janicek
Sr.
3.9
3
/
35
Bridgeport
BTF
BBB
BXC
Andrew Nelson
Jr.
4
1
/
35
Bridgeport
BTF
BBB
FB
Wyatt Pankowski
Jr.
3.9
9
/
45
Bridgeport
BGo
Cole Retchless
Jr.
3.8
7
/
35
Bridgeport
BGo
FB
Ty Weborg
Sr.
3.6
8
/
35
Bridgeport
GXC
Marissa Widener
Jr.
4
1
/
35
Broken Bow
GBB
Jayde Atkins
Jr.
4
1
/
60
Broken Bow
GBB
Jasmyn Brooks
Sr.
3.7
15
/
60
Broken Bow
GBB
Kerri DeGroff
Sr.
3.8
12
/
60
Broken Bow
FB
Josey Evans
Jr.
4
1
/
60
Broken Bow
FB
Noah Garey
Sr.
4
1
/
60
Broken Bow
FB
Tyrel Garner
Sr.
4
1
/
60
Broken Bow
GXC
Ashley Holcomb
Sr.
4
1
/
60
Broken Bow
FB
Nils Holmqvist
Sr.
4
1
/
60
Broken Bow
GGo
Staab Kendra
Sr.
3.9
9
/
60
Broken Bow
FB
Travis Kleeb
Jr.
4
1
/
60
Broken Bow
GTF
Kara Kuskie
Jr.
4
1
/
60
Broken Bow
GTF
Shelbee Lemburg
Jr.
3.8
17
/
60
Broken Bow
FB
WR
Thomas McCormick
Jr.
3.6
21
/
60
Broken Bow
FB
Hunter Minnick
Jr.
3.6
23
/
60
Broken Bow
VB
Krisha Scott
Sr.
3.8
11
/
60
Broken Bow
VB
MaKayla Stamp
Jr.
3.9
13
/
60
Broken Bow
WR
Garrett Ulmer
Sr.
3.7
16
/
60
Broken Bow
GBB
Whitney Wallace
Jr.
3.8
18
/
60
Brownell-Talbot
Base
Will Calderon
Sr.
4
/
37
Brownell-Talbot
BXC
Carvaggio Caniglia
Sr.
4.1
/
37
Brownell-Talbot
BTe
Powers Dicus
Sr.
3.6
/
37
Brownell-Talbot
FB
Robert Goetschkes
Sr.
3.9
/
37
Brownell-Talbot
GTF
Anji Murthy
Sr.
4.1
/
37
Brownell-Talbot
BTF
Jordan Proby
Sr.
3.5
/
37
Brownell-Talbot
GBB
Maggie Weedman
Sr.
3.8
/
37
Brownell-Talbot
VB
Katie Zheng
Sr.
3.6
/
37
Bruning-Davenport
BTF
BBB
FB
Sam Christensen
Jr.
4
2
/
15
Bruning-Davenport
FB
BBB
Kamron Ficken
Sr.
3.9
2
/
15
Bruning-Davenport
BTF
BBB
Cody Garland
Jr.
3.7
5
/
15
Bruning-Davenport
GTF
VB
Johanna Kluck
Sr.
4
1
/
15
Bruning-Davenport
BTF
BBB
FB
Grant Norder
Sr.
3.9
4
/
15
Bruning-Davenport
BTF
BBB
Jayden Otto
Sr.
3.9
3
/
15
Bruning-Davenport
BTF
BBB
FB
Chris Rohr
Sr.
3.7
5
/
15
Bruning-Davenport
BTF
FB
Stuart Rohr
Jr.
3.8
4
/
15
Bruning-Davenport
GTF
GBB
VB
McKenna Schardt
Jr.
3.9
3
/
15
Bruning-Davenport
FB
BBB
Riley Tegtmeier
Jr.
4
1
/
15
Burwell
GTF
GBB
Rebekah Birch
Sr.
4
1
/
29
Burwell
FB
BTF
BBB
Tyres Chaffin
Jr.
3.8
4
/
28
Burwell
GBB
VB
Breanna Dawe
Jr.
4
2
/
28
Burwell
VB
GTF
Jessica Domeier
Sr.
3.7
6
/
29
Burwell
BTF
WR
FB
Kale Gideon
Sr.
3.8
4
/
29
Burwell
GTF
VB
GBB
Shea Jeffres
Jr.
4
1
/
28
Burwell
BTF
Lane Jensen
Jr.
3.8
7
/
28
Burwell
FB
BTF
BBB
Keaton Klimek
Sr.
3.9
3
/
29
Burwell
GXC
Samantha O'Neal
Jr.
3.8
6
/
28
Burwell
GTF
GBB
VB
Andi Plock
Sr.
3.6
7
/
29
Burwell
BBB
BTF
FB
Victory Sikes
Jr.
3.8
8
/
28
Burwell
WR
FB
Clayton Suckstorf
Sr.
3.7
5
/
29
Burwell
VB
GTF
Lacey White
Sr.
3.9
2
/
29
Callaway
GBB
Emma Badgley
Jr.
93.3
2
/
14
Callaway
VB
Kelsey Haidle
Sr.
95.3
2
/
16
Callaway
FB
Lafeyette Loper
Jr.
93.7
1
/
14
Callaway
WR
Jacob Mason
Sr.
91.5
4
/
16
Cambridge
FB
BBB
BTF
Brandon Andrews
Sr.
97.6
2
/
30
Cambridge
WR
Jackson Ebbers
Jr.
97.5
2
/
22
Cambridge
BGo
Spencer Hagedorn
Jr.
95.8
4
/
22
Cambridge
GTF
GBB
VB
Sloan Johnson
Sr.
98.2
1
/
30
Cambridge
GBB
VB
GTF
MiKayla Kent
Sr.
95.3
5
/
30
Cambridge
GGo
Sprinkle Lauren
Sr.
94.9
6
/
30
Cambridge
FB
Zack Moore
Sr.
94.4
7
/
30
Cambridge
BGo
Caleb Moyer
Sr.
97.3
3
/
30
Cambridge
BBB
Ryan Rice
Sr.
93.6
9
/
30
Cambridge
BTF
Joe Taylor
Jr.
98.9
1
/
22
Cedar Bluffs
BBB
FB
Taylor Hawkins
Jr.
4
6
/
30
Cedar Bluffs
GTF
BBB
VB
Shelby Lineberry
Sr.
3.8
3
/
17
Cedar Bluffs
BGo
BBB
Noah Springer
Jr.
4
3
/
30
Cedar Bluffs
GTF
VB
GBB
Mandi Stansberry
Jr.
4
7
/
30
Cedar Bluffs
BGo
BBB
FB
Maverick Sukstorf
Jr.
4
4
/
30
Cedar Bluffs
VB
GBB
Bailey Tenopir
Sr.
4
1
/
17
Cedar Bluffs
GBB
Riley Tenopir
Jr.
4
1
/
30
Cedar Bluffs
BBB
FB
Tyler Toelle
Jr.
3.8
9
/
30
Centennial
GBB
SB
Jensen Anderson
Jr.
3.7
9
/
32
Centennial
WR
BTF
BXC
Steven Bader
Sr.
3.9
9
/
41
Centennial
SB
Megan Dinkelman
Sr.
3.7
14
/
41
Centennial
VB
Courtney Dreifurst
Sr.
4
1
/
41
Centennial
FB
Brady Fehlhafer
Jr.
3.8
5
/
32
Centennial
VB
Annie Fish
Sr.
3.8
13
/
41
Centennial
BTF
BXC
WR
Tyler Griggs
Jr.
3.6
11
/
32
Centennial
GBB
SB
GTF
Krysta Haberman
Sr.
4
1
/
41
Centennial
WR
FB
Matthew Jensen
Jr.
3.7
9
/
32
Centennial
BTF
WR
Conner Luettel
Jr.
3.6
12
/
32
Centennial
BBB
FB
Brayden Obermier
Jr.
4
2
/
32
Centennial
SB
Morgan Payne
Jr.
3.9
4
/
32
Centennial
BGo
GBB
VB
Tiffany Scheele
Jr.
3.9
3
/
32
Centennial
SB
Cheyenna Simmerman
Sr.
4
1
/
41
Centennial
GTF
VB
Hannah Tomes
Jr.
3.5
14
/
32
Centennial
WR
Doyle Trout
Sr.
3.9
8
/
41
Centennial
VB
GTF
Cacey Vavra
Sr.
4
1
/
41
Centennial
BTF
FB
WR
Bryce Wright
Sr.
4
1
/
41
Centennial
BBB
BTF
BXC
Stephen Yamber
Sr.
3.9
11
/
41
Central City
BTF
FB
Brady Bamesberger
Jr.
95.9
9
/
55
Central City
SB
Emily Beaver
Jr.
96.8
8
/
55
Central City
BTF
FB
Taylor Beck
Jr.
95.9
10
/
55
Central City
VB
Katherine Benner
Sr.
96.6
12
/
52
Central City
BTF
Micah Carlson
Sr.
97.8
7
/
52
Central City
BXC
BTF
Dylan Catlett
Jr.
98.9
4
/
55
Central City
VB
Lindy Eberle
Sr.
97.4
9
/
52
Central City
GTF
GBB
VB
Amber Erickson
Jr.
100.5
1
/
55
Central City
GTF
SB
GBB
Val Fousek
Sr.
98.8
5
/
52
Central City
GTF
GBB
VB
Jill Gathje
Sr.
102.8
2
/
52
Central City
FB
BBB
BTF
Thomas Geiger
Sr.
95.4
14
/
52
Central City
BXC
BBB
BTF
Matt Gilg
Sr.
94.4
16
/
52
Central City
GBB
GTF
VB
Katrina Gomez
Jr.
95.8
11
/
55
Central City
BTF
FB
Kordell Hamer
Jr.
99.2
2
/
55
Central City
BTF
BXC
BBB
Andrew Lee
Sr.
98.4
6
/
52
Central City
GBB
SB
GTF
Abby Maresh
Sr.
96.5
10
/
52
Central City
BTF
FB
Nicholas McNeff
Jr.
94.3
15
/
55
Central City
FB
BGo
BBB
Jeremiah Ohlman
Sr.
100.2
3
/
52
Central City
FB
BTF
Jerad Paup
Sr.
96.9
11
/
52
Central City
BTF
BXC
WR
Jonah Peterson
Sr.
103.2
1
/
52
Central City
GBB
VB
GTF
Shelby Schnitzler
Sr.
94.7
15
/
52
Central City
BTF
FB
WR
Brad Schoch
Jr.
95.4
12
/
55
Central City
FB
Aaron Vencill
Jr.
95.3
13
/
55
Central City
GTF
VB
GBB
Jasmine Wilson
Jr.
98.5
5
/
55
Central Valley
GBB
GXC
Shelly Bruha
Jr.
4
2
/
28
Central Valley
GBB
VB
GTF
Keely Butcher
Jr.
4
1
/
28
Central Valley
WR
FB
BTF
Ryley Dugan
Jr.
4
3
/
28
Central Valley
GTF
GBB
VB
Jayden Erickson
Sr.
4
4
/
19
Central Valley
BTF
BXC
BBB
Rusty Hermsmeyer
Jr.
3.6
8
/
28
Central Valley
BGo
Emily Houtby
Sr.
3.9
6
/
19
Central Valley
BGo
WR
FB
Trey Nekoliczak
Sr.
4
1
/
19
Central Valley
VB
MaKenna Rother
Jr.
3.8
4
/
28
Central Valley
WR
BTF
Clay Stepp
Jr.
3.6
6
/
28
Central Valley
BBB
Bryce Wood
Sr.
3.9
5
/
19
Central Valley
GTF
VB
Sidney Wood
Jr.
3.5
5
/
28
Centura
GGo
Hannah Adams
Jr.
4
1
/
29
Centura
GTF
GBB
Annika Gleason
Sr.
4
1
/
41
Centura
GBB
Makenz Gorecki
Sr.
4
6
/
41
Centura
GGo
Abby Hargens
Sr.
4
1
/
41
Centura
BTF
BBB
Travis Holcomb
Jr.
3.6
11
/
29
Centura
GTF
VB
GBB
Casey Krolikowski
Sr.
4
5
/
41
Centura
BBB
Dylan McInturf
Sr.
3.9
9
/
41
Centura
BBB
BTF
Grant Myers
Sr.
4
7
/
41
Centura
FB
Levi Rosenquist
Sr.
3.8
10
/
41
Centura
GTF
VB
GBB
Mady Roth
Jr.
4
1
/
29
Centura
GBB
Emily Wells
Sr.
4
4
/
41
Chadron
GBB
GTF
Murphy Churchill
Jr.
3.8
9
/
59
Chadron
WR
Tate Cullers
Jr.
3.7
18
/
59
Chadron
BTF
FB
BBB
Jackson Dickerson
Sr.
3.8
11
/
58
Chadron
GBB
Jayden Garrett
Jr.
4
1
/
59
Chadron
BGo
FB
BBB
Keenan Johnson
Sr.
4
4
/
58
Chadron
SB
Emmy Mills
Jr.
3.8
17
/
59
Chadron
GXC
Veronica Parish
Sr.
3.9
8
/
58
Chadron
GXC
Kiya Passero
Jr.
4
1
/
59
Chadron
VB
Lanie Riesen
Sr.
3.8
10
/
58
Chadron
FB
BBB
Vonsinh Sayaloune
Sr.
3.6
15
/
58
Chadron
BXC
Seth Sloan
Jr.
4
7
/
59
Chadron
FB
BGo
Jayden Stack
Jr.
4
1
/
59
Chadron
BGo
FB
BBB
Taylor Wild
Sr.
3.7
13
/
58
Chase County
SB
Emma Bauerle
Sr.
4
1
/
38
Chase County
VB
Mindy Castle
Sr.
4
1
/
38
Chase County
GBB
VB
MaKenna Ketter
Sr.
3.9
9
/
38
Chase County
BGo
Darrin Knobbe
Sr.
3.5
16
/
38
Chase County
BTF
BBB
BXC
Ryan Moline
Sr.
4
7
/
38
Chase County
GXC
Alyssa Moreno
Jr.
4
4
/
35
Chase County
BXC
Indy Smith
Sr.
4
2
/
35
Chase County
GTF
GBB
VB
Paige Spady
Sr.
4
1
/
38
Chase County
GBB
SB
GTF
Makenna Wallin
Sr.
4
1
/
38
Clarkson
BBB
Colby Becker
Jr.
4
1
/
21
Clarkson
BTF
Dwight Brabec
Sr.
3.9
3
/
16
Clarkson
GTF
Tayler Gall
Sr.
3.5
7
/
16
Clarkson
VB
Camille Koehn
Jr.
3.6
3
/
21
Clarkson
FB
Jon Langdon
Sr.
4
2
/
16
Clarkson
GGo
Jenna Podany
Sr.
4
1
/
16
Clarkson
GBB
Jessi Sayers
Jr.
4
2
/
21
Clearwater Orchard
GTF
GBB
VB
Mallory Cooper
Jr.
4
2
/
30
Clearwater Orchard
VB
Katie Funk
Jr.
3.7
13
/
30
Clearwater Orchard
FB
Blake Kester
Jr.
3.7
15
/
30
Clearwater Orchard
FB
BBB
Zach Martin
Jr.
4
6
/
30
Clearwater Orchard
VB
GBB
Whitney Rittscher
Jr.
3.9
7
/
30
Clearwater Orchard
BTF
Tristan Sanne
Jr.
3.8
12
/
30
Clearwater Orchard
GTF
Kaci Schacht
Sr.
3.9
1
/
18
Clearwater Orchard
GBB
VB
GTF
Sierra Schroeder
Jr.
4
4
/
30
Clearwater Orchard
BTF
Antonio Soto
Jr.
3.9
8
/
30
Clearwater Orchard
VB
Briana Stelling
Sr.
3.9
2
/
18
Clearwater Orchard
GBB
Kelsie Waller
Sr.
3.8
4
/
18
College View
GBB
Suzie Abucayon
Sr.
3.5
8
/
16
College View
GBB
Stacy Adams
Sr.
4
1
/
16
College View
GBB
Makayla Carlson
Sr.
4
3
/
16
College View
BSo
BBB
Brady Darrough
Sr.
4
1
/
16
College View
BTe
BSo
BBB
Jonathan Deemer
Sr.
3.9
4
/
16
College View
GBB
VB
Jenna Griffith
Jr.
3.7
1
/
16
College View
BSo
BBB
Edward Hardy
Sr.
3.9
5
/
16
College View
BSo
Jeffrey Middleton
Sr.
3.8
6
/
16
Columbus
FB
Trevan Ainsworth
Jr.
3.6
41
/
288
Columbus
FB
Luis Arcos
Jr.
3.7
42
/
288
Columbus
GXC
Hannah Awtry
Sr.
3.9
34
/
287
Columbus
BBB
BTe
Alex Beiermann
Sr.
4.1
8
/
287
Columbus
BTF
Cole Beiermann
Jr.
4.1
2
/
288
Columbus
SB
Emily Brewer
Jr.
4.1
8
/
288
Columbus
GBB
VB
GTF
Katherine Briggs
Jr.
3.6
43
/
288
Columbus
GSw
Clarissa Brittenham
Jr.
3.7
37
/
288
Columbus
FB
Base
Blake Bubak
Sr.
3.8
42
/
287
Columbus
BTF
BXC
Cameron Burma
Sr.
4.1
10
/
287
Columbus
GBB
GTe
SB
Alyssa Curry
Jr.
4
18
/
288
Columbus
GSw
Elizabeth Czarnick
Jr.
3.7
38
/
288
Columbus
GTF
GTF
VB
Alyssa Downs
Jr.
3.6
51
/
288
Columbus
GBB
SB
GSo
Caitlin Edzards
Jr.
4.1
3
/
288
Columbus
BTF
Ryan Ernst
Sr.
4.1
7
/
287
Columbus
GTF
GXC
Emily Grant
Jr.
4
14
/
288
Columbus
GSo
Rachel Grisham
Jr.
4
13
/
288
Columbus
Base
Cade Hansen
Jr.
3.6
50
/
288
Columbus
GTF
Toree Hempstead
Sr.
4
21
/
287
Columbus
BTe
Dana Hoppe
Jr.
4
/
288
Columbus
FB
Spencer Humphrey
Sr.
3.6
69
/
287
Columbus
FB
Zach Hyde
Jr.
3.8
32
/
288
Columbus
BGo
Jon Luckey
Jr.
3.7
39
/
288
Columbus
VB
GBB
Shaylynn Meyer
Sr.
4
12
/
287
Columbus
FB
WR
Tyler Nelson
Jr.
3.6
49
/
288
Columbus
GBB
Lindsey Nickolite
Sr.
3.6
62
/
287
Columbus
GXC
Broooke Paczosa
Sr.
3.9
25
/
287
Columbus
FB
BSw
BTF
Ryan Pauley
Jr.
4.1
5
/
288
Columbus
BXC
Morgan Penn
Sr.
3.8
51
/
287
Columbus
VB
Haley Perry
Sr.
3.6
58
/
287
Columbus
WR
FB
Trevor Phillips
Sr.
3.9
26
/
287
Columbus
VB
Shannon Raitt
Jr.
3.8
31
/
288
Columbus
Base
Tucker Ramaekers
Sr.
3.7
48
/
287
Columbus
SB
Savannah Robertson
Jr.
3.6
/
288
Columbus
FB
Wade Schaad
Jr.
4.1
8
/
288
Columbus
BTe
Noah Schacher
Sr.
3.7
/
287
Columbus
FB
BTF
Evan Smith
Jr.
3.9
22
/
288
Columbus
GSw
Zhazira Temirbekova
Sr.
3.9
/
287
Columbus
Gso
VB
Alyssa Thege
Sr.
4
18
/
287
Columbus
BSw
Sam Trofholz
Jr.
3.5
60
/
288
Columbus
BTF
BTe
Zach Walkenhorst
Sr.
4
20
/
287
Columbus
GSo
Danielle Wallin
Sr.
4.1
5
/
292
Columbus
FB
BTF
Dylan Wiese
Sr.
4
15
/
287
Columbus Lakeview
GSo
GGo
GBB
Kelsey Bignell
Sr.
4
2
/
66
Columbus Lakeview
GGo
Brittany Blaser
Sr.
3.7
19
/
66
Columbus Lakeview
GGo
SB
Makayla Coan
Sr.
3.9
6
/
66
Columbus Lakeview
GSo
Whitney Coop
Sr.
4
1
/
66
Columbus Lakeview
FB
Taylorÿ Esch
Sr.
3.8
13
/
66
Columbus Lakeview
SB
Monica Gotschall
Sr.
4
4
/
66
Columbus Lakeview
VB
Mikayla Hoefelman
Sr.
3.9
12
/
66
Columbus Lakeview
BSo
BBB
Marcus Holmberg
Sr.
3.7
18
/
66
Columbus Lakeview
GSo
VB
Abbey Humlicek
Sr.
3.8
14
/
66
Columbus Lakeview
GXC
GTF
Amanda Humlicek
Sr.
3.9
7
/
66
Columbus Lakeview
BGo
FB
Tate Janssen
Jr.
3.7
18
/
59
Columbus Lakeview
BSo
BBB
FB
Dylan Johnson
Jr.
4
5
/
59
Columbus Lakeview
GGo
Hilbert Madison
Sr.
3.8
11
/
66
Columbus Lakeview
FB
BSo
BBB
Quinn Matteson
Jr.
3.9
8
/
59
Columbus Lakeview
BXC
Austin Maurer
Jr.
3.8
11
/
59
Columbus Lakeview
GSo
Tiffany Ohlrich
Sr.
3.6
23
/
66
Columbus Lakeview
SB
Morgan Peters
Jr.
4
2
/
59
Columbus Lakeview
GSo
GXC
GBB
Brianna Prater
Sr.
3.8
6
/
66
Columbus Lakeview
WR
Logan Rodehorst
Sr.
3.6
25
/
66
Columbus Lakeview
BBB
FB
BTF
Trent Roth
Jr.
4
1
/
59
Columbus Lakeview
GGo
Kylie Schnell
Sr.
3.9
5
/
66
Columbus Lakeview
VB
GBB
Kayla Schrunk
Jr.
3.9
10
/
59
Columbus Lakeview
GGo
Rachel Shadley
Jr.
4
3
/
59
Columbus Lakeview
FB
Derek Smith
Jr.
4
7
/
59
Columbus Scotus
GGo
Abby Allen
Sr.
4
7
/
47
Columbus Scotus
GXC
Jaimee Beauvais
Sr.
4
5
/
47
Columbus Scotus
BTF
BXC
Justin Brockhaus
Jr.
4
1
/
65
Columbus Scotus
BSo
WR
FB
Marcus Dodson
Jr.
3.9
22
/
65
Columbus Scotus
BTF
BTF
FB
Jared Donoghue
Sr.
4
4
/
47
Columbus Scotus
FB
Jared Duren
Sr.
4
2
/
47
Columbus Scotus
GTF
GXC
Carly Fehringer
Sr.
3.8
20
/
47
Columbus Scotus
FB
Carson Fuchser
Jr.
3.9
27
/
65
Columbus Scotus
FB
BTF
Jaime Gasper
Sr.
4
6
/
47
Columbus Scotus
BTF
BTe
Dana Hoppe
Jr.
4
15
/
65
Columbus Scotus
GGo
Nieve Johnson
Sr.
4
9
/
47
Columbus Scotus
GTF
GBB
GXC
Kelsey Kessler
Sr.
3.9
17
/
47
Columbus Scotus
FB
BBB
BSo
Jackson Kumpf
Jr.
4
13
/
65
Columbus Scotus
VB
Courtney Labenz
Jr.
3.8
29
/
65
Columbus Scotus
BTF
BBB
FB
Grant Lahm
Sr.
4
8
/
47
Columbus Scotus
BTF
BXC
Eduardo Lopez
Sr.
3.7
23
/
47
Columbus Scotus
Base
Tyler Morton
Sr.
3.8
22
/
47
Columbus Scotus
BTF
FB
Ryan Mustard
Jr.
4
18
/
65
Columbus Scotus
GGo
Megan Parker
Jr.
4
5
/
65
Columbus Scotus
FB
Trevor Placzek
Sr.
4
13
/
47
Columbus Scotus
GGo
GTe
Elizabeth Preister
Sr.
3.9
11
/
47
Columbus Scotus
FB
BTF
Brady Przymus
Jr.
4
8
/
65
Columbus Scotus
BGo
FB
Darin Rinkol
Jr.
4
6
/
65
Columbus Scotus
GBB
GSo
GXC
Jessica Schaecher
Sr.
4
10
/
47
Columbus Scotus
GBB
GTF
VB
Sarah Schumacher
Jr.
4
12
/
65
Columbus Scotus
BBB
BTF
FB
Garrit Shanle
Sr.
3.9
15
/
47
Columbus Scotus
BSo
BXC
Joe Sonderman
Sr.
4
14
/
47
Columbus Scotus
GTF
Shannon Spulak
Sr.
4
12
/
47
Columbus Scotus
FB
Adam Starzec
Sr.
3.8
16
/
47
Columbus Scotus
VB
Kimberly Stutzman
Jr.
3.8
30
/
65
Columbus Scotus
GTe
GSw
Hannah Thomazin
Jr.
3.9
25
/
65
Columbus Scotus
GBB
GSo
VB
Morgan Thorson
Jr.
3.8
24
/
65
Columbus Scotus
BTF
BXC
Toby Tooley
Sr.
3.8
19
/
47
Columbus Scotus
GTe
GGo
Justina Wemhoff
Sr.
4
3
/
47
Columbus Scotus
FB
BTF
Justin Zoucha
Jr.
4
9
/
65
Conestoga
GTF
SB
Katie Drake
Jr.
4
5
/
46
Conestoga
BTF
BBB
Brook Fox
Jr.
3.8
17
/
46
Conestoga
GSo
GBB
VB
Megan Jamison
Sr.
4
1
/
46
Conestoga
GTF
VB
Claire Moore
Sr.
4
4
/
46
Conestoga
BBB
Matthew Morton
Jr.
4
5
/
46
Conestoga
VB
Megan Murdoch
Sr.
4
15
/
46
Conestoga
GSo
SB
Natalia Nolting
Sr.
4
2
/
46
Conestoga
GTF
Jacqueline Parriott
Jr.
4
7
/
46
Conestoga
VB
GSo
MaKayla Parriott
Sr.
4
9
/
46
Conestoga
GBB
GSo
SB
Ellen Rice
Sr.
4
10
/
46
Conestoga
VB
Emily Rohlff
Sr.
4
5
/
46
Conestoga
GSo
GBB
Savannah Schafer
Sr.
4
14
/
46
Conestoga
WR
FB
Sam Simpson
Jr.
3.7
18
/
46
Conestoga
GTF
GBB
SB
Whitney Todd
Jr.
4
4
/
46
Conestoga
FB
Dalton Topliff
Jr.
3.7
21
/
46
Conestoga
GSo
SB
Claire Uhe
Sr.
3.8
17
/
46
Conestoga
BBB
Skyler Vondra
Jr.
3.7
20
/
46
Conestoga
GBB
SB
Becky Wagner
Sr.
4
12
/
46
Cozad
BTF
BXC
Graham Applegate
Sr.
3.7
11
/
65
Cozad
BBB
FB
BGo
Sam Cole
Jr.
3.7
11
/
70
Cozad
GGo
Molly Cornelius
Sr.
3.8
6
/
65
Cozad
GTF
GBB
VB
Rebecca Etherton
Jr.
3.6
13
/
70
Cozad
BTF
BBB
FB
Jason Finnegan
Sr.
4
1
65
Cozad
GTF
GXC
Katrina German
Jr.
4
1
/
70
Cozad
BTF
FB
Neil Henderson
Sr.
3.7
10
35
Cozad
BGo
Chris Hoff
Jr.
3.9
7
/
70
Cozad
VB
Makenzie Klein
Sr.
4
1
/
65
Cozad
WR
Brandon Koch
Jr.
3.8
10
/
70
Cozad
GTF
VB
GBB
Bayleigh Nemeth
Sr.
3.7
12
/
65
Cozad
BGo
BXC
Bryce Nemeth
Sr.
3.9
5
/
65
Cozad
FB
Holden Randecker
Jr.
3.8
9
/
70
Cozad
GTF
SB
Ericka Smith
Sr.
3.8
6
/
65
Cozad
GGo
Alyson Smock
Jr.
4
5
/
70
Cozad
GTF
GBB
VB
Hannah Thramer
Jr.
4
1
/
70
Cozad
GGo
Tazah Weinmaster
Jr.
4
1
/
70
Cozad
BBB
BTF
FB
Colin Wetovick
Sr.
3.6
14
65
Cozad
BGo
Tyler Worrell
Sr.
3.6
13
/
65
Cozad
BTF
FB
BBB
Conor Young
Sr.
4
1
/
65
Creek Valley
GBB
VB
Jillian Behrends
Sr.
94.8
2
/
19
Creek Valley
FB
BBB
Keith Everitt
Jr.
95.8
1
/
18
Creek Valley
GTF
GBB
VB
Hannah Schievelbein
Sr.
95.8
1
/
19
Creek Valley
GBB
VB
Joellyn Straber
Jr.
94.6
2
/
18
Creighton
FB
Shane Asher
Jr.
4.1
4
/
20
Creighton
BGo
FB
WR
Connor Baldwin
Sr.
3.9
8
/
26
Creighton
FB
BBB
BTF
Brook Baller
Jr.
4.2
3
/
20
Creighton
FB
BBB
BTF
Brandon Borgmann
Jr.
4.1
5
/
20
Creighton
BXC
Joshua Borgmann
Jr.
4
7
/
20
Creighton
GBB
Cassidy Curtis
Sr.
4.1
4
/
26
Creighton
FB
Austin Diedrichsen
Jr.
4
6
/
30
Creighton
GTF
GBB
VB
Rebecca Eggerling
Sr.
3.7
14
/
26
Creighton
GBB
VB
Sarah Erb
Sr.
3.8
13
/
26
Creighton
GTF
GXC
Marissa Frank
Sr.
4.2
2
/
26
Creighton
VB
GTF
GBB
Jessica Gragert
Sr.
3.8
11
/
26
Creighton
BTF
Eli Kliment
Jr.
4.2
2
/
20
Creighton
BTF
FB
Grant Mathis
Sr.
3.9
10
/
26
Creighton
VB
Hannah Smith
Sr.
3.8
12
/
26
Creighton
GTF
GBB
Emily Sorensen
Sr.
4.1
5
/
26
Creighton Prep
BSw
Brandon Abboud
Jr.
3.6
110
/
263
Creighton Prep
BTF
Chase Alberts
Jr.
3.8
60
/
263
Creighton Prep
BSo
Will Apker
Sr.
3.9
43
/
258
Creighton Prep
BSw
Clark Carter
Sr.
3.9
50
/
258
Creighton Prep
FB
Michael Corpuz
Jr.
4
30
/
263
Creighton Prep
BXC
BTF
Thomas Doran
Sr.
4
15
/
258
Creighton Prep
BSw
Jon Doyle
Sr.
3.9
38
/
258
Creighton Prep
BSo
Joseph Eckert
Sr.
3.8
83
/
258
Creighton Prep
BTe
Brendan Eglseder
Sr.
3.5
121
/
258
Creighton Prep
BTF
Joe Ernatt
Jr.
3.8
56
/
263
Creighton Prep
BSo
Louis Floersch
Sr.
3.7
99
/
258
Creighton Prep
BSw
Michael Franco
Jr.
3.9
47
/
263
Creighton Prep
FB
Jake Hagge
Sr.
3.9
29
/
258
Creighton Prep
BGo
David Hansen
Sr.
4
30
/
258
Creighton Prep
WR
Riley Hanson
Sr.
3.8
64
/
258
Creighton Prep
BSw
Jacob Hedrick
Sr.
3.6
111
/
258
Creighton Prep
BBB
Drew Homa
Jr.
4
1
/
263
Creighton Prep
BBB
Will Hupp
Sr.
3.9
46
/
258
Creighton Prep
FB
Nick Janecek
Sr.
3.8
85
/
258
Creighton Prep
BTF
FB
Jason Johanek
Jr.
3.8
59
/
263
Creighton Prep
BSo
Trevor Johnson
Sr.
3.9
54
/
258
Creighton Prep
BSw
Ben Kellen
Sr.
4
19
/
258
Creighton Prep
BSo
Michael Korbitz
Sr.
3.7
88
/
258
Creighton Prep
BSo
Colin Kozol
Sr.
3.9
56
/
258
Creighton Prep
BTe
Pierce Lam
Jr.
4
34
/
263
Creighton Prep
BXC
BTF
John Lukowski
Jr.
4
28
/
263
Creighton Prep
BSw
Brian Magee
Jr.
3.7
88
/
263
Creighton Prep
FB
Adam Malicki
Jr.
3.8
57
/
263
Creighton Prep
FB
John Marcotte
Sr.
3.9
31
/
258
Creighton Prep
FB
BTF
FB
Alex McHugh
Sr.
3.9
49
/
258
Creighton Prep
FB
Logan McNeil
Sr.
4
1
/
258
Creighton Prep
FB
Omar Mora
Jr.
3.9
46
/
263
Creighton Prep
FB
Connor Morris
Sr.
4
10
/
258
Creighton Prep
BXC
BTF
Cole Nelson
Jr.
3.7
84
/
263
Creighton Prep
BSo
Vince Nolette
Sr.
4
19
/
258
Creighton Prep
BXC
BTF
John Nownes
Sr.
4
28
/
258
Creighton Prep
Base
Craig Petrich
Sr.
4
1
/
258
Creighton Prep
BTe
Stavros Piperis
Sr.
3.8
77
/
258
Creighton Prep
BSw
Collin Piti
Sr.
4
34
/
258
Creighton Prep
BBB
Tommy Pritchard
Sr.
3.9
44
/
258
Creighton Prep
FB
Micah Rensch
Sr.
4
13
/
258
Creighton Prep
FB
Lucas Ripa
Sr.
3.9
54
/
258
Creighton Prep
FB
Joe Rodino
Sr.
3.9
58
/
258
Creighton Prep
BTF
TJ Romero
Sr.
3.5
130
/
258
Creighton Prep
BTF
FB
Ethan Ruh
Jr.
3.7
94
/
263
Creighton Prep
FB
BTF
Drew Russell
Jr.
4
24
/
263
Creighton Prep
BTF
Matthew Schmitt
Sr.
4
26
/
258
Creighton Prep
BTe
BSw
Nathan Singh
Jr.
4
1
/
263
Creighton Prep
BSw
Sean Tate
Sr.
3.7
96
/
258
Creighton Prep
BTe
Nick Tran
Sr.
4
1
/
258
Creighton Prep
FB
Andrew Veys
Sr.
3.7
102
/
258
Creighton Prep
BTF
Ben Warren
Jr.
3.7
100
/
263
Creighton Prep
BSw
BTF
James Warren
Jr.
3.9
53
/
263
Creighton Prep
BTF
Elias West
Jr.
3.9
51
/
263
Creighton Prep
FB
Triston Wilson
Jr.
4
29
/
263
Creighton Prep
BBB
Chad Witecy
Sr.
4
1
/
258
Crete
BTF
FB
Andrew Allen
Sr.
3.6
20
/
127
Crete
GTF
GXC
Emerson Andelt
Jr.
4.1
2
/
110
Crete
GTF
VB
Alivia Anthony
Jr.
3.5
24
/
110
Crete
GTe
Hanna Baum
Jr.
3.7
20
/
110
Crete
FB
BTF
Ethan Bond
Jr.
4
11
/
110
Crete
VB
Hannah Bottom
Jr.
3.7
16
/
110
Crete
BSo
Hunter Bradley
Jr.
3.5
25
/
110
Crete
VB
GTF
GBB
Tayler Doremus
Sr.
3.6
23
/
127
Crete
GTe
Laura Drevo
Sr.
3.5
25
/
127
Crete
GTF
VB
Molly Engebretson
Jr.
4
7
/
110
Crete
BTF
Brandon Faltin
Jr.
4
4
/
110
Crete
VB
Bailey Fitzgerald
Jr.
3.7
18
/
110
Crete
FB
BGo
Kale Friesen
Sr.
4.1
3
/
127
Crete
BXC
BTF
Brock Hanson
Sr.
3.8
12
/
127
Crete
FB
BTF
BBB
Jake Harms
Sr.
3.7
18
/
127
Crete
BBB
BTF
FB
Turner Hill
Sr.
4.2
1
/
127
Crete
BTF
BXC
Zakary Keck
Jr.
4.1
3
/
110
Crete
WR
FB
Lane Krasser
Sr.
3.7
15
/
127
Crete
GBB
GSo
SB
Jamie Lefebure
Sr.
3.9
10
/
127
Crete
GTF
Charlie Miller
Jr.
3.7
19
/
110
Crete
VB
GTe
GBB
Carissa Moore
Sr.
3.6
19
/
127
Crete
FB
BTF
Dillon Nerud
Sr.
3.7
16
/
127
Crete
GSo
Vanessa Ortiz
Sr.
3.6
24
/
127
Crete
Base
FB
Jaden Ostrander
Sr.
3.6
22
/
127
Crete
BTF
BXC
Karl Proctor
Jr.
3.8
14
/
110
Crete
GBB
GGo
GTF
Murphy Sears
Jr.
4
6
/
110
Crete
GGo
Renae Sieck
Sr.
4.2
2
/
127
Crete
FB
BTF
BBB
Luke Siedhoff
Sr.
4
6
/
127
Crete
SB
GTe
Blake Spanjer
Sr.
4
9
/
127
Crete
GXC
Tara Tran
Jr.
4.2
1
/
110
Crete
BSo
Leo Van Horn
Jr.
3.9
13
/
110
Crofton
VB
GBB
Breanna Allen
Jr.
98.8
2
/
27
Crofton
GTF
GBB
VB
Allison Arens
Sr.
94.8
14
/
32
Crofton
GXC
Kyla Dendinger
Jr.
97.8
3
/
27
Crofton
BGo
BXC
Josh Goeden
Sr.
98.7
1
/
32
Crofton
VB
Brittany Guenther
Jr.
95.9
7
/
27
Crofton
GXC
Kendy Kube
Sr.
95.4
13
/
32
Crofton
GXC
Vanessa McFarland
Sr.
96.7
11
/
32
Crofton
FB
BGo
BBB
Brock Mueller
Sr.
93.4
19
/
32
Crofton
VB
Katie Petersen
Jr.
94.4
9
/
27
Crofton
BXC
Cole Steffen
Sr.
94.5
15
/
32
Crofton
GXC
GBB
Lily Steffen
Sr.
97.6
7
/
32
Crofton
GGo
Katelyn Stewart
Jr.
98.8
1
/
27
Crofton
BTF
BXC
Lane Weidner
Sr.
98
4
/
32
Crofton
VB
GTF
GBB
Maria Wortmann
Sr.
92.9
21
/
32
Crofton
GXC
GTF
GBB
Quinn Wragge
Sr.
97.8
6
/
32
Crofton
GGo
Mariah Zavadil
Sr.
94.3
17
/
32
Cross County
GBB
VB
Kelsey Anderson
Sr.
98.2
1
/
26
Cross County
VB
Sarah Branting
Sr.
96.4
6
/
26
Cross County
BTF
WR
FB
Kelly Cliffords
Sr.
97.3
3
/
26
Cross County
GTF
Alexa Dawson
Jr.
93
11
/
29
Cross County
BTF
BBB
FB
Travis Eller
Sr.
96.8
4
/
26
Cross County
BBB
BTF
FB
Aaron Giannou
Jr.
93.4
10
/
29
Cross County
BGo
FB
BBB
Lane Gottula
Jr.
96.4
4
/
29
Cross County
SB
Naomi Kerwood
Sr.
94.7
11
/
26
Cross County
SB
Kylie Lamoree
Sr.
95.7
10
/
26
Cross County
BGo
BGo
Brady Langemeier
Jr.
95.8
5
/
29
Cross County
GBB
Emily Larson
Sr.
93.3
14
/
26
Cross County
BBB
FB
Andrew Peterson
Sr.
95.8
9
/
26
Cross County
BGo
Caleb Riley
Jr.
94.8
7
/
29
Cross County
GTF
VB
Taylor Rystrom
Jr.
95.4
6
/
29
Cross County
BGo
Clay Youndahl
Jr.
96.8
2
/
29
David City
BBB
BGo
FB
Ben Danielson
Sr.
98.3
2
/
46
David City
GTF
VB
Jesse Grotelueschen
Jr.
97.1
7
/
61
David City
GBB
GTF
VB
Macy Grotelueschen
Jr.
96.9
8
/
61
David City
BTF
BXC
Konner Magnuson
Sr.
93.8
13
/
46
David City
BTF
WR
FB
Tony Meusch
Sr.
98
3
/
46
David City
BGo
WR
Dustin Papa
Jr.
97.9
2
/
61
David City
GBB
Hope Rerucha
Sr.
95
10
/
46
David City
BBB
Jonah Scheffler
Sr.
97.7
4
/
46
David City
BXC
Wesley Unger
Jr.
97.8
3
/
46
Deshler
BXC
Noah Burger
Sr.
97
4
/
21
Deshler
BGo
Jana Finke
Sr.
96
8
/
21
Deshler
VB
Mikaela Hansen
Jr.
97
5
/
20
Deshler
GTF
Elizabeth Meier
Jr.
97
6
/
20
Deshler
FB
Noah Mosier
Jr.
98
2
/
20
Deshler
BBB
BTF
Ashton Oakman
Sr.
97
6
/
21
Deshler
FB
BBB
Jared Pohlmann
Jr.
99
1
/
21
Deshler
GBB
Katie Roth
Jr.
98
1
/
20
Deshler
GTF
GBB
VB
Lauren Schmidt
Sr.
99
2
/
21