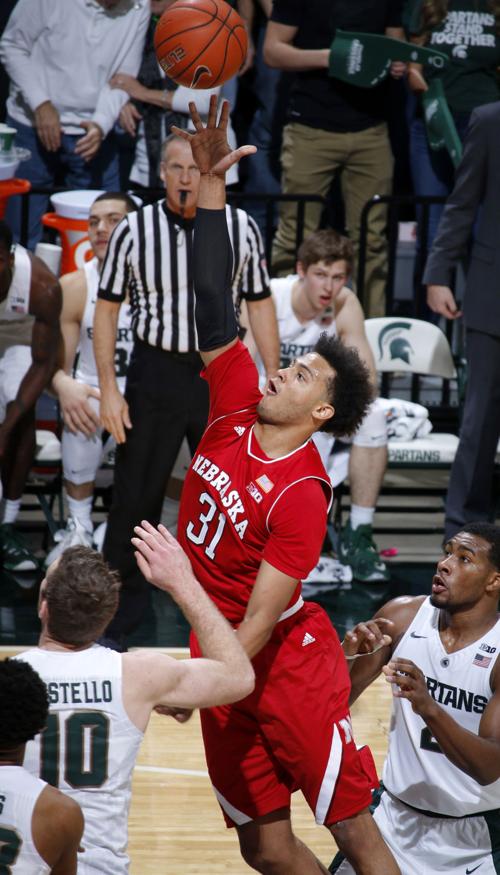 Maybe I still have those 13-point first halves fresh in my mind from last season.
But it's not just the Nebraska men's basketball team finding points easier to come by this season.
Through January of 2015, in Big Ten Conference games only, we saw nine halves of basketball in which a team scored fewer than 20 points.
We've seen one to this point this season in Big Ten play -- and not until Penn State's 18-point output Thursday night against Wisconsin.
Nebraska, meanwhile, leads the Big Ten in field goal percentage, shooting better than 49 percent in conference games.
The Huskers are also among the conference leaders in points per game, averaging nearly 76 in Big Ten play. Some of that is more offensive weapons. Some is probably the result of a 30-second shot clock.
Some of it has been Rutgers and Minnesota.
But I attribute a good deal of the improved offensive production to the emphasis on the NCAA-labeled "freedom of movement" rules changes. You know, cracking down on impeding and bumping cutters, and the general physical bloodbath that had permeated college basketball.
Yes, it's cost Nebraska on the defensive end, at times.
Still, my guess is that Shavon Shields, under previous rules, doesn't have as easy a time getting to the hoop against Michigan State as he did Wednesday night en route to 28 points.
The Spartans, historically one of the nation's grittiest, most physical teams, had no answer for Shields.
Veteran coach Tom Izzo has admitted to doing a poor job in getting his team to adjust to the rule changes. The Spartans entered the Nebraska game averaging 22.8 fouls per game in Big Ten play, and had sent Wisconsin to the free-throw line for 36 attempts in a 77-76 loss on Sunday.
Michigan State appeared so afraid to foul against Nebraska -- and the Spartans didn't with the same frequency -- that Izzo's team seemed to forget how to defend.
Duke has had a similar problem on defense this season. Wisconsin hasn't been as stout, or even Virginia. At this point last season, the Cavaliers led the nation in allowing 50 points per game. They're still No. 10 now in scoring defense, but allowing 61.2.
We're actually seeing some entertaining, scoring basketball, and it's been refreshing.
In the case of Nebraska, the Huskers, even without a true inside presence, have displayed the best offense we've seen in years, with the likes of Shields, Andrew White and even Tai Webster. Young players, of course, have also contributed.
So, too, has new assistant coach Phil Beckner. Head coach Tim Miles singled out Beckner for his game planning against Michigan State, and I don't think that was by accident.
I'm guessing Miles has heard the constant chatter about losing Craig Smith -- a key loss, for sure -- and made sure to point out he and his staff haven't forgotten the Xs and Os part of the game, something at which Smith, now in his second season as head coach at South Dakota, was known to excel.
Beckner coached the Oklahoma City Thunder's D-League team, and if you noticed the improved spacing to which Miles referenced on his post-game radio show, it bore a striking resemblance to that you see from the Thunder, and the NBA, in general.
Of course, it helps when guys like Jack McVeigh are hitting three-pointers from the corner, and you've got a Big Ten-caliber point guard in Glynn Watson, and a confident backup in Webster, who's playing the best ball of his career -- and off the bench, too.
Can Nebraska continue at this clip? Time will tell. We're only 16 days removed from a scoring drought of 7 1/2 minutes at Iowa -- a game Nebraska led by 10 and lost by 11 -- so we can't declare everything fixed and ready.
But the Huskers' offense has been, more often than not, easier and more entertaining to watch, and the rule changes are partially to thank.