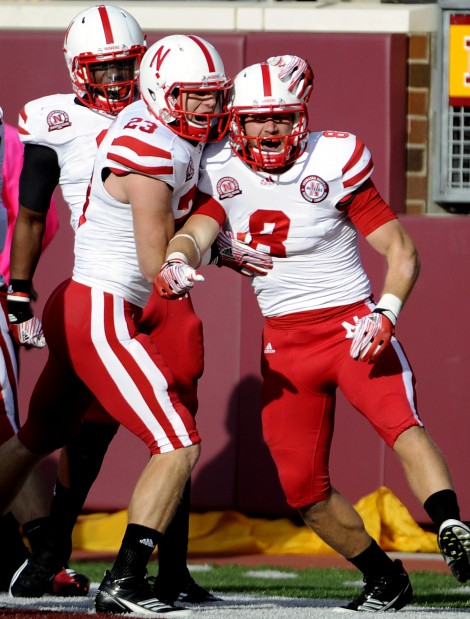 MINNEAPOLIS — The Huskers handled this trip just fine once they got out of that blasted elevator.
Senior offensive tackle Yoshi Hardrick relayed a story about some elevator issues that occurred at the team hotel Friday.
Hardrick said 13 players got stuck on an elevator for about 45 minutes.
"I really can't remember (who they were). There were about six O-linemen, though."
Hardrick was one of them.
"We were like 600 pounds over the limit," he said.
Hardrick said the elevator floor twice dropped below the ground-level floor.
"Everybody was sweating," Hardrick said. "Everybody was mad."
But a technician saved the day before anyone went too crazy, allowing the Huskers to escape in time to club Minnesota 41-14 on Saturday.
Might Hardrick be staying away from elevators for a while?
"Probably with O-linemen, yeah."
Thorell's opportunity: Lance Thorell saw his number called Saturday and found his way back into a starting lineup that included five defensive backs.
He took the spot usually held by BUCK linebacker Sean Fisher when Nebraska is in its base defense.
"We knew this team was going to kind of spread it on us, so that's how I ended up in the position that I was," Thorell said.
The senior from Loomis got involved early, batting away a third-down pass on Minnesota's first possession of the game.
He got his hands on a couple of passes in the first half and ended up with three tackles.
"A couple passes I probably should have caught," said Thorell, being his worst critic. "I just think the defense as a whole played pretty well. We had a few long busts that kind of hurt us, but, overall, I think we played all right."
Thorell has been in and out of the lineup this season. What does he make of the fact that Bo Pelini looked his way this week?
"It just goes to prove that the competition is always there," Thorell said. "It forces everyone to just work their tail off during the week and hopefully get their chances."
As for what opportunities he thinks he might have in future games, he said it's a week-to-week deal.
"Just any chance I can get to get on the field, I'm going to make the most of it."
Getting the bounce: The Huskers got a major break on an option pitch gone awry in the first quarter.
Leading 3-0, Nebraska went for it on fourth-and-1 from the Gopher 13-yard line. The Huskers seemed to dial up the right play, but quarterback Taylor Martinez's pitch went off the hands of I-back Aaron Green and out of bounds at the 11.
Minnesota felt that it had held, under the belief that a player can't gain positive yards by fumbling the ball forward.
But the officials congregated and said it was not a fumble, but rather a mishandled backward pass.
Pelini was as curious about the call as everyone else.
"I actually didn't understand the rule myself," Pelini said. "But it's not a fumble, it's a backwards pass, and because it obviously wasn't intentional, he didn't intentionally slap the ball forward, the ruling is it goes where the ball goes out of bounds. I originally thought, probably like Coach Kill, that it was a fumble."
Referee Todd Geerlings cited Rule 2-11 as to why it's not officially a fumble.
"(The rule) states that to fumble the ball is to lose player possession," Geerlings said. "That did not happen. … When it touched the player on the muff it's still a backward pass when it goes out of bounds, and that's what we had."
Martinez smiled when someone joked about it working just as the Huskers had drawn it up.
Nebraska took full advantage of the break, scoring two plays later on Martinez's 10-yard pass to fullback Tyler Legate.
Glove work: Martinez donned a little extra equipment Saturday. The sophomore wore gloves on both hands, something he hasn't done in the past.
He offered a simple explanation: "The games are going to be colder down the road and I'm trying to get used to it," Martinez said.
Rex's milestone: Junior running back Rex Burkhead went over 100 yards rushing for the fourth time this season, totaling 117 yards on 23 carries. He also became the 26th Husker to eclipse 2,000 rushing yards. He now has 2,049 in his career.
Burkhead didn't know he had reached the milestone until a reporter told him.
"That's a cool thing," he said, "but that goes to the offensive line. It's what they're doing up front."
Almost … there: Brandon Kinnie had a career-long 61-yard reception in the second quarter. He just wishes it had been 63-yarder.
Kinnie got caught at the Minnesota 2 after busting free on a jailbreak screen.
The senior wide receiver said he thought for a moment he was going to score. "'Til I looked right and I'm like, 'Ah, man.' So I tried to stiff-arm and I missed the stiff-arm."
Kinnie said he couldn't help but think of the Washington game last year, when he had a 55-yard catch but was tackled a yard short of the end zone.
"That's what I kept hearing about on the sideline, so I ran to Coach (Rich) Fisher and I'm like, 'Put me back in, man,'" Kinnie said.
The Huskers ended up settling for a field goal on the drive.
Rome's start: Nebraska redshirt freshman Chase Rome got the first start of his career, taking over the spot opened because of the injury to Jared Crick.
Rome ended up with one tackle. He did have to take a seat on the bench for a brief spell in the second quarter after a 15-yard penalty for hitting a Minnesota offensive lineman after Austin Cassidy picked up a fumble and raced to the end zone.
Rome got an earful from Pelini after the penalty.
As expected, Nebraska freely rotated its defensive tackles. Jay Guy, fifth in line at defensive tackle, also saw some action late.
This and that: Legate's 10-yard touchdown catch was the seventh reception of his career. He's efficient: Four have been for touchdowns. … Kenny Bell's 82-yard touchdown run was the longest by a Husker since Cory Ross' 86-yard run against Missouri in 2004. It's also the longest TD run by a freshman in school history. … Junior tight end Kyler Reed made the trip to Minneapolis, but never appeared in the game. In was unclear why. In his absence, junior Ben Cotton and sophomore Spencer Long got extra snaps. … Brett Maher is now 13-of-16 on field goals after missing a 51-yarder in the third quarter. He hit from 22 yards and 25 yards.