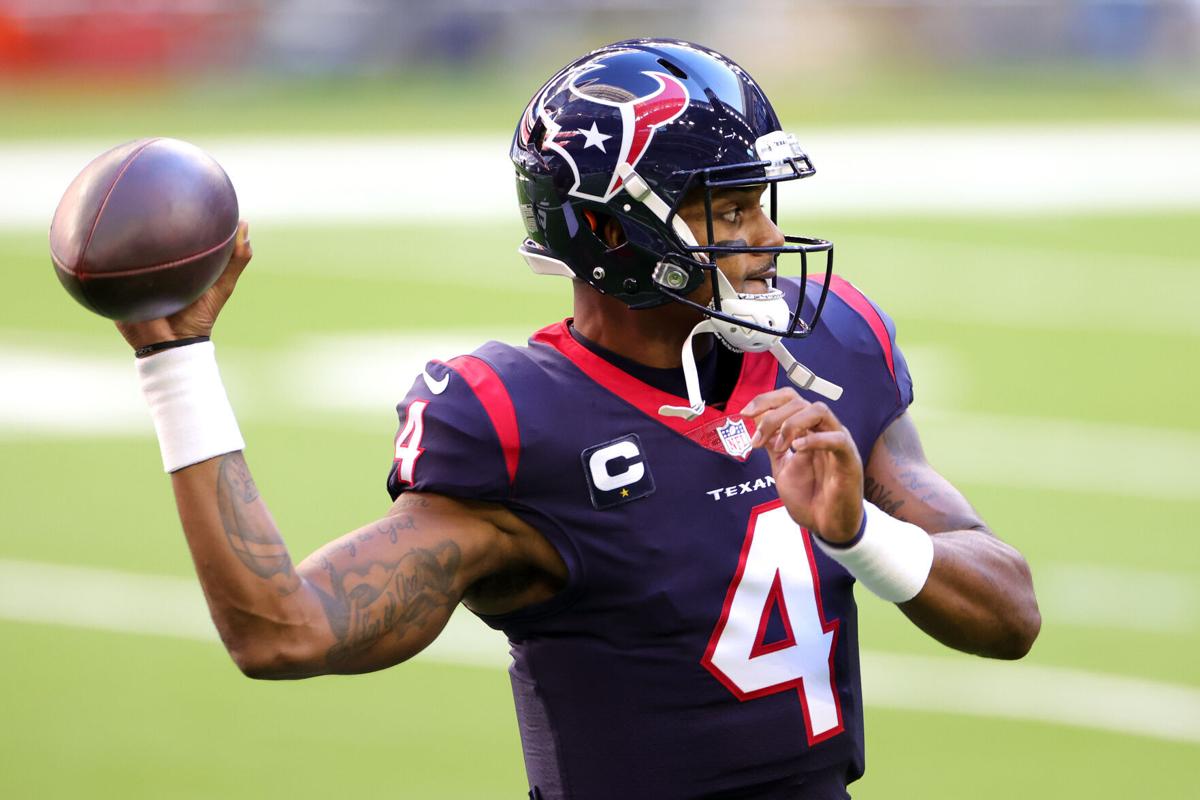 Nike has suspended its endorsement of Houston Texans quarterback Deshaun Watson, the New York Daily News confirmed Wednesday.
Watson faces 22 lawsuits alleging that he sexually assaulted or harassed almost two dozen female masseuses. His first accuser, Ashley Solis, made her identity public and appeared on camera at a press conference on Tuesday.
Nike's suspension was first reported by CNBC Wednesday morning.
"We are deeply concerned by the disturbing allegations and have suspended Deshaun Watson," Nike said in a statement provided to the News. "We will continue to closely monitor the situation."
Beats by Dre followed Nike's lead and also parted ways with Watson on Wednesday, per Front Office Sports.
Solis, flanked by plaintiffs' attorney Tony Buzbee, said Tuesday that she can no longer practice massage due to the trauma caused by Watson's alleged assault of her on March 30, 2020.
She also said she has experienced frequent panic attacks, anxiety and bouts of depression.
"I'm here to take back the power and take back control," Solis said. "I'm a survivor of assault and harassment."
A second accuser, Lauren Baxley, did not attend Tuesday's press conference but also made her identity public in a letter read aloud by an attorney.
"Every boundary, from professional and therapeutic to sexual and degrading, you crossed or attempted to cross," Baxley wrote.
Many of the lawsuits involve allegations that Watson forced women to touch his genitals and to perform oral sex. Another anonymous accuser who has not filed a lawsuit told a similarly disturbing story to Sports Illustrated.
Both Watson, 25, and his attorney, Rusty Hardin, have denied wrongdoing.
Hardin provided testimonials from 18 female masseuses vouching for Watson's behavior, though that also confirmed Watson has had recent personal contact with at least 40 masseuses — a curious fact in itself.
On Tuesday, Hardin chose not to deny Solis' and Baxley's fresh statements, but to smear Buzbee and Solis instead.
Hardin alleged in a statement that Buzbee initially sought $100,000 in "hush money" in February on behalf of Solis before filing the first lawsuit in mid-March.
The language of Nike's statement in suspending Watson mirrored the NFL's stance on Tuesday in the wake of Solis' press conference.
"The allegations are deeply disturbing and we take these issues very seriously," NFL spokesman Brian McCarthy told ESPN Tuesday. "Immediately following news of the first allegations last month, and as has been reported, we initiated an investigation under the NFL's Personal Conduct Policy. We are continuing to closely monitor all developments in the matter."
Watson began this offseason by trying to orchestrate a trade away from a dysfunctional Texans franchise. He has said he will never play for Houston again, but now Watson's ability to play football anywhere in the 2021 NFL season is in jeopardy.
That's apart from the obvious severe legal ramifications he could face for this alleged predatory behavior.
Several teams had interest in trading for Watson, who is one of the best quarterbacks in the entire league, but clubs have moved on to other options in the wake of these shocking and rampant accusations.
The Carolina Panthers are the most recent example. They had been one of the most aggressive suitors and even did "extensive" due diligence recently, per the Houston Chronicle, before ultimately trading for the Jets' Sam Darnold on Monday instead.
This is bigger than football, though. And on Wednesday, Nike's message landed loud and clear.
2021 NFL Mock Draft: Trades shake up first round