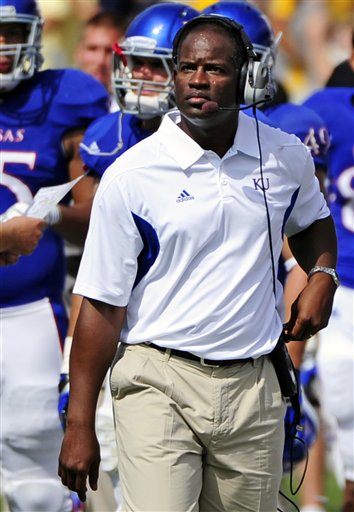 Liberty University has hired Turner Gill to be its next football coach.
A news conference has been schedule for 1 p.m. EST (noon CST) Thursday, where Gill, a former Husker standout and assistant, will be introduced, according to a release sent out by Liberty.
"Liberty is tremendously blessed to welcome Turner Gill as our new head football coach," Liberty athletic director Jeff Barber said. "As we conducted this search during the past nine days, his name was recommended to us over and over from coaches and athletics directors from around the country as the right man to lead our football program."
Liberty is a Football Championship Subdivision program located in Lynchburg, Va. Gill replaces Danny Rocco, who accepted the head coaching postion at Richmond. The Flames went 7-4 in Rocco's final season at Liberty.
Gill was fired from Kansas on Nov. 27 after two seasons. He struggled to get the Jayhawk program on track. Before arriving in Lawrence, Kan., Gill revived the Buffalo program, leading the Bulls to a MAC championship.
Liberty won the Big South Conference championship in 2007 and 2008.