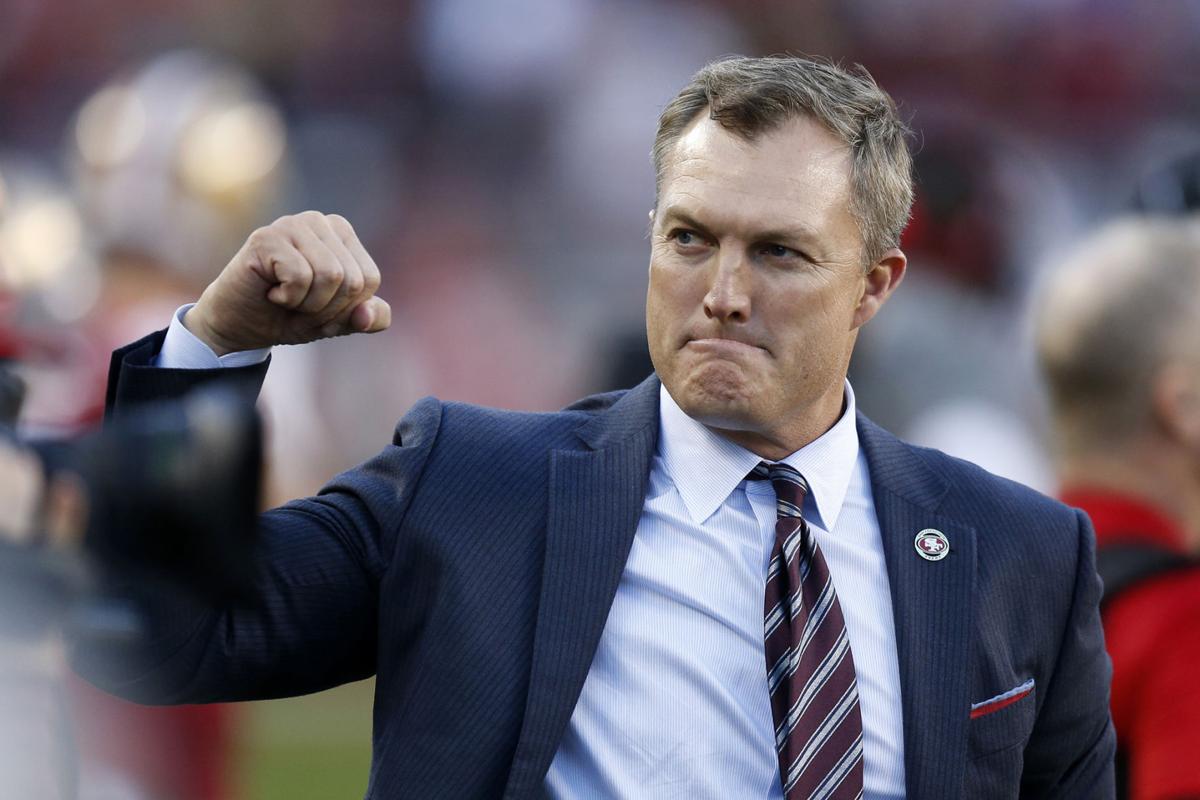 SANTA CLARA, Calif. - The 49ers on Thursday racked up another award from the Pro Football Writers of America. General manager John Lynch was named the association's executive of the year.
Lynch became San Francisco's third general manager to claim the award joining Carmen Policy in 1994 and Trent Baalke in 2011.
The 49ers this season became the sixth team since the AFL-NFL merger in 1970 to play in a conference championship game a season after winning fewer than five games, according to the San Francisco Chronicle. That was made possible by a few key moves made by Lynch, Shanahan and the team's personnel department in the offseason.
"John and his staff have presented all this stuff and got us a ton of guys, and it's been great because even the big key ones that everyone knows about have made a difference," Kyle Shanahan said. "Also, we've had a lot of injuries this year too where a lot of guys have had to step up, and our depth has really been challenged this year and I think it's a credit to our personnel staff."
The team in March traded a second-round draft pick to Kansas City for pass rusher Dee Ford who helped transform the pass defense into the best unit, statistically, since 2009 by allowing 169 yards per game. Ford had 6.5 sacks in 11 games while the 49ers were the only team in the NFL to have four players with at least 6.5 sacks.
You have free articles remaining.
"He's kind of like the key that unlocks that whole defense as far as his speed up front," left tackle Joe Staley said after Ford had one of the team's six sacks last week against Minnesota.
Lynch also presided over the team's decision to draft Nick Bosa with the No. 2 pick in the draft. Bosa was named PFWA's rookie of the year and defensive rookie of the year earlier this week. The Ohio State alum finished with 9.0 sacks and has been arguably the team's best defensive player throughout the entire season.
Additionally, the team acquired receiver Emmanuel Sanders in a trade from the Denver Broncos in October that dramatically improved the passing game.
Sanders in 10 games had 502 yards on 36 catches with three touchdowns. He had two 100-yard performances against the Cardinals on Halloween and during one of the biggest games of the year in December against the Saints when he recorded seven catches for 157 yards, a 75-yard touchdown catch and a 35-yard touchdown pass to running back Raheem Mostert.
The 10-year veteran also hauled in a 46-yard catch to convert a third-and-16 inside the final minute Week 16 against the Rams to set up the game-winning field goal.