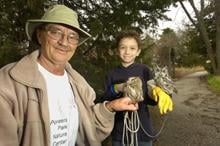 Funny how Girl Scout camp can change a guy's life.
In the late 1980s, Dave Titterington attended a weekend camp with his daughter, April. The father and daughter participated in a bunch of activities, including the construction of a bird feeder.
"When we got back I thought I better put this up or she'll be disappointed," he recalled.
Before long, their feeder was attracting birds — except the only thing Dave knew was they weren't sparrows. So he got a Peterson Field Guide and found out they were chickadees, house finches and goldfinches
And that's how Dave got into birds.
Before long, the railroad conductor and father of three was pretty well obsessed with birds. Because that's the way Dave is — when he gets into something, he gets all the way in.
To fuel his obsession, he wanted more feeders and more practical knowledge on how to use them, but found little of either from the few merchants who sold feeders in Lincoln. And that's why he opened a birdseed store in 1993.
He actually opened it with his two sisters, Kay Kirchhoff and Ardie Eitel, and called it the Wild Bird Habitat Store. They sold just seed and feeders and gave away advice on how to use them. The first store succeeded, so they opened a second.
The more he learned about his avian business partners, the more he recognized the threats to their long-term survival. His concern grew after reading Rachael Carson's landmark book "Silent Spring."
"It made me realize that I — and probably a lot of people — just took (birds) for granted," he said. "You open your door and you just expect them to be out there singing. The thought of a silent spring never even occurred to me."
And that's when Dave became a conservationist. His vision of conservation fell along the lines of the green mantra, "Think globally, act locally."
One day in 1997, now retired from the railroad, he walked into the Pioneers Park Nature Center and said he wanted to volunteer. Realizing he had a lot of knowledge he could share with others, the Nature Center offered him a paid, part-time position as a teacher-naturalist.
A kid can turn on TV and watch leopards, crocodiles and elephants, but Dave wanted them to appreciate blue jays, toads and garter snakes in their Lincoln back yards. And kids responded to the long-haired, mustached teacher, the one who tells them things like how a black-capped chickadee weighs the same as three pennies and when you see something that looks like a glob of spit on a leaf in the forest, it's really an insect appropriately named a spittlebug.
Watching kids make connections between themselves and wildlife provides a sort of antidote to worries about global warming, pollution and irresponsible development.
"These are the ones who will be our next policy makers," he said. "Someday maybe they'll put their foot down and say, 'Enough's enough! We've got to change.'"
About the same time he became an outdoor instructor, Dave also became an activist. He joined Friends of Wilderness Park, urging others not to take the local natural treasure for granted. Mary Roseberry-Brown, president of the group, said he brought energy, enthusiasm and ideas to the grass-roots effort.
"His heart is there," she said. "He's dedicated. He's very smart, very creative."
He volunteers his time to numerous environmental causes, such as Friends of the Environmental Trust and Nebraska League of Conservation Voters. He's a member of Bluebirds Across Nebraska and has coordinated the group's wood duck box program. And he's an honorary board member of Wildlife Rescue Inc.
He also works with public schools to incorporate bird feeding and International Migratory Bird Day programs into their curriculum. He's the state ambassador for the Great Backyard Bird Count, an annual public bird survey organized by Cornell University's ornithology laboratory.
And he also provided leadership of the working group that created the Nebraska Birding Trails Network. A product of the Nebraska Partnership for All Bird Conservation, the online trail network provides information for those who want to get the most out of birding trips in Nebraska. It also dovetails with the state's efforts to increase outdoor tourism.
All of this is why Dave Titterington was selected as the winner of the 2006 Howard L. Wiegers Nebraska Outstanding Wildlife Conservation Award. The award, given annually since 1966, is sponsored by the University of Nebraska Wildlife Club and the Lincoln Journal Star.
Saying he was honored to win the award, Dave gave a lot of credit to his wife, Linda Titterington.
At 56, he hasn't slowed down a bit. He's still got the drive and passion for conservation and activism.
Sometimes, though, he runs short on hope.
He can see the declines in his backyard feeders. The spring isn't silent, but there are fewer voices in the chorus.
The thought prompted him to paraphrase a quote from Roger Tory Peterson:
"Nature will do just fine without us, but we won't survive without nature."
Be the first to know
Get local news delivered to your inbox!