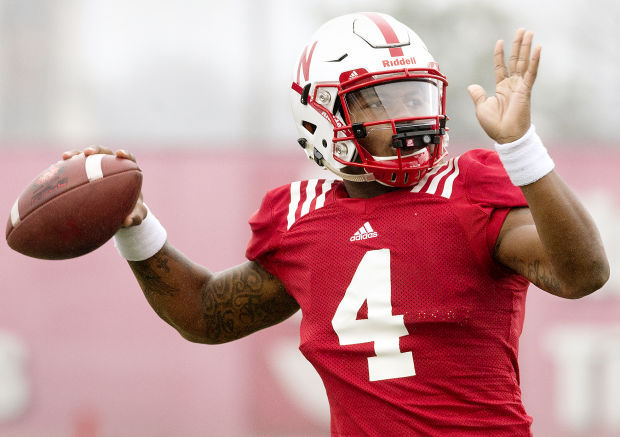 Things I know, and things I think I know:
You've probably noticed that Nebraska junior Tommy Armstrong takes this whole quarterback thing pretty seriously.
He compared the process of learning new Husker coach Mike Riley's offense this spring to gearing up for a series of weekly final exams.
It's not like he can relax now that spring practice is over — not much, anyway.
"I was thinking about maybe going back home in May, working with Brett (Favre) for a little bit, going over a little film," Armstrong said. "We were talking about it a couple months ago."
(Not everyone can casually drop a record-setting former NFL quarterback into a conversation. Nice work, Tommy.)
Armstrong's relationship with Favre came about through Tommy Armstrong Sr.'s longtime relationship with Favre's older brother.
Tommy worked with Brett Favre last summer in Hattiesburg, Mississippi, about 45 minutes from Armstrong's mother's home in Gulfport. Armstrong said Favre helped him learn how to get more out of video study and to better prepare for games.
Another few hours with Favre obviously would make sense, considering Nebraska's offense has changed significantly, now using more traditional elements. Neither Armstrong nor the rest of the Husker quarterbacks can afford to forget what they learned during the spring crash course.
Let's face it, the starting quarterback's play could be the difference between six or seven wins and nine or 11 wins. Which is why the summer months are critical in the grand scheme of things, as Armstrong fully understands.
Last summer, he rounded up the quarterbacks, receivers and running backs — with help from veterans at the positions — to basically walk through plays before or after the players' conditioning sessions.
The process begins anew in early June.
"We have to be able to make our schedules so we can come out here (to the practice fields) and do what we need to do just to stay on top of our playbook," Armstrong said. "We don't want to get too comfortable with our playbook. We don't want to get away from it.
"We'll huddle up, call plays, just to make sure we're still on top of our game. We don't want to just not do anything, because then we'd have to start all over in fall camp."
They eschew seven-on-seven passing work because of the risk of injury. Those types of drills can wait until August, Armstrong said.
You have free articles remaining.
In the meantime, there's plenty of other work to be done, perhaps some of it involving an American legend.
* Everything I'm hearing suggests quarterback Johnny Stanton will remain at Nebraska. Some had taken for granted that he would transfer because he's buried on the depth chart. 
If this is a show of determination, props to Stanton. The sophomore from Rancho Santa Margarita, California, struggles with throwing accuracy. But his arm strength is excellent. And at 6-foot-2 and 230 pounds, he's a bullish runner. There's still plenty of time in his college life to make a push up the chart.
Plus, as redshirt freshman quarterback Zack Darlington noted after the Red-White Spring Game, NU has plenty to offer beyond football.
* In a recent column, I broached the idea of Nebraska volleyball being a tone-setter for the entire athletic program, even more so than it has been for years.
Veteran coach John Cook likes that mindset. He genuinely embraces pressure.
"This is my personal opinion, but football set the standard here," he said. "We want volleyball to set the standard with football. That's why we started the sellout streak. That's why we go around the state to play. … We want to be Nebraska's team.
"Of course, everybody loves it when you win. But we want to be a team that's competing year in and year out for national championships and conference championships, and we want to do it with great kids that Husker Nation wants to follow.
"We want that expectation and that pressure."
Big words. But he backs them up.
* Lincoln High graduate Kevin Kugler continues to expand his broadcast horizons, entering the world of … drum roll, please … professional boxing.
He signed a deal last week to provide play-by-play for a live prime-time series on truTV that will make its debut at 9 p.m. CDT Friday from Las Vegas, the eve of the Floyd Mayweather-Manny Pacquiao pay-per-view fight.
I love it. Boxing should appreciate Kugler. He's entertaining and energetic (always reminds me of Jimmy Kimmel). He'll offer a fresh perspective because he has limited background in the sport. But he told me he's in the midst of heavy training.
TruTV is partnering with Top Rank on the series, in association with Turner Sports and HBO Sports. I could see this leading to bigger things in the boxing world for Kugler, if he's so inclined.
* Two small-town Nebraska guys starting side-by-side along Iowa's defensive line? It's a great story. Senior end Drew Ott from Giltner High School and sophomore Nathan Bazata of Howells-Dodge had some fierce battles in high school.
"I hate to say this, but we didn't get along very well," Bazata said Saturday. Now they're like brothers, he said. Tough brothers, for sure.