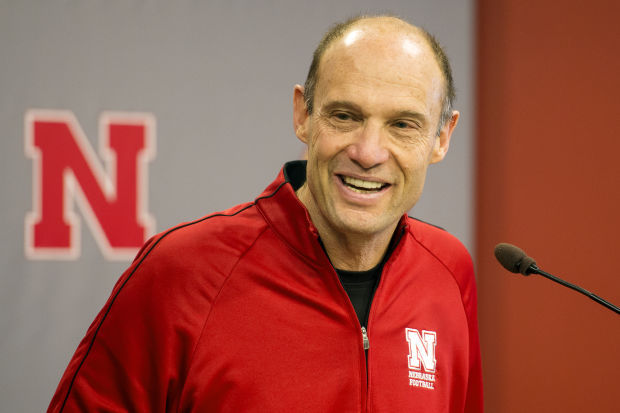 Things I know, and things I think I know:
Sometimes it seems like the college football gods conspire against Nebraska.
Husker fans weren't overly obnoxious during the program's 1990s glory years, were they? Did they offend someone?
Just wondering. Because the road back to such glory seems to be increasingly difficult.
In that regard, new Nebraska head coach Mike Riley is firmly opposed to an earlier national letter of intent-signing period. But it's coming. Bet on it. It's likely to receive approval from FBS conference commissioners in June, meaning prospects would be able to sign during a three-day window, from Dec. 16-18, instead of just on a single day in early February.
The earlier date would apply immediately.
Riley's concerns make sense. With a December signing period, the pressure on prospects to verbally commit to schools early would continue to increase, magnifying the importance of recruiting a player well before his senior year of high school.
As it stands, recruits can take official campus visits (paid by the schools) only after the first day of class in their senior year. As a result, geographically isolated schools such as Nebraska must rely on players to pay their own way for long trips to campus, often involving airfare. Many of those same players can easily drive to other schools for unofficial visits.
"Excuses, excuses," you might say.
But, hey, don't try to tell me (or Riley) that Nebraska isn't at a disadvantage.
Riley is resigned to the reality of an early signing period.
"I think we're going to get one, but I don't think we need one," he said Friday, essentially reiterating his stance from a recent ESPN.com article. "People should step back and really look at the unintended consequences.
"Everyone says, 'Well, let's just sign the guys we have committed, and then we can go on and recruit the rest of them until the next signing day (in February). Well, the fact of the matter is, that early signing day will be the signing day, because you will not allow this certain guy to drift by and say, 'Oh, we'll recruit him later.'"
You have free articles remaining.
The word "later" is, in many ways, becoming a foreign concept in recruiting.
"It's getting earlier and earlier when you're offering scholarships. It's getting earlier and earlier with commitments," Riley said. "And I think you have a chance to make more mistakes the earlier you offer guys. By the time they get through their senior years (of high school), you better hope they are what you thought they were going to be."
If a December signing period indeed comes to pass, the discussion about having earlier official visits needs to ramp up immediately. If I were Riley — or Kirk Ferentz at Iowa or Jerry Kill at Minnesota — I would push like a madman for paid official visits before prospects' senior seasons, in part with the Big Ten's competitive balance in mind.
Think about it. As the ESPN article points out, an early signing period without earlier visits would give schools just two weekends in the month of December to host recruits.
Consequently, "All your visits will be during the season, and I don't like that," Riley said. "Because it takes focus away from the (upcoming) game and the team. You're supposed to be coaching your team. When you have a few official visitors, you can handle them. But when you have 10 and their families ..."
Riley has a sizable meeting room with large, leather couches adjoining his office at Memorial Stadium. During January, a lot of recruiting took place in that room.
"I had families in here," he said. "It was a great scene. Talked for an hour, hour and a half, two hours, it didn't matter."
It would matter if it were early November, and Michigan State was in town, and Nebraska was in the title hunt. You don't want 10 recruits in town in that scenario, detracting from preparation. 
No question, Riley's concerns are valid.
"I really feel like I'm a voice in the wilderness, though," he said.
* Riley covered a lot of ground with Journal Star reporters Friday. It was fun. The discussion, in part, reinforced the challenging nature of coaching changes. He made it clear there hasn't been nearly enough time for him to build meaningful trust with players. Patience is required. I appreciated his genuine answers.
* My favorite part of the 40-some minutes occurred when he recalled his days as a player at Alabama under the great Paul "Bear" Bryant. Riley wasn't a star player, yet he felt engaged. Felt important to the team. Bryant treated everyone the same, Riley said. Such an approach builds energy and commitment throughout the program. Sounds simple. But not all coaches work that way. Riley makes sure he tries.
* Note to self: Ask Riley more about his time at Alabama. I think readers would enjoy that.
* It's obvious where Riley's focus is. He's still staying at a hotel that's within walking distance of the stadium, with no car yet. Simplicity can be exquisite.