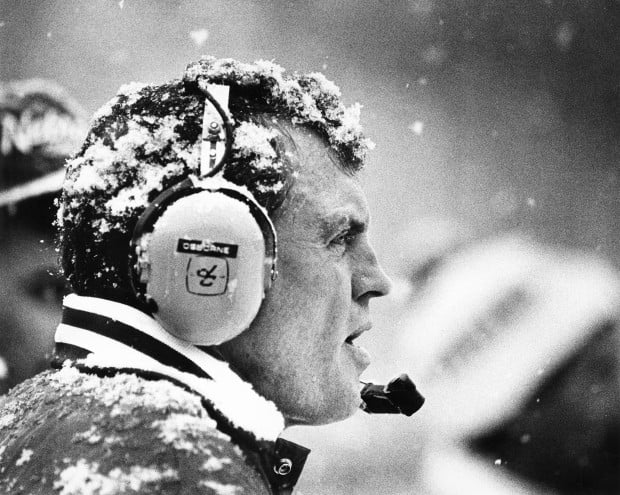 This just in: Tom Osborne tends to be a bit understated.
"Often times, people refer to our teams in the 1990s as being pretty good teams," the legendary former Nebraska coach said last week.
Osborne isn't inclined toward hyperbole. So you can imagine how he feels about recruiting rankings. Hyperbole is critical to the very essence of recruiting rankings.
Osborne regards the rankings with a large grain of salt. We knew that. Still, it took me somewhat by surprise when he called in response to my column in which Big Ten Network analyst Gerry DiNardo said Big Ten coaches need to take recruiting rankings more seriously — like SEC coaches do.
I regarded Osborne's phone call as his way of defending his head coach. Nothing wrong with that.
Nebraska fifth-year coach Bo Pelini hasn't generated a top-10 class. The Huskers' current class is ranked 27th by Scout.com and 40th by Rivals.com. Osborne noted that during the 1990s, most of the Huskers' recruiting classes were ranked in the 15-to-30 range.
"I've never placed a lot of confidence in those rankings," Osborne said.
Thanks to John Talman of Rivals.com, we can get a good read on how analysts regarded Osborne's recruiting classes in the early 1990s — the classes that ultimately helped produce three national championships.
The class of 1990 was ranked 10th by SuperPrep, but only 34th by the National Recruiting Advisor and 41st by Tom Lemming. The class of 1991 was ranked 28th by SuperPrep. However, Osborne did have a top-10 class in 1992 (Tommie Frazier, Toby Wright, Mike Minter, Chris Dishman, et al) — it was ranked fifth by Max Emfinger and 10th by Tom Lemming.
The 1993 class was ranked 18th by SuperPrep, and the 1994 group 22nd by Lemming and 20th by SuperPrep.
Osborne coached during a period when recruiting rankings weren't as sophisticated and comprehensive as they are today. In that context, I understand Tom's skepticism.
He cites Tom Rathman's recruitment. The former Husker and NFL fullback was lightly recruited at Grand Island High School, Osborne recalled.
However, "If you put Tom Rathman in Dallas or Chicago, he would have been a five-star recruit," Osborne said. "He could high-jump 6-foot-9, could run and was strong. But he was in Grand Island and committed early. So I don't know that he got much notice."
Osborne makes a good point when he notes the importance of Nebraska's walk-on program.
"Some fans, they get so wired up on this recruiting and how many stars someone has by their name," Osborne said. "I'm sure it has some meaning. … But it's so inexact. And I think the whole recruiting process is so overhyped.
"The main thing is, you have to take guys who fit your system and who you think have good character. Then you look at how those guys mesh and how they develop — that's really a big deal."
Pelini surely would agree.
Thumbs up to Carl Pelini. The former Husker defensive coordinator kept pointing to positives, but his Florida Atlantic squad kept losing. However, the Owls (2-6, 1-4 Sun Belt) ended a 14-game conference losing streak last weekend with a 34-27 home victory over Troy. Now, if Pelini could convince FAU fans to jump on board. Saturday's game drew only 5,000 spectators. "Filling that stadium won't be hard, but we've got to give them a product and a reason to come out and a certain entertainment value," said Pelini, in his first season at FAU.
Thumbs down to Michigan's backup plan at quarterback. Did the Wolverines even have a backup plan? After Denard Robinson left Saturday's loss at Nebraska with an injury, redshirt freshman Russell Bellomy was 3-for-16 passing for 38 yards with three interceptions and took two sacks. Which makes even more curious Brady Hoke's comments last week about possibly using Robinson more on kickoff returns. Really?
THE OBVIOUS: No. 1 Alabama at No. 5 LSU — Maybe you're tired of this matchup. Tired of the SEC's enormous presence. If so, you're likely in the minority. Last year's regular-season game between these two giants brought CBS its highest ratings for a college football game since Notre Dame-Miami in 1989. Enormous presence? Consider: LSU and Alabama have a combined three losses the past two seasons, and two of them were head-to-head.
THE NOT-SO-OBVIOUS: Tulsa at Arkansas — Surely Husker fans remember Cody Green. The former NU quarterback has helped lead Tulsa to a 7-1 record, though he missed the Golden Hurricanes' last game with a shoulder injury and his status is uncertain for Saturday. This would be a good week for Green to be healthy. In five Arkansas defeats, opponents have completed 70 percent of their passes for 360 yards per game and 13 touchdowns.