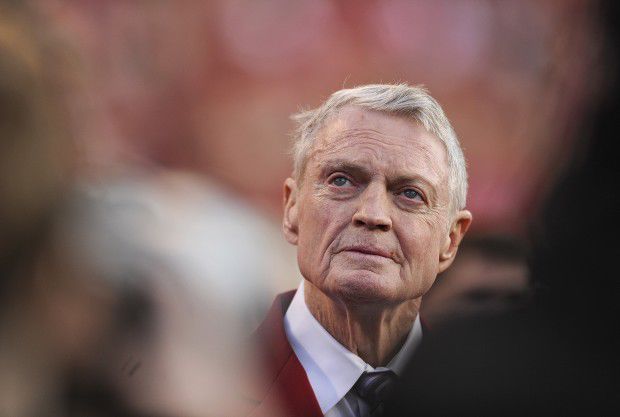 Bill Hancock no doubt seeks wisdom from several quarters regarding composition of the selection committee for the forthcoming college football playoff.
It merely will be the most prestigious committee in the college sports structure, says Hancock, the BCS/College Football Playoff executive director.
It will be easily the most scrutinized.
Power brokers simply can't muck this up. The selection committee is the playoff's major issue as 2014 approaches.
Tom Osborne recently offered his 2 cents.
"I recommended to Bill that they take a look at the coaches serving on the Legends Poll right now," Osborne told me earlier this week.
The Legends Poll's panel of voters is made up of 17 retired head coaches, many with big names and loaded resumes. It was established in 2005 as an advisory poll.
Osborne, the former Nebraska coach, wanted to make something clear: Yes, he once served on the Legends Poll panel. But, no, he is not pushing for a position on the selection committee, although I think Osborne is as close to an ideal candidate as you can get. He has said he would consider a position if asked.
Nobody is perfectly suited for the job. Virtually anybody with a pulse has bias of some sort. And the bias issue has been very prominent in discussions, which will heat up this fall.
Osborne, however, makes a solid case for including former coaches on the committee, which reportedly will have 15-22 members.
I continue to lean toward the committee being comprised exclusively of former coaches. They're the foremost judges. Most of them have left the rat race. They can work around tee times. Or fishing expeditions.
"I think when you're talking about line play and coverage schemes and the many nuances -- for instance, I think the kicking game a lot of times is totally overlooked by some folks," Osborne said. "I think coaches probably have the best background."
If enough former coaches are willing, why in the world would you draft conference commissioners, athletic directors, former players or, worse, retired media members, for the committee?
Conference commissioners' and athletic directors' plates are full enough without taking on one of the most controversial and thankless jobs in sports. Yes, the nine-member NCAA basketball tournament committee employs current conference commissioners and athletic directors. But the football committee won't be crafting a 68-team field; it will be picking four teams. The scrutiny will be substantially more intense.
There will be incessant second-guessing and scathing criticism. In other words, another day at the office for many major-college coaches.
A retired media person on the selection committee? Gimme a break. Find me a media type who knows as much about evaluating game film as current Legends Poll panel members Bobby Bowden, John Cooper, LaVell Edwards, Don James and R.C. Slocum.
Osborne served for three years.
"Each week, they would send us DVDs of the top games," he said. "So you'd get 8-10 DVDs. They sent you a video player. You could sit there and really study the games."
The coaches on Mondays would gather for a teleconference, which lasted up to two hours, Osborne said.
"Each coach would talk about the game he had gone to the previous Saturday, and also what he'd seen on video," Osborne said. "I was impressed by the fact they seemed to be objective. It wasn't like R.C. was pushing Texas A&M, or Gene Stallings was pushing Alabama. They were just talking about strengths and weaknesses of teams in their area, and teams they'd seen.
"It was a very informative discussion."
Weren't coaches biased toward former employers?
"I thought the discussions were pretty objective and pretty dispassionate," Osborne said. "I heard coaches say things about their former school that weren't highly complimentary. They might say, 'We just can't play defense this year.' Or, 'We're pretty good overall but we don't have a quarterback.'
"I didn't hear anybody trying to pump up their school to the other coaches. They were pretty blank, pretty blunt."
Osborne felt much more comfortable with the Legends Poll than, say, the coaches' poll. He knows firsthand inherent flaws of the coaches' poll.
"I would look at our game (video) usually sometime late that Saturday night," he said. "Usually, I'd get done at about 1 in the morning. Then I'd get on the Internet and try to figure out which teams had won that day, which had lost, where they had been ranked the week before. I think I had to call in my ballot by 2 a.m.
"I knew the teams we played. I knew our team. But I had no idea what they were doing out in the Pac-12. I didn't know much about the Big Ten. If we didn't play any of those teams, I just didn't know anything about them.
"I think probably with sports writers, it's a little bit similar."
"I'm certainly not advocating for my participation (on the selection committee)," Osborne emphasized. "I'm just saying that the guys I did work with on the Legends Poll, it was valuable to hear what they had to say."
In the new playoff system, such wisdom and credibility will be essential for it to succeed.