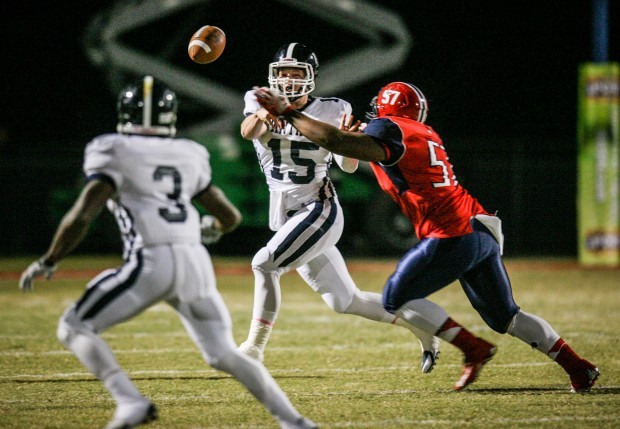 He's considered a hidden gem in what appears to be a strong Nebraska football recruiting class.
Although defensive tackle Kevin Maurice generally remained under the radar nationally during the recruiting process, he perhaps produced the most impressive statistic of anyone in the Huskers' class of 2013.
In three-plus years, he has never missed a day of school.
His sister, Kendra Maurice, was murdered by an estranged boyfriend during Kevin's freshman year at Freedom High School in Orlando, Fla. She was 21.
"Kevin identified the body, the whole bit," said Andy Johnson, the former Freedom High football coach, who recently accepted a head coaching position at another high school in Orlando.
"Kevin already was kind of the man of the house then," Johnson said. "But he really had to step it up after that. He's mature beyond his age, for sure."
Said Maurice: "After all that happened, I looked at football as a way to get away. It was a separate place where I could let go."
The 6-foot-3, 280-pound Maurice, affectionately known as "Big Mac" by his Freedom teammates, retains a 3.3 grade-point average (on a 4.0 scale). His GPA becomes even more impressive considering his dad never has been in the picture. His 54-year-old mother, Hernise Maurice, raises Kevin and his 3-year-old nephew — Kendra's son.
"It's only us three," Kevin said.
They make it work. In fact, they do more than make it work. It's an impressive family, Johnson said.
"Kevin has been dealt a pretty crappy hand in life in some ways, and he's never used it as a crutch," the coach said. "Those kind of kids are a joy to coach."
Say what you will about Nebraska coach Bo Pelini's coaching style and sideline demeanor and all that noise. It's mostly noise. Two aspects of his program are non-negotiable and easy to appreciate: He fosters a family atmosphere and places a strong emphasis on academics.
No wonder Maurice chose Nebraska.
"In all the time I've been with Kevin, I've never once had to refocus his attention toward his grades," Johnson said. "I mean, he just takes care of everything. You can tell he was raised where that was important in the house.
"He has some natural intelligence, too."
He also has impressive athleticism. Which makes one wonder why each of the most high-profile programs in his state — Florida State, Florida and Miami — declined to offer a scholarship.
"It didn't really matter to me because those guys are 'pretty boys,'" Maurice said. "I knew what those guys were about."
He puts Central Florida, based in Orlando, in the "pretty boy" category.
"The way they go about their stuff — I don't know, it's just weird, especially UCF," Maurice said. "UCF told me I was too small. Then, two weeks ago, they called and tried to get me to make an official visit."
No way. Maurice found his school.
Credit Nebraska for finding him. Why did he fly under the national recruiting radar, so to speak?
For one, Maurice didn't hit the combine circuit — physical testing and skill-performance opportunities put on by Rivals.com, Scout.com, Nike, Under Armour, et al.
"I don't blame kids for going to those things," Johnson said. "But they've turned into places for kids to get some kind of arbitrary (star) ranking."
Maurice is a three-star prospect, according to the major recruiting web sites. If he were 6-4 or 6-5, a greater number of high-profile schools would've shown interest, Johnson said.
He chose Nebraska over Boston College and Wake Forest.
"There's something magical about 6-4," Johnson said. "In the grand scheme of things, it doesn't mean a fart in the wind."
Nebraska entered the picture relatively late, in early December, when offensive coordinator Tim Beck scouted one of Johnson's receivers. Johnson told Beck he also should check out his big defensive tackle. It wasn't as if Beck had to stand in line.
"Kevin's junior film is really good, but it's a lot of him playing offensive line, because that's where we needed him," Johnson said.
The recruiting process has sped up to the point where junior film becomes extremely important and perhaps misleading at times.
"As a senior, we were able to let him play defense 95 percent of the time," Johnson said. "That allowed him to absolutely dominate games."
Clemson, Kentucky and North Carolina State made late pushes. After all, Maurice finished his senior season with 68 tackles, including 9 1/2 sacks.
"He's a nasty son of a gun on the field," Johnson said.
Oh, and there's that other stat: Never missed a day of school.
"That's just how I was raised," Maurice said. "That was a message that was passed on to me from a young age, to always go to school and handle my business."
Yeah, no excuses. What a gem.