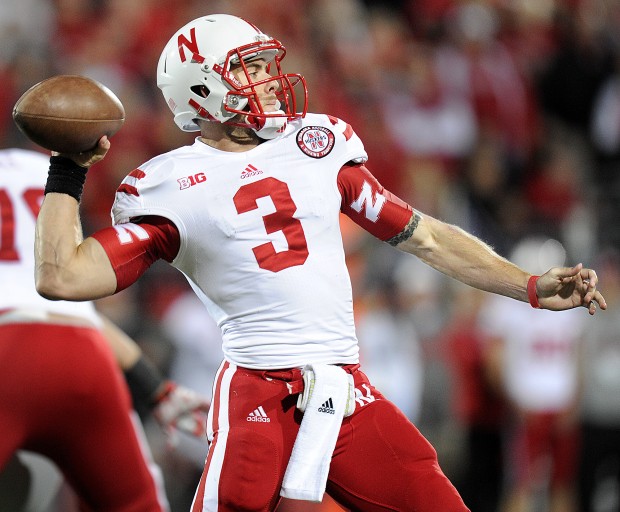 Things I know and think I know:
His pupil is improving before our eyes, and it's fascinating -- though sometimes unnerving -- to watch.
Not that Steve Calhoun, the Los Angeles-area quarterbacks coach, is easily impressed. His work with Nebraska's Taylor Martinez isn't finished. It's actually in its early stages.
Here is what I took from an interview with Calhoun last week: Martinez, a junior, obviously has improved since last season, some hiccups notwithstanding (including three interceptions Saturday). But he possesses the potential to make another significant jump this coming offseason.
Calhoun breaks it down this way: He had a total of 13 workouts with Martinez last spring and summer. In those 13 workouts, Calhoun said, he tried to pack in about two years of information regarding footwork and various movements and thought processes.
Martinez is completing 63 percent of his passes, compared with 56.2 percent last season.
"I've been happy with the way he's implemented most of (my teachings) this season," Calhoun said. "But still, it's not all second nature to him. I still see him going back to some of his little habits. But for the most part, he's done a great job."
Calhoun, who runs the "Armed and Dangerous" passing academy, will be in Lincoln for Saturday's Penn State-Nebraska game. Pupil and student will converse this week. The teacher will look for improvement in a couple key areas.
"He's not really extending his (throwing) arm," Calhoun said. "I always talk to him about trying to shorten the distance between him and the receiver by overexaggerating his arm extension. If the arm is moving toward the receiver, then the ball is going to stay on that trajectory and won't go high or low."
Another area Calhoun will watch: "His feet are so fast, sometimes he doesn't set them when he throws."
During the weekend of Oct. 13 -- an off week for Nebraska -- Martinez went through a workout devised by Calhoun. His message to the QB: Go back and watch the season opener against Southern Miss. Watch how "quiet" your feet were. Check out your balance when you were ready to throw. Note your shoulder rotation and arm extension.
On Oct. 20 at Northwestern, Martinez was 27-for-39 for 342 yards and three touchdowns, including two in the final six minutes.
Conversely, Martinez was rushing throws and often off-balance in an Oct. 6 loss at Ohio State.
Nebraska coaches obviously see similar things Calhoun does. They teach many of the same techniques. However, Calhoun said, college coaches are limited by time restrictions. Sometimes technical details get glossed over. Husker offensive coordinator Tim Beck admitted there was little time to fine-tune Martinez's mechanics during the spring of 2011, as Beck implemented his offense at a rapid pace.
"So, maybe I can take what they're teaching a step further, maybe even two or three steps further," Calhoun said.
Look around. It's becoming a fact of life in the college game: The majority of quarterbacks receive some type of private teaching. It's about specialization. Plus, coaches can't work with players during the summer. Calhoun works with Martinez with Bo Pelini and Beck's blessing.
Calhoun essentially is an independent contractor. He has tutored Cam Newton and Jake Locker and has pupils across the country.
He said he's happy for Martinez. He understands many people remain skeptical about Martinez's overall quarterback acumen and potential for improvement. Calhoun has heard skepticism even from his friends. He regards it as a challenge.
"Just wait until we get another offseason together," Calhoun said. "Think where Taylor will be after that."
* Essentially only two Huskers ran the ball Saturday: Martinez and running back Ameer Abdullah (wide receiver Jamal Turner had one carry). Abdullah has averaged 21.6 carries in the last three games, against rugged Big Ten defenses. Where were sophomore Braylon Heard and true freshman Imani Cross against Michigan State?
Heard didn't play. Cross appeared briefly. Running backs coach Ron Brown has said Heard needs to improve his inside running. Cross needs to run with more abandon. You know, like the 5-foot-8, 185-pound Abdullah. He has extreme toughness, intelligence, instincts, speed, elusiveness. He is moving quickly to an All-Big Ten level. Or maybe he's already there.
* Nebraska isn't exactly loaded with depth. Nevertheless, in their four Big Ten victories, the Huskers have outscored opponents 69-34 in the second half. Nice work by James Dobson and the Husker strength staff.
* With Joker Phillips getting fired Sunday at Kentucky, the coaching carousel has begun to spin. It's always interesting to monitor the movement. I sincerely hope it doesn't get too interesting in our neck of the woods, if you know what I mean.