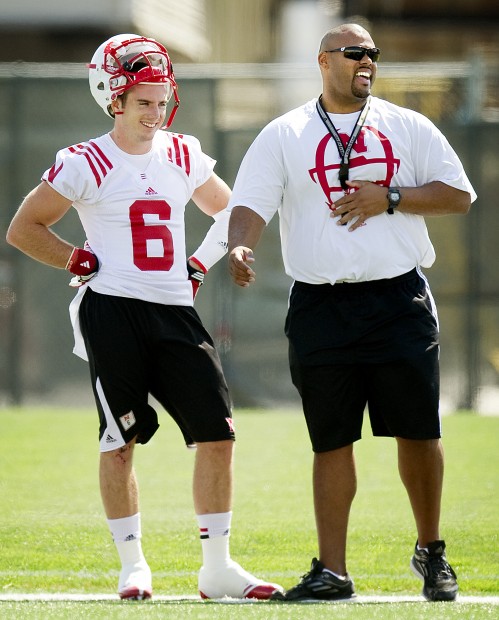 Tim Marlowe fires out words quickly and confidently, bam-bam-bam, in rapid-fire sentences, which I suppose is typical of people whose brains work fast.
Marlowe's brain must run about a 4.3-second 40-yard dash.
He is a slot receiver for Nebraska — at least that is his primary role. A 5-foot-10, 175-pound senior, he actually is adept at all three receiver positions because he is a playbook whiz kid, which helps explain why he garnered ample playing time last season.
"I know what the tight ends are doing, what the running back's doing," Marlowe said. "That's just something I love. I love watching film. I love knowing what everybody has to do. It helps me out there with the young guys."
Marlowe, a graduate of Cardinal Mooney High in Youngstown, Ohio, wants to be a coach someday. Thing is, he already plays the role to a certain extent. You ever wonder why Marlowe plays ahead of bigger and faster teammates? You ever wonder why Marlowe played ahead of Jamal Turner last season?
Just listen to him. He sounds like a coach, such is his grasp of the proverbial big picture. It's why Turner and standout Kenny Bell — freshmen last season — often would turn to Marlowe for guidance during games.
We can take this whiz-kid theme yet another step further.
"I know offense, and I also know defense," said Marlowe, noting Ron Stoops of the renowned Stoops clan of coaches was Cardinal Mooney's defensive coordinator while Marlowe was there. "Our coaches in high school really instilled in us the importance of knowing football. Know what you're doing before you do it.
"If you take out all hesitancy from your game, you can become such a better player. If you have a little bit of hesitancy, you're not going to be able to make the plays you should make, because you're going to be a step slow."
Marlowe's knowledge of the playbook helped give him an edge over Turner last season. Turner, ranked by ESPN among the nation's top 50 prospects coming out of high school, is faster and probably more athletic than Marlowe. However, in terms of knowledge of the offense, Marlowe was several steps ahead.
Turner caught 15 passes for 243 yards (16.2 yards per reception), but had only two receptions in the final eight games. Meanwhile, Marlowe had 12 catches for 113 yards (9.4), including 10 in the final eight games.
You have free articles remaining.
"Jamal was an 18-year-old kid, a freshman," Marlowe said. "I was a 22-year-old man. You know what I mean?"
Think how much Turner's game could grow as his coaches and Marlowe teach him the many details that can add up to greatness. If Turner is willing to learn — and that seems to be the case — his career should blossom quickly.
Marlowe and Turner evidently have an excellent relationship.
"We don't care if we split time 50-50, as long as one of us is making plays and we're winning games," Marlowe said.
Marlowe is a feisty competitor who often watches film of NFL receivers — he mentions Wes Welker, the 5-9, 185-pound New England Patriots dynamo — for tips on how to find openings in defenses.
Even so, "There's only so much film can do for you," Marlowe said. "We can watch film all day and say we're going to do this and that, but when you're out there on the field, and the rotation of the safeties happens at the last second, the receiver has to adjust his route. It's a split-second thing."
Nebraska quarterback Taylor Martinez needs receivers on whom he can count. The word "trust" is paramount in this conversation.
"Being a reliable guy for Taylor on third downs is huge," Marlowe said. "We know we can run the ball. But on third-and-longs, we have to be able to complete passes and keep our drives going — really impose our will on defenses."
Nebraska finished 66th nationally last season in total offense — 15th in rushing (217.2 yards per game) and 104th in passing (162.7). The Huskers are determined to be more balanced this season in Tim Beck's second year as coordinator.
The foundation of Beck's offense is in place, at least one would think. Martinez has plenty of weapons to use, including no fewer than a half-dozen capable receivers plus two NFL-caliber tight ends (Kyler Reed and Ben Cotton).
"If we have three or four (receivers) on the field with a tight end in there and Rex Burkhead in the backfield, that's a lot of accountability for a defense," Marlowe said. "And with a guy like Taylor to run the ball, it's going to be a nightmare for defenses."
Yeah, it all makes sense. Marlowe usually does make sense — just ask NU's young receivers.