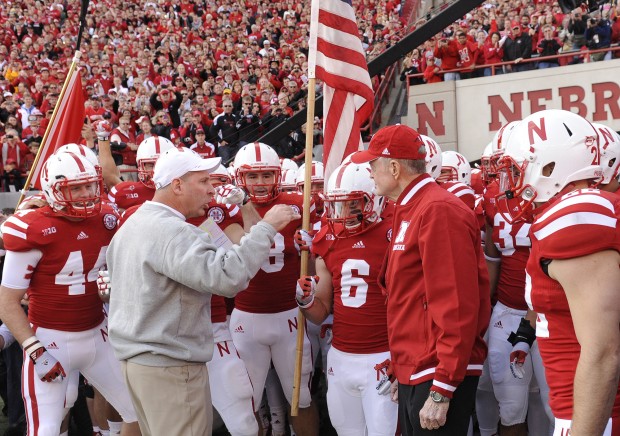 In many ways for Nebraska, it now boils down to trust.
Do you trust this Nebraska football team to avoid the discouraging late-season losses that befell Bo Pelini's past two teams?
Does 17th-ranked Nebraska trust itself?
"It's not about Iowa; it's about us," Pelini said, and he's absolutely right about Friday's game at Kinnick Stadium in Iowa City, Iowa.
Assuming it shows up ready to play, Nebraska (9-2, 6-1 Big Ten) poses severe match-up problems for Iowa (4-7, 2-5).
Two of the most glaring mismatches:
1. The Hawkeyes generally have ordinary talent at the receiver positions and a quarterback short on confidence. Meanwhile, the Huskers hold opponents to a 45.5 percent pass completion rate — lowest in the nation.
2. The Hawkeyes are average at best along their defensive line. Meanwhile, the Huskers rank eighth nationally in rushing offense and also can exploit an average pass-rushing team by giving strong-armed quarterback Taylor Martinez ample time in the pocket, as was the case last week against Minnesota.
If Nebraska gives a solid all-around effort, Iowa likely will slide to a sixth straight defeat. But can you trust the Huskers to avoid a letdown along the lines of last November's inexplicable home loss to Northwestern? Or the meltdown in November of 2010 at Texas A&M? In both cases, NU had suffered only one prior loss and had visions of much bigger things ahead.
No such luck. Nebraska dropped three of its last five games last season and three of its last four in 2010.
Pelini, judging by recent comments, possesses ample trust in his current team. He likes the senior leadership. He likes what Nebraska is getting out of Martinez and the offense in general. And he likes what he saw from his players in the wake of last week's Senior Day triumph over the Gophers.
"They were excited we won the game, but it was like, 'OK, on to the next one,'" Pelini said.
Nebraska is a thirsty program with a thirsty fan base. Without a conference crown since 1999, the Huskers appear capable of breaking through. Martinez, a junior in his third season as starter, is playing as if he's on a mission. It's difficult to imagine him letting down. The team's 29 seniors (including 24 fifth-year seniors) want to set the tone for the future. It's difficult to imagine them allowing anything other than a strong effort.
The fan base hungers for national relevance. A Rose Bowl berth would do the trick.
With a win against Iowa, Wisconsin becomes the next hurdle, in next week's Big Ten Championship Game. The Badgers (7-4, 4-3) would face a Husker team that's become a poster child for resiliency, with four stirring comebacks in league play.
Surely the Huskers built trust in themselves along the way.
Pelini perhaps trusted his team all along. After Nebraska's 63-38 loss Oct. 6 at Ohio State — a game in which the Huskers melted down at various points in all three phases — the fifth-year NU coach startled the masses by saying his team had to win out to accomplish its goals. It was quite a departure from the usual "one-game-at-a-time" mantra.
"It was a little out of character," Nebraska defensive coordinator John Papuchis said this week. "It's speculation on my part, because I've never asked him, but I think he said it because he really believed in the team. He had a vision, and he wanted everybody else to believe in it."
Nebraska seems to believe in itself now. Why wouldn't it? The Huskers have negotiated a rugged five-game stretch, beating Northwestern (8-3), Michigan (8-3), Michigan State (5-6), Penn State (7-4) and Minnesota (6-5). Yes, the meat of a difficult schedule.
"I think that experience at Ohio State maybe helped us in the back half of the year when we got in some adverse situations," Papuchis said. "Going through it in a way we didn't like, with such a tough loss, may have sharpened our swords going forward.
"You never know. You never want to take a loss like that to help you get better down the road. But maybe we turned a negative into a positive."
Papuchis has watched the defense improve steadily. He cites the leadership of seniors Baker Steinkuhler, Cameron Meredith, Will Compton, Sean Fisher, Daimion Stafford and P.J. Smith.
"That's just kind of who they are — show-up-every-day, lunch-pail guys," Papuchis said.
You know, guys you can trust.
Perhaps guys you can count on to slug their way past an inferior opponent. So, Nebraska 42, Iowa 10.
On to the next one. On to Indy.