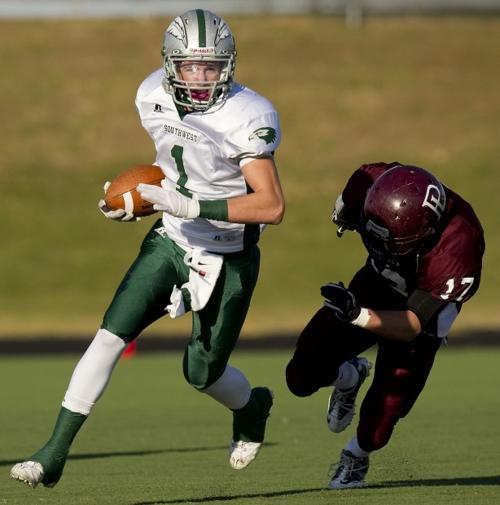 Brandon Reilly glides into open space on a football field as if he were on ice skates, which makes sense, considering he was one of the Midwest's top junior hockey players five years ago.
"It was no doubt his best sport," said Paul Reilly, the Lincoln Southwest standout's father.
The younger Reilly is one of 18 high school seniors who have told HuskerOnline.com they plan to join the Husker football team's class of 2012 as walk-ons. It's an especially talented group, perhaps the best walk-on class at NU in years, according to one longtime recruiting expert.
Reilly, a 6-foot-2, 180-pound wide receiver, fits in well. Watch his highlight video. He has a knack for finding open space and exploding past defenders. He's a tough runner who sheds tacklers, but also seems to run effortlessly. Even so, he says, he needs to improve his strength and level of skill to become a factor at Nebraska.
Keep watching that video. He scores touchdowns five different ways -- rushing, receiving, returning a punt, returning a kickoff and returning an interception. It's easy to understand why Nebraska was interested.
Reilly also considered Nebraska-Kearney, South Dakota and Southeast Missouri State. He had planned to take recruiting visits to those schools.
"Then I went to Nebraska's 'walk-on day' two weeks ago, and I just made my decision right then," he said.
It's been his dream to play for Big Red. He felt he needed to give it a try.
"You can't pass it up," he said.
Reilly's story is familiar among Nebraska fans accustomed to watching talented walk-ons develop in the program. It's a story that never really gets old to Husker faithful. Those fans probably should be thrilled with the 2012 group.
"It's the best year for walk-ons at Nebraska in a long time," said Sean Callahan, a HuskerOnline.com recruiting analyst who spends several weeks a year traveling the state and sizing up talent.
Reilly and defensive lineman Trey Foster of Lincoln Southeast are among six Journal Star Super-State players set to walk on at Nebraska, along with quarterback Ryker Fyfe and defensive back/punter Sam Foltz of Grand Island, and running back Jordan Nelson and linebacker Mitch McCann of Omaha Burke.
Nebraska apparently will have only one in-state player in its 2012 scholarship class -- Lincoln Southeast tight end Sam Cotton. There simply wasn't a bountiful crop of BCS-level talent in the state, with only two other seniors committed to BCS programs -- dual-threat quarterback Tay Bender of Southwest (already attending Kansas State) and lineman Drew Ott of Giltner (Iowa).
Bender's football prowess -- he was rated by Rivals.com as the state's top player -- perhaps overshadowed Reilly's abilities. What's more, Southwest's run-first offense didn't always highlight Reilly's explosiveness on the perimeter.
"I knew I'd have to make a play when I got a chance, because I wasn't going to get too many," Reilly said.
He caught 18 passes for 339 yards (18.8 yards per catch) and two touchdowns. He returned 10 punts for 259 yards (25.9) and 12 kickoffs for 380 (31.7).
He lined up at running back at times and rushed for 279 yards. He ran the 40-yard dash in 4.57 seconds last summer at a Husker camp. "But I think I'm faster now," he said.
He took off his hockey skates for good when he was 14.
"I kind of almost forgot how to run from playing hockey so much," he said. "So I kind of had to start all over in football."
He played on the Southwest freshman team. "I didn't do anything that explosive," he said.
As a sophomore, he played quarterback on the reserve team and gained confidence because he had the ball in his hands so often.
As a junior, he felt he played well as a corner and receiver. He led the team with 10 catches, but didn't get a chance to return kicks.
"I kind of had a slow start to high school," he said. "But I thought I finished up pretty good." 
Reilly gets excellent support from mom and dad. His dad tells him it's important to believe in yourself. Those years as a hockey player helped in that regard, Brandon Reilly says. 
He played for the Omaha Junior Lancers. A lot of his teammates were juniors in high school -- guys with beards, he said.
"I was always younger and smaller than everybody," he said. "I was a little kid -- skinny, weak. We had three 6-5 guys on the team, and I was probably 5-5. I think I learned to not really be intimidated, to have confidence in myself.
"I had a little chip on my shoulder," he said.
He wouldn't be the first Husker walk-on with that quality.