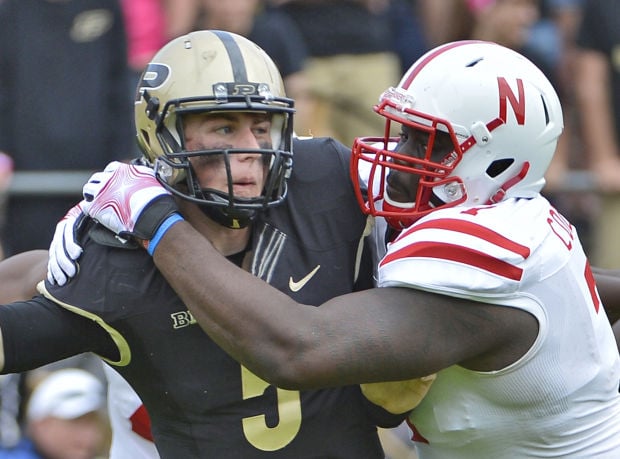 Nebraska defensive line coach Rick Kaczenski wanted to study videotape of the game before handing out a bunch of gold stars to his guys.
Right after games, reporters surround coaches, seeking immediate evaluations of certain players, plays, penalties, injuries, et al.
"It's always hard to tell much until you see the tape," Kaczenski said Saturday after Nebraska's 44-7 win at Purdue. "I'm thinking about the plays we didn't make right now."
There weren't many of those, as Nebraska's defense for the second straight week took a step forward. The Huskers (5-1, 2-0 Big Ten) seem to be tightening up their midsection defensively -- an area that was predictably soft and uncertain through much of the first four games.
We knew there would be growing pains with the interior tackles. The rotation includes a senior playing valiantly on a bum knee, a sophomore, a redshirt freshman and two true freshmen.
"I think we've put together two good games back-to-back up front," said Nebraska head coach Bo Pelini, citing the Huskers' success with a four-man rush and discipline against scrambling quarterbacks.
We knew the middle linebacker position was youthful and unsettled, with sophomore David Santos and true freshman Josh Banderas in an ongoing battle.
Santos made his second straight start Saturday and ran the defense well, Pelini said.
Corey Cooper, a fourth-year junior, has played well at one safety spot. No fewer than four players -- including sophomore Charles Jackson and redshirt freshman LeRoy Alexander -- have battled for playing time at the other spot. Alexander continues to rise, making his first career interception Saturday.
Nebraska's defense responded well when Purdue showed an assortment of looks. Illinois also ran a fairly complex system.
The young Husker defenders also reacted well to the first road test of the season.
"We didn't really talk about it much," Kaczenski said. "I don't think the guys thought about it. Sometimes being young and dumb will pay off for you."
You have free articles remaining.
I asked Kaczenski to compare his linemen's confidence now to where it was entering the Illinois game. He paused and gazed toward the heavens.
"Theirs or mine?" he said with a smile.
He was kidding, he said. But make no mistake, the Nebraska defensive coaches have endured a stressful month-and-a-half. You saw it on their faces. They seemed relieved after the Illinois game. After the Purdue game, NU coaches and players had an aura of confidence.
However, "We're nowhere near where we need to be," said Pelini, mindful that limitations remain.
Nebraska had "two really good weeks of practice" before the Purdue game, Kaczenski said. He said Pelini demanded more discipline from defenders. The head coach sought better communication. He wanted defenders to be more focused on perfecting individual tasks, all the while maintaining a strong grasp of the big picture.
"With today's youth and society, it's just kind of crazy," Kaczenski said. "It seemed like 15, 20 years ago, you kind of played how you practiced. That's not necessarily the case all the time now."
It was the case Saturday, though Nebraska was uncertain exactly how Purdue would operate with a first-time starter, freshman Danny Etling, at quarterback.
"When they came out with a lot of spread stuff, a lot of empty (backfield) stuff, we felt like our pressure stuff could get home (to the quarterback)," Husker secondary coach Terry Joseph said. "Kaz felt all week his guys could create some pass rush. ... They did that. We were able to get some pressure, and we felt good about covering their (receivers)."
Pelini and defensive coordinator John Papuchis cleverly mixed in blitzes, and all-around execution was sound and steady. Nebraska finished with five sacks for a season-high 50 yards in losses, as Purdue finished with only 216 total yards.
The Huskers' body language suggested confidence and control. You didn't see pre-snap uncertainty and scrambling to get lined up properly. That alone represents progress.
Santos deserves credit. He seemingly has gained a measure of comfort in the middle of the fray. It's difficult not to cheer for him. He lost his starting job for three games. Lost his Blackshirt. He kept battling.
"Some guys would've backed down," Papuchis said. "He's a tough kid. I'm proud of him."
Same goes for the rest of the defense. It is far from perfect. But it's battling, and improving.
"I think they had a look in their eyes that it didn't matter really what was going to happen, they (the Boilermakers) weren't going to move the ball on us," Papuchis said. "I haven't seen that, to be quite honest with you, for a long time."