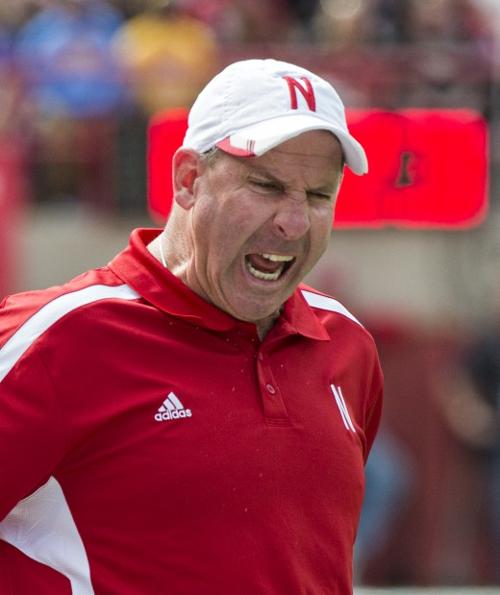 Football games take a long time.
So long that during a span of about three hours, your opinion regarding a program's overall health might change significantly.
For most of the first half Saturday, Bo Pelini's program showed plenty of promise. You saw seasoning. Maturity. Nebraska consistently beat 16th-ranked UCLA to the punch. All that talk of the Huskers heading to Michigan in November with an 8-0 record seemed reasonable.
After UCLA's 41-21 victory, it appears Nebraska has a mess on its hands.
Of course, the truth lies somewhere in between.
But it's tempting to lean toward the latter.
The same tired issues plagued Nebraska (2-1), which entered the day ranked 23rd in the Associated Press poll but will plummet after surrendering 38 unanswered points to a good-not-great UCLA team.
Pelini correctly described the Huskers' second-half performance, across the board, as "horrendous."
Nebraska came ready to play, but far from ready to respond once the tide turned. Is the issue a lack of leadership? Too much inexperience on defense? A lack of team-wide chemistry? Focus? Overall talent? Coaching? One could make a case for all of the above, in varying degrees. Whatever the case, the Bruins jumped on a tidal wave of momentum that engulfed the home team.
Many of Nebraska's problems are recurring, and that is what especially frustrates its fans. A sampling:
* Shoddy tackling. During UCLA's 10-play, 89-yard touchdown drive early in the second half, 64 of the yards were gained after initial contact.
* Penalties and assorted mental errors. Nebraska was penalized eight times for 70 yards (UCLA three for 21). NU's punt-return gaffes are inexplicable. Mistakes occurred at critical times. As usual.
* Fumbles. Fumbles. Fumbles. Those godforsaken fumbles. Nebraska fumbled four times. Although the Huskers lost only one, that fumble essentially killed any hope of a comeback.
* Questionable halftime adjustments. Let's put it this way: I question whether Nebraska made any adjustments. Maybe it didn't feel the need. But know this: UCLA outscored NU 43-6 in the second half the last two seasons.
Nebraska on Saturday lost focus. Lost its edge. Played not to lose. It happens to teams. But it has happened to NU a bit too much lately, particularly considering Pelini is in his sixth year in charge. It has happened enough that you wonder if there will be empty seats for this Saturday's game against South Dakota State.
Hardly anything gets an athletic director's attention like empty seats.
Pelini was emphatic in the post-mortem. He understands teams have peaks and valleys. Ask Michigan, which needed a stop on the game's final play Saturday to overcome moribund Akron. UM this week will feel like Nebraska felt after edging Wyoming on Aug. 31.
The Huskers responded with a comfortable win against lowly Southern Miss.
You knew Nebraska's young defense would endure growing pains. But you didn't expect them to be excruciating.
You knew UCLA (2-0) was capable of pushing Nebraska to the limit. But pushing the Huskers over the ledge?
It's a familiar theme under Pelini: Losses too often are overly dramatic in nature. Wisconsin wins 70-31. Ohio State 63-38. Michigan 45-17. Wisconsin 48-17. It's been rather bizarre.
Bizarre? In a span of a quarter-and-a-half Saturday, Nebraska went from an 18-point lead to a 17-point deficit. UCLA had 206 yards at halftime, then 236 in the third quarter.
UCLA finished with 504 yards, averaging 6.5 per play. In two games, the Bruins bamboozled Nebraska to the tune of 1,157 yards (6.7 per play).
Even so, Pelini stands by his scheme.
"I think you saw in the first half it works when it's executed the right way," he said. "It's worked over a long time."
The thing is, he said, "you have to tackle. The second half was a lot like it was last year against UCLA."
Nebraska should have improved in that area since last September, right? I asked Pelini if tackling is emphasized in practice.
"Obviously," Pelini said. "We tackled to the ground this week (in practice)."
Even more perplexing is Nebraska's inconsistent offense. So much for matching the 1983 "Scoring Explosion" group, as was the talk in August.
I predicted UCLA would score 40 points. I also predicted Nebraska would score 42. Yikes. And consider, two of the Huskers' touchdown drives covered fewer than 30 yards because of Bruin mistakes.
"A lot of it is lack of execution," said NU offensive coordinator Tim Beck. "When you execute on offense, you're creating good plays and you're able to get in rhythm. When you're not executing -- if you miss a block, drop a pass, jump offsides, fumble -- chances are you're probably not going to get in rhythm."
I think Nebraska is uncertain what it wants to be on offense, in addition to being mistake-prone.
Credit UCLA. The Bruins responded to adversity.
And credit Nebraska fans. Even deep in the fourth quarter, they were supportive. That was my read. Perhaps folks are getting used to rough Saturdays. During a day of disappointments, that would be the biggest of all.