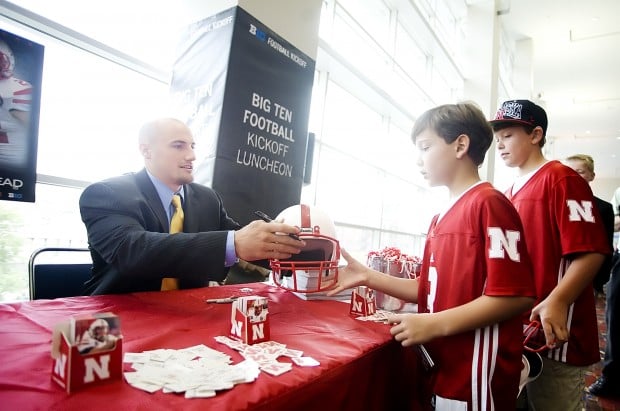 CHICAGO – Earth-shattering news typically is difficult to find at Big Ten Football Media Days — at least that's my read.
Perhaps it's because literally hundreds of reporters are running around, meaning coaches and players are on guard.
Friday, we stumbled upon breaking news.
Rex Burkhead let down his guard. He actually bragged about himself.
"I can throw down a little bit," the Nebraska senior running back said of his ability to dunk a basketball.
An All-Big Ten pick last season on the gridiron, the 5-foot-11, 210-pound Burkhead apparently can dunk a basketball easily. Very, very easily, Nebraska coach Bo Pelini confirmed.
Granted, that's not exactly Katie-leaving-Tom-level news. After all, Rex is a top-shelf athlete. He was proficient enough on the hardwood to draw recruiting interest from Texas Tech and SMU. Even so, Pelini regards Burkhead's dunking ability as an important fact for an interesting reason.
"A lot of people call Rex a 'throwback player,'" Pelini said. "They almost act like he's this overachiever. I think he gets a lot out of what he does. But I don't think people realize how good of an athlete this guy is.
"He's a tremendous athlete. … It's ridiculous, really. He has almost a 40-inch vertical leap. I don't think people realize how explosive this guy is."
Pelini can be very opinionated. He was in that type of mood Friday. He knows and we know why Burkhead gets tagged a "throwback player" and "overachiever," but we typically bite our tongue.
Pelini let loose with the truth.
"Let's face it, people also say he's a white guy," the coach said. "People stereotype — that's what society does."
In Pelini's opinion, Burkhead gets overlooked nationally. He said it doesn't bother him. It does surprise him, though.
After all, Burkhead, in addition to his leaping ability, runs a 4.5-second 40-yard dash.
"Maybe faster," Pelini said.
Burkhead rushed for 1,357 yards last season, churning out seven 100-yard games.
If Burkhead indeed is overlooked nationally, it may be because he seldom hits the home run. His longest run from scrimmage in college is a 52-yard burst last season against Tennessee-Chattanooga. He reeled off a 45-yard touchdown run against Wyoming. But in the final nine games, his longest run was 22 yards.
I don't have a good feel for how Burkhead is regarded around the country. At the moment, my frame of reference is one of those glossy preseason magazines that on this trip served as a paper plate. The magazine lists the top 10 Heisman Trophy contenders, led by USC golden-boy quarterback Matt Barkley. Wisconsin running back Montee Ball is No. 2, followed by Michigan quarterback Denard Robinson.
Burkhead isn't among the top 10, though he is part of the "15 more to watch."
He happens to play for a program that traditionally has been conservative in promoting star players, though Nebraska may need to become more aggressive in a world inundated by social media, said Keith Mann, NU assistant athletic director for media relations.
Mann should consider enlisting Pelini as Burkhead's publicist.
However, "as productive as Rex has been, there's a lot of room for growth," the coach said.
As Burkhead develops his knowledge of how teams are defending him, his big-play ability may improve.
"The more knowledge he has, the quicker his decision-making is going to happen," Pelini said.
Nevertheless, Pelini feels Burkhead will play in the NFL for "a long time." He could be an ideal third-down back.
"But he has the ability to play every down," Pelini said.
"Does that surprise you?"
Somebody suggested Burkhead may lack size, though 5-11, 210 seems OK to me.
"Bottom line is, at the NFL level, you need good football players," Pelini said. "And he's a real good football player."
This just in: Rex can "throw down" a little, too.